Winlevi® cream: Why is this hormonal acne treatment becoming so popular?
Learn more about Winlevi (clascoterone) cream, a fairly new and exciting treatment option for hormonal acne.
Table of Content:
What is Winlevi? | How does it work? | What is it used for? | What is hormonal acne? | Benefits | Side-effects | Precautions | How to use it? | Price
Our commitment to producing high-quality content:
The information presented in this article is based on scientific research and the professional advice of our Content Medical Reviewers, who are experts in the field of Dermatology. How we write our content →
Hormonal acne can be frustrating and difficult to treat. Unlike regular acne, hormonal acne has deeper painful nodules and cysts on chin, jawline and back which last longer and are often resistant to conventional treatment. Luckily, there is a new topical treatment called Winlevi® that offers a promising solution for patients suffering from this condition.
Winlevi is the first FDA-approved treatment for acne with a new mechanism of action (ie, topical antiandrogen) in nearly 40 years. Expectations from the medical community are high regarding this new topical treatment1.
In this post, we will explain what Winlevi is, how it works, and its effectiveness in treating hormonal acne. So, if you're struggling with these issues yourself, you and your online dermatologist can decide together if this medication is right for you.
However, if Winlevi is not a good treatment option for you, your online dermatologist may prescribe oral antibiotics (such as Seysara (sarecycline) or doxycycline) or retinoids (trifarotene, tretinoin, adapalene, tazarotene) for your acne.
What is Winlevi cream?
Winlevi cream (which its active ingredient is clascoterone) is a new topical medication, approved in 2020 by the Food and Drug Administration (FDA) for the treatment of acne for people over 12 years of age and older2. Winlevi is prescription-only, and it comes as a 1% cream in a 60 grams tube.
Request a Winlevi prescription for your hormonal acne
Start your journey to better skin. Get a personal treatment plan from one of our affiliated dermatology providers. Let them know if you have a specific medicine in mind.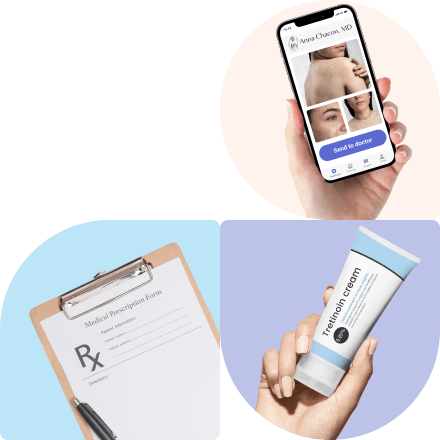 How does Winlevi work?
Although the exact mechanism of action of Winlevi is unknown, Winlevi is an androgen receptor inhibitor, that works by blocking hormones in the body, specifically androgens, which can contribute to acne. By blocking these hormones, Winlevi helps prevent the development of acne by stopping certain signals that cause it. It also reduces inflammation and the production of oils in the skin that can contribute to acne3.
What is Winlevi cream used for?
Winlevi is an androgen receptor inhibitor approved by the FDA for the topical treatment of acne vulgaris in patients 12 years of age and older4.
What is hormonal acne?
Hormonal acne is partially caused by androgens present in men and women for three reasons:
They stimulate the sebaceous glands in the skin to produce more sebum, leading to clogged pores and growth of acne causing bacteria.
They promote the growth of keratinocytes, which can lead to an abnormal shedding of skin cells, contributing to the formation of acne breakouts.
They contribute to the inflammatory response in acne, which can lead to redness, swelling, and inflammation around the hair follicle and sebaceous gland5.
How does Winlevi help with hormonal acne?
Winlevi cream blocks androgens specifically, which contribute to the development of acne. By blocking these hormones, Winlevi may help prevent the development new breakouts, reduces inflammation in the skin, and regulates the production of oils6.
What are the benefits of using Winlevi cream for acne?
Effective in the treatment of hormonal acne: clinical trials show that Winlevi is an effective treatment for moderate-to-severe acne vulgaris, most likely because it blocks androgens reducing both inflammatory and non-inflammatory lesions on the skin7.
Well-tolerated: Trials also show that the rate of side effects (adverse events) were low and mostly mild8.
Topical treatment: Oral spironolactone and birth control pills are also prescribed by healthcare providers to treat acne, but they often come with stronger side effects, a topical medication tends to be better tolerated by the body and causes less side effects.
It can be used by males and females: No systemic adverse effects of Winlevi were observed in males or females in the pivotal clinical trials9.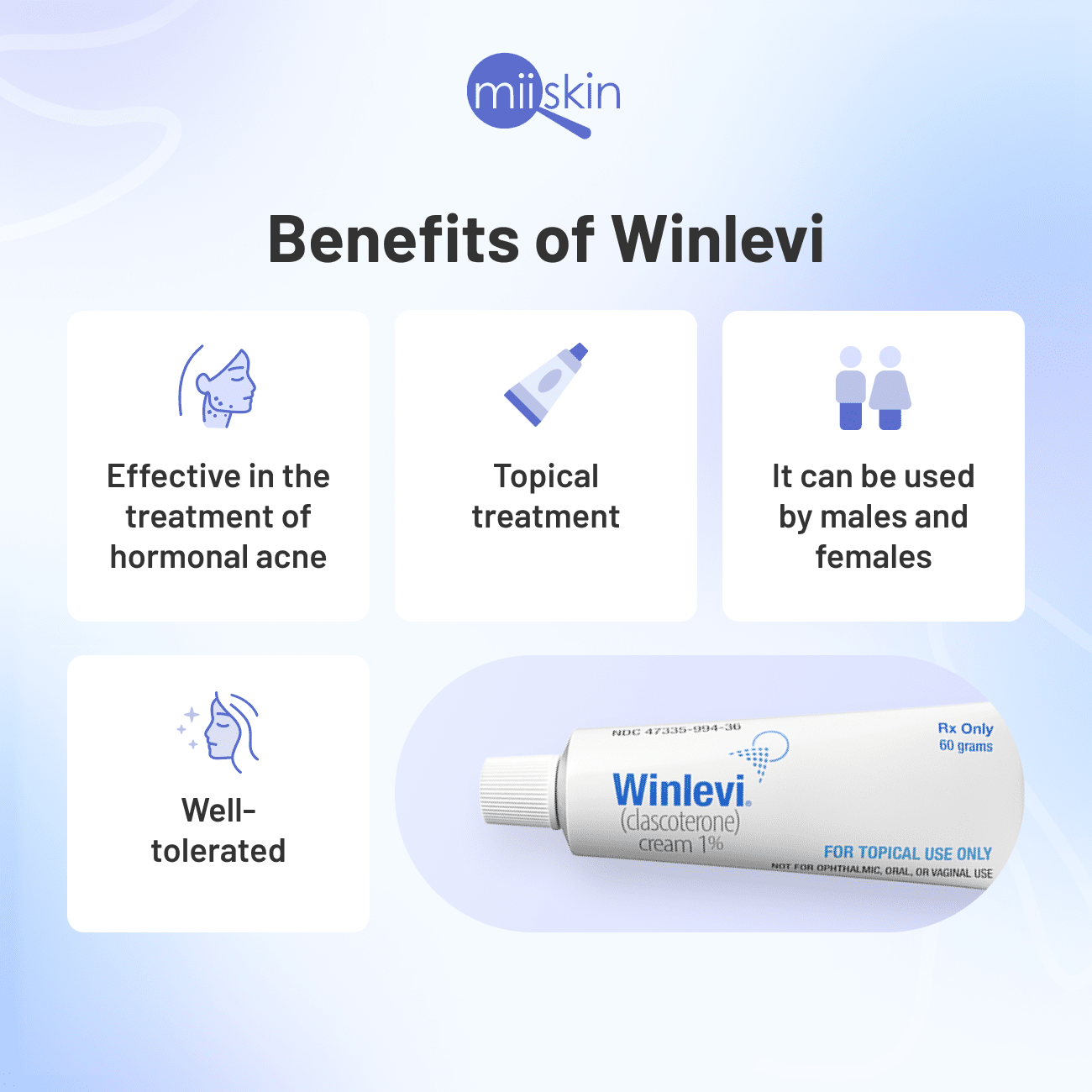 What are the side effects of Winlevi cream?
Adverse effects of topical clascoterone are mild and infrequent10, but children have a higher chance of developing the side effects caused by applying the Winlevi cream. Some of the most common side effects are:

Dryness
Itching
Burning
Skin redness
Peeling
Some less common side effects of applying Winlevi cream are:
Can Winlevi cause purging?
Winlevi may cause certain side effects such as skin irritation, itching, burning, skin redness or peeling which may look like an initial acne outbreak. These symptoms may be referred to as skin purging by consumers.
Precautions and warning when using Winlevi
Winlevi is a prescription medication and should only be used under medical supervision from a health care provider.
Winlevi should not be used by pregnant or nursing women since there is not enough research to confirm the safety of this product during pregnancy.
Winlevi cream should not be applied to skin that is cut or sunburned or if you also have eczema. Avoid getting the cream into your eyes, nose or mouth and rinse thoroughly if this occurs.
Who can use Winlevi?
Men, women, and children 12 years of age or older with acne vulgaris13.
How to use Winlevi?
You should follow the indications given by your healthcare provider when prescribed this medication, but as a general rule, before applying the Winlevi cream, wash your hands first.
Afterwards, wash your face with a mild cleanser. Pat dry your face, and after the skin is dry, apply a thin layer of Winlevi to the affected areas (morning and evening). Wash your hands after applying the cream14.
Can you buy Winlevi over the counter(OTC)?
No you need a doctor's prescription. You can have a convenient virtual consultation visit with an online dermatologist, which costs $59 and you will get an answer (an your prescription, if adequate) in 1-2 business days.
How much does Winlevi cost?
With a manufacturer's co-pay program you pay $90 for a 60 gr tube (without insurance). Winlevi doesn't have a generic version as it is a newer medication*.
*The price range listed here is just an estimation. Medication prices may vary depending on the state and the pharmacy selected. Miiskin is not responsible and cannot influence the price of the medication as it is independent from these entities.
Winlevi vs topical spironolactone
Winlevi and topical spironolactone are similar drugs that both block androgens in the skin to combat acne. However, Winlevi (clascoterone) is the only FDA approved topical medication approved for acne while topical spironolactone is used off-label for the treatment of acne15.
Winlevi and tretinoin
Winlevi and tretinoin are two powerful medications that complement each other to fight acne due to their ability to target several factors involved in the formation of acne breakouts.
Request a Winlevi prescription for hormonal acne
Start your journey to better skin. Get a personal treatment plan from one of our affiliated dermatology providers. Let them know if you have a specific medicine in mind.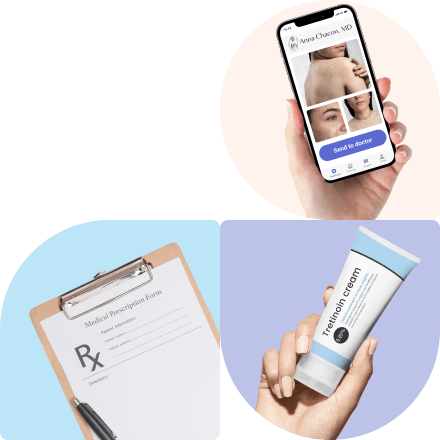 Subscribe to newsletter!
Unlock the secrets to a flawless complexion with our exclusive newsletter. Discover effective acne treatments, expert advice, and skincare tips. Subscribe now for a radiant future!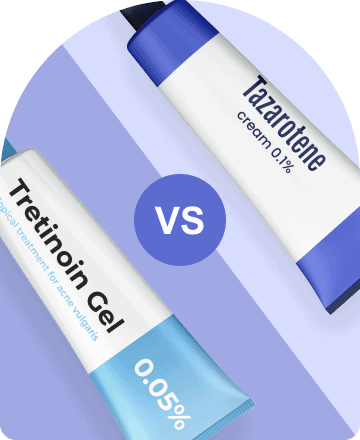 Article References:
https://www.sciencedirect.com/science/article/abs/pii/S0149291821003064
https://www.fda.gov/drugs/drug-approvals-and-databases/drug-trial-snapshot-winlevi
https://onlinelibrary.wiley.com/doi/10.1111/ijd.15752 https://www.ncbi.nlm.nih.gov/pmc/articles/PMC3969667/
https://www.ncbi.nlm.nih.gov/pmc/articles/PMC7177662/
https://www.winlevi.com/pdf/winlevi-prescribing-information.pdf#page=2
https://www.winlevi.com/what-is-winlevi/