Minocycline vs doxycycline in the treatment of acne: similarities and differences
Minocycline and doxycycline are oral antibiotics used for acne treatment, but what are their differences and similarities, which one is better and how can you get a prescription? Keep reading to learn more.
Table of Content:
Similarities | Differences | Side-effects of minocycline | Side-effects of doxycycline | Precautions | FAQ
---
Our commitment to producing high-quality content:
The information presented in this article is based on scientific research and the professional advice of our Content Medical Reviewers, who are experts in the field of Dermatology. How we write our content →
---
Minocycline and doxycycline are oral antibiotics considered first-line treatment for moderate-to-severe acne1. Both medications belong to a class of antibiotics (medications used to treat bacterial infections) called the tetracyclines which target the proliferation of acne-causing bacteria and the inflammation associated with this condition2.
This article will give you an overview of the similarities, differences, side effects and special considerations to take when taking minocycline and doxycycline for the treatment of acne.
Learning more about these medications and other medications for acne, will help you and your online dermatologist can make an informed decision whether antibiotics are the right acne treatment for you.
Similarities between minocycline and doxycycline
Mechanism of action: Minocycline and doxycycline are broad spectrum antibiotics which means that they kill many different types of bacteria (including the bacteria causing acne) and parasites. They work by stopping bacteria from making proteins which disrupts essential processes that bacteria rely on for survival, leading to their growth inhibition or death3.
Anti-inflammatory properties: minocycline and doxycycline also possess anti-inflammatory properties, which means they help reduce the inflammation associated with acne7.

Taken by mouth: Both antibiotics are typically taken orally in the form of capsules or tablets.
Similar dose for acne: The typical doses of minocycline and doxycycline given for the treatment of acne are quite similar: 100 – 200 mg per day.
Age limit: Minocycline and doxycycline should only be used by children over 12 years of age.
Request a prescription for minocycline and doxycycline
Start your journey to better skin. Get a personal treatment plan from one of our affiliated dermatology providers. Let them know if you have a specific medicine in mind.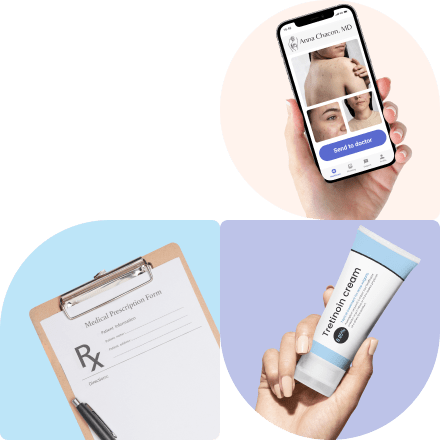 Differences of minocycline vs doxycycline
Minocycline and doxycycline have some subtle differences in their pharmacokinetic characteristics (the way they are absorbed, metabolized, and eliminated within the body).
Rapid and complete absorption: When minocycline is taken orally, it is quickly and efficiently absorbed into the bloodstream, which means that the medication can reach therapeutic levels in the body quite fast after it is taken8. While doxycycline is also absorbed quickly, dairy or other calcium-rich foods may affect its absorption by 50 to up to 20%9.
Excellent tissue penetration: Both doxycycline and minocycline have good tissue penetration. They can penetrate into various tissues, including the skin; however, minocycline, has a higher lipid solubility allowing for better penetration into sebaceous glands which is beneficial when treating acne10.
Longer half-life: The half-life of a drug refers to the time it takes for half of the drug concentration in the body to be eliminated. Doxycycline has a longer half-life compared to minocycline, meaning that it remains active in the body for a longer duration. This allows for less frequent dosing and potentially better adherence to the prescribed regimen11 12 .

Side effects: The side effects of each medication are similar but they include some important differences.
Common side effects of minocycline
Numbness, tingling, or prickling sensation on skin
Stomach issues (diarrhea, nausea, vomiting)
Headaches
Dry mouth
Swollen tongue
Sore throat
Muscle pain
Mood changes
Itching of the rectum or vagina
Discoloration of skin, scars, nails, teeth or gums
Changes in color of tears or urine
Ringing in your ears
Sensitivity to sunlight
Hair loss
In rare cases it may cause autoimmune reactions13
Common side effects of doxycycline
Stomach issues (nausea, vomiting, diarrhea, loss of appetite)
Changes in color of skin, scars, nails, eyes, or mouth
Itching of the rectum
Swelling, redness, burning, itching, or irritation of the vagina
Difficult urination
Sore throat or nose
Swollen tongue
Sensitivity to sunlight
Dry mouth
Anxiety
Back pain14
Precautions and warning
Both minocycline and doxycycline should be avoided in pregnant women, children under the age of 12 (due to the potential for tooth discoloration and impaired bone growth)
Patients with a history of hypersensitivity to tetracycline antibiotics should not use these medications.
Since minocycline and doxycycline may cause sun sensitivity, patients should apply sunscreen with a high SPF factor every morning and reapplying it during the day while taking this treatment.
Got any more questions about doxycycline or minocycline?
What is better: doxycycline or minocycline?
The most common question many patients ask is: is minocycline better for acne than doxycycline? The effectiveness of doxycycline and minocycline in treating moderate to severe acne vulgaris is similar15.
Can you take doxycycline and minocycline together?
Since doxycycline and minocycline are used for the same thing, you will usually only get one antibiotic for your acne.
Alternatives to minocycline and doxycycline in the treatment of acne
Seysara (sarecycline) is a newer, FDA-approved tetracycline antibiotic used to treat moderate to severe acne on the face and trunk in patients aged 9 years and above. Its mechanism of action involves specifically targeting and decreasing the presence of bacteria responsible for causing acne on the skin16.
Can minocycline and doxycycline be purchased over the counter?
No, you cannot buy minocycline and doxycycline over the counter as both of these antibiotics are prescription medications. It is important to use these medications under medical supervision to ensure proper dosage, duration, and to monitor for any potential side effects.
How can you get a prescription for minocycline and doxycycline?
To get a prescription for minocycline or doxycycline, consult with a healthcare professional, either in-person or through online dermatologist service. After assessing your acne condition, the doctor will discuss treatment options, including minocycline and doxycycline, and provide a prescription specifying the dosage, frequency, and duration of the treatment. 
What is the price of minocycline and doxycycline?
The price for 60 tablets generic minocycline 100 mg varies from $30 to $60*.
The price for doxycycline hyclate is $100 to $300*.
The price for 14 tablets of doxycycline monohydrate 100 mg tablets varies from $10 to $30*.
*The price range listed here is just an estimation. Medication prices may vary depending on the state and the pharmacy selected. Miiskin is not responsible and cannot influence the price of the medication as it is independent from these entities.
How long does it take to get a virtual visit for minocycline and doxycycline reviewed?
It typically takes less than 3 working days to get your case reviewed and medication prescribed if needed.
Request a prescription for minocycline vs doxycycline!
Start your journey to better skin. Get a personal treatment plan from one of our affiliated dermatology providers. Let them know if you have a specific medicine in mind.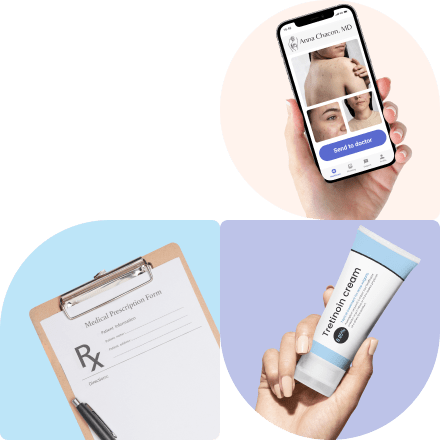 Article References:
https://www.aafp.org/pubs/afp/issues/2017/0601/p740.html
https://www.ncbi.nlm.nih.gov/pmc/articles/PMC99026/
https://www.researchgate.net/publication/262791850_Doxycycline_versus_minocycline_in_the_treatment_of_acne_vulgaris_A_double-blind_study
https://pubmed.ncbi.nlm.nih.gov/2530191/
https://pubmed.ncbi.nlm.nih.gov/21061764/
https://www.sciencedirect.com/topics/neuroscience/minocycline
https://pubmed.ncbi.nlm.nih.gov/946598/
https://www.ncbi.nlm.nih.gov/pmc/articles/PMC3651660/
https://www.ashp.org/-/media/assets/drug-shortages/docs/drug-shortages-comparison-of-doxycycline-and-minocycline.pdf
https://www.drugs.com/compare/doxycycline-vs-minocycline
https://medlineplus.gov/druginfo/meds/a682101.html
https://medlineplus.gov/druginfo/meds/a682063.html
https://www.tandfonline.com/doi/abs/10.3109/09546638909086681?journalCode=ijdt20
https://seysara.com/starting-seysara/
---