How long does tretinoin take to work?
Board-certified dermatologist Dr. Alpana Mohta answers this very common question asked by many patients who have been prescribed tretinoin for acne or anti-aging "How long does tretinoin take to work?"
Table of Content:
How soon can you see the first results? | Results after 2 weeks of treatment | Results after 6 weeks of treatment | Results after 3 months of treatment | Results after 12 months of treatment | The takeaway
Our commitment to producing high-quality content:
The information presented in this article is based on scientific research and the professional advice of our Content Medical Reviewers, who are experts in the field of Dermatology. How we write our content →
Curious about when you will start seeing the positive effects of tretinoin? This question crosses the minds of many individuals who have been prescribed this potent acne or anti-aging treatment, and in our search for answers, we have turned to the expertise of the board-certified dermatologist, Dr. Alpana Mohta.
As a seasoned dermatologist, Dr. Mohta has encountered how long does tretinoin take to work questions countless times from her patients. In this article, we explore her expert opinion, drawing from her years of practice in helping individuals achieve healthier and more radiant skin.
So, if you are eager to uncover the secrets behind tretinoin you have come to the right place, Dr. Mohta will guide you through the journey.
So, how long does it take for tretinoin to work?
So, when can you see the first results? According to Dr. Mohta, most patients using tretinoin for the first time will begin to notice a positive effect after approximately 10 weeks, if you are using it every 2-3 days.
If you are using a gentle formula consisting of tretinoin and niacinamide or Altreno, and you can apply it on a daily basis, it may take you around 6 weeks to experience results.
However, to start witnessing noticeable changes it may take up to 3 months of daily use. If you are interested in learning in depth about tretinoin, read our Dermatologist Guide: Everything you want to know about tretinoin by Dr. Mohta.
Refill your tretinoin prescription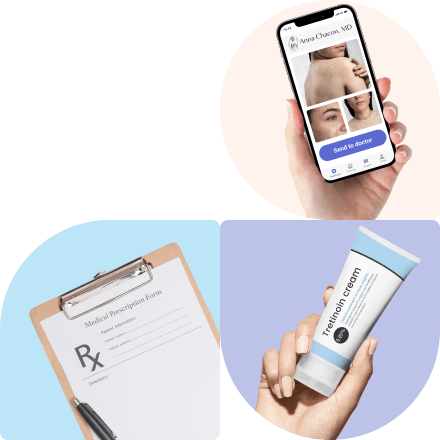 Weekly progress: Unlocking the tretinoin timeline
After 2 weeks of treatment
During the first two weeks of using tretinoin, your skin undergoes several changes as it adapts to it. These changes are often referred to as the "retinization" process which typically consists on the following:
Skin cell exfoliation
Tretinoin stimulates the turnover of skin cells, a process known as desquamation and exfoliation. This consists of shedding the outermost layer of dead skin cells and replacing them with new ones. By promoting this process, tretinoin helps to reveal fresher, younger skin cells, resulting in a smoother complexion and improved skin tone1.
Dryness and irritation
Many users experience increased dryness, redness, sensitivity, or even a slight increase in acne breakouts during the initial weeks of tretinoin use. This skin reaction is often referred to as the "tretinoin purge" and is a temporary reaction as the skin adjusts.
Stimulation of collagen production
Tretinoin stimulates the production of collagen, a key protein responsible for maintaining skin's firmness and elasticity. This process begins in the early stages of tretinoin use, although the visible effects may not be apparent until later2.
Reduction of oil production in the skin
Tretinoin has the ability to decrease the growth and reproduction of sebocytes, which are the specialized cells found in sebaceous glands responsible for producing oil in the skin. Additionally, it also helps suppress the production of sebum itself3.
Activation of skin proteins and enzymes
Tretinoin activates various skin proteins and enzymes that play crucial roles in skin repair and rejuvenation4.
It is important to note that the initial side effects like dryness, flaking, and increased sensitivity are common and usually temporary. To minimize tretinoin irritation, you can read our Dermatologist's Guide: How to use tretinoin
To minimize discomfort during this adjustment period, it is recommended to start with a lower strength of tretinoin and gradually increase frequency and potency under the guidance of your online dermatologist. Apply tretinoin only at night as it gets inactivated in the presence of light. Moreover, due to its extreme photosensitive potential, it is not advisable to ever apply it in the daytime.
Additionally, using a gentle moisturizer with niacinamide and applying sunscreen with a high SPF on a daily basis (even during winter) are essential to help maintain skin hydration and protect against potential sun sensitivity.
After 6 weeks of treatment
After 6 weeks of using tretinoin, your skin typically goes through further improvements and adjustments as it continues to adapt to the medication. Here are some changes you may observe at this stage:
Smoother skin texture
One of the noticeable effects of tretinoin after 6 weeks is a smoother skin texture. As tretinoin continues to promote cell turnover, and inhibit collagen breakdown, the surface of your skin becomes more refined, with fewer rough patches5.
Reduced acne breakouts
If you are using tretinoin to treat acne, you may see a reduction in the frequency and severity of breakouts. Tretinoin helps unclog pores, which can lead to fewer pimples and blackheads6.
Even skin tone
Tretinoin can contribute to a more even skin tone by fading hyperpigmented areas, such as acne scars and sunspots. This can lead to a brighter and more uniform complexion7.
If you are interested in reducing hyperpigmentation, you could consider a formulation with tretinoin and hydroquinone (like Tri-Luma) or tretinoin with azelaic acid to get faster results.
Decreased skin sensitivity
While you may have experienced initial sensitivity and redness during the first few weeks, after 6 weeks, your skin often becomes less sensitive to tretinoin. It is important to continue using a gentle skincare routine and sunscreen to minimize potential irritation.
Improved overall skin health
Tretinoin contributes to the overall health of your skin by encouraging the production of new collagen and promoting skin renewal. This leads to a fresher, more youthful appearance.
After 3 months of treatment
After 3 months of consistently using tretinoin, your skin undergoes further transformations and improvements.
Considerable reduction of acne breakouts
After three months of daily use, tretinoin often provides significant relief from acne. It helps to unclog pores, reduce inflammation, and prevent new acne lesions from forming. Your skin is likely to appear clearer with fewer pimples and blackheads.
Smoother and firmer skin
Tretinoin continues to stimulate collagen production, which can lead to a smoother and firmer skin texture. Fine lines and wrinkles may become less pronounced, and your skin may appear more youthful and supple.
Improved skin tone
Hyperpigmented areas, such as acne scars and sunspots, may continue to fade, contributing to a more even skin tone. This can result in a brighter complexion and reduced discoloration.
Enhanced skin elasticity
Tretinoin's collagen-boosting effects can enhance the elasticity of your skin, making it more resilient and less prone to sagging.
Refined pores
Over time, tretinoin can help minimize the appearance of enlarged pores, by stimulating collagen production and unclogging pores. It helps in giving your skin a smoother and more refined appearance.
Reverse photodamage
With 12 weeks of consistent tretinoin usage, you'll start seeing a significant improvement in the skin damage caused to the skin by sun exposure. There is a reduction of sun-induced yellowish thick appearance of the skin, sun spots, coarse wrinkles, and uneven pigmentation due to sunburns.
After 12 months of treatment
After 12 months of using tretinoin consistently, your skin will continue to experience a range of improvements and transformations.
Significant reduction in fine lines and wrinkles
The long-term use of tretinoin often leads to a substantial reduction in the appearance of fine lines and wrinkles. The stimulation of collagen and elastin production and continuous skin renewal contribute to smoother, firmer skin. It also helps in increasing the thickness of skin and reducing the appearance of age-related translucency and sagging of skin8.
Minimized acne scarring
If you have been using tretinoin for acne scars, the 12-month mark is a significant milestone. Tretinoin's consistent use can result in the fading of acne scars, making them less noticeable and contributing to an improved overall complexion9.
Enhanced skin firmness
The collagen-boosting properties of tretinoin will help you maintain skin firmness and elasticity. Your skin may appear more toned and resilient, and sagging is less likely.
Refined pores
Studies show that tretinoin can reduce the appearance of large pores due to the increased cell turnover. Pores may appear smaller and less noticeable, giving you a smoother texture.
Radiant skin tone
Persistent hyperpigmentation, such as sunspots and post-inflammatory hyperpigmentation, is likely to fade further, resulting in a more even and radiant skin tone.
Ongoing skin health
Tretinoin supports the overall health of your skin by encouraging continual cell turnover and renewal. This contributes to a refreshed and youthful appearance.
The takeaway
According to Dr. Mohta, to maintain the benefits you achieved over the past year, it is crucial to continue using tretinoin as part of your long-term skincare routine. You can safely use tretinoin long-term. Research has shown no negative effects even with 2-4 years of usage.11
The time taken for tretinoin to show effects also depends on the severity of your skin issues as well as the formulation and strength of tretinoin you are using.
Many people wonder if the benefits of tretinoin persist in the long term. The answer is yes, but it requires the consistent use of tretinoin. Since your skin renews itself every month, discontinuing tretinoin for a month will require an adjustment period when you resume its use. The frequency of tretinoin use will also impact the lasting advantages.
Consistency is key, as discontinuing use may result in a gradual return to previous skin conditions.
Refill your tretinoin prescription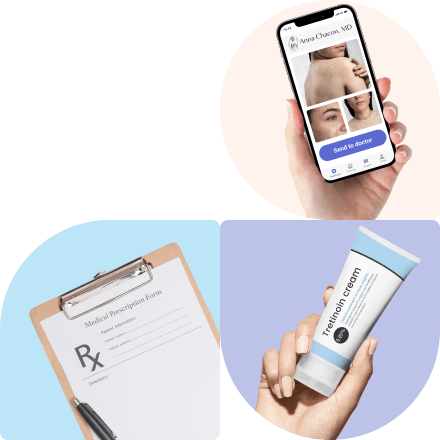 PATIENT EDUCATION
Acne medicines: What is the difference?
Reviewed by dermatologists
References:
https://www.ncbi.nlm.nih.gov/pmc/articles/PMC2699641/
https://www.jwatch.org/jd199310010000004/1993/10/01/tretinoin-restores-collagen-formation-photoaged
https://www.sciencedirect.com/science/article/pii/S0022202X15326403
https://academic.oup.com/bjd/article/189/Supplement_1/i17/7333865
https://www.ncbi.nlm.nih.gov/pmc/articles/PMC2699641
https://pubmed.ncbi.nlm.nih.gov/15075042/