Doxycycline Hyclate vs Monohydrate: Which One Is Better for Acne?
Learn about the differences and similarities between Doxycycline Hyclate and Monohydrate so you and your healthcare provider can decide if this may be a good option for you.
Medically Reviewed by: Dr. Uffe Koppelhus, Dermatologist
Table of Content:
3 Key Differences | Brand Names | Side-effects and warning | Considerations when taking Doxycycline | Which one is better for acne? | How long does it take to start working? | How to get doxycycline?
---
Our commitment to producing high-quality content:
The information presented in this article is a summary based on scientific research and the professional advice of our Content Medical Reviewers who are experts in the field of Dermatology.
Doxycycline is a tetracycline antibiotic used to treat different bacterial infections and a very common treatment for acne1 and rosacea2; it comes in two formulations: doxycycline hyclate and doxycycline monohydrate.
Although acne is not considered an infection, certain antibiotics such as doxycycline decrease the amount of P. acnes bacteria on the skin reducing inflammation and painful breakouts3.
3 Main Differences Between Doxycycline Hyclate and Monohydrate in Acne Treatment
Doxycycline monohydrate and doxycycline hyclate are variations of the same drug, and they are both used to treat acne and rosacea.
Doxycycline Monohydrate is less acidic and more gentle on the stomach4
Doxycycline Monohydrate is considerably cheaper than Hyclate in the U.S.
Doxycycline Hyclate is water-soluble5, while Doxycycline Monohydrate is not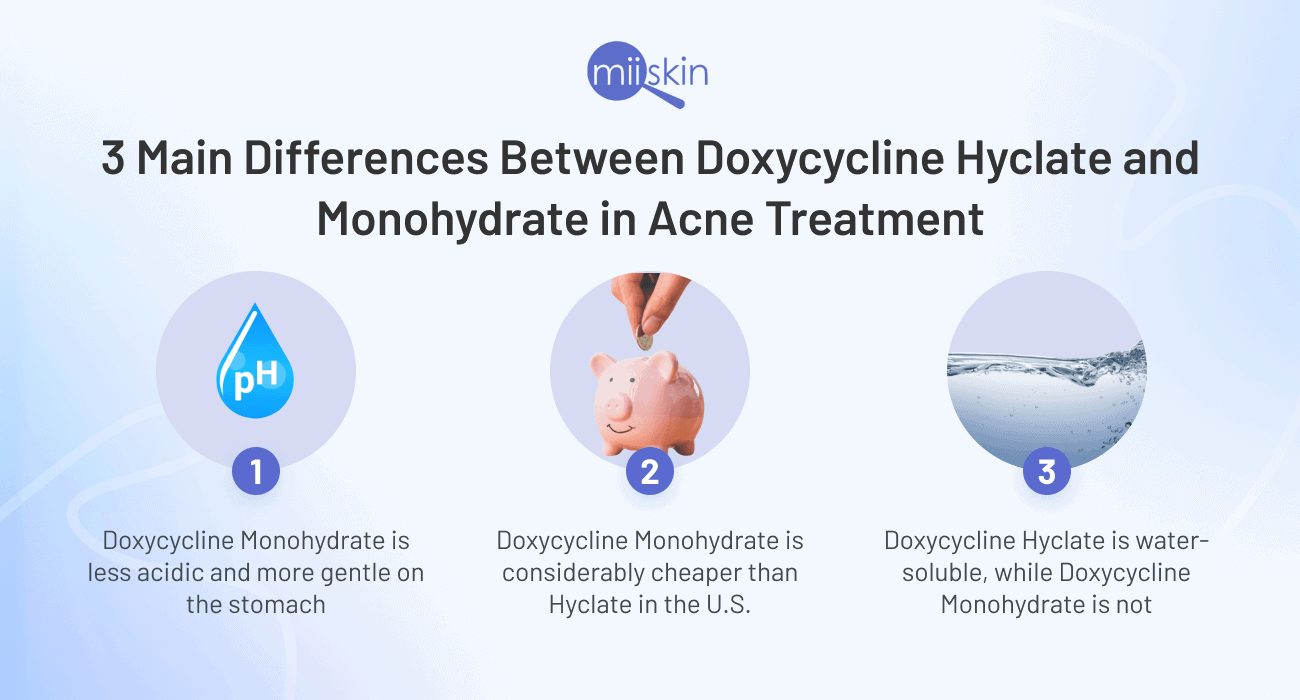 Doxycycline Monohydrate Brand Names:
Vibramycin
Monodox
Oracea
Efracea
Doxycycline Hyclate Brand Names:
Acticlate
Doryx
Periostat
Side-effects of Doxycycline Monohydrate or Hyclate
Common Side-effects of Doxycycline
Mild diarrhea
Photosensitivity
Nausea
Vomiting
Skin rashes
Headaches
Tooth discoloration
Severe Side-effects of Doxycycline
Bloody diarrhea
Leukopenia
Migraines
Hemolytic anemia
Throat irritation or trouble swallowing
Chest pain
Exacerbation of systemic lupus erythematosus
Shortness of breath
Irregular or fast heart rate
Dysuria
Intracranial hypertension
Ulcerations in the esophagus, if taken without water6
People are also interested in
Learn more about how Clindamycin gel is used to treat acne, its different formulations (gels, creams, lotions), and frequent combinations available such as Benzoyl Peroxide or Tretinoin.
Warning when Taking Doxycycline Monohydrate or Hyclate for Acne
People who are allergic to doxycycline or other tetracycline antibiotics (Demeclocycline, Minocycline, Tetracycline, or Tigecycline) should not take Doxycycline Monohydrate or Hyclate7.
Women who are pregnant or breastfeeding should avoid doxycycline as it may harm the unborn baby or cause permanent tooth discoloration. Doxycycline can pass into breast milk and may affect bone and tooth development in a nursing infant8.
Young individuals should avoid taking doxycycline as it may cause permanent yellowing or graying of the teeth9.
Doxycycline can make birth control pills less effective, ask your doctor about using a non-hormonal birth control to prevent pregnancy10.
MIISKIN PROMO
Is your acne treatment working?
Miiskin helps you take weekly photos and log changes to your treatment to see how your skin responds.