Is clindamycin over the counter (OTC)?
Do you want to know if clindamycin gels and lotions (a popular topical acne medication) is available over the counter (OTC)? Unfortunately, it is not, but keep reading to learn how you can request an online prescription and collect your medication 3 days from today.
Table of Content:
What is clindamycin? | Can you get it OTC? | How to get a prescription for clindamycin? | Price of clindamycin | Benefits | Side-effects | Precautions
Our commitment to producing high-quality content:
The information presented in this article is based on scientific research and the professional advice of our Content Medical Reviewers, who are experts in the field of Dermatology. How we write our content →
When it comes to treating acne, medications like clindamycin, minocycline, doxycycline and Seysara play a crucial role in combating the harmful bacteria responsible for causing it. Since it is such a commonly used medication, you may wonder if you can purchase clindamycin over the counter (OTC), without the need for a prescription.
While clindamycin gels and lotions are widely used by dermatologists to target acne-causing bacteria, these topical acne treatments can only be purchased with a doctor's prescription. The reason behind it being that since clindamycin is an antibiotic, authorities aim to ensure the responsible usage to minimize the risks of antibiotic resistance.
What is clindamycin?
Clindamycin is an antibiotic medication commonly used to treat bacterial infections and acne. It belongs to the class of antibiotics called lincosamide and works by inhibiting the growth of bacteria or killing them1.
Clindamycin is available in various forms, including capsules, tablets, and liquids for oral administration, as well as foams, gels and lotions for topical use.
Can you get clindamycin gels, creams and lotions over the counter (OTC)?
No, clindamycin gels and lotions for acne can only be purchased with a prescription from a healthcare provider, typically a primary care physician or a dermatologist.
So, how to get topical clindamycin for acne?
You need to have an in-person or virtual consultation with an online dermatologist in your state. The price of this photo consultation is $59 and you will get an answer in 1-2 working days.
What is the price for clindamycin?
The average price for topical clindamycin 1% 60 ml. is $20 to $40 which may last between 2 to 4 months depending on usage*.
*The price range listed here is just an estimation. Medication prices may vary depending on the state and the pharmacy selected. Miiskin is not responsible and cannot influence the price of the medication as it is independent from these entities.
Request a prescription for topical clindamycin now!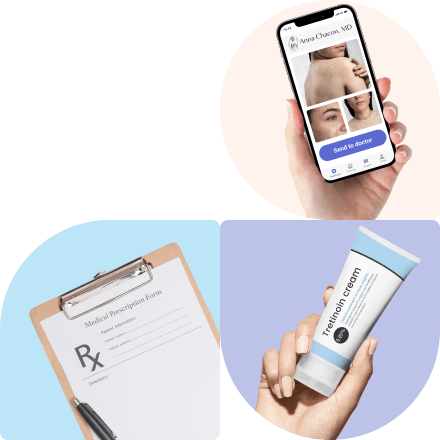 Want to know more about clindamycin?
How does clindamycin help with acne?
Topical treatment is the established method for managing mild to moderate acne. The primary components of topical acne therapy consist of retinoids, benzoyl peroxide, and antibiotics (such as clindamycin), which target the affected areas. These treatments not only address existing lesions but also help prevent the development of new ones2 3.
Side-effects of topical clindamycin
Skin irritation (burning, itching, peeling)
Hives
Dryness of skin
Oily skin
Worsening of acne
Stinging of the eyes
Stomach pain or diarrhea
Inflammation of the skin7
Warning and precautions when using clindamycin
Do not use topical clindamycin if you are allergic to clindamycin, lincomycin. If you have a history of inflammatory bowel disease or antibiotic-associated colitis, it is also important to avoid using this medicine.
Tell your doctor or pharmacist if you tend to experience diarrhea while taking antibiotics or if you currently have diarrhea. If you experience severe, prolonged, or bloody diarrhea during or after using clindamycin, inform your doctor.
When applying the lotion, be cautious around your mouth as it may have an unpleasant taste.
Inform your doctor about all other medications you are taking or have recently taken, including those obtained without a prescription. Specifically, mention if you are using any skin treatments containing benzoyl peroxide8.
The takeaway
Topical clindamycin is an effective and affordable treatment for acne that can be used with other topical medications such as Altreno (new tretinoin), Aklief (trifarotene), Fabior (tazarotene) or Differin (adapalene).
Talk to your online dermatologist to see if this medication is adequate for you and start experiencing clearer skin 3 days from today.
Request a prescription for clindamycin gel now!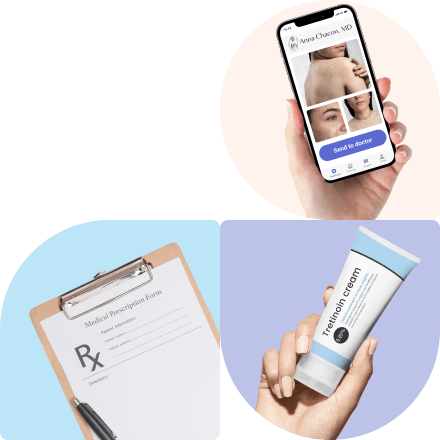 PATIENT EDUCATION
Acne medicines: What is the difference?
Reviewed by dermatologists
References:
https://www.ncbi.nlm.nih.gov/books/NBK519574/
https://www.ncbi.nlm.nih.gov/pmc/articles/PMC4456883/
https://www.aafp.org/pubs/afp/issues/2000/0115/p357.html
https://www.ncbi.nlm.nih.gov/books/NBK519574/
https://pubmed.ncbi.nlm.nih.gov/20184207/
https://www.aafp.org/pubs/afp/issues/2000/0115/p357.html
https://labeling.pfizer.com/ShowLabeling.aspx?id=13935