Adapalene (Differin) vs. tretinoin: What is better for sensitive skin with acne?
Get an overview of the differences and similarities between adapalene (Differin) and tretinoin, and learn which of these two ingredients is best for sensitive skin with acne.
Table of Content:
Similarities and Differences | Side Effects & Warning | Precautions | Tretinoin | Tretinoin Brand Names | Adapalene | Adapalene Brand Names | FAQs | How to Get Tretinoin or Adapalene?
---
Our commitment to producing high-quality content:
The information presented in this article is based on scientific research and the professional advice of our Content Medical Reviewers, who are experts in the field of Dermatology. How we write our content →
---
Similarities between adapalene (Differin) and tretinoin
Adapalene (Differin), tretinoin and retinol are all Vitamin A derivatives called topical retinoids.
Topical retinoids are popular acne treatments because they improve skin health in many ways. They stimulate collagen production, decrease inflammation, and adjust the speed of skin cell turnover, creating a healthier environment for skin1; that is why they are often part of a skin care routine for acne prone skin.
In addition to tretinoin and adapalene, tazarotene and trifarotene are two newer retinoids also used to treat acne and other skin conditions by regulating skin cell turnover keeps the pores from clogging and targets acne before it even starts. These topical medications may work better and faster if accompanied by oral antibiotics such as Seysara (sarecycline) or doxycycline.
Retinoids also help fade age spots and soften rough skin patches. However, it can take up to six months before improvements in wrinkles can be seen—and the best results take six to 12 months2.
Below you can read about the differences and similarities between adapalene and tretinoin so you and your online dermatologist can make decision together of what is the right treatment for you.
*Due to the local and teratogenic adverse effects, it is recommended to only use these medications under the supervision of a healthcare provider.
Classification of retinoids
First generation: isotretinoin, tretinoin, and alitretinoin are modifications of natural retinoids which do not act selectively

Second generation: acitretin is an oral retinoid in which a cyclohexane ring replaces a benzene ring

Third generation: adapalene, tazarotene, and bexarotene are polyaromatic retinoids with selective activity for the retinoid receptors

Fourth generation: trifarotene is highly specific for the skin retinoid (RAR-γ) receptor3
Request a prescription for adapalene or tretinoin
Start your journey to better skin. Get a personal treatment plan from one of our affiliated dermatology providers. Let them know if you have a specific medicine in mind.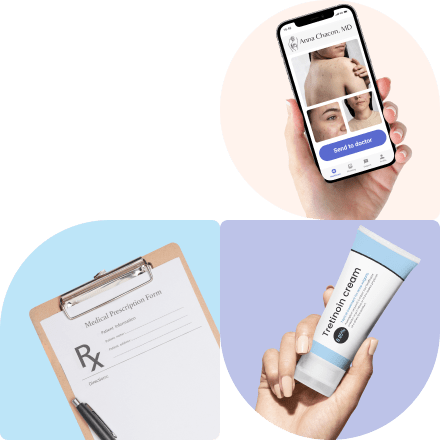 Possible side effects of adapalene (Differin) and tretinoin
Adapalene is generally less irritating than tretinoin, but the side effects of both medications are pretty similar.
Burning or stinging sensation
Peeling or scaling
Excessively dry skin
Redness or skin rashes
Discolored skin or temporary darkening
Worsen acne, especially during the first four weeks of use
Increased sensitivity to sunlight4
WARNING: When using adapalene (Differin) and tretinoin
Retinoids such as tretinoin and adapalene are teratogenic meaning they cannot be used by women who wish to get pregnant, are pregnant, or are breastfeeding because they cause malformations to the fetus.
It is recommended that women with childbearing potential consult a health professional to initiate this type of retinoid treatment due to local and teratogenic adverse effects.
What is tretinoin?
Tretinoin is a prescription-grade medication for the treatment of acne and wrinkles; it is also first-generation retinoid that promotes cellular turnover. It also increases the production of collagen and stimulates the production of new blood vessels in the skin, which improves skin color5.
Benefits of tretinoin
Reduces acne breakouts by unclogging pores
Promotes a regular flow of sebum
It makes skin smoother and minimizes pores by getting rid of dead skin cells
Improves the appearance of fine lines and wrinkles by promoting cellular growth
Lightens dark spots by replacing older skin with newer skin
Smoothens hard skin patches6
Brand names of tretinoin
Altreno
Atralin
Avita
Refissa
Renova
Retin-A
Retin-A Micro
Tretin-X
Tretinoin medicine combinations
Niacinamide/spironolactone/tretinoin – Brand Names Tardimaxia and Vardimaxia7
Clindamycin/tretinoin – Brand Names Veltin, Ziana and Biacna
Benzoyl peroxide/tretinoin – Brand Name Twyneo
Clindamycin/niacinamide/tretinoin – Brand Name Tardeoxia
Fluocinolone/hydroquinone/tretinoin – Brand Names Tri-Luma and Triderma
People are also interested in
Retinol and hyaluronic acid are considered by many the ultimate anti-aging combination, find out how your skin can benefit from this ingredient combination.
What is adapalene (Differin)?
Adapalene (Differin) is a third-generation retinoid available with a prescription and as an over-the-counter treatment depending on its strength. Adapalene was developed to reduce the side effects caused by tretinoin8.
Adapalene is believed to be as efficient as tretinoin against acne but less irritating and, therefore, better tolerated than tretinoin9 10 .
Are adapalene and Differin the same thing?
Differin cream or gel contains adapalene as an active component (a 0.1% formulation). It is a multipurpose retinoid that dermatologists recommend for treating acne.
Adapalene brand names
Adapalene medicine combinations
Adapalene/benzoyl peroxide – Brand Names Epiduo and Epiduo Forte
Adapalene/benzoyl peroxide/clindamycin – Brand Name Adainzde
Adapalene/benzoyl peroxide/niacinamide – Brand Name Adainzoxia
Adapalene/clindamycin – Brand Name Clindap-T
Precautions when using adapalene and tretinoin
It is important to apply the retinoid overnight, during the day apply a non-comedogenic moisturizer to avoid your skin from becoming dry and always wear an SPF 50 sunscreen. Avoid getting adapalene or tretinoin in your eyes, lips, and nasal folds; If this occurs, wash with water immediately and consult a healthcare professional.
Do not use retinoids if it is sunburned, windburned, dry, cracked, irritated, or broken skin, wounds, or in areas of eczema. Remember that they are photosensitizing to the skin. Wait until these conditions have healed before continuing to use.
Do not use adapalene or tretinoin in combination with keratolytic such as glycolic acid or others, and avoid lotions with alpha hydroxy, glycolic acid, sulfur, resorcinol, or salicylic acid11.
Frequently asked questions about adapalene and tretinoin
Are tretinoin and adapalene the same?
Adapalene and tretinoin have mostly been explored for the treatment of acne, although tretinoin has also been shown in numerous trials to prevent and improve premature skin aging.
Is tretinoin better than adapalene for acne?
The effectiveness of adapalene and tretinoin in treating acne has been compared in numerous clinical trials.
Both adapalene and tretinoin will effectively cure your acne, although tretinoin is likely to produce results more quickly, but adapalene gel is less irritating for patients12.
Can you use adapalene and tretinoin together?
It is usually not advised to use them in combination because they work similarly and have the same potential side effects. That means you're more prone to get skin irritation if you use them simultaneously. Instead, you should decide which of these two best suits your needs and continue with it.
When should you use these medications?
It is important to highlight that adapalene and tretinoin should not be used by pregnant or breastfeeding women.
It is preferable to use these products at night because retinoids are damaged by sunlight (adapalene can also be applied during the daytime because it is more stable in the sunshine.)
How to get tretinoin or adapalene?
Only healthcare providers can write prescriptions for tretinoin or adapalene. If you wish to get a prescription for any of these or other medications, an in-person or virtual consultation is required.
Can you buy tretinoin over the counter?
Tretinoin cannot be bought over the counter.
Request a prescription for tretinoin or adapalene
Start your journey to better skin. Get a personal treatment plan from one of our affiliated dermatology providers. Let them know if you have a specific medicine in mind.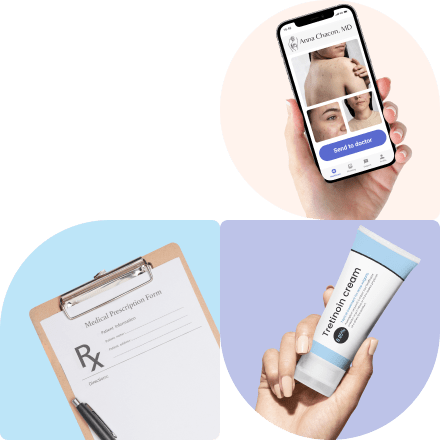 Conclusion
Adapalene is one of the newest retinoids on the market. It has been shown to be effective at treating acne and a good alternative for people with sensitive skin. It has also been shown to have milder side effects than Tretinoin, which is one of the reasons it was developed.
You and your healthcare provider should decide which ingredient works best for your acne and your skin; this will depend on tolerance, adverse effects, and contraindications. In either case, ensure you use the products correctly and consistently to get optimal results.
PATIENT EDUCATION
Acne Resources
Reviewed by dermatologists
Make a difference. Share this article.
Article References:
1 https://www.centerforsurgicaldermatology.com/benefits-of-retiniods/
2 https://www.health.harvard.edu/staying-healthy/do-retinoids-really-reduce-wrinkles
3 https://dermnetnz.org/topics/topical-retinoids
4 https://www.mayoclinic.org/drugs-supplements/tretinoin-topical-route/side-effects/drg-20066521
5 https://www.ncbi.nlm.nih.gov/pmc/articles/PMC3225141/
6 https://www.ncbi.nlm.nih.gov/pmc/articles/PMC3225141/
7 https://www.drugs.com/ingredient/spironolactone.html
8 https://www.ncbi.nlm.nih.gov/books/NBK482509/
9 https://pubmed.ncbi.nlm.nih.gov/11843231/
10 https://www.ncbi.nlm.nih.gov/books/NBK482509/
11 https://www.drugs.com/differin.html
12 https://www.drugs.com/differin.html
13 https://pubmed.ncbi.nlm.nih.gov/8761775/
---