A dermatologist's guide on prescription retinoids
This comprehensive patient guide delves into the essentials of using prescription retinoids. It includes the retinoid varieties available, their therapeutic applications, benefits, potential side effects, cost-saving tips, and how to get a prescription.
Table of Content:
What are prescription retinoids? | Types of retinoids | How to get a prescription? | What are they used for? | Benefits | Side-effects | How to use retinoids | Best retinoid for anti-aging | Best retinoid for acne | Best retinoid for rosacea | Who cannot use retinoids?
Our commitment to producing high-quality content:
The information presented in this article is based on scientific research and the professional advice of our Content Medical Reviewers, who are experts in the field of Dermatology. How we write our content →
What are prescription retinoids?
Prescription retinoids are topical vitamin A derivatives prescribed by dermatologists for different skin conditions such as skin anti-aging, acne, and psoriasis among others1.
Retinoids are potent and effective ingredients that have a positive effect on different cellular processes, such as cell growth and differentiation2. Although retinoids as a class have a similar mechanism of action, they each have different properties that make them unique.
Because of their strength, retinoids tend to be very effective but can also cause side effects if not used adequately.
Types of prescription retinoids
Tretinoin
Tretinoin (commercially known as Retin-A or Altreno), is one of the most widely used retinoids for acne and anti-aging. It helps manage several skin conditions by controlling skin cell growth and maturation. Essentially, tretinoin speeds up the replacement of old skin cells with new ones, helping to unclog pores, decrease inflammation, and enhance skin texture3.
Adapalene
Adapalene (commercially known as Differin) is a third-generation retinoid developed to minimize the side effects of tretinoin4. It is believed to be as efficient as tretinoin against acne but less irritating and better tolerated than tretinoin 5 6 .
Tazarotene
Similar to tretinoin, tazarotene (commercially known as Fabior, Arazlo) is a topical retinoid also used to treat acne, photoaging, and psoriasis. Studies show that tretinoin and tazarotene are equally efficient at treating acne, hyperpigmentation, skin roughness, fine wrinkles and photoaging7 8 9. However, tazarotene is much more expensive than tretinoin.
Trifarotene
Trifarotene (commercially known as Aklief) is the newest retinoid, and clinical trials show that it is efficient and well tolerated, in the treatment of acne; it delivers great results with fewer side effects10.
Isotretinoin
Isotretinoin (commercially known as Accutane) is an oral retinoid used to treat severe, resistant, nodular acne in wide areas of the body. It is used when a patient has not responded to other treatments. However, it is only used in extreme acne cases and it is highly controlled due to the serious side effects it may cause and its teratogen effects11.
How to get a prescription for retinoids?
An online dermatologist needs to evaluate your skin and make a proper diagnosis. To do this you need to have a virtual consultation which includes answering some questions, taking a couple of photos and waiting 48 hours or less to get your prescription. The price of the consultation is $59 and if retinoids are safe and an adequate treatment option for you, you will get your prescription.
Request a prescription for retinoids for your skin problem
Start your journey to better skin. Get a personal treatment plan from one of our affiliated dermatology providers. Let them know if you have a specific medicine in mind.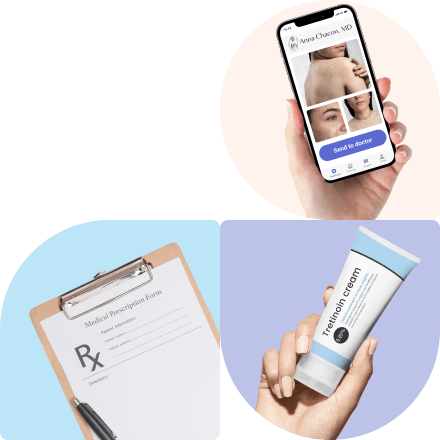 What are prescription retinoids used for?
Uses of prescription retinoids
Anti-aging
Retinoids, such as tretinoin can reduce fine lines and wrinkles by increasing collagen production. They also can improve skin texture, reduce dark spots, and promote an even skin tone, making them a popular choice as anti-aging agents13.
Acne
Topical retinoids, like tretinoin, adapalene, and tazarotene, are commonly prescribed to treat acne. They work by unclogging hair follicles, reducing inflammation, and promoting the turnover of skin cells14.
Psoriasis
Tazarotene is a retinoid specifically approved for the treatment of psoriasis. It helps slow down the rapid growth and shedding of skin cells characteristic of this condition15.
Hyperpigmentation
Retinoids can help in treating various forms of hyperpigmentation by accelerating cell turnover and promoting an even skin tone16.
Keratosis pilaris
While not a primary treatment, retinoids can sometimes be used to help manage this condition characterized by rough, bump-like patches on the skin17.
Benefits of prescription retinoids
Although retinoids have a similar effect on the skin, it is important to understand that each retinoid has its own profile of efficacy, potential side effects, and indications.
While many benefits overlap, the intensity, additional benefits, and potential side-effects might differ. Always consult with your online dermatologist when considering retinoid treatments.
Here is a general overview of the benefits most retinoids share:
Anti-inflammatory effects: Most retinoids have anti-inflammatory properties, making them effective against conditions like acne

Stimulation of collagen production: Many retinoids stimulate collagen production, resulting in reduced wrinkles and improved skin texture

Cell renewal: The promotion of skin cell turnover is a characteristic benefit of retinoids, leading to fresher, younger-looking skin

Normalization of keratinization: Retinoids, in general, can help regulate the process of keratinization, particularly in conditions where this process is disrupted.

Pore size reduction: The increased cell turnover promoted by many retinoids can help in reducing the appearance of pores18.
Side effects of prescription retinoids
Even though retinoids are effective in addressing various skin concerns, they can cause some side effects if not used adequately. The most common side effect of retinoids is skin purging (although this is not a medical term) which includes the following symptoms:
Dryness
Skin redness
Skin irritation
Burning sensation
Peeling
Increased sensitivity to sun19
How to apply prescription retinoids?
If you have been prescribed a retinoid and you are wondering how to use it, you can read our patient guide on "How to use tretinoin" by expert dermatologist Dr. Alpana Mohta.
Although this guide was specifically written for the application of tretinoin, following these same steps for other retinoids may also help you get less skin irritation.
What prescription retinoid is best for anti-aging?
Tretinoin
Tretinoin is one of the most studied and proven retinoids for its anti-aging benefits. It stimulates collagen production, promotes skin cell turnover, and helps in reducing fine lines, wrinkles, and sunspots20. If you are looking for an anti-aging treatment, consider Altreno. If you need a more affordable solution, tretinoin via Skin Medicinals platform can be suitable for you.
Tazarotene
Tazarotene is another prescription retinoid that's effective for both acne and anti-aging. Some studies suggest it might be slightly more potent than tretinoin in treating photoaged skin, but may be more irritating to some individuals21.
When selecting a retinoid for anti-aging, it is essential to consider factors like skin type, sensitivity, previous retinoid experience, and specific skin concerns. It is always a good idea to start with a lower concentration and gradually increase as the skin builds tolerance.
What prescription retinoid is best for acne?
The best prescription retinoid for acne often depends on the type and severity of the acne, as well as individual skin type and tolerance.
Tretinoin
Tretinoin is a popular first-line retinoid for acne, especially for comedonal acne (whiteheads and blackheads). Tretinoin comes in different formulations (such as gels, creams and lotions) and strengths allowing for customization based on individual needs.
Adapalene
Adapalene is a synthetic retinoid designed specifically for acne treatment. It may be less irritating than tretinoin, making it a good choice for those with sensitive skin or those new to retinoids.
Tazarotene
Tazarotene is another synthetic retinoid effective for both comedonal and inflammatory acne. Some studies suggest it might be more potent than both tretinoin and adapalene.
Combination products
There are products that combine retinoids with other acne-fighting ingredients to enhance efficacy. For example, Epiduo (adapalene and benzoyl peroxide) and Arazlo (tazarotene and benzoyl peroxide) or the mix of tretinoin with topical spironolactone which is created by compounding pharmacies such as Skin Medicinals.
What prescription retinoid is best for rosacea?
Rosacea is a chronic inflammatory skin condition characterized by redness, flushing, and sometimes pimple-like lesions. Certain retinoids can be beneficial for rosacea, especially in the subtype known as papulopustular rosacea.
Adapalene
Among the prescription retinoids, adapalene may be less irritating, making it a potential option for those with rosacea.
Tretinoin
Tretinoin can be used in rosacea patients, but it has the potential to cause irritation. Star
ting with the lowest concentration and slowly increasing as tolerated, or using it on alternate days, can help minimize potential flare-ups.
Who cannot use prescription retinoids
There are specific individuals who cannot use prescription retinoids
Pregnant or breastfeeding women since prescription retinoids are known teratogens, meaning they can cause birth defects. Women who are pregnant or planning to become pregnant or breastfeeding should avoid them
People with eczema or severely dry skin may worsen the dryness or irritation when using retinoids
People undergoing cosmetic procedures such as chemical peels, laser treatments, or dermabrasion
People with a sunburn or very sensitive skin because retinoids can make the skin more sensitive
People allergic to retinoids
Most retinoids can only be used by children over the age of 12 years old

Patients taking medications that increase sensitivity to sunlight (like some antibiotics or diuretics), combining them with retinoids can heighten your risk for sunburn. Other medications that have exfoliative or skin-drying properties might also interact with retinoids. It's crucial to inform your dermatologist about all medications you're taking.
The takeaway
While many people can benefit from retinoids, they are powerful topical prescription medications and they should only be used under the guidance of your online dermatologist.
We hope that this dermatologist's guide has provided you with clear insights into the types of retinoids, their medical uses, advantages, possible adverse effects, and practical advice on affordability and obtaining a prescription. Always consult with your online dermatologist for personalized advirence.
References:
https://www.ncbi.nlm.nih.gov/pmc/articles/PMC8750127
https://www.ncbi.nlm.nih.gov/pmc/articles/PMC2699641/
https://www.ncbi.nlm.nih.gov/books/NBK557478/
https://www.ncbi.nlm.nih.gov/books/NBK482509/
https://pubmed.ncbi.nlm.nih.gov/11843231/
https://www.ncbi.nlm.nih.gov/books/NBK482509/
https://www.ncbi.nlm.nih.gov/books/NBK557478/
https://jamanetwork.com/journals/jamadermatology/fullarticle/478614
https://www.ncbi.nlm.nih.gov/pmc/articles/PMC7996910/
https://www.ncbi.nlm.nih.gov/books/NBK525949/
https://www.ncbi.nlm.nih.gov/pmc/articles/PMC8750127
https://pubmed.ncbi.nlm.nih.gov/16605289/
https://www.ncbi.nlm.nih.gov/books/NBK546708/
https://www.ncbi.nlm.nih.gov/pmc/articles/PMC2544371/