Doxycycline over the counter (OTC): Can you get it?
Do you want to know if doxycycline, a popular antibiotic widely used for acne is available over the counter (OTC)? Keep reading to find out!
Table of Content:
Can you get doxycycline OTC? | Where to get it OTC? | How to get a prescription online? | What is doxycycline? | Side effects | Doxycycline alternatives
Our commitment to producing high-quality content:
The information presented in this article is based on scientific research and the professional advice of our Content Medical Reviewers, who are experts in the field of Dermatology. How we write our content →
---
You probably have heard about doxycycline, as it is a broad spectrum antibiotic with many uses, including acne. But, can you get doxycycline over the counter (OTC) or does it require a prescription from a healthcare provider?
In this article, we will explore the availability of doxycycline, including whether or not it can be purchased without a prescription, and where and how you can get it.
Can you get doxycycline over the counter (OTC)?
Unfortunately, not, you cannot buy doxycycline over the counter. It can only be purchased with a doctor's prescription.
Where to buy doxycycline over the counter?
Doxycycline hyclate and monohydrate are prescription antibiotics and it is not advisable to try to find a place where to buy it over the counter as it should only be used under medical supervision. Here is why:
Doxycycline can cause an allergic reaction, people who are allergic to tetracycline antibiotics (demeclocycline, minocycline, tetracycline, or tigecycline) should not take doxycycline.
Women who are pregnant or breastfeeding should avoid doxycycline as it may cause permanent tooth discoloration.
Children under 12 years of age should avoid taking doxycycline as it may cause permanent yellowing or graying of the teeth.
Doxycycline can make birth control pills less effective, take extra precautions to prevent pregnancy1.
How to get a doxycycline prescription online?
Getting a doxycycline prescription online for acne is very easy via Miiskin. You just need to have a quick virtual consultation which consists of taking a few photos of your skin and answering a few simple questions about your acne. For this photo consultation, you will pay a flat fee of $59 and if doxycycline is adequate and safe for you, you will get your prescription.
Request an acne prescription for doxycycline!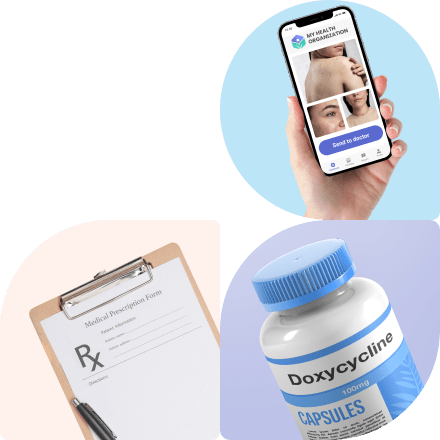 How to get doxycycline online?
After getting a prescription from your online dermatologist, you can get it online or buy it at the local pharmacy.
Want to know more about doxycycline?
What is doxycycline?
Doxycycline is available in two formulations: doxycycline hyclate and doxycycline monohydrate. It is a common tetracycline antibiotic for the management of various bacterial infections2. Additionally, it serves as a widespread treatment option for acne3 and rosacea4.
Despite acne not being categorized as an infection, specific antibiotics like doxycycline work to diminish the presence of P. acnes bacteria on the skin, leading to a reduction in inflammation and alleviating painful breakouts5.