Aklief: Understanding the benefits and usage of this new acne treatment
Aklief (trifarotene) cream is a new and effective acne treatment that is better tolerated than tretinoin keep reading to discover the advantages of this new acne treatment.
Table of Content:
What is trifarotene (Aklief)? | How does it work? | Benefits | Side-effects | Brand names | How to use it? | Price | Trifarotene vs tretinoin | Is it covered by insurance?
Our commitment to producing high-quality content:
The information presented in this article is based on scientific research and the professional advice of our Content Medical Reviewers, who are experts in the field of Dermatology. How we write our content →
Acne is a chronic inflammatory skin disorder1 that affects up to o 85% of the population at some point in life2 and can be challenging to manage.
Despite numerous acne treatments available, many patients still struggle to achieve adequate control over their symptoms. However, a fairly new treatment known as trifarotene, (sold under the brand name of Aklief) is showing promising results in the treatment of acne.
This article aims to provide you with a comprehensive guide on the benefits, side effects and uses of this new acne treatment as well as with a list of the most common frequently asked questions about its use.
As a dermatologist's guide, the current article will provide you with evidence-based knowledge so you and your online dermatologist can decide if trifarotene cream (Aklief) is a good treatment option for your type of acne. In addition to trifarotene, there many other retinoids used in the treatment of acne such as tretinoin, adapalene, tazarotene and isotretinoin that you can also consider.
These topical medications tend to work best if accompanied by oral antibiotics such as Seysara (sarecycline) or doxycycline.
What is Aklief?
Aklief (Trifarotene) is a fourth-generation retinoid approved by the FDA for the treatment of acne vulgaris in patients aged nine years and older3.
Retinoids are widely utilized in the management of skin diseases and over time, they have evolved into a fourth-generation, leading to an increase in therapeutic potency.
Trifarotene, commercially known as Aklief, is relatively new prescription-strength topical medication for the treatment of acne in the face, shoulders, chest, and back4.
Request a trifarotene (Aklief) prescription for your acne
Start your journey to better skin. Get a personal treatment plan from one of our affiliated dermatology providers. Let them know if you have a specific medicine in mind.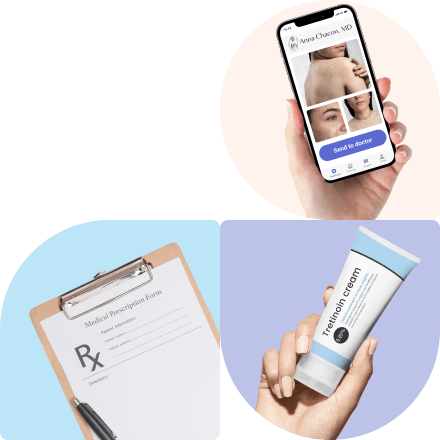 How does Aklief work?
Aklief (trifarotene) targets the gamma receptors of retinoic acid because these receptors are primarily expressed in the skin. By selectively targeting these specific receptors, trifarotene exerts its therapeutic effects on the skin, such as reducing inflammation and preventing the formation of acne lesions5.
This high specificity of trifarotene for targeting the gamma receptors of retinoic acid reduces its potential for systemic absorption and side effects, which basically means that trifarotene (Aklief) is better tolerated and has less side effects than most of the other retinoids6.
Preclinical studies show that with trifarotene is more effective at lower concentrations compared to other retinoids, such as tazarotene and tretinoin, and has better anti pigmenting effects than adapalene7.
Benefits of Aklief
The advantages of Aklief are many, since it is a new medication on the market especially developed to be more effective and have less side effects than other retinoids.
It is FDA-approved for acne in patients as young as 9 years old (besides Altreno, topical retinoids can only be used by children 12 years of age and older)
Results can be noticed as early as 2 weeks
It can be used in face, chest, shoulders and back
It also works well against inflammatory acne
It can also be used to combat pigmentation
Less irritating than other retinoids8
It improves skin texture
It is FDA-approved for the treatment of ichthyosis9
Side effects of Aklief and warnings
The most common adverse effects of Aklief cream are:
Skin irritation
Itching
Sunburn
Redness
Scaling
Dryness
stinging/burning10
To minimize these side effects, you can apply a moisturizer a few minutes before applying Aklief cream. If irritation continues, reduce the frequency of application or suspend treatment temporarily11.
To avoid further irritation, Aklief cream should not be applied to cuts, abrasions, eczematous, or sunburned skin and waxing should also be avoided. Minimize exposure to sunlight and use sunscreen when exposure cannot be avoided12.
As a rule of thumb, topical retinoids should only be applyied during late evenings or at night.
Brand names of trifarotene
Trifarotene is only available as Aklief, a 0.005% cream with 45 grams.
How to use Aklief?
You should always follow the indications given by your dermatology provider, however these are some general guidelines to follow when using trifarotene (Aklief).
Wash your face and skin with a non-comedogenic cleanser, pat dry and let it fully air dry
Apply a thin layer of cream during the night to the affected areas
Avoid contact with the eyes, lips, and nose
Always use sunscreen when applying a retinoid as they increase your skin's sensitivity to the sun
Do not use if you are pregnant, trying to get pregnant or breastfeeding
Got any questions about Aklief?
Who is Aklief for?
Men, women who are not pregnant or breastfeeding, and children over 9 years of age who suffer from comedogenic or inflammatory acne in the face and body.
Does Aklief cream help with dark spots?
In clinical trials, trifarotene cream has shown to have anti pigmenting properties13, which means that it may help reduce the appearance of dark spots and flat acne scars on the skin.
Trifarotene won't resurface depressed acne scars. It just fades post inflammatory hyperpigmentation (flat acne scars).
However, it is important to note that Aklief is primarily indicated for the treatment of acne and while it may have a positive effect on hyperpigmentation, it may not be as effective as other treatments specifically designed for dark spots.
It is always best to consult with a dermatologist for a personalized treatment plan for hyperpigmentation or other skin concerns.
Aklief (trifarotene) vs tretinoin: which one is less irritant?
Trifarotene (Aklief) is a fourth-generation retinoid that specifically targets the gamma isoform of the retinoic acid receptor (RAR-γ)14 15 , while tretinoin is a first-generation retinoid that targets all RAR subtypes16.
Clinical studies have shown that trifarotene (Aklief) is generally well-tolerated, and it causes less skin irritation compared to tretinoin. This is because Aklief is highly targeted, resulting in fewer adverse reactions on the skin's surface17.
However, it is important to note that individual responses to medications can vary, and some people may experience irritation with Aklief despite its lower irritancy potential.
Who should not use Aklief?
Trifarotene, as any other retinoid, should not be used by women who are pregnant, want to become pregnant or are breastfeeding since it is considered teratogenic. It also should not be used by children under the age of 9 years.
Is Aklief covered by insurance?
Many insurance companies cover Aklief for acne, but it depends on your insurance provider and health plan.
What is the price in the USA for Aklief?
The manufacturer of Aklief offers coupons for patients who purchase Aklief cream out-of-pocket. With a patient coupon, patients can buy Trifarotene (Aklief) cream for $60.
Is Aklief available over the counter?
No, to get a prescription for trifarotene (Aklief), you can click on the request prescription banner below.
Request a prescription for Aklief now!
Start your journey to better skin. Get a personal treatment plan from one of our affiliated dermatology providers. Let them know if you have a specific medicine in mind.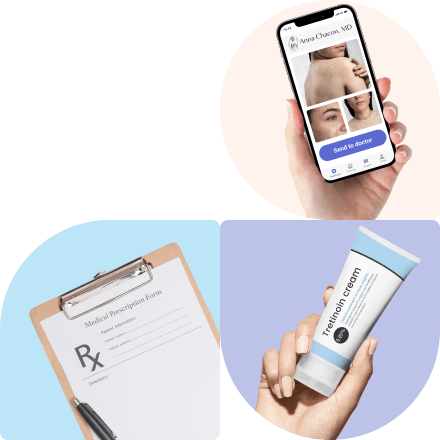 PATIENT EDUCATION
Acne Resources
Reviewed by dermatologists
---
Article References:
https://pubmed.ncbi.nlm.nih.gov/25876146
https://www.aad.org/media/stats-numbers
https://www.ncbi.nlm.nih.gov/pmc/articles/PMC9166940/
https://www.aklief.com/why-aklief-cream
https://www.ncbi.nlm.nih.gov/pmc/articles/PMC8324978/
https://ijdvl.com/trifarotene-the-latest-retinoid-2/
https://www.ncbi.nlm.nih.gov/pmc/articles/PMC7996910/
https://www.ncbi.nlm.nih.gov/pmc/articles/PMC8750127/