Aklief® (trifarotene) cream: price, coupons and side effects
Discover Aklief cream, a cutting-edge fourth-generation retinoid, offering numerous skin benefits, gentle effectiveness, and minimal side effects.
Table of Content:
What is Aklief? | How does it work? | Benefits | Side-effects | How to get it? | Price | Coupons | How to use it?
Our commitment to producing high-quality content:
The information presented in this article is based on scientific research and the professional advice of our Content Medical Reviewers, who are experts in the field of Dermatology. How we write our content →
This article aims to provide you with a comprehensive guide on the benefits, side effects, price and coupons of Aklief cream as well as with a list of the most common frequently asked questions about its use.
With this information, you and your online dermatologist can make an informed decision whether you both think it is adequate for you.
What is Aklief cream and what is it used for?
Trifarotene, the active ingredient in Aklief is a fourth-generation retinoid approved by the FDA for the treatment of acne vulgaris in patients aged nine years and older.1
Retinoids (such as tretinoin, adapalene, tazarotene and trifarotene) are topical skin medications widely utilized in the management of skin diseases, and over time, they have evolved into a fourth-generation, leading to an increase in therapeutic potency.
The trifarotene cream (commercially known as Aklief cream) is relatively new prescription-strength topical medication for the treatment of acne in the face, shoulders, chest, and back.2
How does the Aklief cream work?
The trifarotene cream targets the gamma receptors of retinoic acid because these receptors are primarily expressed in the skin. By selectively targeting these specific receptors, trifarotene exerts its therapeutic effects on the skin, such as reducing inflammation and preventing the formation of acne lesions. 3
This high specificity of trifarotene for targeting the gamma receptors of retinoic acid reduces its potential for systemic absorption and side effects, which basically means that trifarotene cream is better tolerated and has less side effects than most of the other retinoids. 4
Preclinical studies show that the Aklief cream is more effective at lower concentrations compared to other retinoids, such as tazarotene and tretinoin, and has better anti pigmenting effects than adapalene. 5
Request an Aklief prescription for your acne!
Begin your journey to better skin. Get a customized treatment plan from one of our affiliated dermatology providers. If you have a particular medication in mind, let them know.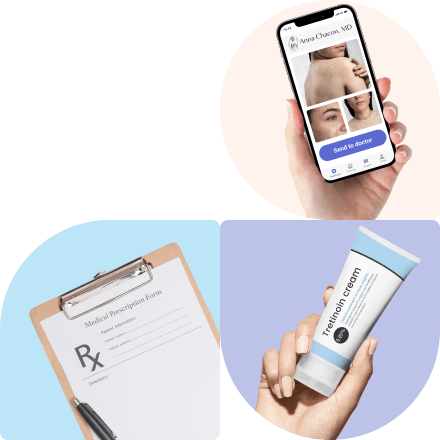 Benefits of trifarotene cream
The advantages of the Aklief cream are many, since it is a new medication on the market especially developed to be more effective and have less side effects than other retinoids.
It is FDA-approved for acne in patients as young as 9 years old (besides Altreno, topical retinoids can only be used by children 12 years of age and older)
Results can be noticed as early as 2 weeks
It can be used in face, chest, shoulders and back
It also works well against inflammatory acne
It can also be used to combat pigmentation
Less irritating than other retinoids 6
It improves skin texture
It is FDA-approved for the treatment of ichthyosis 7
Aklief cream side effects
The most common adverse effects of Aklief cream are:
Skin irritation
Itching
Sunburn
Redness
Scaling
Dryness
stinging/burning 8
To minimize these side effects, you can apply a moisturizer a few minutes before applying the trifarotene cream. If irritation continues, reduce the frequency of application or suspend treatment temporarily. 9
To avoid further irritation, the Aklief cream should not be applied to cuts, abrasions, eczematous, or sunburned skin and waxing should also be avoided. Minimize exposure to sunlight and use sunscreen when exposure cannot be avoided. 10
As a rule of thumb, topical retinoids should only be applied during late evenings or at night.
How to get Aklief cream?
Is Aklief cream available over the counter (OTC)?
The Aklief/trifarotene cream is not available over the counter. To get it you need a prescription from your doctor.
How to get an Aklief prescription?
Getting an Aklief prescription online through an online dermatology consultation is relatively easy and affordable. You just need to have a photo consultation with an online dermatologist available in your state which costs $59. After the consultation, you just need to wait 1-2 days to get an answer (together with your prescription if medically adequate).
Subscribe to newsletter!
Unlock the secrets to a flawless complexion with our exclusive newsletter. Discover effective acne treatments, expert advice, and skincare tips. Subscribe now for a radiant future!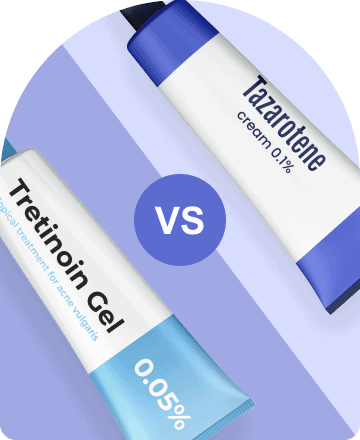 What is the price of the Aklief/trifarotene cream?
The average price of Aklief cream without any coupons is around $700. However, this price can be considerably reduced with a manufacturer coupon.
*The price range listed here is just an estimation. Medication prices may vary depending on the state and the pharmacy selected. Miiskin is not responsible and cannot influence the price of the medication as it is independent from these entities.
Best Aklief coupons
The manufacturer of Aklief offers coupons for patients who purchase Aklief cream without a commercial insurance. With a patient savings coupon, patients can buy Aklief cream for $60.
Does Aklief have a generic brand?
Since Trifarotene (Aklief) is a newer medication there isn't a generic version available yet.
How to use the trifarotene cream?
You should always follow the indications given by your dermatology provider, however these are some general guidelines to follow when using the trifarotene cream.
Wash your face and skin with a non-comedogenic cleanser, pat dry and let it fully air dry
Apply a thin layer of cream during the night to the affected areas
Avoid contact with the eyes, lips, and nose
Always use sunscreen when applying a retinoid as they increase your skin's sensitivity to the sun
Do not use if you are pregnant, trying to get pregnant or breastfeeding
Who is the Aklief cream for?
Patients over 9 years of age who suffer from comedogenic or inflammatory acne in the face and body.
Who cannot use the trifarotene cream?
Since the Aklief cream is a retinoid, it should not be used by women who want to become pregnant, are pregnant or nursing since it may harm the fetus. It also should not be used by children under the age of 9 years.
Does Aklief cream help with dark spots?
In clinical trials, the trifarotene cream has shown to have anti pigmenting properties, which means that it may help reduce the appearance of dark spots and flat acne scars on the skin. 11
However, the Aklief cream will not resurface depressed acne scars. It just fades post inflammatory hyperpigmentation (flat acne scars). 11
However, it is important to note that the trifarotene cream is primarily indicated for the treatment of acne and while it may have a positive effect on hyperpigmentation, it may not be as effective as other treatments specifically designed for dark spots.
It is always best to consult with a dermatologist for a personalized treatment plan for hyperpigmentation or other skin concerns.
---
Article References:
https://pubmed.ncbi.nlm.nih.gov/25876146
https://www.aad.org/media/stats-numbers
https://www.ncbi.nlm.nih.gov/pmc/articles/PMC9166940/
https://www.aklief.com/why-aklief-cream
https://www.ncbi.nlm.nih.gov/pmc/articles/PMC8324978/
https://ijdvl.com/trifarotene-the-latest-retinoid-2/
https://www.ncbi.nlm.nih.gov/pmc/articles/PMC7996910/
https://www.ncbi.nlm.nih.gov/pmc/articles/PMC8750127/