Teledermatology Benefits
As healthcare technology evolves, the benefits of teledermatology for pediatric patients and adults have become clearer, the long waiting times to see a dermatologist are being reduced, and patients don't need an in-person appointment to receive care.

Today's trend is having access to more convenient and high-quality care.

Dermatology telehealth systems bridge the gap between dermatologists, specialists, and patients providing new ways for patients to access dermatology care.
What are the Benefits of Teledermatology?
1. Efficiency and convenience
2. Increased access for people in rural areas
3. Improved patient satisfaction
4. Reduced waiting times
5. Hastens treatment for urgent patients
6. Increased number of managed patient cases
1. More convenience for providers and patients
Telehealth is efficient and convenient for both providers and patients because it avoids the inconvenience of commuting. Both participants can be in the comfort of their own homes and hundreds of miles away from each other.
With asynchronous telehealth, this convenience increases even more since dermatologists and patients do not have to be available simultaneously. Patients can use an app or web portal to enter their details and send high-quality images of their skin condition whenever is convenient for them.
Providers can view all of their patients' requests whenever it suits their busy schedule, whether it is at the end of the day, between consultations, or during no-shows and cancellations. Since there aren't any real-time appointments, the provider's efficiency is much higher.
2. Increased access for patients in rural areas
There are certain areas in the U.S. where there is a lack of dermatologists; therefore, patients often postpone getting treatment. Telederm enables remote care and saves extensive costs for patients, especially those in rural areas where a lack of providers and large distances between patients and clinics can cause challenges.
3. Caters to the digital patients
Today's patients are dissatisfied with the current healthcare delivery model because it has many inefficiencies. According to a global survey, 25% of the patients are willing to switch providers in favor of one that offers high-quality digital services3. One of the advantages of teledermatology is that it addresses the needs of these digital patients who seek efficient virtual care delivery.
4. Reduces the wait time to see a dermatologist
The average wait time for a patient to see a dermatologist is 32.3 days4, and the waiting time to see a pediatric dermatologist exceeds 100 days5. One of the most significant benefits of using store-and-forward teledermatology is that by using this technology, the waiting time to see a dermatologist is reduced to less than 48 hours. Read about Megan Fry's story.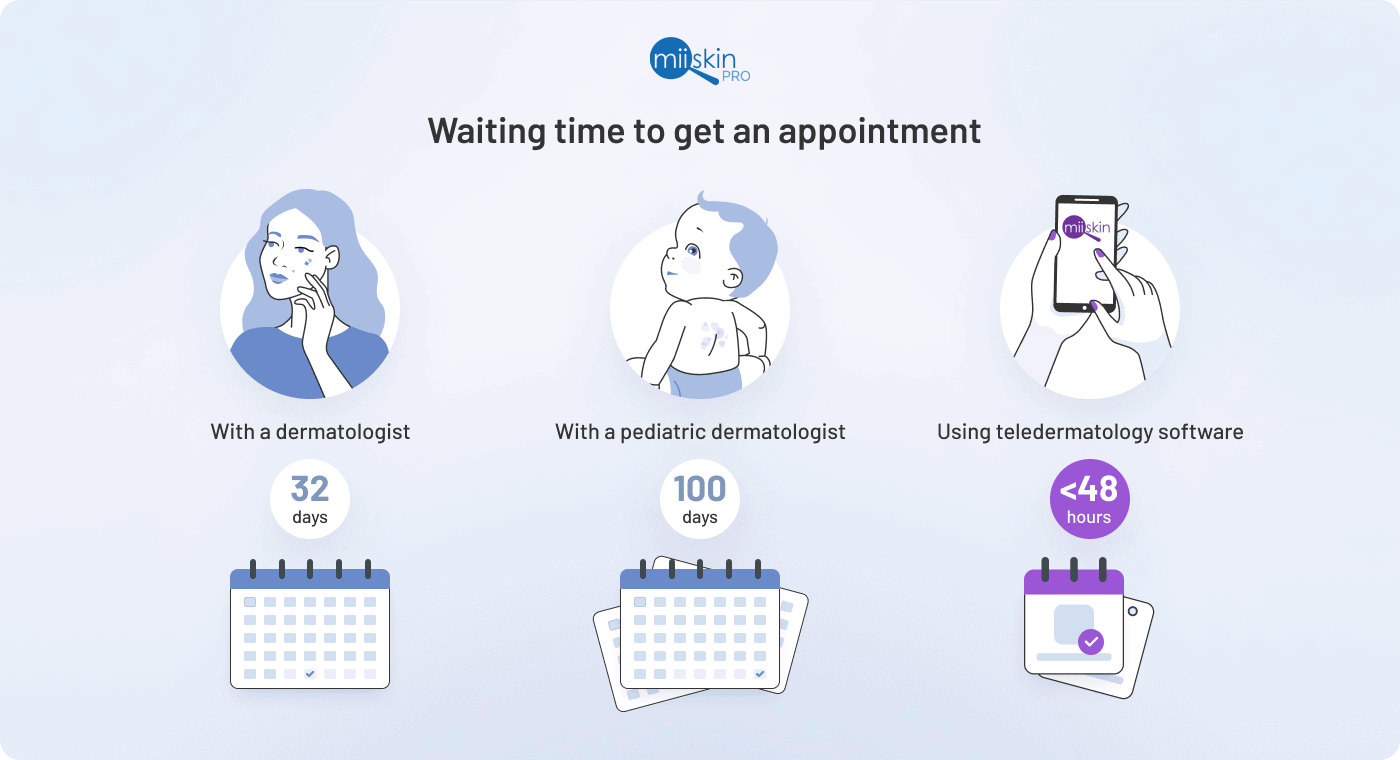 People are also interested in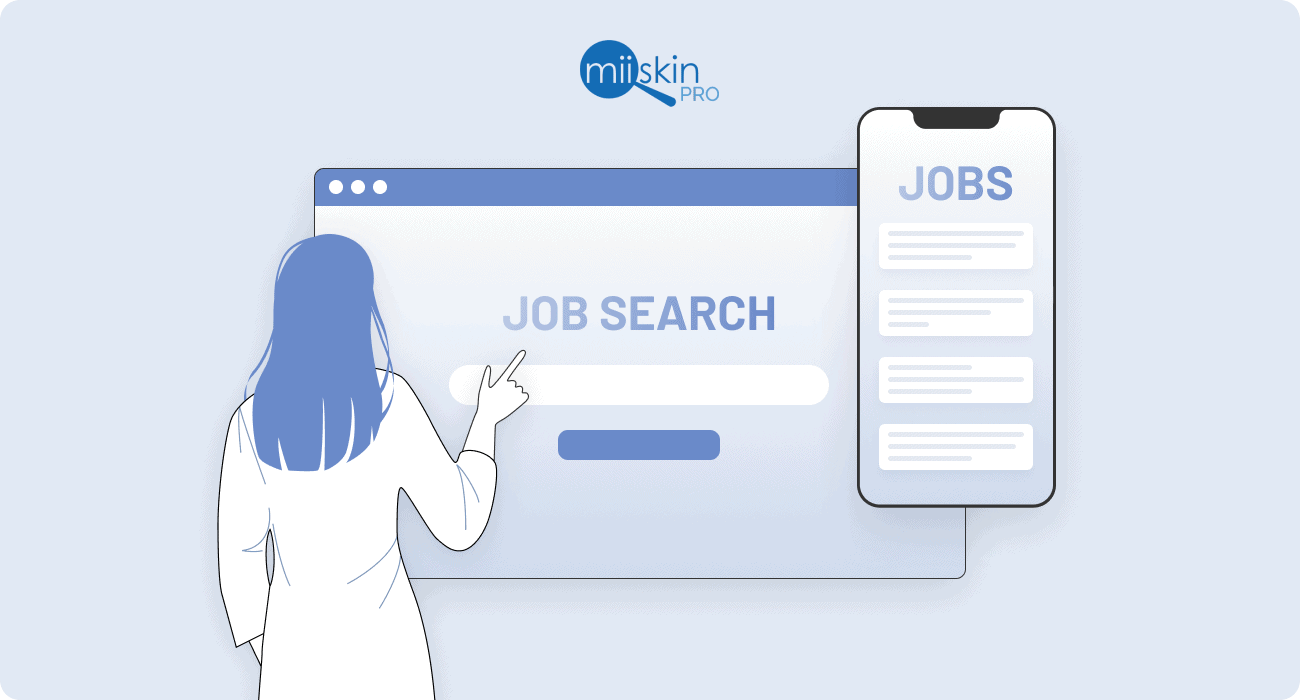 Interested in finding a remote dermatology telemedicine job? Look no further; these job boards are the best places to find Teledermatology jobs.
5. Speeds up treatment for patients with potential skin cancer
Telemederm may also benefit patients with a previous skin cancer diagnosis. Some of these patients require annual mole exams, and telemedicine could complement these consultations, increasing patient participation and satisfaction and reducing costs6.

Store-and-forward teledermatology is even more beneficial for these patients since it is beneficial for a dermatologist if the patient has a well-documented photographic history of their skin. Close-up photos of atypical moles and large body areas can help evaluate any changes in the skin and take action faster.
6. Increases the number of patient cases dermatologists can review per day
On average, a dermatologist can take five in-person consultations per hour. However, with a store-and-forward telehealth solution, they may be able to review up to 20 patient cases in the same period7.
MIISKIN PROMO
Attract New Patients to your Medical Practice with Miiskin PRO
Skin Health Solution for Providers
Boost patient acquisition: The Miiskin website and app are visited by thousands of patients in the U.S. every day; offer these patients care delivered by your practice.
Automate patient intake: Patients can fill out any intake forms, make payments and give consent via the Miiskin app.
Offer efficient care delivery: Make routine visits more efficient with an asynchronous telehealth solution, reimbursable at a similar rate to in-person visits.
Types of Teledermatology: Data Transmission Modes
The advantages of teledermatology are many, but it is important to differentiate between the different types of technologies (or data transmission modes) used and the advantages or disadvantages these technologies bring to the table.
Primarily, teledermatology encompasses two main data transmission modes:
Synchronous or Live-Video-Conferencing (LVC)
Asynchronous or Store-and-Forward (SAF)
Live Video Conferencing (LVC)
Live-Video-Conferencing (LVC) is a popular communication mode in telemedicine and has been thoroughly researched for implementation in dermatology.
Live video communication offers the same voice interaction between the participants as on the telephone, but the live camera can be directed towards a rash or skin lesion for visual inspection in real-time.
In most cases, using live video conferencing is inefficient in dermatology. Although it tries to mimic a physical consultation and is a possibility for patients very far from the dermatologist's office, the technology doesn't work well for a specialty like dermatology, and it has a few disadvantages compared to SAF technology.
Disadvantages of Live Video Conferencing (LVC):
Inefficient use of the provider's time
No time savings over in-person consultations
Incorrect diagnostic outcomes due to low-quality video
Short meeting delays create a backlog of patients
Store-and-Forward (SAF) Teledermatology
With a store-and-forward teledermatology platform, patients can upload high-quality images of their skin condition and their chief complaint, symptoms, and other clinical data. Dermatologists can then review the patient's request and deliver virtual care.

With this technology, the consultation happens asynchronously, which means that participants communicate at a distance and at different times.
Best telehealth technology for dermatology
Due to its incredible convenience, affordability, and lack of technical requirements, asynchronous teledermatology is being widely adopted by forward-thinking clinics looking to provide superior healthcare to their patients.
According to research, SAF telehealth is equivalent to high-quality live video conferencing from a diagnostic point of view. Unfortunately, it is impossible to obtain high-quality video for a telehealth consult in most cases since both parties need a speedy internet connection, which is unlikely.
On the other hand, store-and-forward technology does not require a speedy internet connection. Most of today's smartphones can capture the high-quality images needed for consultation. Besides, the consultation takes place asynchronously, which means both participants do not need to be available at the same time.