AltrenoTM vs tretinoin (Retin A): We asked a derm why this new tretinoin formulation is better
Discover the differences and similarities between Altreno and tretinoin to understand why this new formulation may be a better and more gentle option for your skin.
Table of Content:
Similarities | Differences | Altreno ingredients and benefits | Side-effects | Precautions | How to use it? | FAQ
Our commitment to producing high-quality content:
The information presented in this article is based on scientific research and the professional advice of our Content Medical Reviewers, who are experts in the field of Dermatology. How we write our content →
For many decades tretinoin has been regarded as the gold standard for treating acne, reducing fine lines, and improving overall skin texture. However, recent advancements have brought a new contender to the forefront: AltrenoTM. This innovative tretinoin formulation is making waves in the dermatology community, leaving many to wonder what sets it apart from the tried-and-true Retin-A.
To shed light on this new and exciting prescription medication, we sought the expertise of a Dr. Anna Chacon, board-certified dermatologist who has shared her insights on the key differentiators between Altreno and tretinoin and why it might be a better choice for individuals with adult acne or with anti-aging concerns.
In this article, we will explore the unique benefits of Altreno and the reason behind its growing popularity among patients and dermatologists alike. So whether you are a long-time Retin-A user or someone considering requesting a tretinoin prescription for the first time, this article aims to provide you with a comprehensive understanding of the differences between tretinoin and Altreno as well as their benefits.
Similarities between Altreno and tretinoin (Retin A)
According to Dr. Chacon, Altreno and tretinoin (Retin-A) share a few similarities as they both belong to the same class of topical retinoids and are used for the same purpose to combat acne and anti-aging.
Tretinoin is one of the active ingredients in Altreno1. Tretinoin is a form of vitamin A known for its effectiveness in treating acne, reducing fine lines and wrinkles, and facial roughness and hyperpigmentation2
Both, Altreno and tretinoin stimulate the turnover of skin cells, promoting exfoliation and the growth of new, healthier skin cells. This helps unclog pores, reduce inflammation, and improve the appearance of the skin3 4
Both Altreno and tretinoin require a doctor's prescription to purchase it
Altreno and tretinoin both cause skin purging and may cause similar side effects, especially during the initial stages of treatment
Request an Altreno prescription!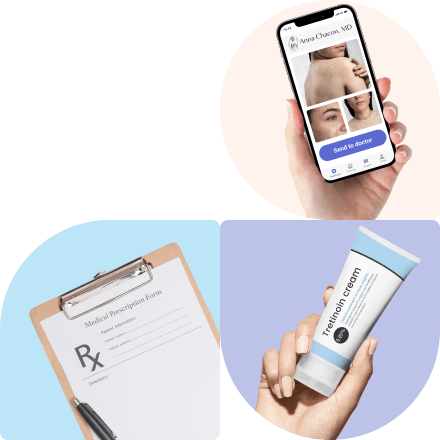 Differences between Altreno and tretinoin (Retin A)
"While Altreno and tretinoin share a few similarities, Altreno can be considered an improved version of Retin-A due to its inclusion of micronized tretinoin alongside additional beneficial ingredients such as hyaluronic acid, fish collagen, and glycerin" said Dr. Chacon.
"In contrast, Retin-A (branded version of tretinoin) only consists of tretinoin without these supplementary components," she added.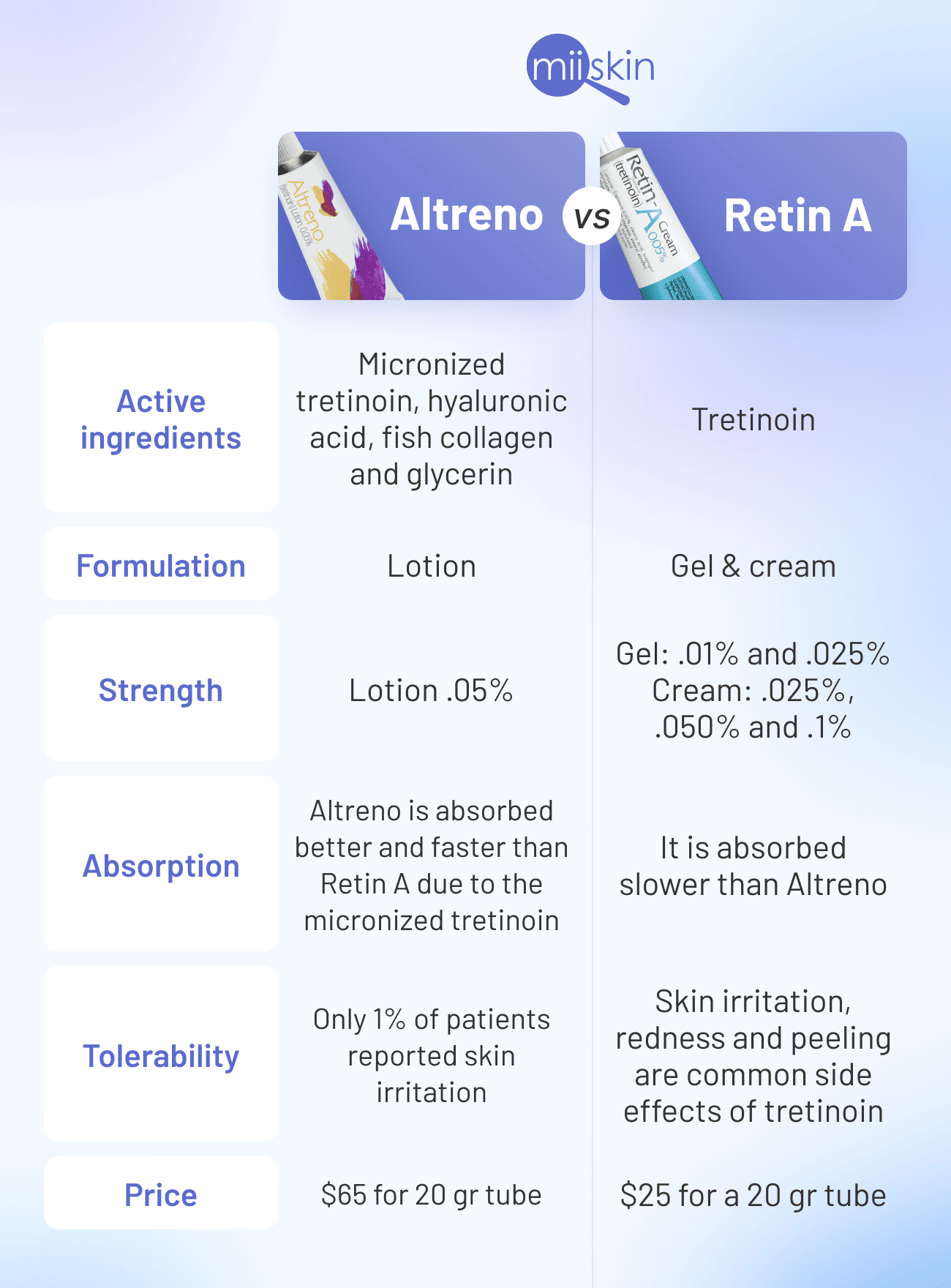 Benefits of Altreno
Dr. Chacon says that the reason why Altreno is superior to Retin A (stand-alone tretinoin) is because it contains a combination of widely used active ingredients such as collagen, hyaluronic acid, and glycerin in addition to tretinoin, all of which are renowned for their benefits in combating skin aging. Therefore, while the stand-alone tretinoin formulations are beneficial, they lack of these other ingredients.
Tretinoin benefits
The benefits of tretinoin, one of the active ingredients in Altreno are many, that is why it has been one of the most popular ingredients prescribed by dermatologists.
Reduces wrinkles and fine lines by promoting cellular turnover
Stimulate new collagen production
Lightens sun spots
Regulates the sebum (oil) in the skin
Unclogs pores
Reduces acne breakouts
Gives skin a smoother texture
Gets rid of dead skin cells which minimizes appearance of pores
Softens hard skin patches5
Hyaluronic acid benefits
Tretinoin and hyaluronic acid have always been considered the ultimate skincare duo since these two products complement each other so well. Although they have very different mechanisms of action, the benefits of hyaluronic acid complement those of tretinoin.
Keeps skin hydrated and moisturized6
It gives helps maintain a youthful appearance7
Stimulates skin cell regeneration 8
Reduces premature signs of aging due to environmental factors9
Collagen benefits
Studies conducted on on patients with wrinkles, lax skin, scarring, and stretch marks applying topical collagen have demonstrated significant improvements in skin appearance and histological changes such as:
Anti-wrinkling effect
Increased dermal density and elasticity
Improved skin texture, and hydration
Increased collagen and elastin deposition
These findings suggest that collagen treatments can have beneficial effects on the skin and contribute to overall skin enhancement10.
Glycerin benefits
The topical application of glycerin (also known as glycerol) can be beneficial for conditions characterized by dryness and impaired barrier function, particularly skin conditions aggravated by dry and cold environmental conditions. Glycerin has multiple positive effects on the skin, including:
Improving hydration
Enhancing the skin's barrier function
Protecting the skin against irritants
Accelerating wound healing
Antimicrobial properties11
Side effects of Altreno and tretinoin
Since they both include tretinoin, their side effects are quite similar which may include the so-called "tretinoin purge" and other symptoms such as burning, redness, stinging, peeling, dryness and skin irritation12. However, according to clinical trials these symptoms only affect 1% of the patients using it13.
Dryness
Pain
Redness
Irritation
Peeling14
Warnings and precautions when using tretinoin or Altreno
Dr. Chacon said that since Altreno contains tretinoin (which is a retinoid) it cannot be used by pregnant or nursing women15..
The Altreno formulation includes fish proteins, if you have a known fish allergy and experience hives or itching during your treatment, it is essential you let your dermatologist know16.
Inform your dermatologist about any pre-existing skin conditions, such as eczema, and provide a list of the medications you take, including prescriptions, over-the-counter medicines, vitamins, and herbal supplements.
"To protect your skin, it is advisable to minimize sun exposure and avoid tanning beds. Apply sunscreen with a high sun protection factor every morning on the skin areas undergoing treatment with Altreno and reapply every two hours when being outdoors," said Dr. Chacon.
How to use tretinoin and Altreno?
Tretinoin and Altreno should be applied once a day during the night after washing your face with a gentle cleanser.

In the case of Altreno, this is enough, as it is quite gentle on the skin. In the case of tretinoin you can follow a list of recommendations by Dr. Chacon to minimize tretinoin irritation.
FAQ About Altreno and tretinoin
Can tretinoin and Altreno be bought over the counter (OTC)?
Both tretinoin and Altreno are not available over the counter (OTC), they are prescription medications.
How can you get a prescription for tretinoin or altreno?
You can request a virtual visit with an online dermatologist which only costs $59 and if suitable, you will get an answer and a prescription for Tretinoin or Altreno in 1-2 days. Then you can pick up the medication from your local pharmacy.
How much is Altreno and how much is tretinoin?
According to the Altreno official website, a 20g of Altreno is $60 while a 20g tube of generic tretinoin is $20 – $40*.
*The price range listed here is just an estimation. Medication prices may vary depending on the state and the pharmacy selected. Miiskin is not responsible and cannot influence the price of the medication as it is independent from these entities.
Request an Altreno prescription!
Start your journey to better skin. Get a personal treatment plan from one of our affiliated dermatology providers. Let them know if you have a specific medicine in mind.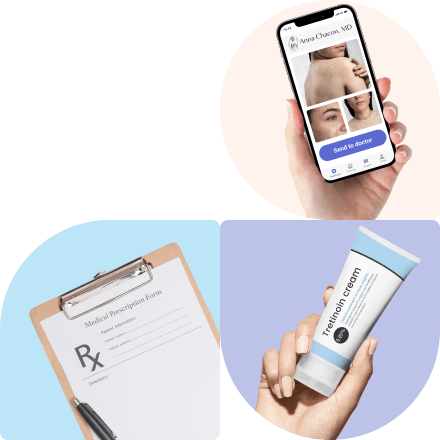 Subscribe to newsletter!
Unlock the secrets to a flawless complexion with our exclusive newsletter. Discover effective acne and anti-aging treatments, expert advice, and skincare tips. Subscribe now for a radiant future!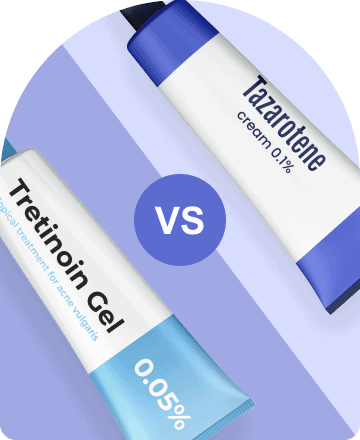 References:
https://www.altreno.com/the-evidence/
https://www.ncbi.nlm.nih.gov/books/NBK557478/#article-37574_s5
https://www.ncbi.nlm.nih.gov/pmc/articles/PMC3225141/
https://www.ncbi.nlm.nih.gov/pmc/articles/PMC7570474/
https://www.hmpgloballearningnetwork.com/site/wounds/article/hyaluronic-acid-inflammation-and-tissue-regeneration
https://www.ncbi.nlm.nih.gov/pmc/articles/PMC3583886/
https://www.researchgate.net/publication/358298784_Collagen_Supplements_for_Aging_and_Wrinkles_A_Paradigm_Shift_in_the_Field_of_Dermatology_and_Cosmetics
https://pubmed.ncbi.nlm.nih.gov/18510666/
https://www.mayoclinic.org/drugs-supplements/tretinoin-topical-route/side-effects/drg-20066521
https://www.healio.com/news/pediatrics/20180824/fda-approves-altreno-for-acne-treatment-in-kids-adults
https://www.altrenohcp.com/siteassets/pdf/patient-brochure.pdf
https://obgyn.onlinelibrary.wiley.com/doi/abs/10.1111/tog.12075