Tazarotene (Tazorac) vs tretinoin: similarities and differences
Retinoids like tazarotene and tretinoin are frequently used to treat acne and fight the effects of aging, learn more about differences and similarities between tazarotene and tretinoin and find out which one is better for your type of skin.
Table of Content:
Similarities & differences | Warnings and precautions | Tazarotene benefits & side effects | Tretinoin benefits & side effects | FAQ
Our commitment to producing high-quality content:
The information presented in this article is based on scientific research and the professional advice of our Content Medical Reviewers, who are experts in the field of Dermatology. How we write our content →
Tretinoin and tazarotene, (also known as Arazlo, Tazorac or Fabior foam) are topical treatments used to treat acne and prevent the signs of aging [1]. While they both reduce comedones, acne lesions, wrinkles, and improve skin texture, the manner in which they act on the skin differs greatly[2].
They also differ in their side effects profile and strengths. Here's a look at the differences and similarities between tretinoin and tazarotene so you and your online dermatologist can decide the best acne treatment for you.
Tretinoin and tazarotene, together with Retinol, Isotretinoin and Adapalene and Trifarotene (Aklief) are vitamin A derivatives called Retinoids and they all are used to combat acne and other skin diseases. These topical medications can be accompanied by oral antibiotics such as Seysara (sarecycline) or doxycycline to increase efficacy.
Tretinoin also known as retinoic acid a first-generation retinoid that comes as a topical solution (cream, gel or lotion) used to combat mild-to-moderate acne in the face as well as anti-aging[3]. tretinoin, acts directly on the skin-boosting cell renewal and turnover[4].
The FDA has approved the topical application of tretinoin for the treatment of acne, photoaging, facial skin roughness, fine wrinkles, and hyperpigmentation[5].
Tazarotene is used in the treatment of photodamaged skin[6], acne[7] and psoriasis[8].
Tazarotene is a third generation, synthetic, topical retinoid. It is also a prodrug for tazarotenic acid[9], which means that once it has been applied and absorbed by the skin, the body will transform this medication into the active substance it was made to be. This transformation process improves a medication's effectiveness and avoids certain side-effects[10].
Similarities between tazarotene and tretinoin
Studies show that tretinoin and tazarotene are both topical retinoids that are equally efficient to combat acne, hyperpigmentation, skin roughness, fine wrinkles and photoaging[12] [13] [14]
Differences between tazarotene (Arazlo) and tretinoin
Tretinoin is an older drug (first-generation) Retinoid that has been around for many years, while tazarotene is a newer drug on the market (third-generation), which means they are usually developed to "improve" something in the existing medication.
Studies show tazarotene 0.1% cream can achieve faster results in the treatment of photodamaged facial skin than tretinoin 0.05% cream[15] [16] [17]
A study revealed that tazarotene and tretinoin are slightly more irritating than Adapalene[18]
Tazarotene is a bit more expensive in the U.S. than tretinoin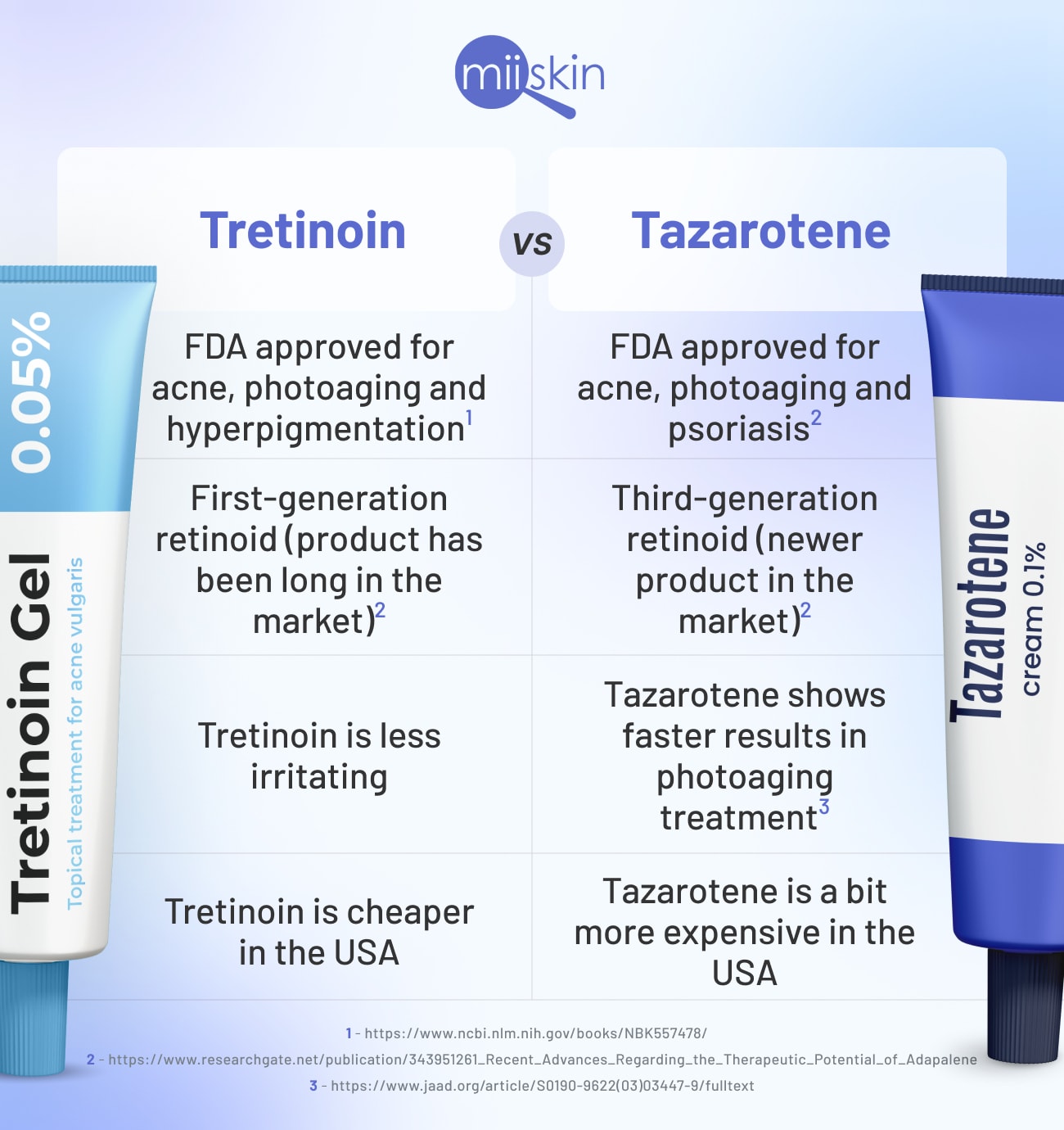 Request a prescription for tretinoin or tazarotene!
Warning and precautions when using tazarotene and tretinoin
Tazarotene and tretinoin are considered teratogenic, meaning they cannot be used by women who want to become pregnant, are pregnant, or breastfeeding because they may cause serious harm to the fetus[19] [20].
Women of childbearing age should use effective contraception when using these medications.
According to experts, since Retinoids cause photosensitivity, they should be applied at night and people using these products should apply sunscreen with a high SPF factor every morning (even during the winter) and re-apply every two hours when outdoors.
What is tazarotene (Tazorac)?
Tazarotene (also known as Tazorac or Veltin-L) is a prescription-grade gel used to treat acne, photoaging, and psoriasis. Like any medication, however, it comes with some side effects that you should be aware of before using it on your face.
Benefits of tazarotene (Tazorac)
Improves the look and feel of your skin
It reduces fine wrinkles
Reduces pigmentation
It decreases inflammation[21]
Boosts collagen production to increase the thickness of the outer layers of skin[22]
Side-effects of tazarotene (Tazorac)
Brand names of tazarotene
What is tretinoin?
Tretinoin or Altreno (new and improved tretinoin) is a topical form of vitamin A that has been extensively researched for use in the treatment of acne and wrinkles and has been approved by the FDA in this capacity[25]. It comes in various strengths and is a prescription-only medication. Tretinoin comes as a cream or gel.
Benefits of tretinoin
Unclogs pores and reduces acne breakouts
It minimizes pores by getting rid of dead skin cells
Promotes a regular flow of sebum
It makes skin smoother and improves the appearance of fine lines
Promotes cellular growth
Lightens dark spots[26]
Side-effects of tretinoin
Itching, burning, stinging, or redness of the skin
Slight skin peeling
Lightening or darkening of the skin
Skin dryness
Photosensibility
Sensation of warmth in the skin[27]
Brand names of tretinoin
Retin A
Arazlo
Avita
Refissa
Renova
Atralin
---
FAQ about tretinoin and tazarotene
How to get tretinoin or tazarotene (Tazorac)?
Tretinoin and tazarotene can only be prescribed by a healthcare professional. People who want a prescription for acne can have an online consultation with a virtual dermatologist. The consultation price is only $59 and you can expect an answer within 1-2 work days.
What is the price of tazarotene and tretinoin?
The generic price of Tazarotene varies from $70 to $100. The generic price for tretinoin is around $20 to $40*.
*The price range listed here is just an estimation. Medication prices may vary depending on the state and the pharmacy selected. Miiskin is not responsible and cannot influence the price of the medication as it is independent from these entities.
Tazarotene (Tazorac) vs tretinoin: which one is better for anti-aging?
Studies have shown that both products are equally effective for anti-aging; however you can see faster results with tazarotene[28] [29] [30]
Are tazarotene (Tazorac) and tretinoin safe for sensitive skin?
You can try both medications and see how well your skin tolerates them; however If you have sensitive skin, research shows that Adapalene is better tolerated than tazarotene and tretinoin[31].
Is tazarotene stronger than tretinoin?
Yes, tazarotene is more potent than tretinoin which means it shows results faster but it also can be more irritating to the skin[32].
Which is better for acne tretinoin or tazarotene (Tazorac)?
Only you and your healthcare provider can decide together what is the best acne medication for your skin.
Does tazarotene (Tazorac) work better than tretinoin?
Tazarotene shows results faster with regards to photoaging[33] [34].
What cannot be mixed with tazarotene (Tazorac)?
According to Dr. Miller you should not use tazarotene in combination with any other retinoids such as retinol, tretinoin, trifarotene, or adapalene.
If you are using AHAs and BHA in your skin care routine, you should apply this product on a different day, otherwise the combination of these ingredients can irritate your skin too much.
Dr. Miller suggests not mixing tretinoin with benzoyl peroxide because it may neutralize the effect of tretinoin. If you do mix tretinoin with benzoyl peroxide, Dr. Miller suggests applying the products to the skin at different times, for example, applying the tretinoin at night (due to photosensitivity) and benzoyl peroxide in the morning[35]..
What ingredients can be mixed with tazarotene or tretinoin?
According to Dr. Miller you can combine tazarotene or any other retinoids with hyaluronic acid to help hydrate and soften your skin.
You should also use a non-oily moisturizer in combination to ensure your skin stays moisturized and to avoid irritation.
You can also combine tazarotene and vitamin C serum, but you should apply tazarotene at night and vitamin C serum in the morning followed by sunscreen with SPF 50.
Does tazarotene (Tazorac) make acne worse?
Tazarotene may cause more acne breakouts during the first few weeks of use. This process is commonly known as skin purging and it may happen with many acne medications.
Subscribe to newsletter!
Unlock the secrets to a flawless complexion with our exclusive newsletter. Discover effective acne treatments, expert advice, and skincare tips. Subscribe now for a radiant future!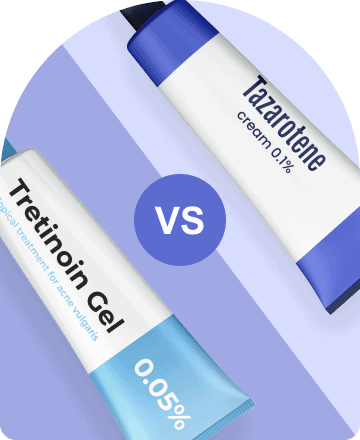 Conclusion
When deciding which acne medication is right for you, there are several factors to consider: tretinoin has fewer side effects, but isotretinoin is more effective at clearing stubborn acne.
Before deciding on isotretinoin over tretinoin, or vice versa, it is important to do your research as there are many other medications that combat acne and have milder side-effects, such as adapalene, benzoyl peroxide, doxycycline or spironolactone. Speak to a medical professional if you have any questions and discover if one is right for your needs. Do not go on a prescription until knowing all the details as there are many negative side effects that can occur if used improperly.
Article References:
https: //pubmed. Ncbi. Nlm. Nih. Gov/26897386/
https: //pubmed. Ncbi. Nlm. Nih. Gov/18046911/
https://www.ncbi.nlm.nih.gov/pmc/articles/PMC3225141/
https: //www. Ncbi. Nlm. Nih. Gov/pmc/articles/pmc2699641/
https: //www. Ncbi. Nlm. Nih. Gov/books/nbk557478/
https: //www. Jaad. Org/article/s0190-9622(03)03447-9/fulltext
https: //pubmed.Ncbi.Nlm.Nih.Gov/10898831/
https: //www. Sciencedirect. Com/topics/neuroscience/tazarotene
https: //pubchem. Ncbi. Nlm. Nih. Gov/compound/tazarotene
https: //www. Ncbi. Nlm. Nih. Gov/pmc/articles/pmc3978533/
pdf.recent advances regarding the therapeutic potential of adapalene (researchgate. Net)
https://www.ncbi.nlm.nih.gov/books/NBK557478/
https://jamanetwork.com/journals/jamadermatology/fullarticle/478614
https://www.jaad.org/article/S0190-9622(03)03447-9/fulltext
https://pubmed.ncbi.nlm.nih.gov/15203997/
https://pubmed.ncbi.nlm.nih.gov/11735710/
https://pubmed.ncbi.nlm.nih.gov/16957432/
https://rarediseases.info.nih.gov/diseases/517/fetal-retinoid-syndrome
https://www.Researchgate.Net/publication/366961789_tazarotene_a_concise_review_of_mechanism_of_action_and_therapeutic_benefits_pharmaceutical_science-drug_review
https: //www. Accessdata. Fda. Gov/drugsatfda_docs/label/2002/16921s21s22s25lbl. Pdf
https: //pubmed. Ncbi. Nlm. Nih. Gov/18575220/