Tretinoin strengths: a dermatologist's guide for users
Tretinoin is a popular treatment used to combat acne, photoaging and anti-aging, however there are different formulations and concentrations that's why we asked a dermatologist about the different strengths of tretinoin.
Table of Content:
What is tretinoin? | Benefits | Side effects | Strength chart | Best strength for acne | Minimizing irritation | Strongest concentration available | Best strength for wrinkles
Our commitment to producing high-quality content:
The information presented in this article is based on scientific research and the professional advice of our Content Medical Reviewers, who are experts in the field of Dermatology. How we write our content →
Tretinoin, a retinoid derivative, is a popular topical acne medication1 however tretinoin can also be used to treat wrinkles, photoaging, and hyperpigmentation2.
In this article, we will explore the different strengths of tretinoin, what they are used for, so you and your online dermatologist can choose the right strength for your skin problem.
What is tretinoin?
Tretinoin (also known as retinoic acid) increases cell turnover, promotes the growth of new skin cells, and boosts collagen production, resulting in smoother, clearer, and brighter skin3.
Tretinoin is 20 times more potent than retinol, since retinoic acid acts directly on the skin, boosting cell turnover and renewal4.
Research shows that tretinoin is very efficient in the treatment of photoaging (sun damage), smoothens out wrinkles, evens skin tone, and makes the skin look firmer by boosting collagen production5.
Benefits of Tretinoin
Regulates the flow of sebum in the skin
Unclogs pores and reduces acne breakouts
Gives skin a smoother feel
Reduces pores by getting rid of dead skin cells
Softens hard skin patches
Lightens dark spots
Reduces the appearance of wrinkles and fine lines by promoting cellular turnover6
Side Effects of Tretinoin
There are some minor side effects associated with their use of tretinoin.
Temporary increase in acne breakouts
Burning sensation
Redness
Skin irritation
Dry, flaky, and peeling skin
Sunburn7
Is tretinoin right for your skin?
Are you unsure whether tretinoin will help your acne problems? Consult a dermatologist via a convenient photo-based consultation, a dermatology professional will evaluate whether tretinoin is the best prescription for your acne treatment and, if so, which tretinoin strength you might benefit from.
Request a prescription for tretinoin for acne or anti-aging
Start your journey to better skin. Get a personal treatment plan from one of our affiliated dermatology providers. Let them know if you have a specific medicine in mind.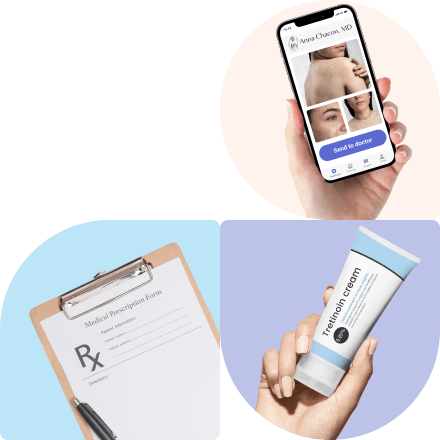 Tretinoin strengths, formulations and brand names
Several pharmaceutical companies produce tretinoin, and this popular ingredient is available in two formulations: creams and gels.
Tretinoin comes in different strengths, ranging from 0.01% to 0.1%, and each strength has its advantages. Take into consideration that in some cases, higher strength does not equal better because higher strengths will cause more skin irritation.
However, regardless of its strength, all tretinoin creams and gels need a prescription from a doctor.
Tretinoin Strength Chart
What tretinoin strength is best for acne?
"Your healthcare provider will decide what strength of tretinoin is best for your acne and it will vary depending on the severity of the acne, as well as other factors such as skin type and sensitivity. In general, lower tretinoin strengths of (0.01% or 0.025%) may be used for mild to moderate acne, while higher strengths (0.05% or 0.1%) may be used for more severe or stubborn acne," says Dr. Anna Chacon, dermatologist.
"However, it is important to consider that tretinoin can cause skin irritation especially when you first start your treatment. Therefore, it is best to start with a lower strength and slowly increase, if necessary. Remember to avoid using other anti-acne products, while using tretinoin, unless indicated by your doctor," she added.
How to use different strengths of tretinoin to minimize skin irritation?
According to Dr. Chacon, since tretinoin can cause skin irritation, she recommends you take a few steps to reduce this:
Start with a low strength of tretinoin (0.01% or 0.025%) and gradually increase, if necessary. Do this under the supervision of a healthcare professional.
Use a tiny amount (about the size of a pea) and apply scarcely.
Make sure your skin is completely dry before applying tretinoin, as applying it on freshly washed skin can increase the risk of skin irritation.
Apply twice per week, then every other night, and then nightly to allow your skin to adjust to the medication.
Apply a moisturizer before and after applying tretinoin to help soothe and hydrate the skin. Wait at least 20 minutes between applications.
Use a sunscreen with SPF 50 every morning, even when it is cloudy to avoid sunburn.
Do not combine tretinoin with other retinoids (retinol, tazarotene, trifarotene, or adapalene or trifarotene).
Avoid using other potentially irritating skin care ingredients such as salicylic or glycolic acids, benzoyl peroxide.
If you experience skin irritation, redness, or peeling while using tretinoin, suspend the application until the symptoms disappear and talk to your healthcare provider to reduce the doses or switch to a different medication more suitable to sensitive skin such as adapalene.
What are the different tretinoin cream strengths (concentrations)?
Tretinoin creams come in the following strengths 0.02%, 0.025% 0.05% and 0.1% depending on the pharmaceutical companies that produce them. Not all brands come in all the different strengths.
What is the strongest concentration of tretinoin creams and gels?
The strongest concentration of tretinoin creams is 0.1% and can be bought as Retin-A (cream) or Retin-A Micro (gel).
What tretinoin strength is best for wrinkles?
Healthcare providers usually recommend a 0.05% tretinoin cream for wrinkles because it creates a nice combination between effective treatment and manageable side effects.
When to increase tretinoin strength?
According to Dr. Chacon, you should start with a tretinoin product that has low strength such as 0.01% and up to 0.025% and when your skin tolerates daily application, you can increase the strength. Please take into consideration that this may not be necessary and that your skin may not tolerate a higher tretinoin strength, so you may need to remain with a low concentration.
How to get tretinoin for acne or wrinkles?
Tretinoin can only be bought with a prescription and you will have to either visit your dermatologist or just ask for an online dermatology consultation to obtain one.
Request a prescription for tretinoin for acne or anti-aging
Start your journey to better skin. Get a personalized treatment plan from one of our affiliated dermatology providers. Let them know if you have a specific medicine in mind.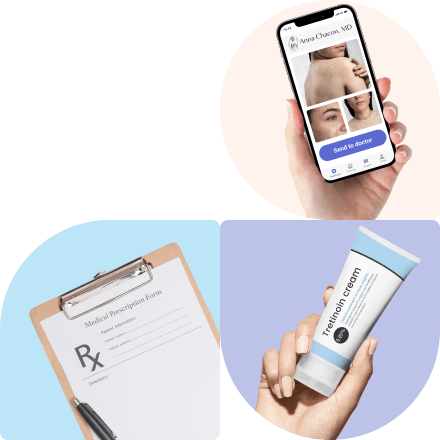 PATIENT EDUCATION
All about tretinoin
Read these articles to learn more about this popular acne and anti-aging medication!
Article References:
https://www.ncbi.nlm.nih.gov/pmc/articles/PMC3225141/
https://www.ncbi.nlm.nih.gov/pmc/articles/PMC2699641/
https://jddonline.com/articles/40-years-of-topical-tretinoin-use-in-review-S1545961613P0638X
https://my.clevelandclinic.org/health/treatments/23293-retinol