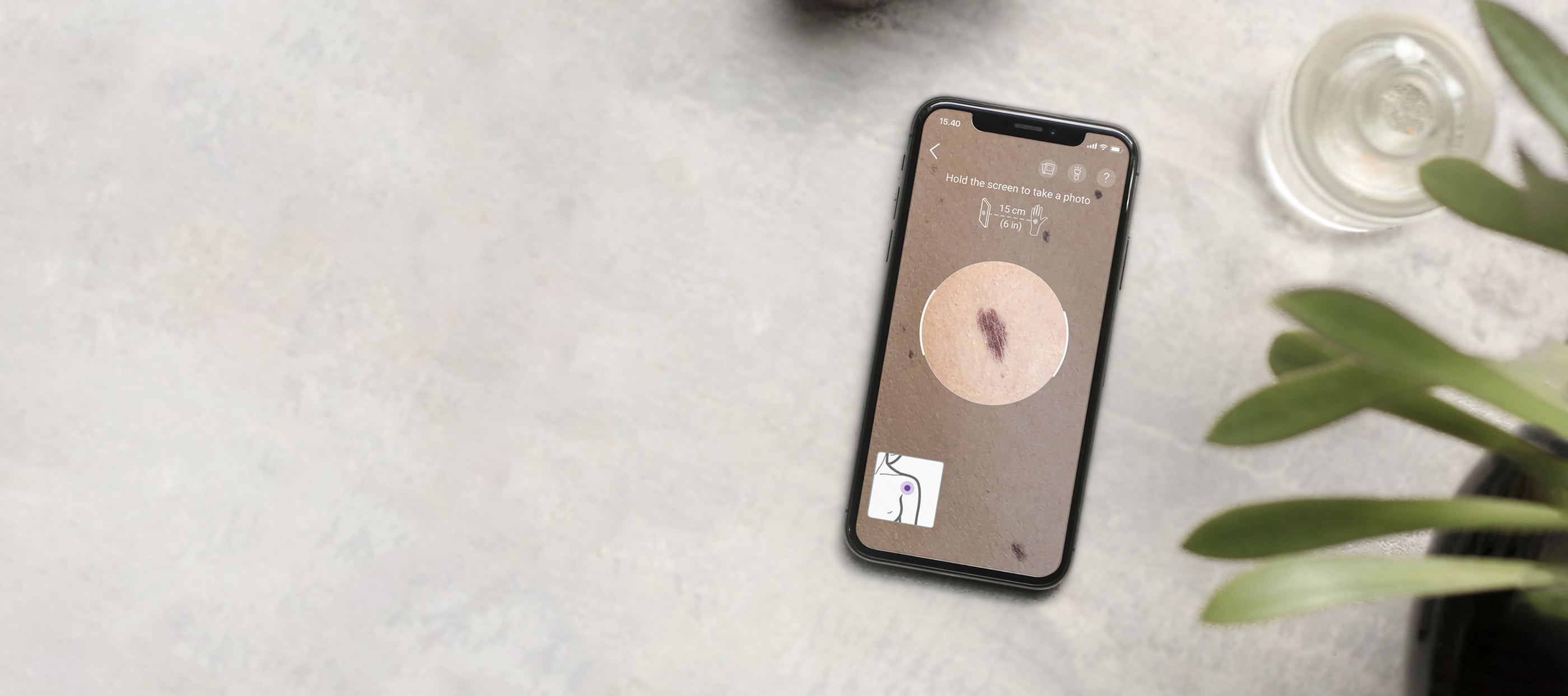 Track your skin and moles
Take photos of your skin and moles over time and compare them to spot any changes.
A skin and mole check app you can trust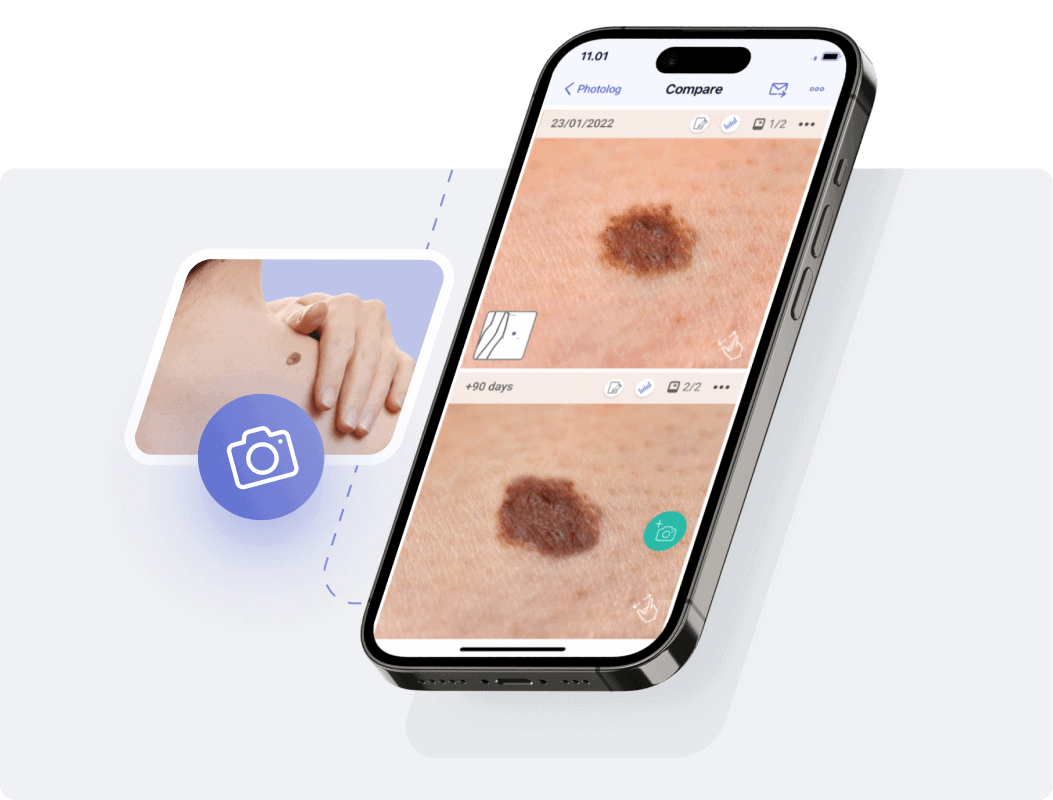 How to use the app
Compare your close-up photos of skin and moles taken at different times to see if anything has changed.
Miiskin Services
Basic
Keep track of 3 existing moles and marks
Side-by-side comparison in the app
Set reminders so you don't forget to follow up
Premium

(Free Trial)
Keep track of unlimited number of existing moles and marks
Photos are securely backed up and separated from your phone's gallery
Keep an eye out for new moles with wide area photos
Side-by-side comparison computers/tablets with Web Compare and Skin Mapping
Automatic Skin Imaging to take full-body images of your skin
Mole Sizing to digitally measure the size of skin lesions and moles
Face Tracking to monitor and document acne and other skin conditions
Transfer photos when you get a new phone
Protect your photos with a 4-digit PIN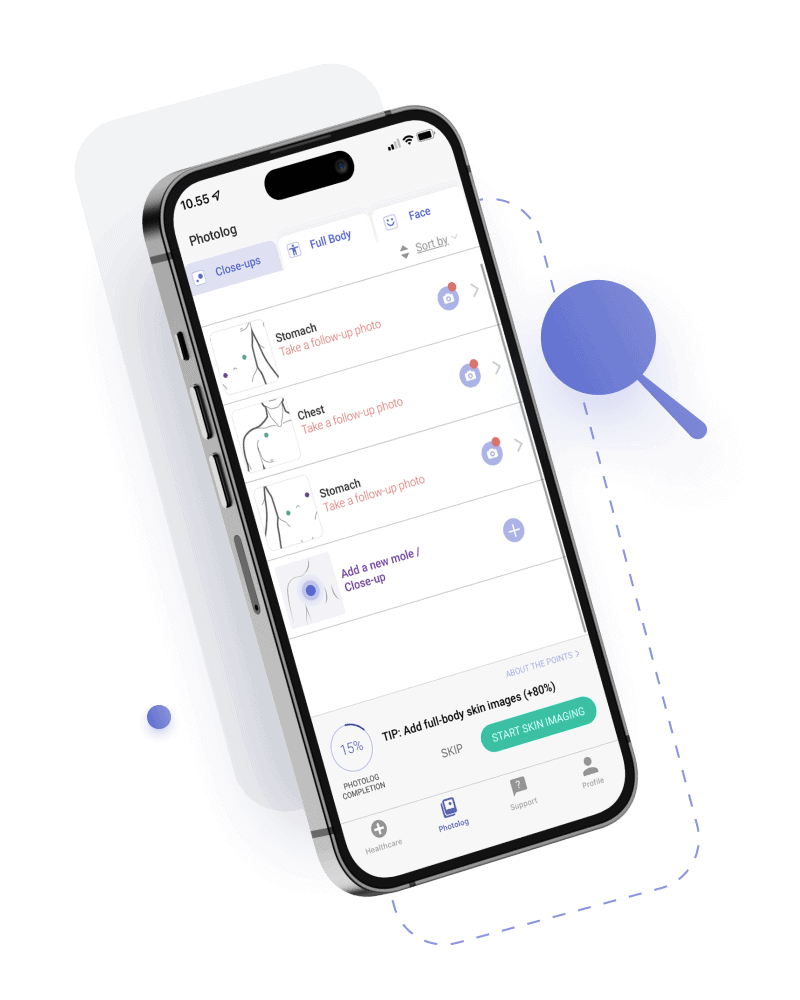 Advanced Premium Features
Mole Sizing:


Track the size of your moles over time

Miiskin's Mole Sizing feature lets you take photos for digital measurements and allows you to track the size of moles and skin lesions over time.
Automatic Skin Imaging:


Take full-body skin photos (front and back) on your own

Miiskin Premium's Automatic Skin Imaging feature lets you take full-body images of yourself for easy side-by-side photo comparison over time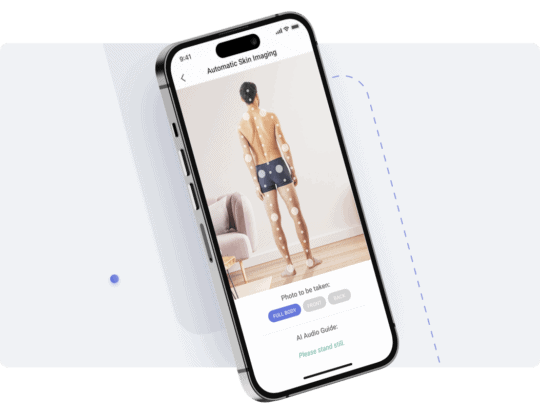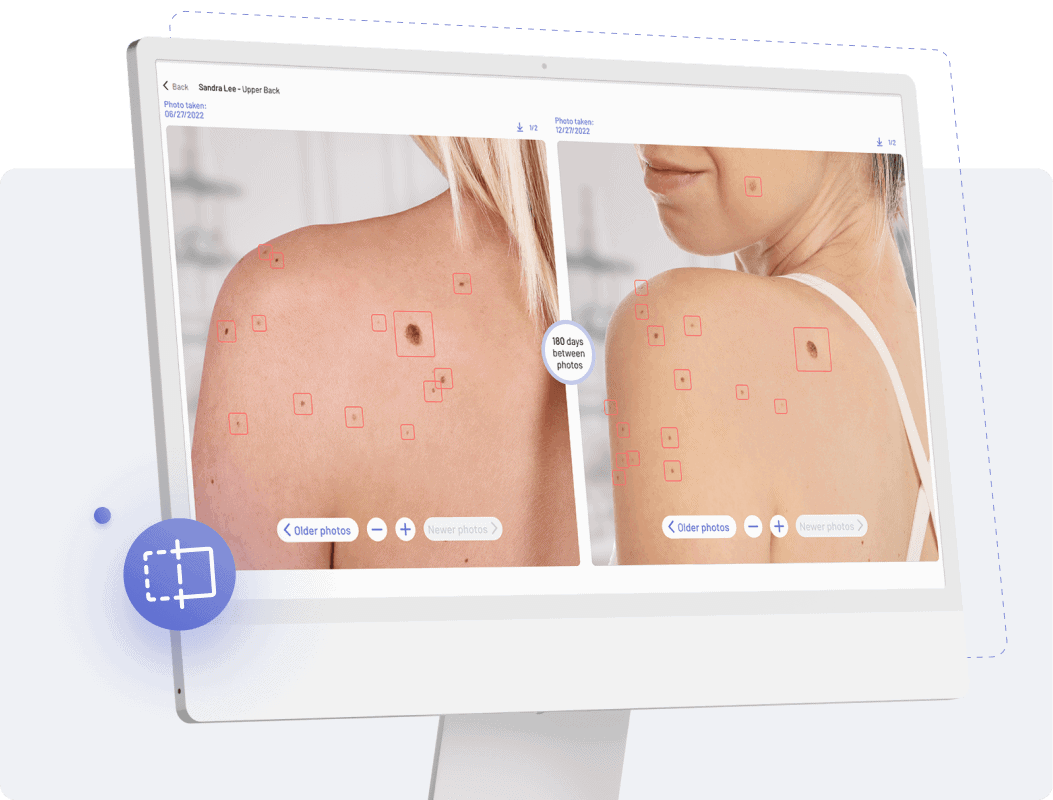 Skin Mapping:


Watch out for new moles and marks

Miiskin Premium also lets you keep track of wide areas of your skin. Access your photos on any large screen anywhere with Web Compare.

Miiskin's Skin Mapping (beta), accessed in Web Compare, automatically identifies the moles and marks on your skin that it can find.

Keep an eye out for any new moles or spots – not least on the hard-to-see back.
Face Tracking:


Monitor your treatment and skincare routine progress

Face Tracking feature allows you to monitor skin conditions such as acne and helps you manage your skin routine by keeping a photo diary to track changes and making notes to document your treatment progress.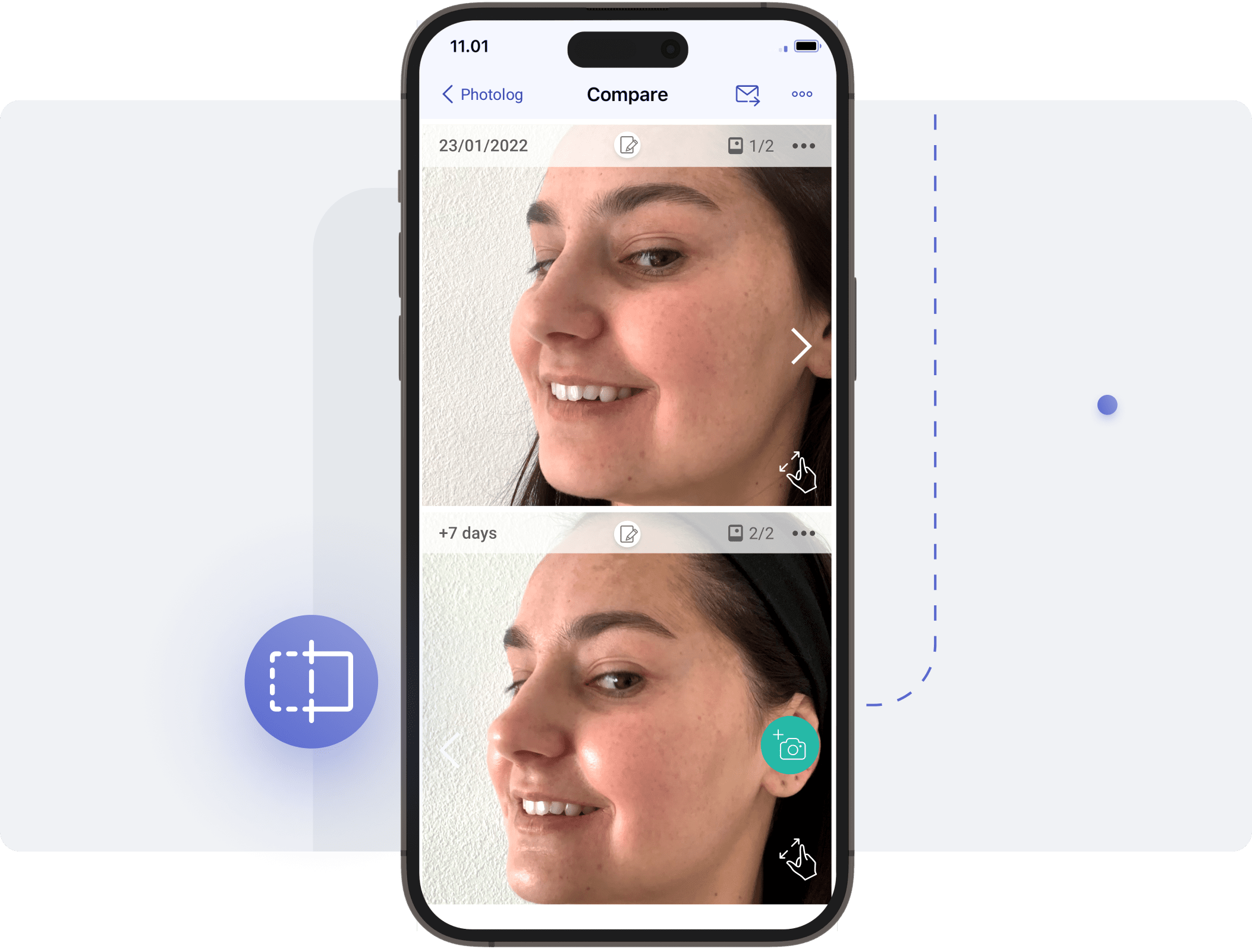 Check Your Moles With an App
Frequently asked questions about checking moles with an App
What to look for when using an app for checking moles?
The most important thing to do if you are concerned about a specific skin mole is to get it examined by a doctor. You should not rely on any app instead of a medical skin cancer check.
If you have had any worrying moles checked and now want to be proactive about spotting early changes on your skin and moles, you can use Miiskin to check moles for changes with close-up photos and just as importantly your overall skin through full-body photos taken with Automatic Skin Imaging.
How do you check moles with the app?
Miiskin contains a handy side-by-side comparison tool directly in the app that you can use to compare your follow-up photos against your baseline photos to see if there has been any visual changes.
For your full-body photos it is beneficial to take advantage of Miiskin's Web Compare tool. Web Compare allows you to view your full-body photos on a desktop computer or tablet, so you get the benefit of a larger screen size when you compare your full-body photos side-by-side to see if any lesions have changed or if any new lesions have appeared on your skin.
When should you get moles checked instead of using an app?
If you have a specific mole or lesion that you are concerned about today and you haven't had it examined by a doctor, we do not recommend you to rely on any app to check this mole. Instead you should book an appointment with a doctor to get this mole or lesion checked.
You can then follow your doctor's instructions and learn whether monitoring this mole or lesion for changes with Miiskin and if taking full-body photos for overall skin monitoring would be beneficial to you.
You can use Miiskin to holistically check your moles for changes by routinely taking photos of the same moles over time as well as take full-body photos for overall monitoring of as many moles as possible and to look out for new lesions. You can then later present photos to your doctor if you spot any changes.
Why is it important to check your moles for changes with an app?
It's important to check your moles for changes, particularly if you have atypical moles or unusually appearing moles. A change in a mole could be a skin cancer sign. You can get to know the appearance of your moles and document their appearance with photos to check them for changes at home, but you should see a physician if you are concerned about one or more of your moles and want an examination if a mole on your skin might be of concern.
Is there an app to detect skin cancer?
Miiskin's does not provide any AI assessments or diagnoses of any kind. It is important that you get any moles or lesions, you are explicitly concerned about, checked out by a doctor and to not rely on any apps to replace a doctor's examination of your skin. Miiskin can be used to visually keep track of any changes on your skin and moles but it is the job of a doctor to examine moles and other lesions for any signs of cancer. You can read more about the topic of skin cancer apps.
Get started now or dive into Frequently Asked Questions about Miiskin.
Miiskin's User Stories
Read about how these users, previously affected by skin cancer, are now using Miiskin during their skin self-examinations.