Online Dermatology Frequently Asked Questions
This article gives you an overview of the frequently asked questions patients have about online dermatology services, including the different types of services available, the waiting time for this service, and the price range.
Author Jennifer Highland, Content Manager of Miiskin | Reviewed by Jon Friis, founder, and CEO of Miiskin
---
Everybody talks about telehealth and telemedicine in dermatology, but what do these terms mean? What is the difference between both terms? What are the different types of technologies utilized to offer virtual dermatology consultations? What skin conditions can be treated with online dermatology? What are the different types of online services for virtual dermatology visits? Is virtual dermatology covered by your insurance health plan? Continue reading to learn more!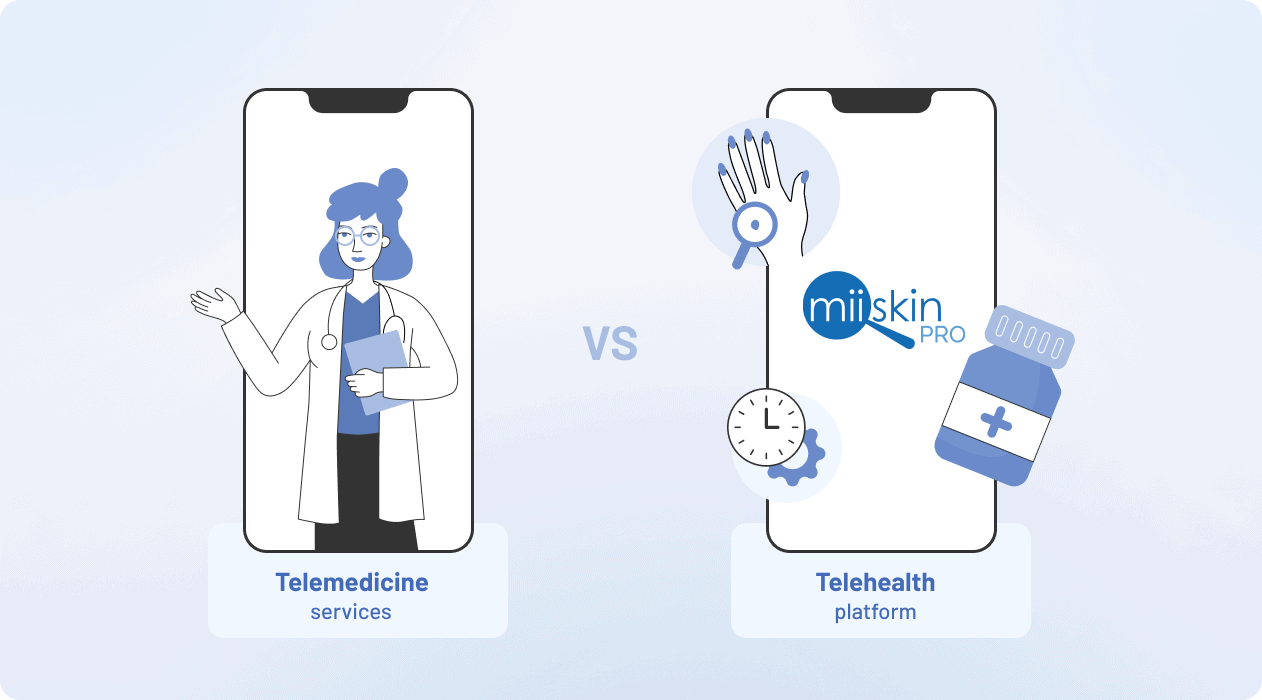 Frequently Asked Questions about Online Dermatology
1. What is telehealth in dermatology?
Telehealth is the technology used in care delivery and health-related services, for example, live-video conferencing, store-and-forward electronic transmission, mobile health apps, and remote patient monitoring1. In dermatology, the most common type of telehealth used is store-and-forward due to its convenience for patients and providers. This technology enables patients to take good-quality photos of their skin condition, answer a few questions, and then submit this information to be reviewed by the dermatologist.
2. What is telemedicine in dermatology?
Telemedicine is the practice of medicine using a telehealth platform to deliver remote healthcare2. In the case of dermatology, this is related to a dermatologist reviewing the photos and the answers from the clinical questionnaire submitted by the patient.
3. What is the difference between telehealth and telemedicine in dermatology?
The difference between telehealth and telemedicine is that telehealth is the technology healthcare providers (dermatologists) use to provide telemedicine services to their patients.
4. What skin conditions can be treated with online dermatology?
Moles and lesions

Acne

Rosacea

Wound care

Psoriasis

Eczema

Cosmetic dermatology
5. How does online dermatology or dermatology telemedicine work?
There are two types of technologies used to provide virtual dermatology consultations in the United States: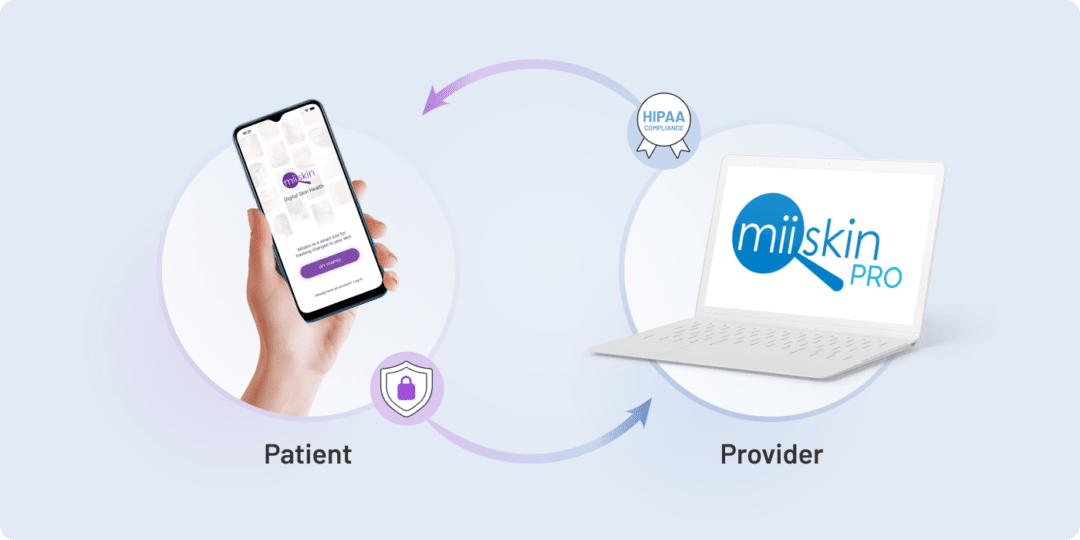 Live-video-conferencing (LVC):

Patients and dermatologists have a live conversation via any video-conferencing tool

Store-and-forward (SAF): Patients take photos of skin conditions and answer clinical questionnaires in which they describe their symptoms and other information required by providers. The providers can review patients' requests and prescribe a treatment plan without being available at the same time. Teledermatology apps are part of this category as well. 
6. Which technology is better for a virtual dermatology visit?
In the specific case of dermatology, a store-and-forward solution is a much better alternative. This technology allows patients to send images of their skin conditions to a dermatologist to receive diagnoses without going into the office. This helps doctors save time while also assisting patients in getting better care by giving them faster access to specialists.
Store-and-forward technology also enables dermatologists to spend less time on routine visits, which means more patients can be seen during a day's work, reducing the waiting lines. In most cases, you will be able to book a "virtual dermatology visit" much faster than a live consultation.
Patients can also request prescription renewals virtually. They need to complete a clinical questionnaire, and if the treatment is progressing as expected, the doctor will renew it immediately.
7. Why are live-video consultations a bad alternative for online dermatology?
Live video conferencing requires a steady and robust Wi-Fi connection. If a problem arises, providers may not be able to finish the consultation, which will inevitably lead to patients being upset. 
Besides, during the call, the video call quality can be pretty poor, and providers may not be able to see close-up photos of the skin condition. 
Using live video conferencing may also feel awkward or invasive for patients if the skin lesion is located in a private body area or in a place that can be difficult to show in front of a live camera.
8. Why is online dermatology needed?
Many people in the U.S are affected by a skin condition, whether it is as common as acne or as serious as melanoma.

– Skin cancer is the most common type of cancer
– Over 50 million people suffer from acne
– More than 7.5 million people have psoriasis
– Over 16 million people live with rosacea

Besides there is a lack of dermatologists due to several reasons:
An insufficient number of residency positions: Every year there are only 300 dermatology residency positions in the U.S.3

Increased number of women in the dermatology workforce: Women represent almost 50% of dermatologists more than 60% of dermatology trainees4

and

due to family obligations, many work part-time.

Low dermatologist density: For every 100,000 people there are only 3.4 dermatologists in the U.S.5
Early retirement: Due to stress and huge work overload, many dermatologists choose early retirement.
Virtual dermatology visits help patients get dermatological treatment much faster than having to wait for an in-person consultation.
9. Why should a patient choose online dermatology instead of a face-to-face consultation?
The current dermatological care delivery model can be a bit inefficient.
Patients, in many cases, have to wait a long time to get an appointment and wait again in the waiting room to see a dermatologist at the patient's inconvenience 

Patients have to take time from work to attend physical consultations

Patients cancel last-minute or don't show up because they are too busy with work or with family obligations

Doctors and patients have to communicate via email or another insecure platform

Doctors spend a lot of valuable provider time asking the same questions about the patients' skin conditions, medical history and to give patients similar treatment plans
By complementing with virtual dermatology visits, all of that changes.
Patients can book a virtual dermatology consultation and get treatment much faster, in many cases even within 48 hours

Patients can take photos of their skin condition and answer clinical questionnaires from the comfort of their homes whenever they have the time

Patients and doctors don't need to be available at the same time, which is very convenient for both

Patients don't need to spend a lot of consultation time answering questions from their doctor because the clinical questionnaires can be answered on their smartphones

Patients know that their information is securely stored at a HIPAA-compliant platform instead of using email

Most insurance companies cover virtual dermatology visits at a comparable rate to in-office visits
10. How can patients request a virtual dermatology consultation?
Usually, patients can book a  virtual dermatology consultation via an app or a web portal. At the end of this article, we have a link to an article where we compiled a list of dermatological providers that offer virtual visits.
If you would like your dermatologist to offer this service at their clinic, please send us an email at contact@miiskin.com with the name of your local dermatology office and we will try to get them onboard to the Miiskin PRO platform.
11. Can patients have a virtual dermatologist consultation for an emergency?
For medical emergencies, patients should dial 911 in the USA or 112 in Europe.
12. How long does it take to get an answer with an online dermatology service?
It will take less time to get a response for a virtual consultation than to book a physical consultation. The time frame depends on the clinic, the number of dermatology providers to review patients' cases, and the number of people who request a visit.
13. Can patients get medication with online dermatology?
Yes, it is possible to get a prescription with an online consultation if your case is straightforward.  If you are an existing patient in the clinic requesting a prescription renewal This can in many cases be facilitated virtually as well. However, in some cases, the dermatologist may consider it necessary to book a physical appointment to review your condition more closely.
14. How much does online dermatology cost?
It depends on the virtual dermatologist provider. On average, the cost of a telehealth dermatology appointment can vary from 30 to 199 USD, if patients are self-pay; whereas the co-pay is typically the same as an in-person visit,  if covered by insurance. 
It's important to note that patients get what they pay for, therefore, a consultation with a proper dermatologist will be at the high end of this spectrum.
15. Is online dermatology covered by private insurance companies?
Online dermatology visits and are reimbursed at a comparable rate to physical consultations by most insurance companies in the U.S. We are mentioning some of the largest insurance companies below, but there are many more insurance companies that cover telehealth visits in dermatology.

United Healthcare (United Health)

Blue Cross and Blue Shield (BCBS)

Cigna 

Humana
16. Do Medicare and Medicaid cover online dermatology?
Medicare and Medicaid do cover online dermatology in some states: Alaska, Washington, Minnesota, Michigan, New York, Vermont, Maine, Iowa, Oregon, Nevada, Missouri, Kentucky, West Virginia, Maryland, California, Arizona, Tennessee, Virginia, New Mexico, Texas, Georgia, Hawaii, Ohio, and North Carolina. It is, however, our experience that there is better coverage for Telehealth consultations from private payers.
17. How can I find an online dermatology service?
MIISKIN PRO PROMO
HIPAA-compliant telehealth platform for dermatologists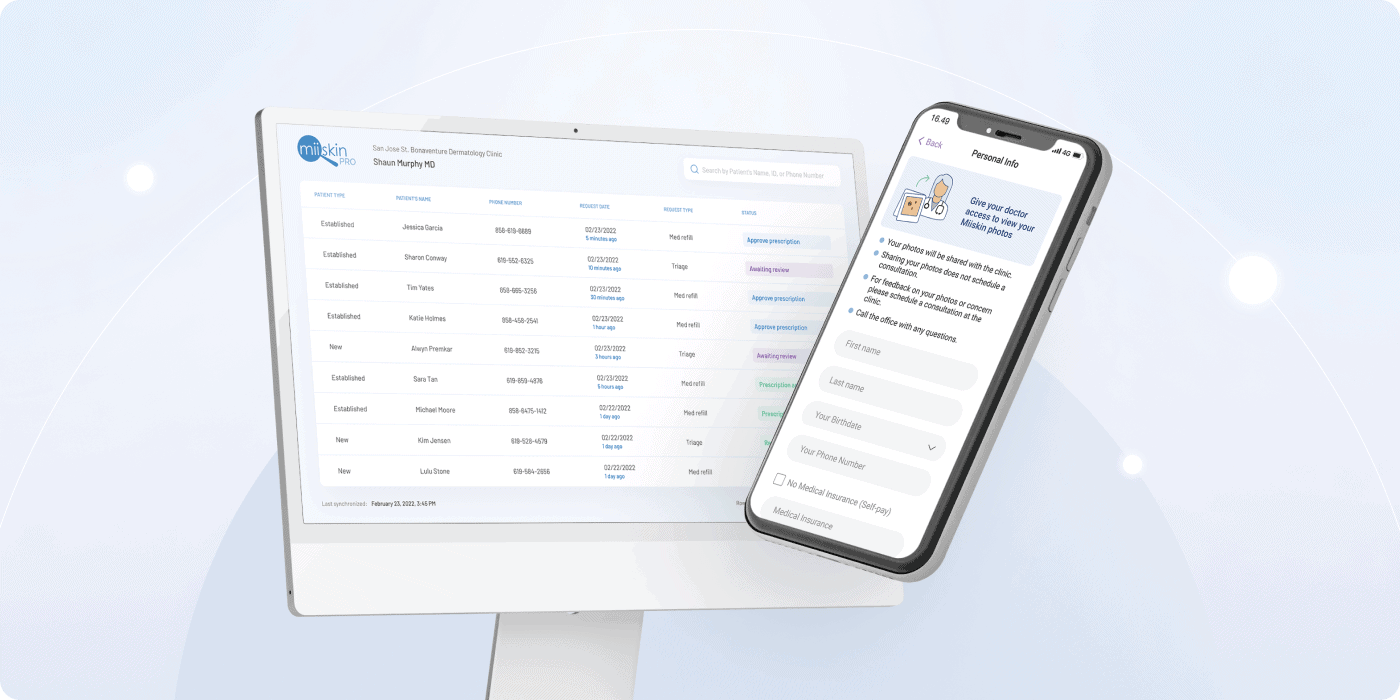 Miiskin PRO is a HIPAA-compliant telehealth platform for dermatology that allows patients to request virtual or in-person consultations with a local dermatology clinic via the Miiskin app.

Dermatologists can triage patients online, offer asynchronous virtual care, and renew prescriptions online at a similar reimbursement rate to in-person consultations.
Make a difference. Share this article.
References:
1 https://www.aafp.org/news/media-center/kits/telemedicine-and-telehealth.html
2 https://www.aafp.org/news/media-center/kits/telemedicine-and-telehealth.html
3 https://www.dermatologytimes.com/view/todays-dermatologist-workforce
4 https://practicaldermatology.com/articles/2019-jan/the-gender-gap-in-dermatology-where-are-we-now
5 https://jamanetwork.com/journals/jamadermatology/fullarticle/2607375