Store-and-Forward Teledermatology: Definition, Benefits, and Applications
This article covers the definition, benefits, and applications of asynchronous store-and-forward (SAF) technology in dermatology, a comparison to live video conferencing (LVC), and an explanation of why SAF is the technology of choice for dermatologists.
Author: Jennifer Highland, Content Manager of Miiskin | Reviewed by: Jon Friis, founder, and CEO of Miiskin
Covered in this article:
Definition | Process | Benefits of SAF | Applications of SAF | Benefits of LVC | Disadvantages of LVC | Comparison of SAF and LVC | A unique solution
Store-and-forward (SAF) Teledermatology, also known as asynchronous teledermatology, is changing the way dermatologists deliver care. Patients are requesting dermatology care now, but providers have limited resources and a very high volume of patients.
Store-and-forward teledermatology can help providers attract new patients to their clinic, keep up with this demand, and avoid physician burnout by enabling them to offer efficient, virtual care at convenience to both them and their patients.
Store-and-forward telemedicine is an excellent way to provide care to more patients and make a dermatology business more efficient, whether you have an established practice or you are starting a new dermatology clinic.
This article covers the basics, including the definition of store-and-forward teledermatology, its benefits, and its applications.
It is also worth noting that the reimbursement for store-and-forward telehealth consultations in dermatology is now comparable to in-person consultations by the largest insurance companies in the U.S.
What is Asynchronous Store-and-Forward Teledermatology?
Store-and-forward Teledermatology is defined as a asynchronous telehealth visit in dermatology powered by the transmission of images and other health-related information from a patient to a provider or from a primary healthcare provider to a specialist through telehealth software for dermatologists. In the United States, it is facilitated through a HIPAA-compliant platform.
After receiving a patient's information, the provider reviews it and carries out a medical encounter without interacting with the patient in real-time.
In dermatology, the information typically shared includes the patient's chief complaint, symptoms, medical history, and close-up images of the skin condition.
Patients or the sending provider use a smartphone app or web portal to gather and send the information. The information collected is then accessible to the receiving provider via a web portal.
Store-and-forward teledermatology offers more privacy to patients and increases flexibility for both patients and clinicians1.
Example of an Asynchronous Teledermatology Process with Miiskin PRO
Patients fill out a fully-customizable "patient intake forms" and take close-up photos of the skin area affected
They enter their insurance details or self-payment details
Patients consent to share this information with their provider and submit their request
The information shared typically includes:
* Chief complaint
* Symptoms
* Medical history
* Close-up images of the skin condition
Providers log in to the Miiskin web portal to view all pending requests
Providers review each request and can choose to deliver virtual care (which
usually involves sending a prescription and treatment instructions) or scheduling a follow-up in-person visit
Depending on the urgency of the patient's request, providers can prioritize the patient with an immediate consultation.
Benefits of Store-and-Forward Teledermatology
According to research, SAF Teledermatology is at least on par with high-quality live video conferencing from a diagnostic point of view2. However, both parties need to have an extremely stable internet connection to obtain high-quality video images, which is highly unlikely and it is also very inconvenient pointing a live video camera towards a lesion during a real-time consultation.
Additionally, store-and-forward telehealth in dermatology has very few technical requirements, and providers and patients do not need to be available simultaneously, which is very convenient for both patients and providers' busy schedules.
The superiority of store-and-forward telehealth in dermatology is clear for the provider. Research shows that high-quality images in virtual consultations also provide high patient satisfaction.
The benefits of asynchronous teledermatology are many, especially for pediatric patients.
Benefits of Asynchronous Telemedicine in Dermatology
More convenient
Reduced waiting times
Effective utilization of resources
Delivery of efficient care
Second opinions can be easily obtained
MIISKIN PROMO
Attract New Patients to your Medical Practice with Miiskin PRO
Skin Health Solution for Providers
Boost patient acquisition: The Miiskin website and app are visited by thousands of patients in the U.S. every day; offer these patients care delivered by your practice.
Automate patient intake: Patients can fill out any intake forms, make payments and give consent via the Miiskin app.
Offer efficient care delivery: Make routine visits more efficient with an asynchronous telehealth solution, reimbursable at a similar rate to in-person visits.
More convenient for Dermatologists and Patients
With asynchronous teledermatology, patients and providers do not have to be available at the same time. Patients can enter their data and send photos of their skin condition whenever possible. Providers can access this information when it fits into their busy schedules. Since there are no real-time appointments, the overall efficiency for many types of visits is higher.
Reduces Waiting Times for Patients
Access to specialist care, such as dermatologists, is typically associated with longer wait times. However, with store-and-forward telehealth for dermatology, providers can evaluate each consultation request and prioritize those patients who need urgent care based on their visual assessment of a high-quality image of the problem and the responses to carefully designed questions that accompany the image. Read Megan Fry's story to learn more.
Effective Utilization of Resources
Typically, a dermatologist can take up to five face-to-face or virtual consultations in real-time in an hour. However, with store-and-forward telehealth for dermatology, they may be able to review up to 20 cases in the same period4.
Delivery of Efficient Care
SAF Teledermatology allows providers to compare their patients' high-quality longitudinal photos over time and side-by-side to make a more informed decision about their treatment than would be available from a video stream alone. It also accounts for better documentation and storage of the patient's health records necessary for teledermatology reimbursement purposes.
Catering to the Digital Patient
Dermatological providers who have not embraced this technology risk being left behind. A Cisco global survey revealed that 74% of patients prefer easy access to healthcare services rather than going in person5.
High-quality photos taken over time can improve medical decision-making during consultations. A photo diary of skin health fills in the gaps to supplement what the clinician sees and is told in the physical or virtual appointment. Asynchronous teledermatology can alleviate issues with video quality that make observing conditions more challenging.
Increases Access for Patients in Rural Areas
In several U.S. states, there is a lack of dermatologists; therefore, patients often postpone consultations. SAF teledermatology enables remote care and saves patients extensive costs, especially in rural areas where a lack of providers and large distances between patients and clinics can cause challenges.
Applications of Asynchronous Telehealth in Dermatology
One of the most significant advantages of asynchronous telehealth in dermatology is the easy and convenient access to a specialist.
By using this type of technology, patients can access healthcare professionals faster and from a remote location. Besides, asynchronous teledermatology has multiple applications as you can read the list below.
Store-and-Forward Teledermatology Applications:
Automate Patient Intake
Direct Consultations
Online Patient Triage
Virtual Prescription Renewals
Patient Follow-up Care
Specialist Referral
Boost Patient Acquisition
Automate Patient Intake
Patients can fill out any intake forms whenever it's convenient for them and submit them either a few days ahead or while they sit in the waiting room. Providers can access this information prior to the consultation.
Direct Consultations
Patients can use a web-based or app-based SAF teledermatology to obtain remote care for non-emergency skin problems.
They can fill in their details through the app or web portal, write down their symptoms, chief complaint, and close-up photos of their skin condition.
Providers use a web portal to access all their patients' requests, and if the case seems straightforward, they can offer efficient, virtual care.
Online Dermatology Triage
Asynchronous teledermatology can be used to conduct triage of dermatology patients online. Virtual triage in dermatology refers to using a SAF telehealth system to assess patients online and prioritize them based on the severity of their disease and the available resources.
Medication Renewals
If a patient wishes to renew a prescription, they can fill out a "medication renewal intake form" and submit close-up photos of their skin problem.
If the provider deems it adequate, they will refill the prescription online without the need for an in-person appointment.
Follow-up Care
Another use of asynchronous teledermatology can help provide follow-up care for patients with a chronic skin condition, a confirmed diagnosis, and a prescribed treatment plan.

Patients with chronic skin conditions such as eczema, acne, and psoriasis often require many follow-up visits, which can take place virtually.
Specialist Referral
Specialist referral is an essential application of store-and-forward teledermatology. A primary care physician can consult with a dermatologist about a patient's case by sharing their data and high-resolution photos of their skin condition. The specialist then helps the primary care physician to offer a diagnosis and treatment.
SAF technology enables information-sharing between several healthcare providers.
Boost Patient Acquisition
There are several nationwide online dermatology services that are offering virtual dermatology care to patients in the U.S. Local dermatology clinics and healthcare systems can tap into this revenue source by offering the same type of healthcare these services provide.
The Miiskin website and Miiskin app are visited by thousands of patients every month looking for dermatology care.
Tap into this patient population by implementing Miiskin PRO in your clinic and start receiving new patients today!
Live Video Conferencing in Dermatology
Benefits of Live Video Conferencing
More Convenience and Increased Access
In several states in the U.S, there is a lack of dermatologists; therefore, patients often postpone consultations. Live video conferencing in dermatology also enables remote care. It saves extensive costs for patients, but it is less convenient because patients still need to book an appointment and the waiting time is very long
Caters to Digital Patients
Today's patients value convenience overall, and live video caters to digital patients who are very busy and want to avoid the hassle of commuting but still get high-quality care.
Disadvantages of Live Video Conferencing in Dermatology
Compliance and liability issues
Incorrect diagnostic outcomes
Short delays create a backlog of patients
Privacy concerns
Compliance and Liability Issues
Live video conference is not compliant since it doesn't allow providers to document the medical visit as opposed to SAF technology, where it is possible to document the patient's condition and the treatment plan.
Incorrect Diagnostic Outcomes
To provide an accurate diagnosis, the internet connection needs to be very stable to obtain high-quality video images, which is not possible in most cases. Low-quality video can be the cause of a wrong diagnosis.
Short Delays Create a Backlog of Patients
To remain on schedule, patients and providers need to be connected to the call at exactly the same time, a delay of just a couple of minutes per patient will delay the entire schedule creating a backlog.
Privacy Concerns
Patients may feel uncomfortable displaying private body parts in front of a live camera. The skin lesion could also be located in an area that is hard to view in front of a computer or smartphone.
Comparison Between Store-and-Forward and Live Video Conferencing
The table displays the different requirements that store-and-forward and live video conferencing have, which affect their suitability for healthcare delivery in dermatology6.
Requirements
Store-and-forward
Teledermatology
Live video conferencing
Availability of internet connection
It can be prepared without the internet (i.e., photos, history) and uploaded or downloaded at any time.
Simultaneous and continuous internet connection is required for both parties.
Speed of internet connection
Internet speed is unimportant.
Slow internet speed may lessen diagnostic accuracy.
Appointment
No appointment is necessary as evaluation is asynchronous.
Appointment required for synchronous evaluation.
Webcam or mobile phone camera
Helpful but not required.
Pictures may be on file or taken with any device.
A webcam or mobile phone camera is required for both parties for the entire session.
Personal identification
Anonymous access is possible.
Identification is required for a face-to-face consultation7.
Miiskin PRO A Unique Store-and-Forward Teledermatology Solution
Miiskin PRO is a state-of-the-art asynchronous teledermatology solution that is currently used by dermatology clinics in the U.S. It consists of the Miiskin app for patients and a clinical web portal for healthcare providers. Store-and-Forward Teledermatology is fully reimbursable at a rate comparable to physical consultations.
It is used to deliver virtual care for:
Patient consultations
Triage of patients
Prescription renewal visits
Follow-up care for patients with chronic skin conditions
The main benefits of this technology are:
Automates patient intake
Reduces the patient waiting time from a few weeks to less than 48 hours
Gives providers more flexibility in their schedule
Complements physical appointments
Boosts patient acquisition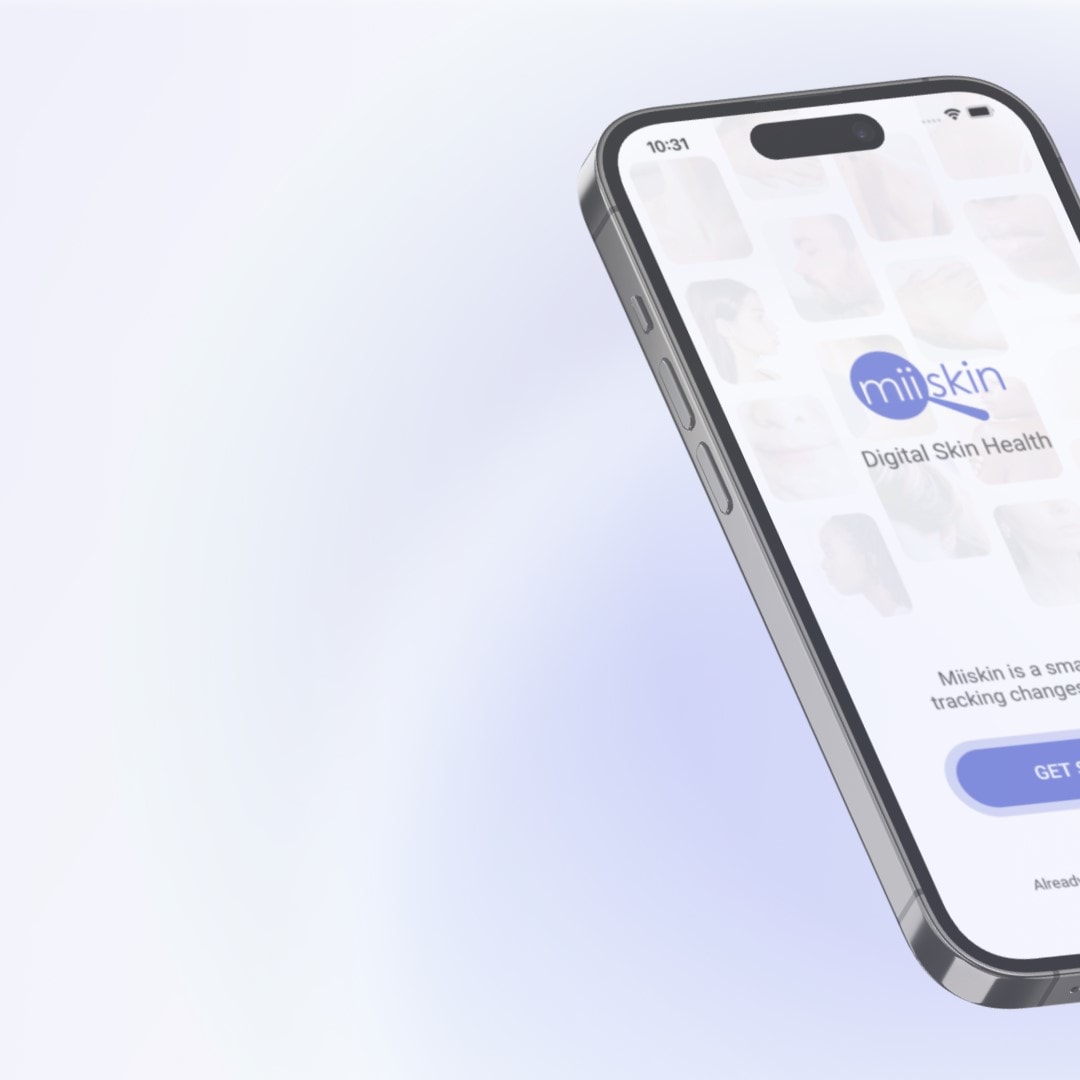 References:
1 https://www.ncbi.nlm.nih.gov/pmc/articles/PMC6231765/
2 https://pubmed.ncbi.nlm.nih.gov/19035797/
3 https://www.liebertpub.com/doi/abs/10.1089/tmj.2017.0078
4 https://mhealthintelligence.com/news/asynchronous-telehealth-gives-providers-an-alternative-to-dtc-video
5 https://newsroom.cisco.com/c/r/newsroom/en/us/a/y2013/m03/cisco-study-reveals-74-percent-of-consumers-open-to-virtual-doctor-visit.html
6 https://www.ncbi.nlm.nih.gov/pmc/articles/PMC6231765/
7 https://www.ncbi.nlm.nih.gov/pmc/articles/PMC6231765/

---