Arazlo® lotion: Uses, advantages, side effects, who can use it and how to use it
Arazlo is an efficient acne treatment that combines two powerful ingredients tazarotene (newer retinoid) and benzoyl peroxide. Keep reading to learn more about this powerful acne medication which is also used for wrinkles and pigmentation.
Table of Content:
What is it? | What is it used for? | How does it work? | What makes it unique? | How does it help with acne? | Why is it less irritant? | Benefits | Side-effects | Precautions | Who is it for? | How to use Arazlo? | How to get it?
---
Our commitment to producing high-quality content:
The information presented in this article is based on scientific research and the professional advice of our Content Medical Reviewers, who are experts in the field of Dermatology. How we write our content →
---
What is the Arazlo lotion?
Arazlo lotion® is a prescription medication used for the treatment of acne. Arazlo cream contains a combination of two active ingredients tazarotene and benzoyl peroxide and three moisturizing ingredients: sebacic acid, light mineral oil and sorbitol. This ingredient combination allows it to be extremely effective against acne while causing minimal skin irritation1.
What is Arazlo lotion used for?
The Arazlo cream is indicated for the treatment of psoriasis and acne vulgaris in patients 9 years of age and older. In addition to these uses, tazarotene, one of the active ingredients in Arazlo, is also being used for the treatment of wrinkles, hypo and hyperpigmentation and age spots (lentigines)2.
How does the Arazlo cream work?
The Arazlo lotion is applied topically on the affected areas and has a dual effect on the skin. On one hand, tazarotene (a newer retinoid) works by promoting skin cell turnover and reducing inflammation. On the other hand, benzoyl peroxide helps to kill the bacteria causing acne.
What makes the Arazlo lotion unique?
What makes the Arazlo lotion unique is its patented polymeric emulsion technology (which improves skin absorption and minimizes irritation) in addition to its list of active and moisturizing ingredients: tazarotene, benzoyl peroxide, sebacic acid, light mineral oil and sorbitol3.
Request a prescription for Arazlo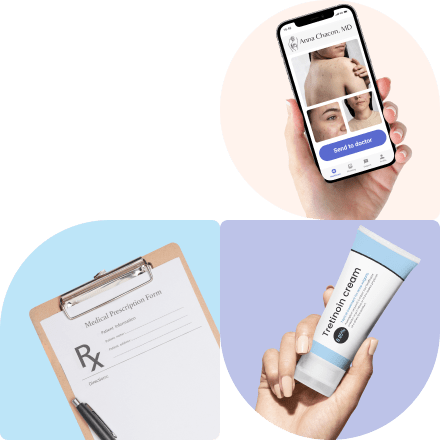 What are the ingredients of the Arazlo lotion and how does it help with acne?
Tazarotene: Tazarotene is a synthetic acetylenic retinoid that undergoes hydrolysis in the body to its active form called tazarotenic acid. It works by normalizing the skin cell turnover process. It helps to prevent the clogging of pores and promotes the shedding of dead skin cells, which can contribute to the formation of acne. Tazarotene also has anti-inflammatory properties, reducing redness and swelling associated with acne4.
Benzoyl peroxide: Benzoyl peroxide is a topical medication used to treat acne. It works as a bactericidal agent, effectively killing acne-causing bacteria that contribute to acne. It also helps to decrease the production of sebum, which may clog pores and contribute to acne development. Benzoyl peroxide is not an antibiotic, which means it does not cause drug resistance, therefore it can be used long-term to treat acne without losing its effectiveness5.
By combining these two active ingredients, Arazlo addresses the different factors that contribute to acne development. Tazarotene helps normalize skin cell turnover and reduce inflammation, while benzoyl peroxide kills acne-causing bacteria and unclogs pores. Together, they work to improve existing acne lesions and prevent new ones from forming.
Why is Arazlo lotion less irritating than other acne products?
In addition to its acne-fighting ingredients tazarotene and benzoyl peroxide, the Arazlo lotion also contains emollient (diethyl sebacate) occlusive (light mineral oil) and humectant (sorbitol) ingredients.
What does this mean?
While all three ingredients contribute to moisturizing the skin, they may have different textures, absorption rates, and additional benefits.
Emollients mainly consist of lipids and ingredients that help fill gaps between skin cells, it helps to soften and hydrate the skin, providing a smooth and moisturized appearance6.
Occlusives are another type of moisturizer that is usually oil-based. They create a barrier on the skin, preventing water from escaping and keeping the skin hydrated7.
Humectants are moisturizers that contain substances that attract water. They help the outer layer of the skin absorb and retain moisture by drawing water from the deeper layers of the skin and the surrounding environment8.
In short, moisturizers can contain emollients, occlusives, and humectants. Emollients make the skin smooth and hydrated, occlusives create a barrier to lock in moisture, and humectants attract and retain water in the skin9.
Side effects of the Arazlo cream
Discomfort or soreness of the treated area
Dryness
Skin peeling
Redness of the skin
Irritation or itching sensation15
Does the Arazlo lotion cause skin purging?
Skin purging (a temporary increase in acne breakouts) is a reported side effect of Arazlo since retinoids are known to cause it.
Is the Arazlo cream a retinoid?
Yes, the active ingredient in Arazlo is tazarotene, which is a retinoid.
Warnings and precautions when using the Arazlo cream
Like all retinoids, Arazlo should not be used by women who are pregnant, want to become pregnant or nursing.
The use of retinoids during pregnancy is associated with fetal retinoid syndrome (birth defects that can occur in babies exposed to retinoids)16.
It is also recommended that you minimize exposure to ultraviolet light, including sunlight, sunlamps and tanning beds. Retinoids are also known to cause sensitivity to the sun, therefore you should always apply a sunscreen with SPF 50 every morning and reapply every two hours when outdoors17.
Who can use the Arazlo lotion?
Arazlo can be used by people over 9 years of age with acne18. It can also be used off-label for the treatment of photoaging and pigmentation.
How to use the Arazlo cream?
You should always follow the instructions given by your dermatology provider as they know you and your skin. However, as a general rule, you can do the following:
Wash your face with a gentle cleanser
Pat dry your face ad let it fully air dry for 20 minutes or so
Apply Arazlo lotion with your finger tips
If needed, apply an additional moisturizer or hyaluronic acid
If you have sensitive skin and you have never used a retinoid product before, start by applying it every other day until your skin gets used to it and you can use it on a nightly basis.
Don't forget to tell your doctor in particular about any other skin care products you use, such as moisturizers, creams, gels, lotions, or anything else that can dry out your skin.
Can you buy Arazlo lotion over the counter?
Unfortunately not. Arazlo is not available over-the-counter (OTC). Arazlo is a topical prescription medication and should be used under medical supervision.
How to get Arazlo lotion?
You can request a virtual consultation with an online dermatologist and get a prescription this way. The consultation price is $59 and it will take less than 10. You will receive an answer in one or two days. You can collect your medication the same day at the pharmacy you selected.
Subscribe to newsletter!
Unlock the secrets to a flawless complexion with our exclusive newsletter. Discover effective acne and anti-aging treatments, expert advice, and skincare tips. Subscribe now for a radiant future!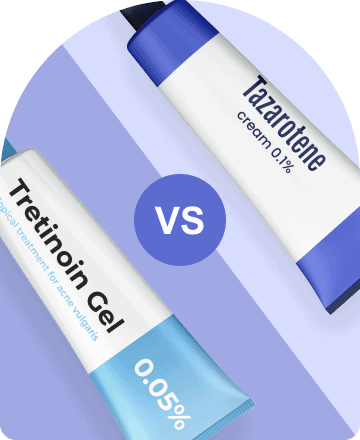 What is the price for Arazlo?
Ortho Dermatologics, the manufacturer of Arazlo, has developed the RX Access Program where most commercially insured patients may pay 0 – $25.
If Arazlo is not covered by their insurance or if the patient doesn't have an insurance health plan the maximum price paid by patients will be $65 to $75*.
*The price range listed here is just an estimation. Medication prices may vary depending on the state and the pharmacy selected. Miiskin is not responsible and cannot influence the price of the medication as it is independent from these entities.

Prior to utilizing the coupons provided by Ortho Dermatologics, we strongly recommend reviewing the terms and conditions on their website. It is essential to familiarize yourself with the guidelines and regulations associated with Arazlo coupon usage.
Article References:
https://www.arazlo.com/hcp/
https://www.accessdata.fda.gov/drugsatfda_docs/label/2017/208258Orig1s000lbl.pdf
https://www.arazlo.com/hcp/
https://www.sciencedirect.com/topics/pharmacology-toxicology-and-pharmaceutical-science/tazarotene
https://www.ncbi.nlm.nih.gov/books/NBK537220/
https://www.ncbi.nlm.nih.gov/pmc/articles/PMC5849435/
https://www.arazlo.com/
https://www.ncbi.nlm.nih.gov/pmc/articles/PMC6439800/
https://pubmed.ncbi.nlm.nih.gov/30586260/
https://rarediseases.info.nih.gov/diseases/517/fetal-retinoid-syndrome
---