Latisse® for eyebrows and eyelashes: Advantages and how to use it
Discover all the essential information about the Latisse for eyebrows and eyelashes. This article covers different topics including the advantages and potential drawbacks, optimal application techniques along with recommended practices, and how to obtain a prescription.
Table of Content:
What is it? | What are eyelashes and what are they used for? | How does it work? | What makes it unique? | Benefits | Side-effects | Who is it for? | Who cannot use it? | How to use Latisse? | How to get it? | How much does it cost?
---
Our commitment to producing high-quality content:
The information presented in this article is based on scientific research and the professional advice of our Content Medical Reviewers, who are experts in the field of Dermatology. How we write our content →
---
Latisse for eyebrows and eyelashes
Latisse® is prescription serum that contains bimatoprost as the active ingredient. It is FDA-approved for the growth, thickening and darkening of eyelashes. Therefore, it is also used for eyebrows1.
Since it is a prescription medication, you need a doctor's prescription to obtain it and should only be used under medical supervision to ensure it is safe for you.
By learning about the advantages and side effects of Latisse for eyebrows and eyelashes, you can learn more about this medication and discuss with your online dermatologist if Latisse is right for you.
What are eyebrows and eyelashes?
Eyebrows are short hair above the eyes that protect from debris, aid in facial expression, frame the eyes, and enhance appearance2.
Eyelashes small hairs located along the edge of the eyelid. They serve as a defence mechanism, preventing debris from entering the eye and causing potential harm or infection. Eyelashes also act as sensors, detecting objects that come near the eye prompting a protective blink reflex 3.
Human eyelashes are thicker and darker than other types of body hair. They grow in rows and have a natural curve, which can differ based on ethnicity. Eyelashes can vary in number (with an average of 90 to 160 lashes on the upper eyelid and 75 to 80 on the lower eyelid) and length (ranging from 8 to 12 mm on the upper lid and 6 to 8 mm on the lower lid) 4.
The growth cycle of eyebrows and eyelashes
Anagen phase: This is the active growth phase. Hair follicles produce new hair, and both eyebrows and eyelashes grow longer. This phase can last for several weeks to a few months.
Catagen phase: During this transitional phase, the hair follicles start to shrink, and the growth of eyebrows and eyelashes slows down. This phase typically lasts a few weeks.
Telogen phase: This is the resting phase when the hair follicles are not actively producing new hair. The old hair remains in place while new hair begins to grow beneath it. Eventually, the old hair falls out, and the new hair takes its place.
Exogen phase: This is the shedding phase. During this phase, the old eyelash naturally falls out to make room for a new one. It's a normal part of the growth cycle5.
The length of each phase and the overall growth cycle is different in eyebrows and eyelashes and it can vary among individuals, but the growth cycle is the same.
How does Latisse help with eyebrow and eyelash growth?
Bimatoprost, the active ingredient in Latisse, is believed to extend the growth phase (anagen) of the eyebrow and eyelash hair cycle and increase the number of hairs produced. The exact mechanism of how bimatoprost stimulates eyebrow and eyelash growth is not fully understood. However, scientists believe that it affects the hair follicles and the prostaglandin receptors in the eyelids. Bimatoprost is structurally similar to prostaglandins, which are naturally occurring substances in the body involved in various physiological processes 6.
When applied to the base of eyebrows and the upper eyelashes, bimatoprost in Latisse interacts with the hair follicles, possibly activating prostaglandin receptors. Scientists believe this interaction extends the growth phase of the eyelashes, allowing them to grow longer, thicker, and darker over time 7.
Request a prescription for Latisse!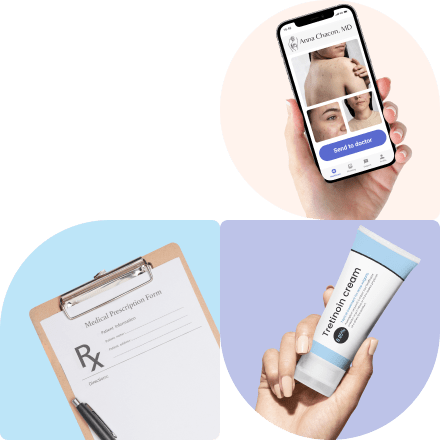 What makes Latisse for eyebrows and eyelashes unique?
The only FDA-approved eyelash serum for eyelash growth
The only prescription-strength eyelash serum
Clinical trials have shown its proven efficacy where participants experienced significant improvements in the length, thickness, and darkness of their eyelashes over time 8
Has been on the market for several years, with a substantial number of users reporting positive results 9
Benefits of using Latisse for eyebrows and eyelashes
Increased eyebrow and eyelash length
Improved thickness
Darker eyebrows and lashes10

Potential side effects of Latisse
Irritation and dryness of the eyes
Darkening of the upper eyelid
Darkening of the iris (permanent)
Hair growth other than eyelash line
Allergic reactions (redness, swelling, itching) 11
Who can use Latisse?
Patients over 18 years of age who have insufficient eyelashes or whose eyelashes are too short or scarce
Studies show that some patients with alopecia areata have used Latisse successfully to grow both upper and lower eyelashes12 and eyebrows
Studies revealed that Latisse shows promise in the treatment of chemotherapy-induced madarosis (loss of eyelashes)13
Who should not use Latisse?
Latisse should not be used by pregnant or nursing mothers or anyone under 18 years of age.
Latisse is contraindicated for patients with sensitivity to bimatoprost or patients who are currently using intraocular pressure (IOP) lowering medications.
Patients with risk factors for glaucoma or a family history of glaucoma or who have been diagnosed with elevated IOP should speak to an eye care specialist prior to starting using this medication.
Latisse should be used with caution in patients with known risk factors for macular edema14.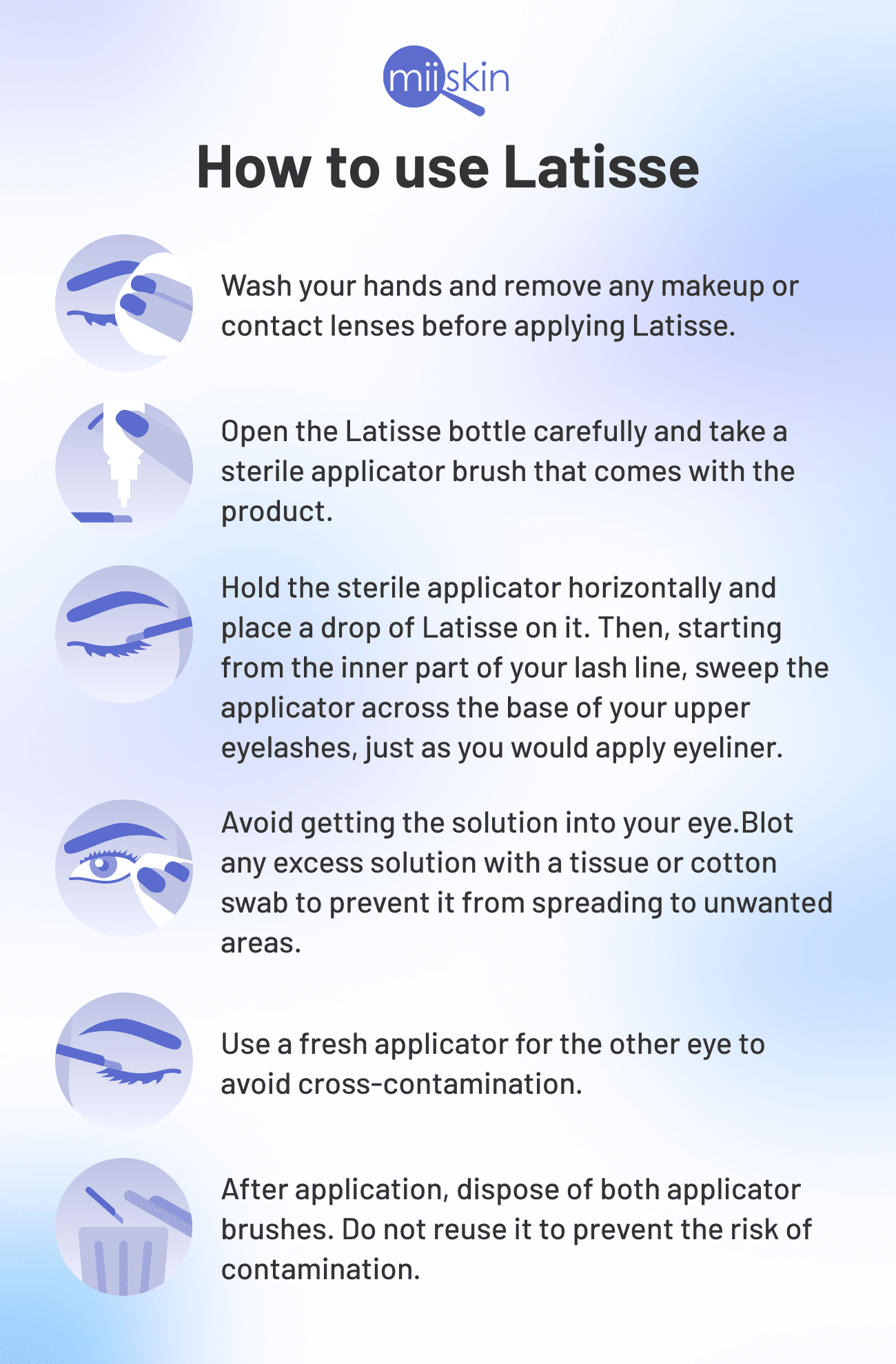 How to get Latisse for eyebrows and eyelashes?
You can request a virtual consultation with an online dermatologist who can write you a prescription for Latisse when it's suitable to do so. This consultation is only $59 and you can pick it up at a nearby drugstore. You will get your answer in 1-2 days.
What is the price of Latisse?
There is a big difference between the price of generic bimatoprost (the active ingredient in Latisse) and the brand products which range from $100 to $150*.
*The price range listed here is just an estimation. Medication prices may vary depending on the state and the pharmacy selected. Miiskin is not responsible and cannot influence the price of the medication as it is independent from these entities.
What happens if I get Latisse into my eyes?
According to the manufacturer, Latisse was designed for ophthalmology use, therefore it is safe if it falls inside the eyes. You should not attempt to wash it off15.
How long does Latisse take to work?
Clinical studies show that you can experience benefits as early as 8 weeks with best results experienced after 16 weeks of use16
Can you buy Latisse eyelash serum over the counter (OTC)?
Latisse cannot be purchased over the counter. You need a doctor's prescription to get which is a fairly simple and affordable process by requesting an online dermatology visit with an independent provider using the Miiskin platform.
Request a prescription for Latisse for eyelash growth!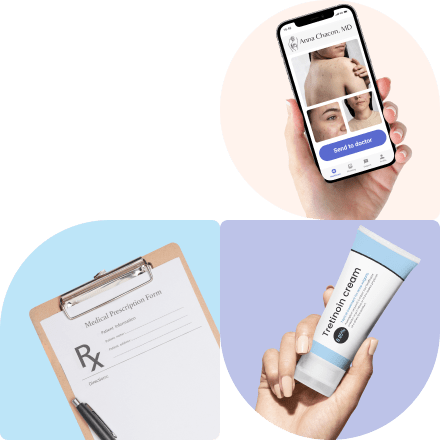 Article References:
https://www.latisse.com/
https://jddonline.com/articles/the-biology-structure-and-function-of-eyebrow-hair-S1545961614S0012X/
https://www.aao.org/eye-health/tips-prevention/why-do-humans-have-eyebrows-eyelashes
https://www.ncbi.nlm.nih.gov/pmc/articles/PMC2861943/
https://www.researchgate.net/figure/Eyelash-growth-cycle-showing-the-four-phases-namely-anagen-catagen-telogen-and-exogen_fig1_312903914
https://classic.clinicaltrials.gov/ct2/show/NCT01448525
https://www.accessdata.fda.gov/drugsatfda_docs/label/2012/022369s005lbl.pdf
https://www.ncbi.nlm.nih.gov/books/NBK576421/
https://professional.latisse.com/About-Latisse/Patient-Selection
https://www.ncbi.nlm.nih.gov/pmc/articles/PMC3250027/
https://professional.latisse.com/About-Latisse/Patient-Selection
---