Tri Luma®: Price, patient coupons, and getting an online prescription to buy it
Tri Luma is a highly-effective prescription cream used for moderate to severe melasma. Learn how to get the best price, patient coupons, and how to get a prescription for Tri Luma with an online dermatology provider for a more even skin tone.
Table of Content:
Tri Luma price without coupons | Best Tri Luma coupon | How long should I use it? | Is Tri Luma OTC? | How to get a Tri Luma prescription? | What is Tri Luma? | Ingredients | How to use it? | Side-effects | Why was it taken of the market?
Our commitment to producing high-quality content:
The information presented in this article is based on scientific research and the professional advice of our Content Medical Reviewers, who are experts in the field of Dermatology. How we write our content →
Tri Luma® cream is a powerful prescription treatment for people with moderate to severe melasma, a common skin condition causing dark patches on the face. If you are seeking a more even skin tone and are wondering about the cost and availability of Tri Luma, you have come to the right place. In this article, we will explore various aspects, including the price considerations, patient assistance coupons, and the process of obtaining a prescription for Tri Luma.
Discover how you can access this highly-effective treatment conveniently through online dermatology providers, ensuring a smoother journey towards achieving the even skin complexion you desire.
What is the average Tri Luma price without any discount?
The average price of a branded 30 gr tube of Tri-luma® cream in the U.S. varies from $180 to $250*.

*The price range listed here is just an estimation. Tri Luma cream prices may vary depending on the state and the pharmacy selected. Miiskin is not responsible and cannot influence the price of the medication as it is independent from these entities.
What is the best Tri Luma coupon?
Although there are many online platforms offering medications coupons such as WellRx, Rxless, SingleCare, Drugs.com, and GoodRx, the best Tri Luma coupon and the best price can be obtained with the manufacturer's coupon.

Galderma, the pharmaceutical company producing Tri Luma, has the Galderma Care Connect Patient Card which allows you to get a 30 gram tube of Tri Luma for $75. 
Can I buy Tri Luma over the counter (OTC)?
No, Tri Luma cannot be bought over the counter (OTC) you need a doctor's prescription to get it.
How can I get Tri Luma?
You can request a prescription with an online dermatologist. The consultation costs $59 which is typically less than the copay fee most medical insurances take when you visit a dermatologist in person. You will get an answer and your prescription (if adequate) in less than 2 days.
Where can I buy Tri Luma?
Once you have gotten an answer from your provider, you can go to the pharmacy you selected and buy it there. Don't forget to obtain Tri-Luma coupons in order to receive special discounts when purchasing the Tri-Luma cream.
Request an Tri Luma prescription for melasma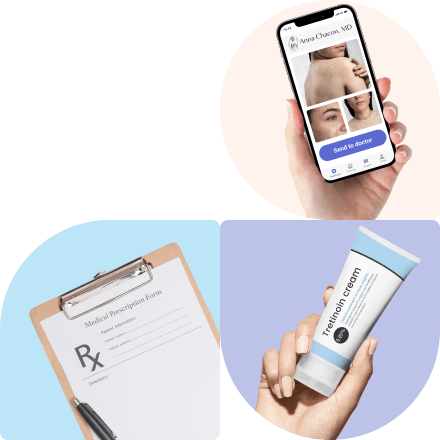 Is there a generic version of Tri Luma cream and how much does it cost?
There isn't yet a generic version of Tri Luma cream available in the market.
About Tri Luma
What is Tri Luma and what is it used for?
Tri Luma cream is an FDA-approved topical prescription medication used for the treatment of moderate to severe melasma2, a skin condition characterized by the appearance of brown to gray-brown patches on the face which is more frequent in women. These patches appear on the cheeks, chin, nose bridge, forehead, and above the upper lip. Oral contraceptives or pregnancy are known causes of melasma3.
How long do I have to use Tri Luma for?
Tri Luma cream is mostly prescribed for a short period of time (8 weeks). During this time you should experience a considerable reduction in the discoloration of your skin and you should begin seeing results as early as 4 weeks1.
One 30 gr tube should be enough for an 8-week treatment on your face, however it depends on how large is the skin area you want to treat.
What are the ingredients of Tri Luma?
Tri Luma cream combines three active ingredients:
Why is Tri Luma so effective against hyperpigmentation?
The combination of the three ingredients in Tri Luma cream work together to address the different aspects of melasma, including reducing inflammation, inhibiting melanin production, and promoting skin cell turnover7 8.
How to use Tri Luma?
Tri Luma cream should only be used under the supervision of a healthcare provider, as it is a prescription medication and may have potential side effects or interactions with other medications.
However, according to Dr. Anna Chacon, board-certified dermatologist, as a general rule, the Tri Luma cream is typically applied once daily (during the night) to the affected areas of the face and body.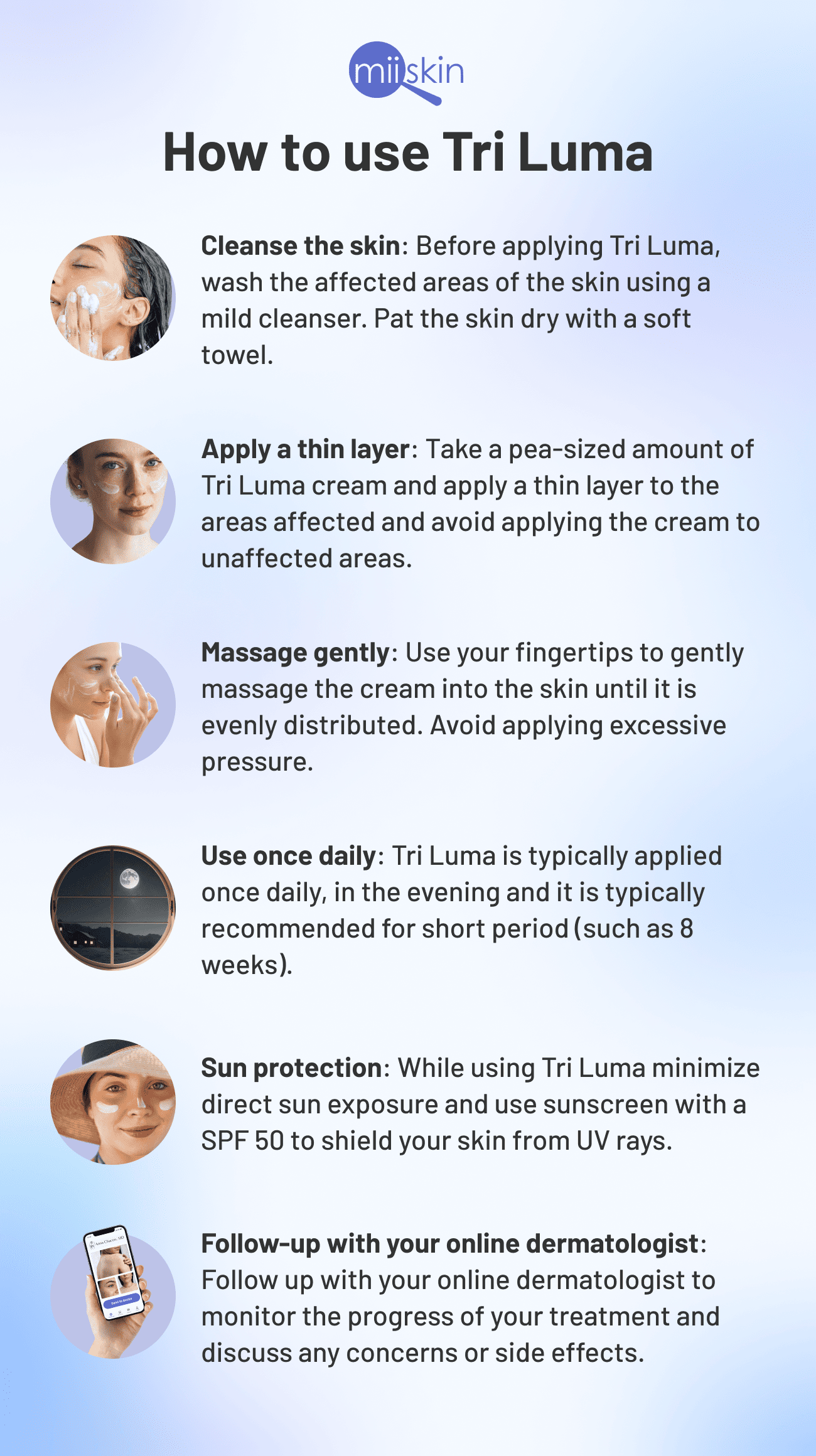 What are the side effects of Tri Luma?
Why was Tri Luma taken off the market?
Tri-Luma was originally approved on January 18, 2002 for "the short-term treatment of moderate to severe melasma." However, as per the FDA website, Galderma was issued with a warning in 2009 due to some unfounded claims which included the following:
After being taken of the market for a few years, the product was relaunched in February 201311.
Is there an alternative for Tri Luma?
"So far Tri Luma is the only FDA-approved treatment for melasma, there aren't any product alternatives available. The closest thing would be applying a hydroquinone and tretinoin cream separately one after the other but you would not likely experience the same results," says Dr. Chacon.
Request a Tri Luma prescription for melasma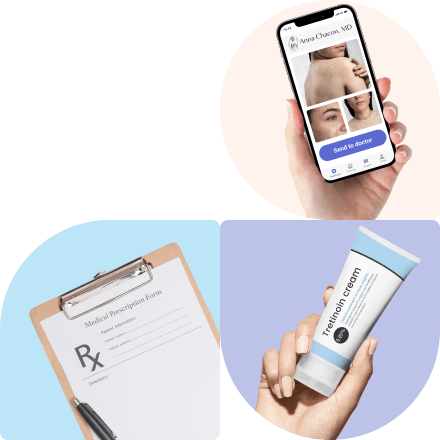 References:
https://www.triluma.com/triluma-cream
https://pubmed.ncbi.nlm.nih.gov/25989732/
https://www.ncbi.nlm.nih.gov/books/NBK459271/
https://my.clevelandclinic.org/health/drugs/19482-fluocinolone-skin-cream-ointment-or-topical-solution
https://www.ncbi.nlm.nih.gov/books/NBK539693/
https://www.ncbi.nlm.nih.gov/books/NBK557478/
https://www.accessdata.fda.gov/drugsatfda_docs/label/2013/021112s006lbl.pdf
https://www.fdanews.com/ext/resources/files/archives/g/Galderma.pdf
https://www.prnewswire.com/news-releases/galdermas-tri-luma-cream-only-fda-approved-treatment-for-melasma-now-available-in-pharmacies-190833881.html