Tretinoin vs. retinol: A dermatologist's guide
Get an overview of the differences and similarities between tretinoin and retinol, and learn which one is better for acne and as an anti-aging treatment.
Table of content:
Similarities | Differences | Benefits | Side-effects | Precautions and Warnings | How to use retinol & tretinoin | How to get a prescription for tretinoin
Our commitment to producing high-quality content:
The information presented in this article is based on scientific research and the professional advice of our Content Medical Reviewers, who are experts in the field of Dermatology. How we write our content →
---
When it comes to skincare and anti-aging products, the wide variety of ingredients can be both intriguing and confusing. A common question that often arises is whether tretinoin is the same as retinol?
So, is tretinoin the same as retinol?
The short answer is no, but tretinoin and retinol are both derivatives of vitamin A which belong to a class of medications known as retinoids.
These two compounds, although related, have distinct properties and uses in skincare so if you've ever wondered about the differences between tretinoin and retinol, you're not alone.
If you are seeking for an effective solution to improve skin texture, reduce wrinkles, and combat acne you have come to the right place. In this article we will explore the differences, similarities, and uses they serve in skincare.
Understanding their unique characteristics can help you and your online dermatologist make informed decisions about which ingredient is best suited for your skincare needs.
So, if you're ready to dive into the world of tretinoin and retinol, we will help you gain a deeper understanding of these compounds, their effects on the skin, and how they can help you achieve the complexion you desire.
So are tretinoin and retinol similar then?
Retinol and tretinoin are both Vitamin A derivatives called retinoids. These two compounds are an attractive option for individuals who want to combat anti-aging and reduce acne breakouts regardless of age.
Retinol and tretinoin have numerous benefits because they are similar to each other, learn the differences between these two products so you and your online dermatologist can decide if tretinoin is better for you.
Retinoid products speed up desquamation (shedding of skin cells) and unclog pores, allowing other medicated creams and gels to work better1. They also reduce the formation of acne scars and improve skin complexion by increasing cell turnover and regeneration2.
Vitamin A derivatives are the first vitamin approved by the Food and Drug Administration as an anti-wrinkle agent that changes the appearance of the skin surface3.
Retinoids are the most used and studied compounds for skin care products. Their benefits are many, from reducing acne breakouts to softening wrinkles, lightening dark spots, and treating multiple skin conditions4.
Benefits of tretinoin and retinol
Both, tretinoin and retinol are used as anti-aging and to combat acne.
Increase collagen production
Reduce fine lines and wrinkles
Improve skin tone and skin texture
Reduce hyperpigmentation, lightening dark spots
Minimize pores
Differences between tretinoin and retinol: prescription vs over the counter (OTC)
So, what is the difference between retinol and tretinoin? The most significant distinction between tretinoin and retinol is their strengths and the fact that tretinoin is a prescription medication and retinol is an over the counter product.
Tretinoin is the most potent and widely investigated retinoid5, but it can irritate the skin, so it is only sold with a medical prescription. Tretinoin should only be used under medical supervision, as patients must build tolerance for the product. Luckily there is a new tretinoin formulation called Altreno, which only caused skin irritation in 1% of patients in clinical trials.
In our comprehensive guide Altreno vs Tretinoin, you can find a detailed comparison of Altreno and traditional Tretinoin, highlighting their similarities and differences in terms of effectiveness, tolerability, and suitability for various skin types.
Retinol, on the other hand, is less irritating, so it is widely available in many skin care products and formulations.
Retinoids are used in treating cystic acne, skin aging, and other skin conditions such as psoriasis or hyperpigmentation.
Since both tretinoin and retinol may be beneficial for acne patients, a healthcare professional should determine if you should use tretinoin or retinol depending on the severity and type of your acne and your skin's sensitivity to the compounds.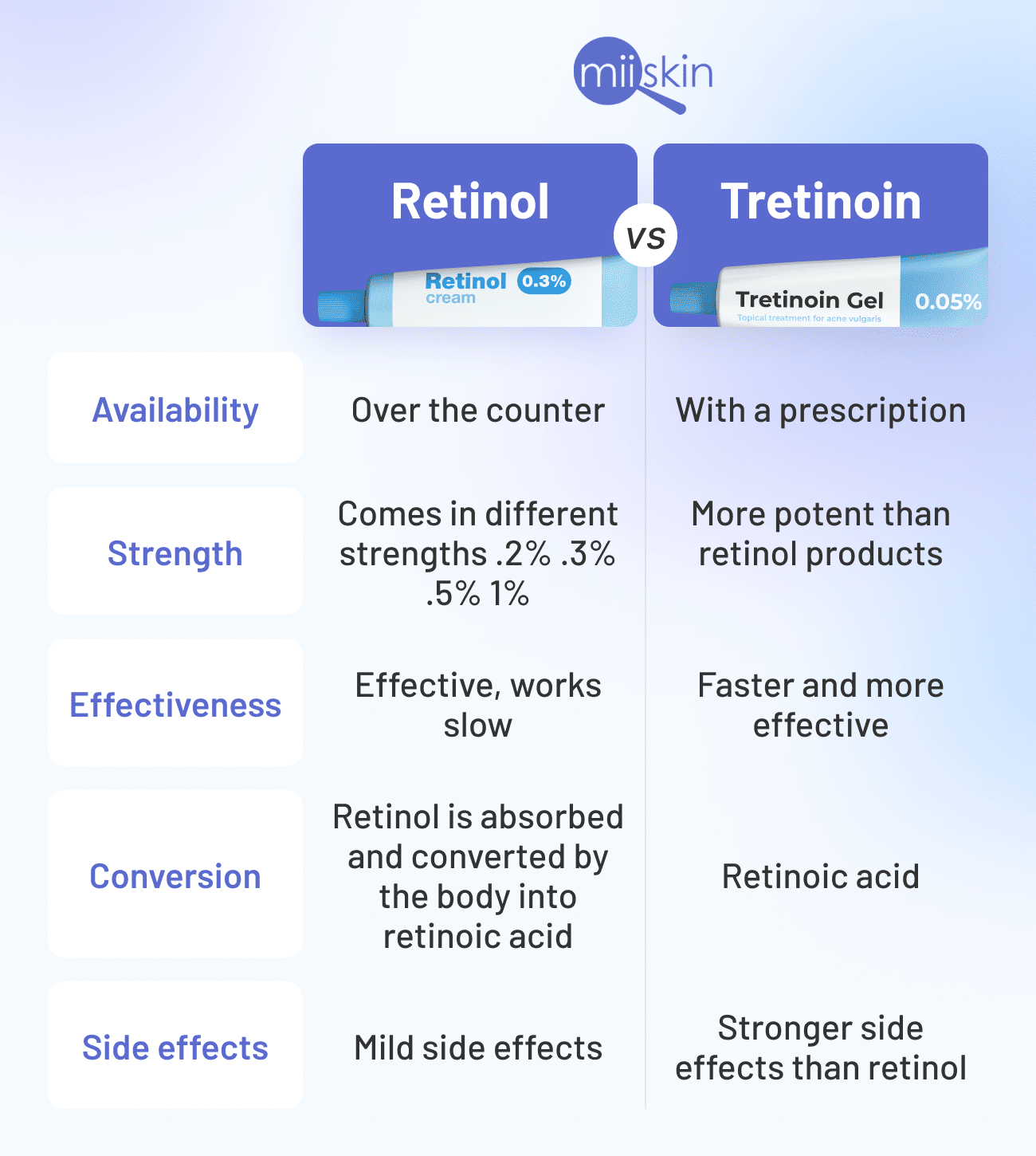 Request a prescription for Altreno (new tretinoin)
Start your journey to better skin. Get a personalized treatment plan from one of our affiliated dermatology providers. Let them know if you have a specific medicine in mind.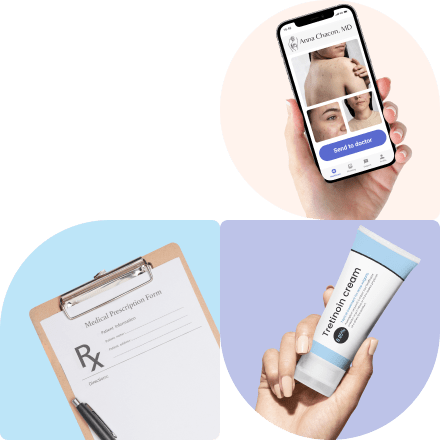 What is tretinoin?
Tretinoin, also known as retinoic acid, is a prescription medication that is about 20 times more potent than retinol. It is stronger because retinoic acid is a form of vitamin A that acts directly on the skin-boosting cell renewal, turnover, and DNA damage repair6.
Research shows that tretinoin combats sun damage (photoaging), smoothens out wrinkles, evens skin tone, and increases collagen production to make skin look firmer7.
Unlike retinol, tretinoin is regulated by the U.S. Food and Drug Administration (FDA), is only sold with a prescription, and should only be used under medical supervision.
Brand names of tretinoin
Altreno (new improved tretinoin)
Atralin
Avita
Refissa
Renova
Retin-A
Retin-A Micro
Retin-X
What is the price of tretinoin?
A 20 gr tube of generic tretinoin may cost between $20 to $40*.
Altreno (improved tretinoin formulation) according to their official website, 20 gr tube is around $60 and a 45 gr tube is around $115*.
*The price range listed here is just an estimation. Medication prices may vary depending on the state and the pharmacy selected. Miiskin is not responsible and cannot influence the price of the medication as it is independent from these entities.
What is retinol?
Retinol is a milder retinoid, which means it takes longer to impact the skin and acne, and the effects are not so obvious. When retinol is applied to the skin, enzymes are required to convert it into retinoic acid8. That is why the results of retinol are slower and more subtle than those of tretinoin.
Retinol should be used in combination with other products for acne to get the best results because improving the appearance of acne often requires more than just one solution.
Retinol strengths
Retinol products have multiple strengths; the most common are 1%, 0.5%, .0.3%, and 0.25%. Research shows that individuals should use at least 0.25% retinol to be effective9.
If a product does not specify the percentage of retinol on the label, the concentration is less than .25%, which may not offer the full benefits of retinol.
When choosing a retinol product, if you have dry skin, it is best to start with the lowest concentration and then slowly move up. If you have oily skin, try a higher-strength product.
Side effects of tretinoin and retinol
While retinol and tretinoin are very popular, there are some side effects associated with their use; a common side effect is skin purging — a non-medical term for a temporary reaction your skin developed to a specific ingredient due to an increase of skin cell turnover.
The side effects of retinol are less intense than tretinoin.
Skin irritation and reddening
Burning sensation
Dry, flaky, and peeling skin
Acne breakouts
Sunburn10
To mitigate side effects, start with the lowest concentration and avoid direct sun exposure. Always use a daily sunscreen SPF50 when using retinol or tretinoin.
Warning: When using retinol and tretinoin
Topical retinoids are suspected to be teratogenic and should not be used by women who want to get pregnant, are pregnant, or are breastfeeding. The topical use of retinol and tretinoin may contribute to high levels of vitamin A in the body, which may cause malformations to the fetus.
Women of childbearing age should use effective contraception when using these products.
So, who should use retinol?
According to Patrick Mahar, dermatologist, retinol can be used by individuals of various age groups, skin types, and skin tones. It is particularly beneficial for those who are looking to address common skin concerns such as fine lines, wrinkles, uneven skin tone, and texture irregularities.
People who are concerned about the signs of aging or want to proactively prevent the appearance of wrinkles can also benefit from incorporating retinol into their skincare routine since it may be effective in improving the overall appearance and vitality of the skin by promoting cell turnover, stimulating collagen production, and reducing the appearance of hyperpigmentation.
Whether you are in your 20s and want to proactively maintain youthful-looking skin or in your 40s and seeking to diminish the signs of aging, retinol can be a valuable addition to your skincare routine.
When using a retinoid for the first time, it is advisable to start with a lower concentration and gradually increase it to minimize potential irritation.
Additionally, those with specific skin conditions, such as eczema or rosacea, should consult with a dermatologist before incorporating retinol into their routine.
And who should use tretinoin?
Tretinoin is FDA-approved and primarily prescribed for the treatment of mild to moderate acne including both teenagers and adults11 12
Tretinoin works by increasing cell turnover, preventing the formation of new acne lesions, and reducing inflammation. Tretinoin can help unclog pores, reduce blackheads and whiteheads, and improve overall acne-related skin texture13.
Apart from acne treatment, tretinoin is also used to address other skin concerns such as photodamage, fine lines, wrinkles, and hyperpigmentation14. It has been shown to stimulate collagen production, which can help improve skin elasticity and reduce the appearance of wrinkles and fine lines15.
Who should not use retinol or tretinoin?
While retinol and tretinoin offer numerous benefits for the skin, there are certain cases where their use may not be suitable or require caution.
Pregnant or breastfeeding individuals: Both retinol and tretinoin should not be used during pregnancy or while breastfeeding because they are considered teratogenic, which means they may cause birth defects16.
Individuals using isotretinoin (Accutane) because it can increase the risk of hypervitaminosis A, leading to serious issues such as vision problems, increased intra-cranial pressure, high cholesterol, and inflammation of the liver, pancreas, or digestive tract17.
People who have had recent skin procedures or have sunburned skin: It is recommended to avoid using retinol or tretinoin on recently treated or compromised skin. This includes laser treatments, chemical peels, or microdermabrasion. Additionally, it is important to avoid applying these ingredients to sunburned or excessively irritated skin, as it can exacerbate discomfort and potentially cause further damage.
Who should be careful when using retinol or tretinoin?
Individuals with certain skin conditions such as rosacea, or dermatitis, should exercise caution when using retinol or tretinoin because these conditions may already compromise the skin's barrier function, making it more susceptible to irritation from these potent ingredients.
Consulting with a dermatologist is crucial to evaluate the compatibility and potential risks in these cases.
Individuals with very sensitive skin: Retinol and tretinoin can cause skin irritation, redness, dryness, and peeling, particularly when first starting the treatment. So, if you have sensitive or easily irritated skin, you should approach these ingredients with caution.
It is also advisable to begin with lower concentrations or less frequent application and gradually increase as tolerated.
How to get a tretinoin prescription?
Tretinoin can only be bought with a prescription from a healthcare provider as it is not sold over the counter (OTC). Instead of booking an in-person appointment with a healthcare provider, requesting a tretinoin prescription online can be a very simple and time-saving option.
Request a prescription for Altreno (new tretinoin)
Start your journey to better skin. Get a personalized treatment plan from one of our affiliated dermatology providers. Let them know if you have a specific medicine in mind.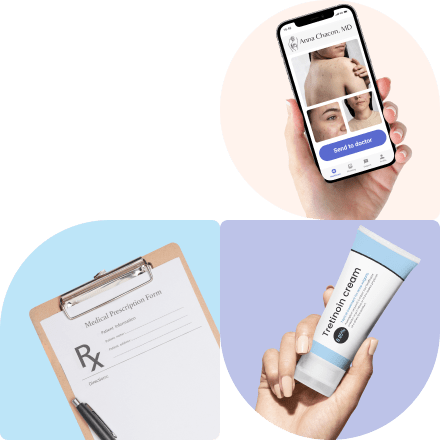 Conclusion
Retinol and tretinoin are popular treatments for acne and combat anti-aging. The main difference between these two substances is that tretinoin is much stronger, and you need a prescription.
Ask your healthcare provider if tretinoin is the right solution for you. In the meantime, you can begin by adding some measures for acne self-care and getting started with retinol .25% and work your way up to retinol 1%.
PATIENT EDUCATION
Acne medicines: What is the difference?
Reviewed by dermatologists
Make a difference. Share this article.
Sources:
https://www.webmd.com/beauty/retinoid-gel-and-cream-treatments#
https://www.centerforsurgicaldermatology.com/benefits-of-retiniods/
https://www.ncbi.nlm.nih.gov/pmc/articles/PMC6791161/
https://www.singlecare.com/drug-classes/retinoids
https://www.ncbi.nlm.nih.gov/pmc/articles/PMC2699641/
https://my.clevelandclinic.org/health/treatments/23293-retinol
https://www.medicalnewstoday.com/articles/323628
https://www.ncbi.nlm.nih.gov/pmc/articles/PMC4025519/
https://www.ncbi.nlm.nih.gov/books/NBK557478/
https://www.ncbi.nlm.nih.gov/pmc/articles/PMC9112391/
https://rarediseases.org/rare-diseases/fetal-retinoid-syndrome/
https://www.drugs.com/drug-interactions/accutane-with-tretinoin-1403-828-2231-0.html
---