Tretinoin vs. Retinol for acne and anti-aging
Get an overview of the differences and similarities between tretinoin and Retinol, and learn which one is better for acne and as an anti-aging treatment.
Table of content:
Similarities | Differences | Benefits | Side-effects | Precautions and Warnings | How to use retinol & tretinoin | How to get a prescription for tretinoin
Our commitment to producing high-quality content:
The information presented in this article is based on scientific research and the professional advice of our Content Medical Reviewers, who are experts in the field of Dermatology. How we write our content →
---
Similarities: Are tretinoin and retinol the same?
Retinol and tretinoin are both Vitamin A derivatives called retinoids. These two compounds are an attractive option for individuals who want to combat anti-aging and reduce acne breakouts regardless of age.
Retinol and tretinoin have numerous benefits because they are similar to each other.
Retinoid products speed up desquamation (shedding of skin cells) and unclog pores, allowing other medicated creams and gels to work better1. They also reduce the formation of acne scars and improve skin complexion by increasing cell turnover and regeneration2.
Vitamin A derivatives are the first vitamin approved by the Food and Drug Administration as an anti-wrinkle agent that changes the appearance of the skin surface3.
Retinoids are the most used and studied compounds for skin care products. Their benefits are many, from reducing acne breakouts to softening wrinkles, lightening dark spots, and treating multiple skin conditions4.
Benefits of tretinoin and retinol
Both, tretinoin and retinol are used as anti-aging and to combat acne.
Increase collagen production
Reduce fine lines and wrinkles
Improve skin tone and skin texture
Reduce hyperpigmentation, lightening dark spots
Minimize pores
Differences between tretinoin and retinol
So, what is the difference between retinol and tretinoin? The most significant distinction between tretinoin and retinol is their strengths.
Tretinoin is the most potent and widely investigated retinoid5, but it can irritate the skin, so it is only sold with a medical prescription. Tretinoin should only be used under medical supervision, as patients must build tolerance for the product.
Retinol, on the other hand, is less irritating, so it is widely available in many skin care products and formulations.
Retinoids are used in treating cystic acne, skin aging, and other skin conditions such as psoriasis or hyperpigmentation.
Since both tretinoin and retinol may be beneficial for acne patients, a healthcare professional should determine if you should use tretinoin or retinol depending on the severity and type of your acne and your skin's sensitivity to the compounds.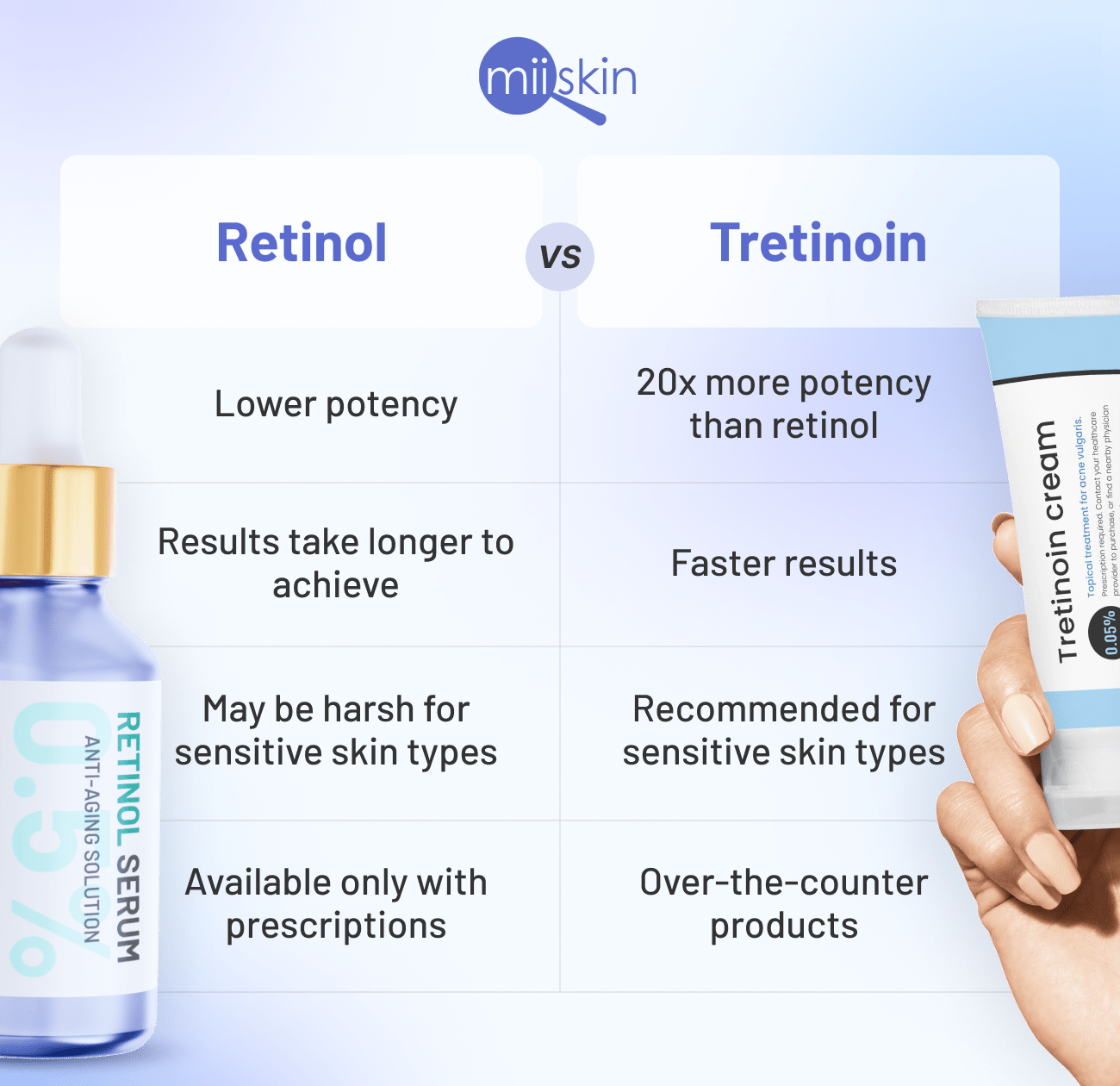 Request a prescription for tretinoin
Start your journey to better skin. Get a personalized treatment plan from one of our affiliated dermatology providers. Let them know if you have a specific medicine in mind.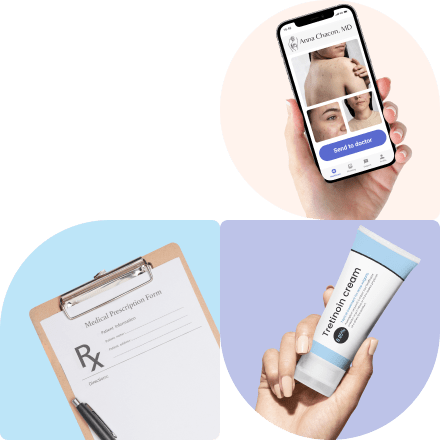 What is tretinoin?
Tretinoin, also known as retinoic acid, is about 20 times more potent than retinol. It is stronger because retinoic acid is a form of vitamin A that acts directly on the skin-boosting cell renewal, turnover, and DNA damage repair6.
Research shows that tretinoin combats sun damage (photoaging), smoothes out wrinkles, evens skin tone, and increases collagen production to make skin look firmer7.
Unlike retinol, tretinoin is regulated by the U.S. Food and Drug Administration (FDA), is only sold with a prescription, and should only be used under medical supervision.
Brand names of tretinoin
Atralin
Avita
Refissa
Renova
Retin-A
Retin-A Micro
Retin-X
People are also interested in
Get an overview of the differences and similarities between Adapalene and Tretinoin, and learn which of these two ingredients is best for sensitive skin with acne.
What is retinol?
Retinol is a milder retinoid, which means it takes longer to impact the skin and acne, and the effects are not so obvious. When retinol is applied to the skin, enzymes are required to convert it into retinoic acid8. That is why the results of retinol are slower and more subtle than those of tretinoin.
Retinol should be used in combination with other products for acne to get the best results because improving the appearance of acne often requires more than just one solution.
Retinol strengths
Retinol products have multiple strengths; the most common are 1%, 0.5%, .0.3%, and 0.25%. Research shows that individuals should use at least 0.25% retinol to be effective9.
If a product does not specify the percentage of retinol on the label, the concentration is less than .25%, which may not offer the full benefits of retinol.
When choosing a retinol product, if you have dry skin, it is best to start with the lowest concentration and then slowly move up. If you have oily skin, try a higher-strength product.
Side effects of tretinoin and retinol
While retinol and tretinoin are very popular, there are some side effects associated with their use; a common side effect is skin purging — a non-medical term for a temporary reaction your skin developed to a specific ingredient due to an increase of skin cell turnover.
The side effects of retinol are less intense than tretinoin.
Skin irritation and reddening
Burning sensation
Dry, flaky, and peeling skin
Acne breakouts
Sunburn10
To mitigate side effects, start with the lowest concentration and avoid direct sun exposure. Always use a daily sunscreen SPF50 when using retinol or tretinoin.
Warning: When using retinol and tretinoin
Topical retinoids are suspected to be teratogenic and should not be used by women who want to get pregnant, are pregnant, or are breastfeeding. The topical use of retinol and tretinoin may contribute to high levels of vitamin A in the body, which may cause malformations to the fetus.
Women of childbearing age should use effective contraception when using these products.
How to use retinol and tretinoin
Having a good skin care routine for acne-prone skin is always a good idea and adding retinoids to that routine will help you keep your skin supple and clear of acne breakouts.
Retinol can be found in a wide range of skin care products that can be bought without a prescription. Retinol-containing products are available at most major drugstores and in the skin care section of many supermarkets.
Because tretinoin is more powerful than retinol, it is only available by prescription, as we already mentioned.
Whether you prefer retinol or tretinoin, follow your healthcare provider's instructions on how and when to apply retinoid products, but as a general rule, retinol and tretinoin should be used at night after washing your face, because all retinoids degrade and lose effectiveness in light, especially sunlight.
Wait 30 minutes after washing your face to apply any retinoid product. When you start using any of these products, it is normal for your skin to experience flaking or dryness11.
It's usually preferable to begin with a reduced dose of retinol and gradually raise it as needed.
To help reduce some of its side effects, you can apply a layer of moisturizer first, wait a few minutes, apply a layer of retinol, and finally apply another layer of moisturizer.

If you have never used retinol, here is an excellent way to start.
First two weeks: Apply retinol .3% two nights per week in the evenings
Following two weeks: Apply retinol every other night
After 4 to 6 weeks of use: If your skin tolerates the product well, apply the product every night
After 8 to 12 weeks: After 8 to 12 weeks, it should be possible to use it nightly, and you may increase the concentration of the product.
Consider switching to tretinoin if you've tried retinol but weren't satisfied with the results. You must consult a doctor before ordering tretinoin because it is only accessible with a prescription.
Even if retinoids can make your skin slightly sun sensitive, you don't have to stop using them during summer, but avoid using retinoids if you have broken skin, a sunburn, or skin irritation. Always use sunscreen on your face with SPF 50 while using retinol or tretinoin, and wear a hat and sun-protective clothing to reduce your exposure to the sun. Your risk of burning from a retinoid is low as long as you use sunscreen every day and re-apply when outdoors.
Tretinoin/retinol burns
What is a tretinoin or retinol burn?
A Retinol burn, also known as retinization, or retinol irritation, may happen when you begin using retinol. Retinol burns are more likely to occur after using a more concentrated version of retinol, like tretinoin. Some symptoms of retinol burns include a burning sensation, dry skin, peeling, painful irritation, redness or discoloration, and flaking.
The tretinoin purge is also associated with the use of tretinoin and some symptoms include developing more acne breakouts for the first few weeks of treatment.
Skin after using 0.03% retinol cream for 3 consecutive days
How to treat a tretinoin or retinol burn?
Retinol burns will stop occurring when your skin gets used to the retinol. The first step in treating a retinol burn is discontinuing the use of any product containing retinol.
Do not apply retinol while your skin displays any symptoms.
If your skin gets red and inflamed, ice the area gently or apply a cold compress to soothe your skin.
Keep your skin routine as gentle as possible while your skin heals from retinol burn, and avoid applying makeup.
Soothing products containing aloe vera or witch hazel12 may stimulate healing and treat symptoms of burning and chafing.13
Apply a gentle, hypoallergenic moisturizer to help rehydrate your skin. It will seal in moisture so your skin can heal and will provide relief from flaking and dryness.
When to contact your healthcare provider?
Make sure that the symptoms you are experiencing are within the realm of what is "typical" as far as side effects go. Call your healthcare provider if your retinol burn is causing you severe pain or irritation.
How to get a tretinoin prescription?
Tretinoin can only be bought with a prescription from a healthcare provider as it is not sold over the counter (OTC). Instead of booking an in-person appointment with a healthcare provider, requesting a tretinoin prescription online can be a very simple and time-saving option.
Request a prescription for tretinoin
Start your journey to better skin. Get a personalized treatment plan from one of our affiliated dermatology providers. Let them know if you have a specific medicine in mind.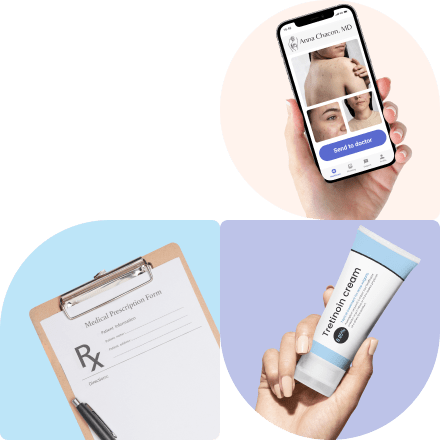 Conclusion
Retinol and tretinoin are vitamin A derivatives used to treat acne and combat anti-aging. The main difference between these two substances is that tretinoin is much stronger, and you need a prescription.
Ask your healthcare provider if tretinoin is the right solution for you. In the meantime, you can begin by adding some measures for acne self-care and getting started with retinol .25% and work your way up to retinol 1%.
PATIENT EDUCATION
Acne Resources
Reviewed by dermatologists
Make a difference. Share this article.
Sources:
1 https://www.webmd.com/beauty/retinoid-gel-and-cream-treatments#
2 https://www.centerforsurgicaldermatology.com/benefits-of-retiniods/
3 https://www.ncbi.nlm.nih.gov/pmc/articles/PMC6791161/
4 https://www.singlecare.com/drug-classes/retinoids
5 https://www.ncbi.nlm.nih.gov/pmc/articles/PMC2699641/
6 https://www.ncbi.nlm.nih.gov/pmc/articles/PMC2699641/
7 https://www.ncbi.nlm.nih.gov/pmc/articles/PMC2699641/
8 https://www.ncbi.nlm.nih.gov/pmc/articles/PMC6791161/
9 https://www.ncbi.nlm.nih.gov/pmc/articles/PMC2699641/
10 https://my.clevelandclinic.org/health/treatments/23293-retinol
11 https://my.clevelandclinic.org/health/treatments/23293-retinol
12 https://www.medicalnewstoday.com/articles/323628
13 https://www.ncbi.nlm.nih.gov/pmc/articles/PMC4025519/
---