Acne Self-Care Tips: How to Take Care of Your Skin
Whether you're an adult dealing with hormonal or cystic acne or a young person attempting to manage bothersome breakouts, you can take some simple self-care measures to clear your skin from acne.
Author: Jennifer Highland, Content Manager of Miiskin | Reviewed by: Jon Friis, founder, and CEO of Miiskin
Covered in this article:
What is Acne | Types of Acne | What Causes Acne? | What Makes Acne Worse? | Self-Care Tips | Common Acne Medications
---
Acne vulgaris (commonly known as pimples) is the most common dermatological condition, and almost everyone will experience acne at some point.
Acne usually starts during the teenage years because hormone changes cause glands in your follicles to produce too much oil. Your skin pores become blocked with this oil, trapping dead skin cells and bacteria1. Acne often appears on the face, neck, chest, back, and upper arms.
Pimples are extremely common; they affect up to 80 to 90% of teenagers and young people in their 20s, but they can continue to appear later in life, especially in women2.
In addition to the teenage years, pimples are common in women during menstruation, after childbirth, and menopause since the hormonal activity in the body increases.
Hormonal acne (also known as adult acne) can create deeper cysts under the skin and more inflammation. Adult acne usually requires dermatology care and prescription medications.
Some people get more pimples than others because of genetics, hormones, environmental factors, or medications.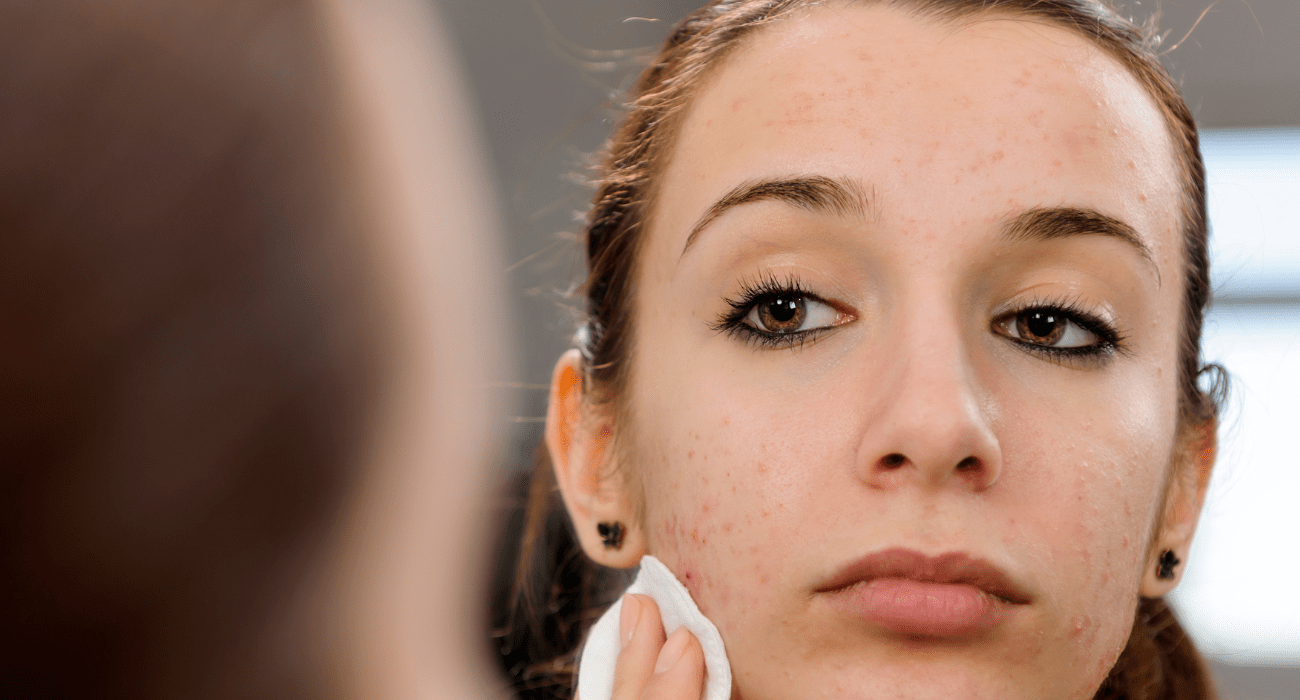 Types of Acne Spots (Pimples)
Acne can present itself as different types of skin lesions, including :
Inflamed papules (small red bumps)
Pustules (white or yellow spots)
Comedones (blackheads and whiteheads)
Nodules (large red lumps)
Pseudocysts (cyst-like fluctuant swelling)
Secondary lesions3
What Causes Acne (Pimples)?
These are the main causes of acne:
Hormonal changes
Excessive production of oil
Hair follicles blocked by oil and dead skin cells
Bacteria
Inflammation4
What Makes Acne Worse?
Certain factors, such as stress, oily hair or makeup products, foods, sleep deprivation, and smoking, have been linked to worsening acne.
Stress
Greasy cosmetics
Sweat
Not washing your hair often
Use of oily skin or hair care products
Hot and humid weather
Menstruation
Certain foods, such as dairy products7
Acne Vulgaris Self-Care Tips
Acne cannot be cured entirely, but it can be managed with the proper treatment, which includes medication and a self-care routine for acne8
Applying skincare products for acne-prone skin is only one way to prevent and control breakouts.
Caring for acne-prone skin may also include a lifestyle change, and the initial step usually starts with a good skin care regimen.
MIISKIN PROMO
Is your acne treatment working?
Miiskin helps you take weekly photos and log changes to your treatment to see how your skin responds.
How to Improve Acne?
It takes more than just simply using one product after another to treat acne. It includes thorough cleaning and a few simple lifestyle and skin care adjustments.
These acne self-care techniques may be helpful:
Wash your skin twice a day (morning and evening) and after sweating with mild soap and lukewarm water
Do not touch your face throughout the day
Do not squeeze spots
Use gentle and non-comedogenic makeup, skincare, and sunscreen products
Avoid using too much makeup
Remove makeup before sleeping
If dry skin is a problem, use a fragrance-free, water-based emollient
Wash your hair regularly; if you have oily hair, wash it daily and do not let it fall across your face
Stay away from tanning beds
In addition to the tips mentioned above, having a good skincare routine for acne can help clear your skin from pimples 9 10
Common Acne Medication
Acne medications reduce oil production and swelling or treat bacterial infections. Most acne prescriptions will produce results in four to eight weeks, but it can take months or years for your acne to clear up completely.
The treatment given by your healthcare provider depends on your age, the severity of your acne, and the type of acne. Usually, healthcare providers can prescribe a combination of topical (creams) and oral medication (pills).
Important Notice: Acne medication can only be prescribed by a healthcare provider and must be taken or applied under medical supervision.
Topical Acne Medications (Acne Creams)
Retinoids and retinoid-like drugs such as Tretinoin (Avita, Retin-A, others), Adapalene (Differin), and tazarotene (Tazorac & Avage)
Antibiotics such as Clindamycin with Benzoyl Peroxide (Benzaclin, Duac, others) and Erythromycin with Benzoyl Peroxide (Benzamycin).
Azelaic acid and Salicylic Acid such as (Azelex, and Finacea)
Oral Acne Medications (Pills for Acne)
Antibiotics such as Tetracycline (Minocycline, Doxycycline) Macrolide (Erythromycin, azithromycin)
Oral contraceptives such as Ortho Tri-Cyclen 21, and Yaz
Anti-androgen agents such as spironolactone (Aldactone), Isotretinoin (Amnesteem, Claravis)12
Make a difference. Share this article.
Sources:
1 https://www.mydr.com.au/pharmacy-care/acne-self-care/
2 https://www.mydr.com.au/pharmacy-care/acne-self-care/
3 https://medlineplus.gov/ency/patientinstructions/000750.htm
4 https://www.mayoclinic.org/diseases-conditions/acne/symptoms-causes/syc-20368047
5 https://www.medicalnewstoday.com/articles/107146#causes
6 https://www.mydr.com.au/pharmacy-care/acne-self-care/
7 https://www.healthline.com/health/dairy-and-acne#how-dairy-affects-skin
8 https://www.nhs.uk/conditions/acne/
9 https://www.nhs.uk/conditions/acne/
10 https://www.aad.org/public/diseases/acne/skin-care/tips
11 https://www.mayoclinic.org/diseases-conditions/acne/diagnosis-treatment/drc-20368048#
12 https://www.mayoclinic.org/diseases-conditions/acne/diagnosis-treatment/drc-20368048#
---