AltrenoTM for acne and anti-aging: All you need to know about this new tretinoin version
The Altreno lotion combines micronized tretinoin with a blend of soothing skin care ingredients to deliver all the benefits of a prescription-strength retinoid without irritating the skin.
Table of Content:
What is Altreno? | What is skin aging? | Altreno ingredients and benefits | Side-effects | Precautions | How to use it? | FAQ
Our commitment to producing high-quality content:
The information presented in this article is based on scientific research and the professional advice of our Content Medical Reviewers, who are experts in the field of Dermatology. How we write our content →
When you are striving for acne-free and youthful skin, you may want to explore different treatments and AltrenoTM together with Winlevi® should be at the top of your list. Altreno is an innovative topical prescription medication that has gained popularity among patients and dermatologists alike.
The Altreno lotion blends tretinoin, a potent retinoid, with other proven skincare ingredients to address both acne and anti-aging while preventing irritation.
This article explains the benefits, the science, side-effects and application methods, so you can talk to your online dermatologist and discuss if Altreno gel is adequate for your skin.
What is Altreno and what makes it unique?
Altreno stands out from other acne and anti-aging treatments due to its unique formulation. It contains micronized tretinoin (a process which reduces the size of tretinoin particles) enhancing the absorption of tretinoin into your skin, maximizing its therapeutic effects while minimizing the risk of potential irritation1.
In addition to tretinoin, Altreno uses a polymeric emulsion technology (process used to obtain a mixture of two or more liquids that typically cannot be mixed together) to blend in hyaluronic acid, collagen and glycerin2 3 in a powerful combination for acne and anti-aging.
Request an Altreno prescription!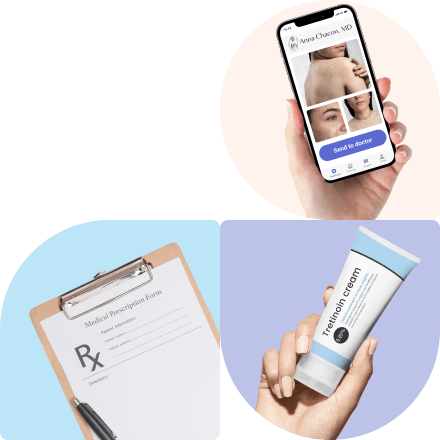 What is skin aging?
Skin aging is a natural process where the quality of the skin deteriorates over time. There are four main types of skin aging: intrinsic aging, extrinsic aging, photo-aging, and hormonal aging4.
Intrinsic Aging
This type of aging occurs naturally within the skin tissue itself. It is characterized by pale, dry, less elastic skin with fine wrinkles. This means that during the process of intrinsic aging, there is a decrease in the number of dermal mast cells and fibroblasts in the skin5. Mast cells play a role in the skin's immune response6, while fibroblasts are responsible for producing collagen, a protein that provides structure and elasticity to the skin7. Additionally, there is a reduction in the overall production of collagen in the skin. These changes contribute to the characteristic signs of intrinsic aging, such as decreased skin firmness, increased dryness, and the formation of fine lines and wrinkles8.
Extrinsic Aging
Extrinsic aging is caused by external factors, such as extreme sun exposure and other environmental influences; it primarily affects the face and neck. Exposure to environmental pollutants, certain chemicals, and lifestyle factors, generate oxidative stress in the skin cells9. On the other hand, antioxidants (such as Vitamin C) help counteract the damaging effects of oxidative stress10.
Photoaging
Prolonged exposure to UV light leads to skin photoaging, which is characterized by several physical manifestations such as dyspigmentation (changes in skin color), rhytides (fine lines), coarse wrinkles (unlike fine wrinkles seen in intrinsic aging), elastosis (degradation of elastic fibers), telangiectasias (dilated blood vessels), skin roughness, and precancerous changes11.
Hormonal aging
Hormonal aging is related to hormonal changes in the body, particularly a decrease in collagen production, skin thickness, skin hydration, and the function of the skin's protective barrier12.
These different types of skin aging contribute to various signs of aging, including wrinkles, dryness, loss of elasticity, dyspigmentation, and changes in skin texture. It's important to take preventive measures and care for the skin to minimize the effects of aging and maintain a healthy complexion13.
How does Altreno help with skin aging?
Altreno ingredients and benefits
The active ingredients in Altreno: tretinoin, collagen, hyaluronic acid and glycerin are widely used and recognized for their benefits in addressing skin aging.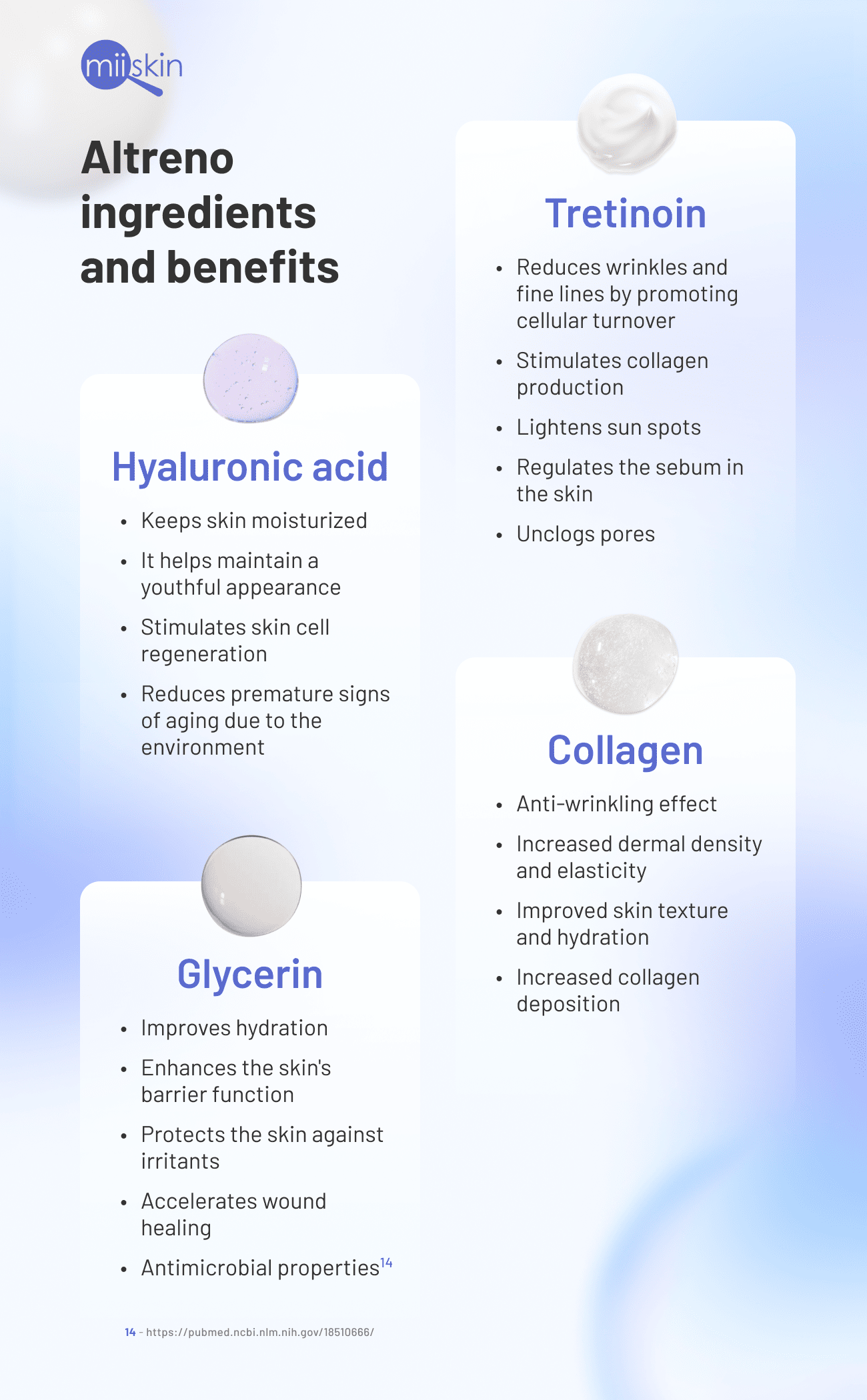 Side effects of Altreno
The most common side effect of Altreno is skin irritation, but according to clinical trials it is only present in 1% of patients using it21.
Dryness
Pain
Redness
Irritation
Peeling22
Warnings and precautions
Since it contains a retinoid, Altreno cannot be used by women who are pregnant or nursing.
Altreno contains fish proteins. Talk to your doctor if you are allergic to fish and if you get hives or itching during your treatment
Tell your dermatologist if you have eczema (or other skin problems), and about the medicines you take on a regular basis including prescriptions, over-the-counter medicines, vitamins, and herbal supplements.
Minimize exposure to sunlight and avoid tanning beds. Use a sunscreen with an SPF 50 on treatment areas if exposed to the sun.
How to use it?
According to the pharmaceutical manufacturer, Altreno can be applied any time of the day, however, since it includes tretinoin, it is best to apply it during the night after washing your face with a gentle cleanser.
Discover the differences and similarities between Altreno and tretinoin in our detailed guide Altreno vs Tretinoin to understand why Altreno may be a better and more mild alternative for your skin.
FAQ
Who is Altreno for?
Patients with mild to moderate acne aged 9 years or older or patients who want to combat signs of photoaging and anti-aging.
Who should not use it?
Altreno should not be used in children under 9 years of age and by women who are pregnant, trying to conceive or breastfeeding, as Altreno has teratogenic effects, which means it can harm an unborn baby. People allergic to fish should also avoid Altreno.
Does Altreno cause skin purging?
Since Altreno contains tretinoin, it could cause the so-called "tretinoin purge"
Can you buy Altreno over the counter (OTC)?
Altreno cannot be bought over the counter (OTC), it can only be purchased with a doctor's prescription.
How to get Altreno?
To get Altreno you must have a prescription. You can either have a virtual consultation with an online dermatologist to get a prescription. This costs $59 and you will get an answer (and the prescription, if adequate for you) in 1-2 business days. After getting your prescription, you can buy it at the pharmacy of your choice. 
How much does Altreno cost if I don't have insurance or I need to pay put of pocket?
According to Altreno's official website, 20 gr tube is around $60 and a 45 gr tube is around $115*.
*The price range listed here is just an estimation. Medication prices may vary depending on the state and the pharmacy selected. Miiskin is not responsible and cannot influence the price of the medication as it is independent from these entities.
Subscribe to newsletter!
Unlock the secrets to a flawless complexion with our exclusive newsletter. Discover effective acne and anti-aging treatments, expert advice, and skincare tips. Subscribe now for a radiant future!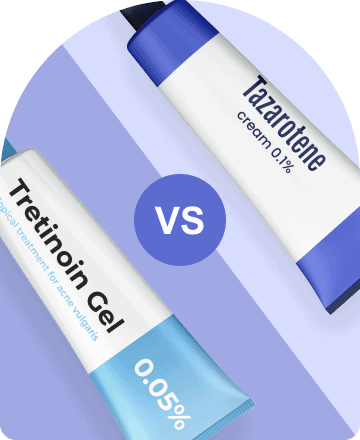 PATIENT EDUCATION
Acne medicines: What is the difference?
Reviewed by dermatologists
References:
https://jddonline.com/articles/vehicle-formulation-impacts-tolerability-and-patient-preference-comparison-of-tretinoin-branded-lotion-and-generic-cream-S1545961622P0875X/
https://jddonline.com/articles/vehicle-formulation-impacts-tolerability-and-patient-preference-comparison-of-tretinoin-branded-lotion-and-generic-cream-S1545961622P0875X/
https://www.altreno.com/the-evidence/#about-tretinoin
https://www.ncbi.nlm.nih.gov/pmc/articles/PMC7403684/
https://dermnetnz.org/topics/skin-immune-system
https://www.ncbi.nlm.nih.gov/pmc/articles/PMC2887041/#:~:text=Fibroblasts%20are%20developmentally%20programmed%20to,matrix%20including%20type%20I%20collagen.
https://www.sciencedirect.com/science/article/pii/S0022202X20324088
https://www.sciencedirect.com/topics/medicine-and-dentistry/photoaging
https://www.ncbi.nlm.nih.gov/pmc/articles/PMC2685269/
https://www.ncbi.nlm.nih.gov/pmc/articles/PMC3225141/
https://www.ncbi.nlm.nih.gov/pmc/articles/PMC7570474/
https://www.hmpgloballearningnetwork.com/site/wounds/article/hyaluronic-acid-inflammation-and-tissue-regeneration
https://www.ncbi.nlm.nih.gov/pmc/articles/PMC3583886/
https://www.researchgate.net/publication/358298784_Collagen_Supplements_for_Aging_and_Wrinkles_A_Paradigm_Shift_in_the_Field_of_Dermatology_and_Cosmetics
https://pubmed.ncbi.nlm.nih.gov/18510666/
https://www.healio.com/news/pediatrics/20180824/fda-approves-altreno-for-acne-treatment-in-kids-adults