2. Teledermatology Software
When someone talks about teledermatology software, what comes to mind in most cases, is synchronous telehealth (live video conferencing) between a patient and a dermatologist.

Although live-video-conferencing is indeed one form of telecommunication, it's inefficient because it requires a stable internet connection from both ends, which is rare.
The second method is called asynchronous telehealth or store and forward telehealth which is defined as a telehealth visit in dermatology powered by the transmission of images and other health-related information from a patient to a provider or from a provider to provider through a store and forward teledermatology platform
Patients use a teledermatology app to share photos of their skin condition with their dermatologist and other health-related data such as chief complaints and symptoms.
Dermatologists access a web portal to view all their patients' requests and tend to them whenever they have the chance.
Offering virtual visits to your patients is extremely important these days. There are a few nationwide online dermatology services that are taking over many patients from private dermatology practices, which means, that if your clinic does not cater to young digital patients, someone else will.  
Store-and-forward teledermatology provides you with the opportunity to attract the new generation of digital patients, and generate a new revenue stream for your clinic.
This technology can also help you shorten the waiting time for patients who need urgent assistance, such as the case of Megan Fry, a Minneapolis resident who requested an urgent visit via the Miiskin app with a local Minnesota Dermatology Clinic because of a cancerous lesion.
A few examples of telemedicine software for dermatology are:
Miiskin PRO
PocketMD
VisualDX
3. Dermatology EMR and EHR Software
Some people use the terms "electronic medical record" and "electronic health record" (or "EMR" and "EHR") interchangeably. However, the main difference is that EMR records cannot be shared outside the clinic. At the same time, EHRs are designed to be shared all over the healthcare system, including primary care physicians, specialists, laboratories, and any other healthcare professional who may need them.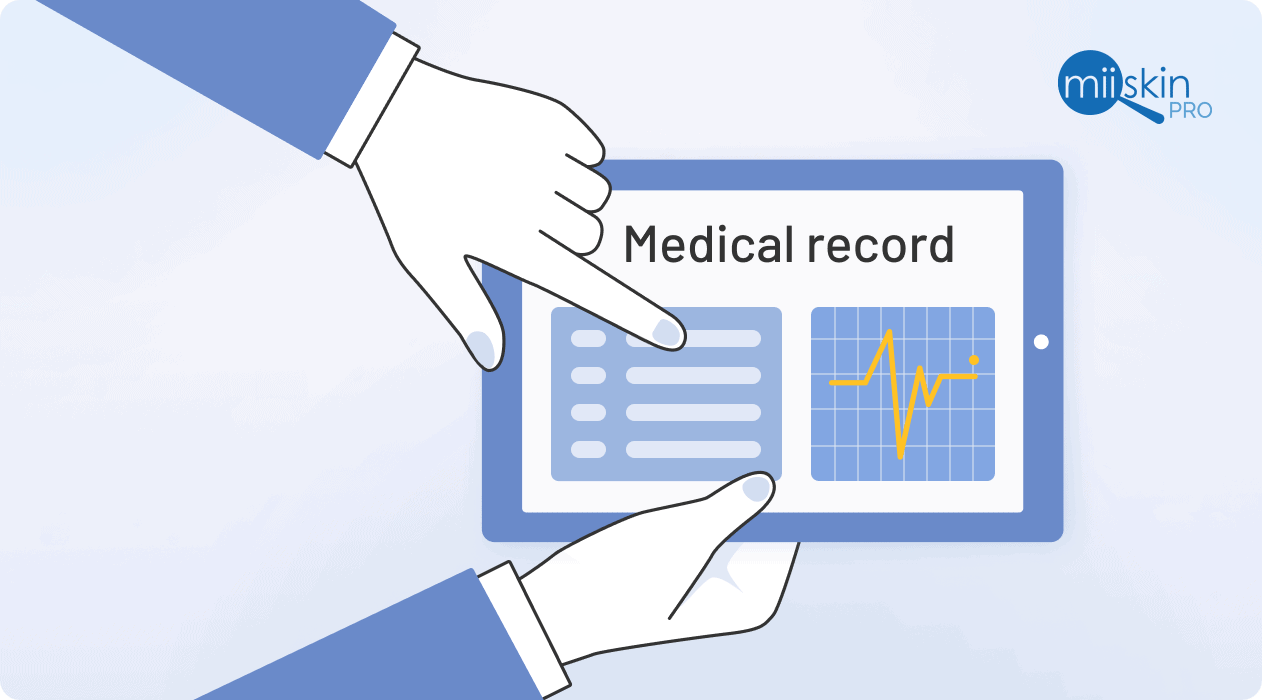 3.1 Dermatology EMR Software
Electronic Medical Records (EMRs) are the digital version of the paper charts used in a doctor's office. An EMR system contains the medical and treatment history of the patients in a dermatologist's practice, and they have a few advantages over paper records1.
3.2 Dermatology EHR software
Electronic health records (EHRs) focus on the overall patient's health, and it goes beyond the standard clinical data collected in a doctor's office. EHR systems are built on sharing information with many health care providers, such as laboratories and specialists. They contain information collected from all the clinicians involved in the patient's care2.
With EHRs, the patient's information is available by any healthcare professional whenever they need it.
Increased health care coordination
Improved diagnostics and outcomes
Increased efficiency and cost savings
Better patient care
Increase patient participation3
MIISKIN PROMO
Attract New Patients to your Medical Practice with the Miiskin platform
Skin Health Solution for Providers
Boost patient acquisition: The Miiskin website and app are visited by thousands of patients in the U.S. every day; offer these patients care delivered by your practice.
Automate patient intake: Patients can fill out any intake forms, make payments and give consent via the Miiskin app.
Offer efficient care delivery: Make routine visits more efficient with an asynchronous telehealth solution, reimbursable at a similar rate to in-person visits.
4. Booking System: Medical Scheduling Software
Medical scheduling or booking software streamlines the booking process for patients. It helps patients, providers, and administrators save time, reduce hassle, and improve efficiency.
These medical booking systems should offer automatic appointment reminders and consolidate multiple calendars, staff, locations, offices, teams, and timezones.
Examples of medical scheduling software
Caspio
SimplyBook.me
Cogsworth