How to use tretinoin cream for wrinkles according to a derm
Tretinoin is a popular acne treatment that is also used to combat photoaging and anti-aging, however it can be quite irritating to the skin, that's why we asked a dermatologist how to safely use tretinoin cream for wrinkles.
Table of Content:
How does it work for wrinkles? | How long does it take to work? | Tretinoin strength for wrinkles | Long-term use for wrinkles | Best tretinoin brand for wrinkles | How to use it for wrinkles? | How to apply it for wrinkles? | Where to buy tretinoin? | Where to apply it for wrinkles? | Can you use it in the forehead? | Can you use it in the neck? | Can you use it under your eyes? | What are wrinkles? | Types of wrinkles | What is photoaging?
Our commitment to producing high-quality content:
The information presented in this article is based on scientific research and the professional advice of our Content Medical Reviewers, who are experts in the field of Dermatology. How we write our content →
As we age, we develop fine lines and wrinkles. While aging is a natural part of life, many individuals, especially women, wish to maintain a youthful look and thus delay for as long as possible the appearance of wrinkles.
In the ever-evolving quest for radiant and youthful skin, few products have gained as much attention and praise as tretinoin. With its remarkable ability to address wrinkles and promote anti-aging effects, tretinoin has become a cornerstone in dermatological treatments.
In this article we talked with Dr. Anna Chacon, board-certified dermatologist, to help us uncover the secrets of how to use tretinoin cream for wrinkles and turn back the clock on aging. From understanding its mechanism of action to mastering the art of application, join us as we unveil the insights that can help you achieve skin that defies time itself.
How does tretinoin work for wrinkles?
The speed of the cell renewal process decreases with age. For example, for people young adults this process lasts between 10 – 21 days, while for middle-aged people the skin cell renewal process may last between 45 – 60 days1.
Tretinoin stimulates cell turnover, reduces pigmentation, normalizes sun-damaged cells2 boosts collagen production, increasing skin structure and elasticity which improves the appearance of wrinkles and fine lines. Here's how tretinoin works to address wrinkles3:
Increases cell turnover
Tretinoin promotes the shedding of old, damaged skin cells and encourages the growth of new ones. This process, known as cell turnover, helps to rejuvenate the skin's appearance, making it smoother and more even-toned4.
Reverses signs of photoaging
Multiple studies over the last decades consistently reported that tretinoin creams and gels are very efficient in improving the appearance of photoaging in terms of wrinkling, hyperpigmentation, sallowness (yellowish skin tone caused by smoking or UV exposure), and lentigines (age spots) as early as one month and up to 24 months5.
Stimulates collagen production
Collagen is a protein that provides structure and elasticity to the skin. Tretinoin stimulates the production of collagen fibers in the skin's deeper layers. This increased collagen production can help to improve the skin's firmness and suppleness, which in turn reduces the appearance of wrinkles and fine lines6.
Thickens the epidermis
Tretinoin can lead to a thickening of the outermost layer of the skin, known as the epidermis. This can help to make the skin appear plumper and more youthful, which can diminish the visibility of wrinkles7.
Enhances blood flow
Tretinoin can improve blood flow to the skin, which provides essential nutrients and oxygen to skin cells. Improved circulation can contribute to healthier and more vibrant-looking skin8.
Reduces hyperpigmentation
Tretinoin can fade areas of hyperpigmentation, such as age spots or sun spots. By evening out the skin tone, these spots become less noticeable, further contributing to a more youthful appearance 9.
Prevents further damage
Tretinoin can help prevent the breakdown of collagen due to sun exposure and other environmental factors. By protecting collagen, tretinoin can help slow down the formation of new wrinkles.
How long does it take for tretinoin to work for wrinkles?
When using tretinoin cream to treat wrinkles, discoloration, and age spots, it may take up to 6 months to see benefits. If you stop taking the drug or continue taking it irregularly, the improvements can eventually disappear.
Request a prescription for Altreno as an anti-aging treatment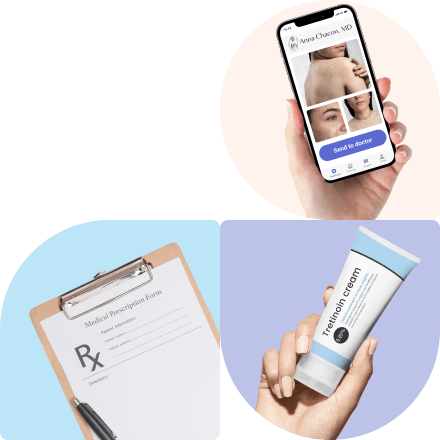 Is tretinoin approved by the FDA for wrinkles and anti-aging?
Tretinoin is approved by the FDA (Food and Drug Administration) for the treatment of antiaging and photoaging10.
What strength of tretinoin cream is best for wrinkles and anti-aging?
According to Dr. Chacon, the strength of tretinoin that one should use for wrinkles and anti-aging depends on different factors such as your age, the type of skin you have and other products used in your skin care routine.
However, as a general rule, a low to moderate strength of tretinoin (0.025% to 0.05%) is often recommended for anti-aging purposes, because it tends to be effective while minimizing the risk of irritation.
What are the effects of the long-term use of tretinoin for wrinkles?
The long-term use of tretinoin for wrinkles can yield several positive effects on the skin such as reduced fine lines, wrinkles, and age spots.
Furthermore, the skin's texture and tone can become more even and smoother due to increased cell renewal and the increased collagen production will help improve skin elasticity and firmness, leading to a more youthful appearance.
However, the long-term use of tretinoin should be under the guidance of a dermatologist, and proper skincare routines should be maintained to maximize the benefits while minimizing potential side effects.
What is the best tretinoin for wrinkles?
According to Dr. Chacon there is a fairly new tretinoin medication called Altreno which can be considered the "best tretinoin option for wrinkles and anti-aging" due to its unique active ingredients: tretinoin, hyaluronic acid, collagen, and glycerin, which are widely used for their anti-aging properties.
How to use tretinoin for wrinkles?
It is important to follow the instructions provided by your dermatologist or healthcare provider," says Dr. Chacon. However as a general rule, this is how you can start with tretinoin for wrinkles while minimizing skin irritation.
Typical tretinoin dose for wrinkles
Start with a low concentration: Tretinoin can be irritating to the skin, especially when first starting use. It is recommended to start with a low concentration, such as 0.025%, and gradually increase over time.

Apply twice per week when beginning the treatment: When you begin treatment with tretinoin it is important to not apply every night to avoid irritation. Apply twice per week until your skin gets used, apply every other day and then finally apply every night.
Use sparingly: use tretinoin sparingly and avoid applying it to areas of the skin that are not affected by wrinkles or fine lines.
Use a moisturizer: tretinoin can be irritating to the skin, so it is important to moisturize before and after application to help prevent dryness and flakiness.
Use sunscreen: tretinoin can make the skin more sensitive to the sun, so it is important to apply sunscreen with SPF 50 on your face every morning even during winter.
Do not apply AHAs or BHA the same day: Avoid using alpha hydroxy acids or beta hydroxy acids in your skin care routine on the same day as it will cause irritation
How to apply tretinoin for wrinkles?
You should always apply tretinoin at night since it is photosensitive. Wash your face with a mild cleanser and gently pat dry your skin.
Wait for 30 minutes or so and apply a moisturizer
Wait 5-10 minutes and apply a pea-sized amount of tretinoin to the affected areas of the skin, such as the forehead, cheeks, and around the eyes (avoid the delicate skin around the lips and nostrils)
Wait for 5-10 minutes and apply a moisturizer again
Wait for 5-10 minutes and apply hyaluronic acid to avoid irritation
In addition to tretinoin, you can complement your anti-aging skin care routine with hyaluronic acid, glycolic, salicylic or lactic acids and do some lifestyle changes such as maintaining a healthy diet and avoiding smoking.
Where to buy tretinoin for wrinkles?
To buy tretinoin you need a doctor's prescription. You can request your prescription by having a photo consultation with Miiskin which is only $59. Your online dermatologist will get back to you in 1-2 days and you can get your medicine at the pharmacy the same day.
What is the price of tretinoin?
A 20 gr tube of generic tretinoin may cost between $20 to $40*.
According to Altreno's official website, 20 gr tube is around $60 and a 45 gr tube is around $115*.
*The price range listed here is just an estimation. Medication prices may vary depending on the state and the pharmacy selected. Miiskin is not responsible and cannot influence the price of the medication as it is independent from these entities.
Where to apply tretinoin for wrinkles?
According to Dr. Chacon, tretinoin should be applied to the specific areas where wrinkles are a concern, while avoiding sensitive or delicate areas. It's generally recommended to apply tretinoin sparingly and precisely to the following regions:
Face: Concentrate on areas with wrinkles, fine lines, and uneven texture. This typically includes the cheeks, forehead, around the mouth, and between the eyebrows.
Neck: If wrinkles are present on the neck, you can apply tretinoin to this area as well, taking care to avoid excessive irritation.
Chest: For those with wrinkles on the chest area, consider applying tretinoin, being cautious as the skin here can be sensitive.
Can you use tretinoin for forehead wrinkles?
Yes, tretinoin can and should be applied on your forehead to prevent and minimize existing wrinkles.
Can you use tretinoin for neck wrinkles?
Yes, you can safely apply tretinoin on your neck and chest.
Can you use tretinoin for under eye wrinkles?
Using tretinoin for under-eye wrinkles requires careful consideration and precaution due to the delicate nature of the skin around the eyes as it tends to be thinner and more sensitive than other areas of the face.
Dermatologists often recommend using alternative treatments specifically designed for this area. Ingredients like hyaluronic acid, peptides, and antioxidants can be gentler and more suitable for addressing under-eye wrinkles.
However, if you are considering using tretinoin around the eyes, consult with a dermatologist first. They can assess your skin's condition and recommend appropriate treatments or formulations that are safe and effective for this sensitive area. If your dermatologist does recommend you use tretinoin for under-eye wrinkles, apply a very small amount and avoid the direct under-eye area. Instead, focus on the orbital bone around the eye.
How to deal with the side-effects of tretinoin?
Tretinoin may cause you some unpleasant side effects including skin irritation, redness, burning or stinging, click on the link to learn more about the so-called tretinoin purge.
About wrinkles
What are wrinkles and why do we get them?
Wrinkles are folds, creases or ridges that appear as the skin loses elasticity and the amount of collagen in the dermis, or middle layer of the skin, and the quantity of fat in the subcutaneous or deepest layer of the skin decrease over time. In addition to natural aging processes, wrinkles appear on the face due to a variety of factors, including exposure to ultraviolet (UV) light, smoking, and environmental factors such as pollution11.
Wrinkles can appear at a different age for different people, but they become more common as we age. Typically, the first wrinkles appear in our 30's or 40's, although some people may notice them earlier or later.
Several factors can contribute to the development of wrinkles, including a person's skin tone, hormones, smoking and disease12.
Exposure to UVA and UVB rays from the sun or tanning beds13 and a diet high in sugar can accelerate the aging process and lead to the formation of wrinkles14.
Other factors that can contribute to the development of wrinkles include the loss of collagen and elastin in the skin, which occurs as we age or due to certain medical conditions or medications15.
Repeated facial expressions such as frowning or squinting, also contribute to the formation of wrinkles over time.
Types of wrinkles
Dynamic wrinkles are caused by the contraction of a muscle attached to the skin. They are typically located between the eyebrows, forehead, cheeks, and near the outer corners of the eyes typically referred to as "crows feet".
Static wrinkles are caused by UV damage, smoking, or poor nutrition
Wrinkle folds are often due to sagging of the facial structure, causing deep grooves between the nose and mouth known as the naso-labial groove16.
What is photoaging?
Photoaging (also known as sun damage or UV damage) is the premature aging of the skin that occurs as a result of long-term exposure to ultraviolet (UV) radiation from the sun or tanning beds17.
The clinical characteristics of photoaging include fine and coarse wrinkles, roughness, dryness, pigmentary alterations, telangiectasia (broken capillaries typically known as spider veins lines), and may also include in some cases precancerous lesions18.
Conclusion
Tretinoin is an effective and well-studied treatment for wrinkles and other signs of aging. When used correctly and consistently, it can help improve the appearance of fine lines, texture, and skin tone.
It is important to consider that tretinoin is a prescription medication and should only be used under medical supervision as some people may experience side effects such as irritation, skin peeling, and redness, but these symptoms often disappear by temporarily discontinuing the use of the medication.
Request a prescription for Altreno or tretinoin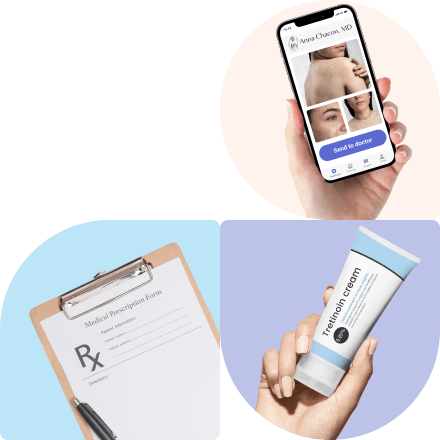 Article References:
https: //www. Ncbi. Nlm. Nih. Gov/pmc/articles/pmc2699641/
https: //www. Aafp. Org/pubs/afp/issues/1998/0315/p1404. Html#
https: //www. Sciencedirect. Com/topics/medicine-and-dentistry/wrinkle
https: //www. Ncbi. Nlm.Nih.Gov/pmc/articles/pmc2907965/
https: //www. Ncbi. Nlm.Nih.Gov/pmc/articles/pmc4425048/
https: //pubmed.Ncbi. Nlm.Nih.Gov/20620757/
https://www. Ncbi.Nlm.Nih.Gov/pmc/articles/pmc1606623/
https://www. Facialesthetics.Org/patient-info/facial-esthetics/wrinkle-treatment/
https://www. Ncbi. Nlm.Nih.Gov/pmc/articles/pmc4665475/
http://eknygos. Lsmuni. Lt/springer/107/29-51. Pdf
https://www. Ncbi.Nlm.Nih.Gov/pmc/articles/pmc9112391/
https://pubmed. Ncbi.Nlm.Nih.Gov/6827031/
https://www. Ncbi.Nlm.Nih.Gov/books/nbk557478/
https://rarediseases.Info.Nih.Gov/diseases/517/fetal-retinoid-syndrome
https://pubmed. Ncbi. Nlm.Nih.Gov/26897386/
https://pubmed.ncbi.nlm.nih.gov/6827031/
https://www.sciencedirect.com/science/article/abs/pii/S0190962286702429