Clindamycin and tretinoin: Get your customized formula
Tretinoin and clindamycin are powerful acne fighting ingredients that complement each other when used in the same formula. But can you use them together? Keep reading to find out!
Table of Content:
Clindamycin and tretinoin uses | Can I use them at the same time? | What results can I expect? | How to get a prescription? | How to use them together? | Side-effects | Brands
Our commitment to producing high-quality content:
The information presented in this article is based on scientific research and the professional advice of our Content Medical Reviewers, who are experts in the field of Dermatology. How we write our content →
The combination of tretinoin and clindamycin is considered a particularly effective solution for many patients with acne. This article explains the benefits and mechanisms of action of this potent combination to treat acne and will help you get a prescription for a customized tretinoin and clindamycin formula for your skin.
Tretinoin, often referred to as all-trans retinoic acid (ATRA), is a prescription retinoid. Its primary function is to modulate skin cell growth and development, making it a go-to solution for various skin issues. Put simply, tretinoin oversees the maturation and evolution of skin cells, addressing multiple skin concerns. For instance, it speeds up the shedding of older skin cells and promotes the formation of new ones. As a result, it aids in clearing blocked pores, diminishing inflammation, and enhancing the skin's overall appearance1.
Clindamycin is an antibiotic that kills the bacteria causing acne, which is called P. acnes bacteria. By stopping the growth of this bacteria, clindamycin reduces the number of acne breakouts2. Besides its antibacterial properties, clindamycin also possesses anti-inflammatory attributes, making it also effective against red, swollen acne lesions3.
If you want to learn more about tretinoin, read our Tretinoin Guide for Patients by board-certified dermatologist Dr. Mohta.
Clindamycin and tretinoin gel uses
According to Dr. Anna Chacon, board-certified dermatologist and one of the top rated dermatologists in Miami, the combination of clindamycin and tretinoin is mainly used for the treatment of acne vulgaris for a short period of time which can vary from a few weeks to a few months depending on the severity of your condition and your particular circumstances.
Can I use clindamycin and tretinoin at the same time?
Dr. Chacon says that you can use clindamycin and tretinoin simultaneously. In fact, she often prescribes a combined topical product specifically developed for the treatment of acne.
When used together, they offer a dual-action approach, with clindamycin targeting acne-causing bacteria and reducing inflammation, while tretinoin promotes skin cell turnover and unclogs pores.
What results can I expect from using a clindamycin and tretinoin gel?
Using a clindamycin and tretinoin gel can offer many beneficial results due to the complementary actions of the two agents:
Enhanced efficacy
Clinical studies show that a combined gel of tretinoin and clindamycin outperforms the individual treatments in addressing various stages of acne. This enhanced efficacy might result from the synergistic actions of these agents, targeting both inflammatory and non-inflammatory acne lesions4.
Reduced number of acne lesions
Studies show that users often see a considerable reduction in the number of both pimples (pustules) and blackheads/whiteheads (comedones)5.
Prevention of acne recurrence
With continued use, the combination can help prevent new acne from forming6.
Decreased inflammation
Tretinoin and clindamycin both reduce inflammation, therefore, this combination can effectively address both inflammatory acne (like pustules and cysts) and non-inflammatory acne (like blackheads and whiteheads)7 8 .
Improved skin texture
Tretinoin also promotes collagen synthesis, which can improve skin texture and potentially reduce the appearance of acne scars over time9.
Reduced bacteria resistance
Using two agents with different mechanisms may reduce the chance of bacteria becoming resistant to clindamycin compared to using clindamycin alone10 11 .
How to get a prescription for tretinoin and clindamycin gel?
To get a customized formula with tretinoin and clindamycin, you require a doctor's prescription. You can have a virtual photo consultation with a dermatologist for just $59. Expect a response and the prescription within 1-2 days. After receiving the prescription, you can place an order online.
Request a prescription for clindamycin and tretinoin now!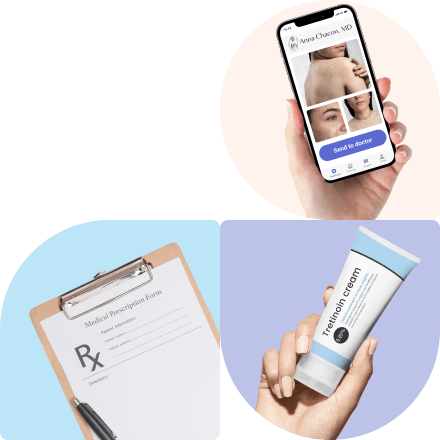 How to use tretinoin and clindamycin together?
Dr. Chacon recommends you follow the directions given by your dermatologist and avoid using it more frequently, in larger amounts, or for an extended period than prescribed by your doctor.
The overuse can lead to excessive dryness or skin irritation. You should remember that it might take several weeks to see noticeable improvements in your skin, but using more of the medicine will not speed up the results.
As a general rule, she says that the combination of tretinoin and clindamycin gel should be applied once daily during night time since tretinoin is photosensitive.
She also mentioned that you should also apply sunscreen with a high SPF every morning (even during winter) while using this product.
Directions for use:
Ensure you wash your hands before and after applying the medicine.
Prior to application, cleanse your face using lukewarm water and a gentle soap.
After rinsing, pat your skin dry.
Use a pea-sized amount to cover the affected area and gently massage until it is fully absorbed.
Do not wash your face more than 2 times daily. Over-cleansing can dry out your skin and potentially exacerbate acne.
Potential side effects of using clindamycin and tretinoin together
Dryness
Peeling
Irritation
Redness
Burning or stinging
Itchiness
Increased sensitivity to sunlight
Increased oiliness of the skin
Skin purging is a temporary skin reaction to some ingredients as it takes time for your skin to get used to new products or medications added to your skin care regimen.
Clindamycin and tretinoin brands
The brand names of clindamycin and tretinoin gels are Veltin and Ziana. However, you can also get a customized generic formulation via Skin Medicinals which is much more affordable.
Can I use tretinoin and clindamycin together?
Yes, Dr. Chacon says that you can use tretinoin and clindamycin together, whether it is by having two separate medications or by getting a combined medication.
The takeaway
The combination of tretinoin and clindamycin offers an effective solution for acne due to their synergistic effects. Tretinoin enhances skin cell renewal and prevents pore blockages, while clindamycin battles acne-causing bacteria and reduces inflammation. Together, they tackle both inflammatory and non-inflammatory acne more effectively than when used separately.
For best results, consistency in application and sun protection are essential. Always consult your dermatologist for tailored advice.
Request a prescription for clindamycin gel now!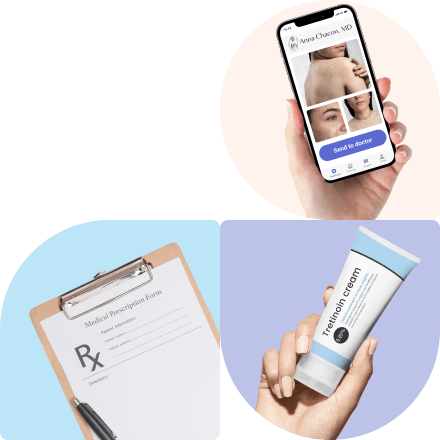 PATIENT EDUCATION
Acne medicines: What is the difference?
Reviewed by dermatologists
References:
https://www.ncbi.nlm.nih.gov/books/NBK557478
https://www.ncbi.nlm.nih.gov/books/NBK519574
https://pubmed.ncbi.nlm.nih.gov/20184207/
https://www.tandfonline.com/doi/full/10.1080/09546634.2020.1720579
https://www.ncbi.nlm.nih.gov/pmc/articles/PMC3396458/
https://www.ncbi.nlm.nih.gov/pmc/articles/PMC5029230
https://cdn.mdedge.com/files/s3fs-public/CT099003179.PDF
https://www.thelancet.com/journals/laninf/article/PIIS1473-3099(16)30076-7/fulltext
https://www.mayoclinic.org/drugs-supplements/clindamycin-and-tretinoin-topical-application-route/side-effects/drg-20070320
https://www.accessdata.fda.gov/drugsatfda_docs/label/2010/050803s000lbl.pdf