How to use tretinoin: when to apply it, how often, how much, and how to layer it according to a derm
There is a big buzz about tretinoin, because of the many benefits it has for the skin, but how should you use it correctly to avoid the dreaded tretinoin burn and/or the tretinoin purge?
Table of Content:
When to apply it? | How much should I apply? | What strength should I use? | How long should I use it? | How to apply it? | How often should I use it? | Tretinoin burn | Tretinoin purge | Is tretinoin OTC? | Tretinoin alternatives
Our commitment to producing high-quality content:
The information presented in this article is based on scientific research and the professional advice of our Content Medical Reviewers, who are experts in the field of Dermatology. How we write our content →
Tretinoin is an effective solution if you are seeking to improve skin texture, reduce wrinkles and hyperpigmentation, and combat acne. In this article we asked Dr. Alpana Mohta, expert dermatologist about when you should apply it, how often, the strength you should start with, the amount you should use, and how to layer it in order to minimize skin irritation and other undesired side effects. 
So, if you're ready to dive into the world of tretinoin, we will help you gain a deeper understanding of how to use this prescription strength medication to achieve the clear complexion you desire.
The use of retinoids in skin diseases
Retinoids (such as tretinoin, retinol, isotretinoin, adapalene, tazarotene, trifarotene) due to their many benefits to the skin, are widely used in the treatment of skin conditions such as acne1, skin aging2 and rosacea3. 
When should you apply tretinoin and all other retinoids?
According to Dr. Mohta, you should always apply tretinoin at night. This is because when retinoids are exposed to sunlight, they can create harmful substances and excite retinoid molecules. These reactions can cause immediate and long-term damage in your skin4.
Refill your tretinoin prescription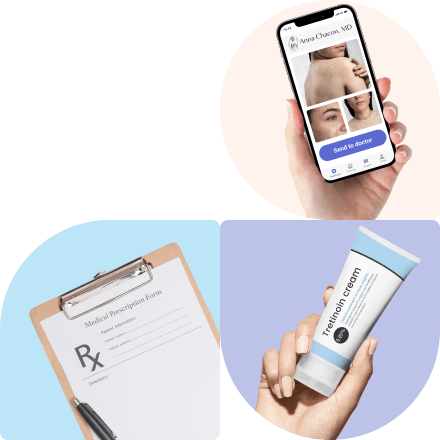 How much tretinoin should I apply to my face?
Dr. Mohta says you should apply a pea-sized amount of tretinoin to the tip of your finger and touch several areas of your face leaving a tiny amount behind each time. After you have done this, distribute the tretinoin cream evenly over your face.
What tretinoin strength should I use first?
Dr. Mohta recommends you start with a low (0.01% or 0.025%) tretinoin strength so your skin gets used to the medication.
How long should I use tretinoin for?
According to Dr. Mohta, it may be necessary to use tretinoin for at least 8 to 12 weeks before assessing its effectiveness, this is for the skin to adjust to the medication and for the full benefits to become apparent.
Dr. Mohta also mentioned that tretinoin can be used long term, even for many years. Tretinoin is commonly used for the treatment of acne, but it can also be prescribed for other dermatological concerns such as fine lines, wrinkles, and hyperpigmentation.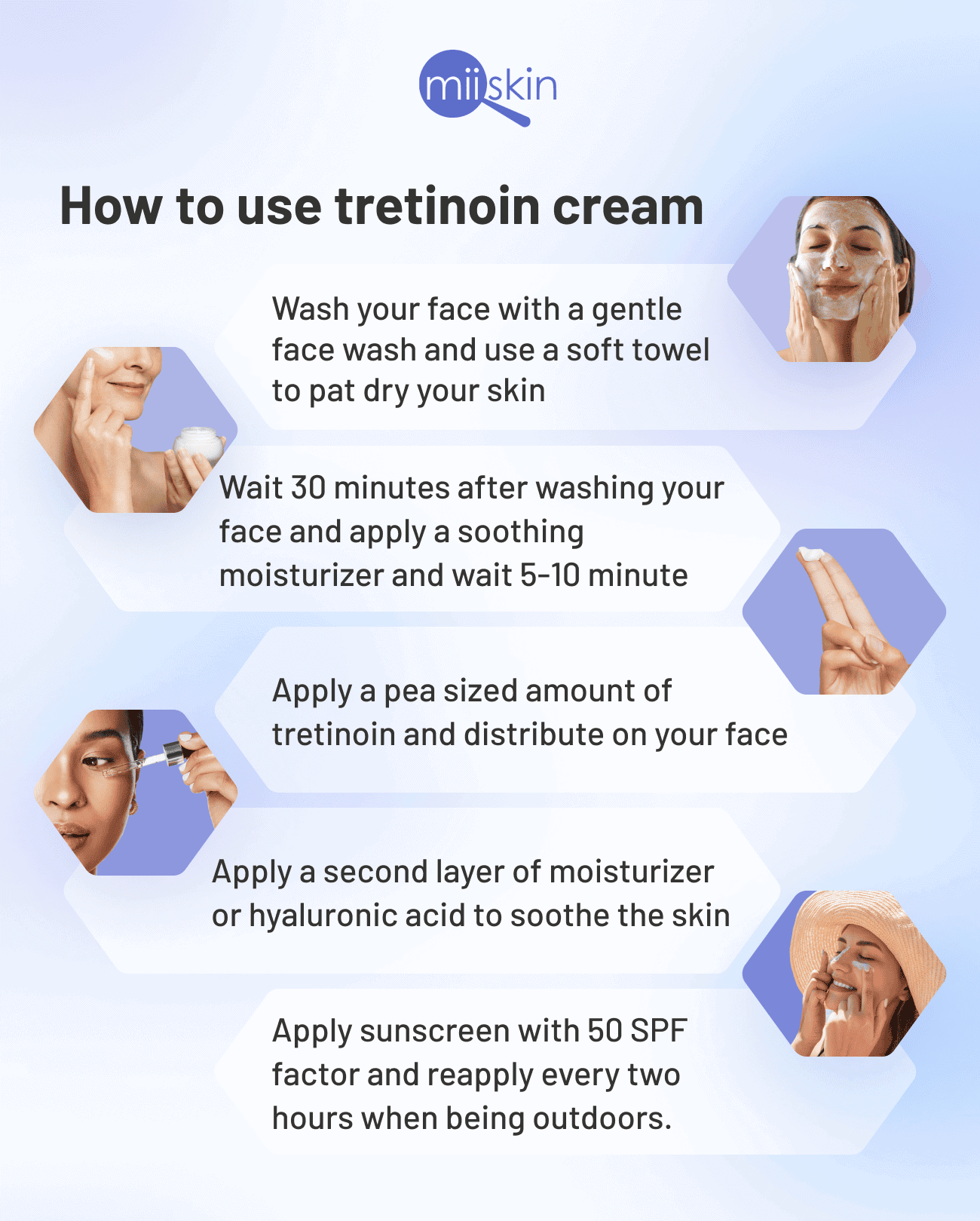 How often should I use tretinoin in the beginning?
These are some recommendations Dr. Mohta usually gives her patients:
First 2 weeks: Apply low concentration (0.01% or 0.025%) two nights per week
Following 2/4 weeks: Apply tretinoin 3 times per week or every other night
After 6/8 weeks of use: If your skin tolerates the product well, apply the product every night
After 12 weeks: After 12 weeks of using the product on a daily basis. You may be able to increase the strength of the product (0.04%, 0.05% and 0.1%). People with sensitive skin can benefit from using micronized formulations.
Potential side effects of tretinoin
To mitigate side effects, start with the lowest concentration and avoid direct sun exposure.
Skin irritation and reddening
Burning sensation
Dry, flaky, and peeling skin
Acne breakouts
Sunburn5
Alternatively, patients may use micronized formulations of tretinoin to reduce skin irritation. There is a new tretinoin product in the market called Altreno which is much more gentle on the skin as its formulation includes: micronized tretinoin, collagen, hyaluronic acid and glycerin. In clinical trials this tretinoin version caused skin irritation to only 1% of patients using it6.
Warning and precautions when using tretinoin
According to Dr. Mohta, you should always use a daily sunscreen SPF 50 when using tretinoin and reapply it every 2 hours when outdoors.
You should also avoid using too much of your tretinoin cream. You only need a pea-sized amount to cover your entire face. Using too much cream can increase your risk of experiencing side effects without offering extra benefits.
Do not do any dermaplaning treatments while using tretinoin. Do not wax or use chemical peels. Do not use tanning beds or expose yourself to the sun and use protective gear (sun hats, sunglasses and sunscreen) if you do and do not do any laser treatments while using tretinoin. All these things can increase your risk of increasing the side effects of tretinoin.
Retinoids cannot be used by women who want to get pregnant, are pregnant, or breastfeeding. Women of childbearing age should use effective contraception due to the teratogenic effects of retinoids7. Tretinoin is approved for people 12 years of age or more and some of the micronized versions may be used by people 9 years of age or older.
What is a tretinoin burn?
Dr. Mohta explains that a tretinoin burn, also known as retinization, tretinoin irritation, or retinoid dermatitis may happen when you begin using tretinoin. Some symptoms of a tretinoin burn include a burning sensation, dry skin, peeling, painful irritation, redness or discoloration, and flaking.
How to treat a tretinoin burn?
According to Dr. Mohta, tretinoin burns will stop occurring when your skin gets used to the product. The first step in treating a tretinoin burn is temporarily discontinuing the use of tretinoin until the symptoms disappear.
Do not apply tretinoin while your skin displays any symptoms.
If your skin gets red and inflamed, ice the area gently or apply a cold compress to soothe your skin.
Keep your skin routine as gentle as possible while your skin heals from tretinoin burn, and avoid applying makeup.
Soothing products containing aloe vera or witch hazel may stimulate healing and treat symptoms of burning and chafing8 9 .
Apply a gentle, ceramide, propylene glycol, or hyaluronic acid-based moisturizer to help to rehydrate your skin. It will seal moisture so your skin can heal and will provide you relief from flaking and dryness.
Is tretinoin over the counter?
Unfortunately tretinoin is not an over the counter medicine. You need a doctor's prescription.
How to get a tretinoin prescription refill?
However, you can request a photo consultation with an online dermatologist to request a tretinoin prescription for acne or anti-aging. he price of a virtual consultation is $59. You will get an answer in 1-2 business days and you can collect your prescription at your local pharmacy the same day.
How much does tretinoin cost?
A 20 gr tube of generic tretinoin may cost between $20 to $40*.
*The price range listed here is just an estimation. Medication prices may vary depending on the state and the pharmacy selected. Miiskin is not responsible and cannot influence the price of the medication as it is independent from these entities.
Is it possible to use as an anti-aging agent?
Yes it is possible to use tretinoin to reduce fine lines, wrinkles and photoaging.
What is the tretinoin purge?
The so-called tretinoin purge is a common skin reaction that occurs when a patient uses tretinoin for the first time.
"Although research shows that tretinoin fights acne and is effective as an anti-aging ingredient; the skin goes under a "cleansing" process often referred to as skin purging," says Dr. Mohta.
"The symptoms often associated with this process include intensified acne breakouts (for a short period of 2 to 6 weeks), severe skin dryness and peeling, redness and irritation. However, this process is temporary and once it's over, in general, the skin will improve, and you will be able to see the positive effects of tretinoin," she added.
When to contact your healthcare provider?
Dr. Mohta says that you need to make sure that the symptoms you are experiencing are within the realm of what is "typical" as far as side effects go. Call your healthcare provider if your skin irritation is causing you severe pain or if it gets too uncomfortable.
Is tretinoin causing too much irritation? Switch medication.
If the classic tretinoin formulation is irritating your skin too much, you can ask your dermatologist to give you a prescription that is more gentle on your skin such as Fabior, Aklief or Altreno (new tretinoin formulation which is more gentle).
Refill your tretinoin prescription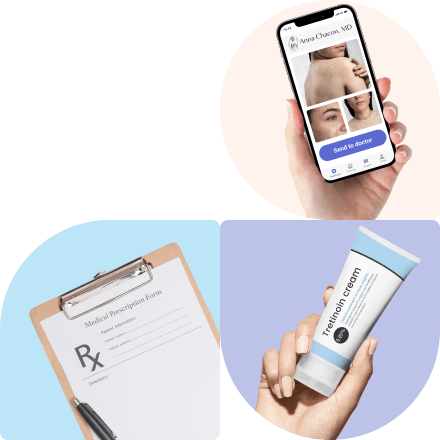 PATIENT EDUCATION
Acne medicines: What is the difference?
Reviewed by dermatologists
References:
https://www.ncbi.nlm.nih.gov/pmc/articles/PMC5574737/
https://www.ncbi.nlm.nih.gov/pmc/articles/PMC2699641/
https://www.ncbi.nlm.nih.gov/pmc/articles/PMC7039055/
https://my.clevelandclinic.org/health/treatments/23293-retinol
https://www.altreno.com/
https://obgyn.onlinelibrary.wiley.com/doi/abs/10.1111/tog.12075#
https://www.ncbi.nlm.nih.gov/pmc/articles/PMC4025519/
https://www.medicalnewstoday.com/articles/323628