Pediatric Teledermatology: Benefits and Applications for Pediatric Dermatologists
The use of pediatric teledermatology has increased recently. It resulted in improved pediatric patients' access to adequate dermatology care, reduced waiting times for a consultation, and advancement in the monitoring of pediatric skin conditions.
Author: Jennifer Highland, Content Manager of Miiskin | Reviewed by: Jon Friis, founder, and CEO of Miiskin
---
When it comes to health care, time is of the essence – the outcome of acute and chronic illnesses can be considerably improved with early detection.
Unfortunately, the waiting time to see a pediatric dermatologist is too high; in some cases, it exceeds 100 days1. In fact, there are several states without a pediatric dermatologist as there are less than 400 board-certified pediatric dermatologists in the U.S.2 which can lead to physician burnout.
This makes it difficult for the carer of a pediatric patient to schedule an appointment in times of urgency. Teledermatology is the delivery of dermatology healthcare through a telehealth solution3, and it brings many benefits to the table. It is usually delivered via a store-and-forward or live video platform.
Pediatric Teledermatology: What Is It and How Is Telehealth Used in Pediatric Dermatology?
Pediatric teledermatology is a method to provide pediatric dermatologic care through telehealth software as a way to virtually evaluate the condition of a pediatric patient's skin and prioritize in-person visits for children that require immediate care.
Since most skin diseases are visible, dermatologists are able to expand their reach to patients in a cost-effective manner by using advanced telehealth technologies. It uses specialized telehealth software to evaluate the condition of a patient's skin by capturing video or images and communicating with their dermatologist.
Telehealth in pediatric dermatology, allows dermatologists to provide care remotely to their patients by removing barriers that prevent early diagnosis and treatment.
Although pediatric dermatology is one of the smallest subspecialties in dermatology, 30% of pediatric visits involve a skin complaint4. That is why it is believed that more than 50% of pediatric dermatologists offer telemedicine consultations via a store-and-forward teledermatology solution5.
It is worth mentioning that the reimbursement for teledermatology consultations is comparable to in-person visits.
Benefits of Teledermatology for Pediatric Patients
Teledermatology apps are a virtual care tool that has the potential to radically improve the quality of care for pediatric patients. By transforming the current appointment-based model into a technology-mediated care model, this service can increase demand-management and clinical decision support efficiency.
Telemedicine in pediatric dermatology can improve the patient experience, streamline patient access to dermatology care, and saving costs at the same time.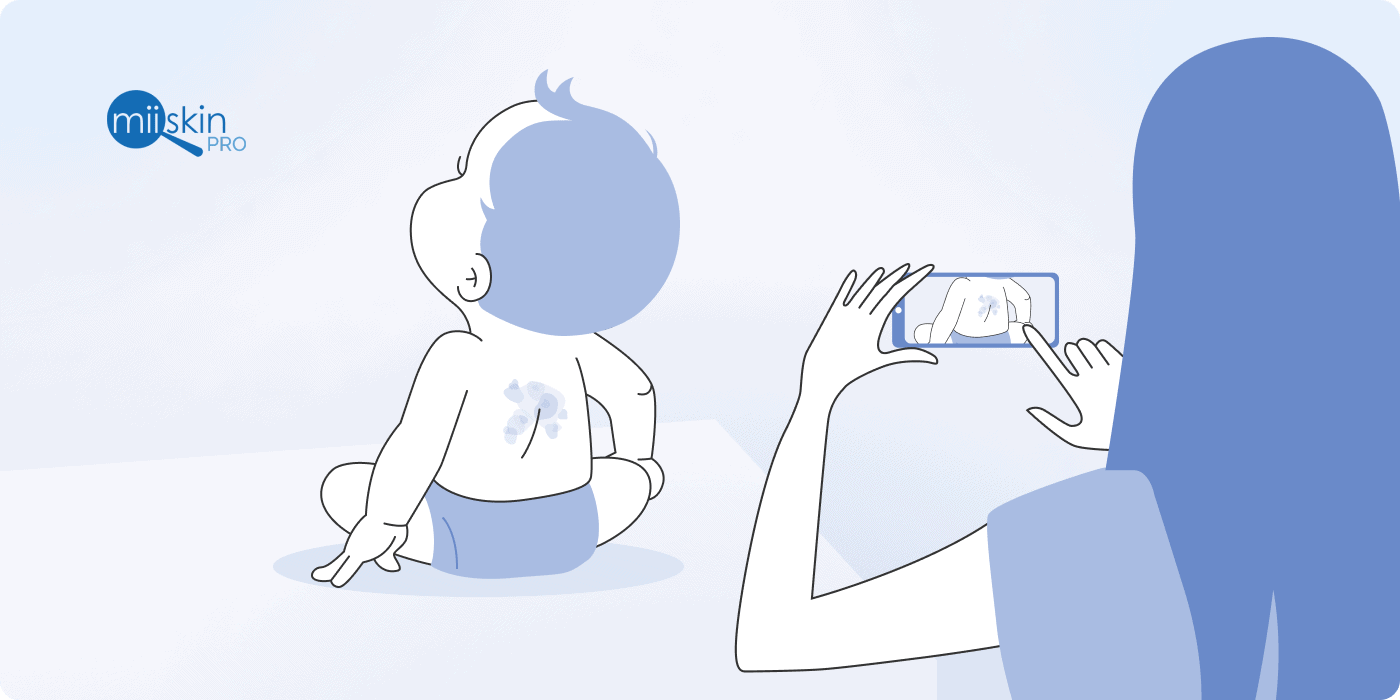 Benefits of Telehealth in Pediatric Dermatology
Increased convenience for patients and dermatologists
Reduces the waiting times for pediatric patients
Improved utilization of Resources
Efficient healthcare delivery
Speeds up treatment for urgent pediatric patients
1. Increased Convenience for Pediatric Dermatologists and Patients
There is no need for real-time appointments with asynchronous teledermatology; therefore, the overall efficiency of reviewing different patients' cases is higher.

A parent or guardian of the pediatric patient can use an app or web portal to fill in the clinical questionnaire, including the patient's chief complaint, symptoms, other health-related data, and some close-up photos of the skin condition.
Pediatric Teledermatology allows providers to access these patient requests when it fits their schedule.
2. Reduced Waiting times for Pediatric Patients
Since there is a lack of pediatric dermatologists, the wait time for a referral can be up to three months6. However, store-and-forward telehealth has the potential to reduce the waiting time to see a pediatric dermatologist from 3 months to 48 hours!
3. Improved Utilization of Resources
It is pretty common that a pediatric dermatologist can take up to five face-to-face consultations in one hour. However, by using teledermatology with pediatric patients, they may be able to review up to 20 cases in the same period7.
4. Efficient Healthcare Delivery
Image-led teledermatology allows pediatric dermatologists to compare their patients' high-quality longitudinal photos over time, side by side, to make a more informed decision about their treatment. It also accounts for better documentation and storage of the patient's health records necessary for teledermatology reimbursement purposes.
In many U.S. states, there is a lack of pediatric dermatologists; therefore, patients often postpone consultations. Teledermatology enables remote care and saves carers from traveling large distances to see a pediatric dermatologist.
MIISKIN PROMO
Attract New Patients to your Medical Practice with Miiskin PRO
Skin Health Solution for Providers
Boost patient acquisition: The Miiskin website and app are visited by thousands of patients in the U.S. every day; offer these patients care delivered by your practice.
Automate patient intake: Patients can fill out any intake forms, make payments and give consent via the Miiskin app.
Offer efficient care delivery: Make routine visits more efficient with an asynchronous telehealth solution, reimbursable at a similar rate to in-person visits.
Teledermatology Applications in Pediatric Care
Pediatric dermatology is challenging, and being able to see your patients in person may be the best way, but it is not always possible. That's why using teledermatology has become a valuable resource for managing pediatric dermatological cases.
Applications of Teledermatology for Pediatric Patients:
Direct Consultations
Online Patient Triage
Virtual Prescription Renewals
Patient Follow-up Care
Specialist Referral
1. Direct Consultations
Thanks to the development of pediatric telemedicine in dermatology, the carer of a pediatric patient with a skin condition can use a mobile app or a web portal to request remote care for non-emergency skin problems. They need to fill in the patient's details, chief complaint, symptoms, and some closed-up photos of their skin conditions.
Pediatric dermatologists can access all their patients' requests, and for those cases that seem straightforward, they can offer a diagnosis and treatment.
2. Virtual Triage
Online triage in dermatology means using a telehealth system to virtually assess patients online and prioritize them based on the severity of their disease.

With teledermatology software, pediatric dermatologists can review all patients' requests simultaneously; therefore, after reviewing all cases, they schedule an in-person appointment for a patient with severe skin disease.
3. Virtual Medication Renewals
In most countries, to renew a long-term prescription, pediatric dermatologists need to have an in-person consultation with the patient first.
To renew the prescription, the provider usually asks the patient's carer some questions about their health and symptoms; this ensures that the pediatric patient is doing as expected and not causing side effects.
Pediatric telehealth in dermatology enables virtual prescription renewals. The patient's carer can answer the clinical questionnaire via the app, and if the provider deems it adequate, they can renew the prescription online.
4. Follow-up Care
Teledermatology presents an excellent opportunity for pediatric patients who need many follow-up visits since many of these follow-up visits could occur remotely8. Some good examples are the case of infantile eczema or hemangiomas.

5. Specialist Referral
Store-and-forward teledermatology allows primary care providers to easily consult with a pediatric dermatologist for a patient's treatment. By sharing the patient's data and close-up images of the skin lesion, primary care providers can consult with specialists even if they are located in a different state.
Teledermatology for Pediatric Patients Conclusion
Overall, store-and-forward teledermatology has the potential to revolutionize pediatric dermatology. Patients will no longer have to wait months to see a specialist; they can get treatment in real-time.
Besides, with this technology, pediatric patients in need of urgent care can skip the waiting lines and be seen immediately by a dermatologist to receive treatment.
Pediatric patients don't have to live with skin lesions any longer! They can get treatment faster, with much higher quality since it is delivered at an early stage.
Using teledermatology for pediatric patients, allows dermatologists to treat patients in remote locations while providing faster care delivery in clinics. Besides, if a patient's carer wants to access their history of skin disease, they just need to log in using their username and password.
MIISKIN PRO PROMO
A Unique Teledermatology Solution for Pediatric Patients
Miiskin PRO is a state-of-the-art telehealth solution that is currently used by dermatology clinics in the U.S. It consists of the Miiskin app for patients or carers and a clinical web portal for pediatric dermatologists. Teledermatology is fully reimbursable at a rate comparable to physical consultations.
It is used to deliver virtual care for:
Patient consultations
Patient Triage
Prescription Renewals
Follow-up care for pediatric patients
The three main benefits of this technology are:
Reduces the patient waiting time from a few weeks to less than 48 hours
Increases provider capacity up to 20%
Complements physical appointments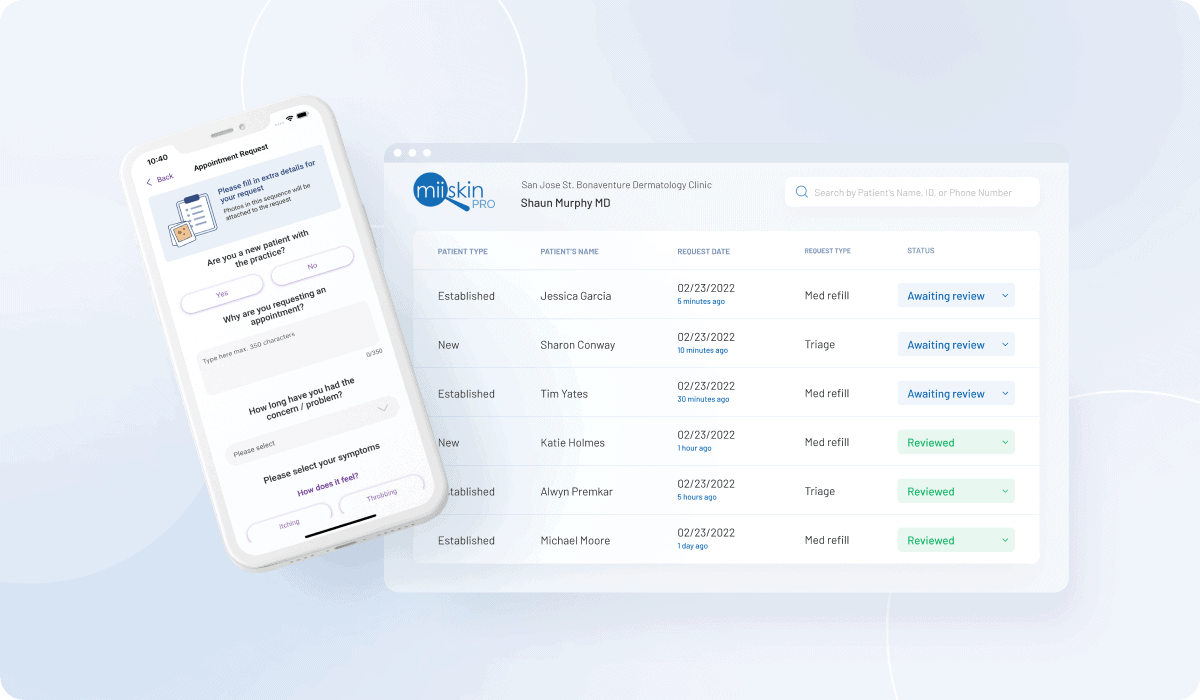 References:
1 https://onlinelibrary.wiley.com/doi/10.1111/pde.14479
2 https://www.jaad.org/article/S0190-9622(21)01026-4/fulltext
3 https://dermnetnz.org/topics/teledermatology
4 https://onlinelibrary.wiley.com/doi/10.1111/pde.14479
5 https://www.researchgate.net/publication/339595816_Pediatric_Teledermatology_a_Review
6 https://onlinelibrary.wiley.com/doi/10.1111/pde.14479
7 https://mhealthintelligence.com/news/asynchronous-telehealth-gives-providers-an-alternative-to-dtc-video
8 https://www.liebertpub.com/doi/abs/10.1089/tmj.2018.0160

---