7 Innovative Dermatology Tools for Healthcare Providers
This list of 7 advanced dermatology tools can improve healthcare and boost patient experience and satisfaction in your clinic.
Author: Jon Friis, founder, and CEO of Miiskin
---
Dermatology is a customer-centric industry. Daily positive interactions between patients and providers result in dermatology clinics being known for good quality of care. That's why adopting a patient-centric approach is crucial to a clinic's growth.
It is no surprise that providing a superior patient experience for most dermatologists is one of their main goals. The patient experience in a clinic is central to how they view their care. By staying up to date with the latest dermatology treatments and technological advances and delivering an unparalleled patient experience, you will establish a loyal patient base who will return and actively recommend your practice to their network.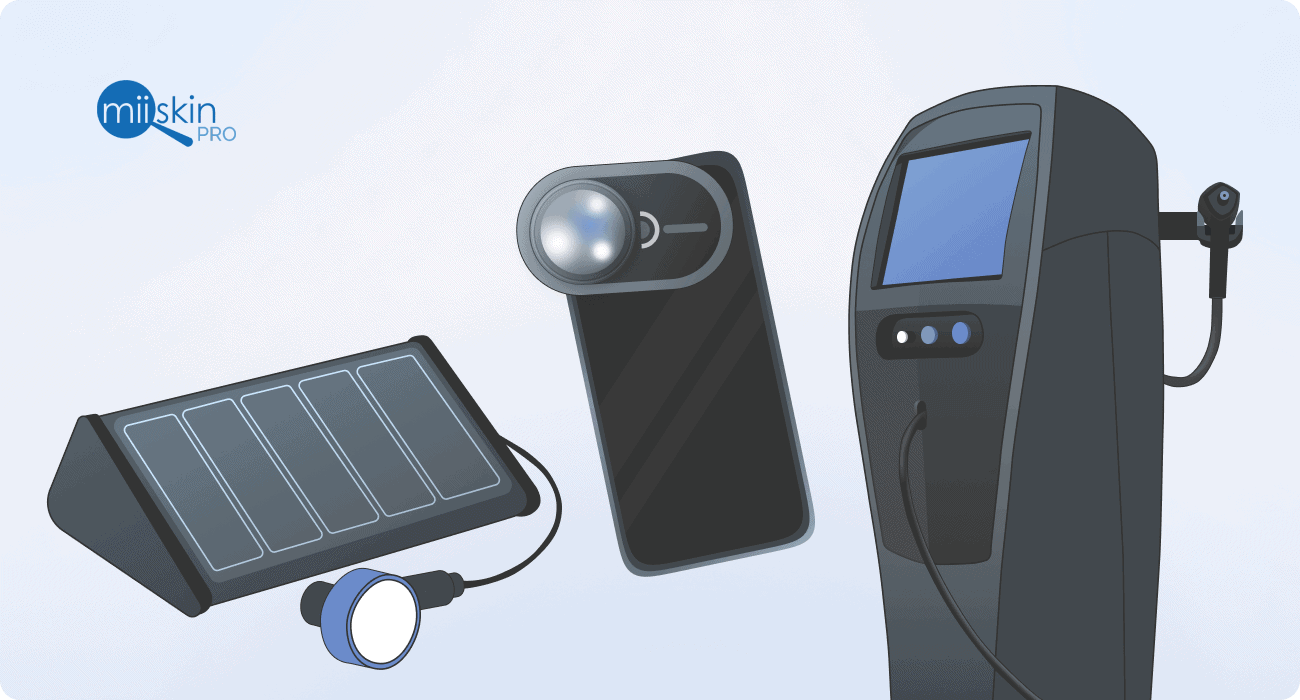 But besides focusing on patient experience,  you also need the technology, including the right and latest dermatologist tools, equipment, and instruments to provide the most sought-after treatments your patients seek.
Dermatology is complex and demanding. Technology is constantly evolving and becoming more advanced.
These seven innovative tools for dermatologists will ensure your clinique is equipped with the latest technology and will help you deliver an unparalleled patient experience.
Advanced Tools for Dermatologists That Can Support Every Healthcare Provider and Increase Patient Satisfaction
Below, you can see a list of 7 helpful dermatology tools and equipment that providers may start using in their practice.
Disclaimer:
Please note that Miiskin cannot speak for or against the other tools for dermatologists we mention.
This list of professional dermatology tools was created for informational purposes only.
Miiskin PRO
Miiskin PRO is a store-and-forward digital tool for dermatologists that helps you deliver an improved digital experience to your patients. This innovative dermatological tool consists of an app for patients and a clinical web portal for dermatologists.
New or existing patients can request an urgent consultation via the Miiskin app. They answer a clinic questionnaire and add some photos of their condition. The dermatologist can then review the patient's request and decide to do a virtual consultation (if the patient's case seems straightforward) or call the patient for an in-person visit (if the patient's condition needs further evaluation.)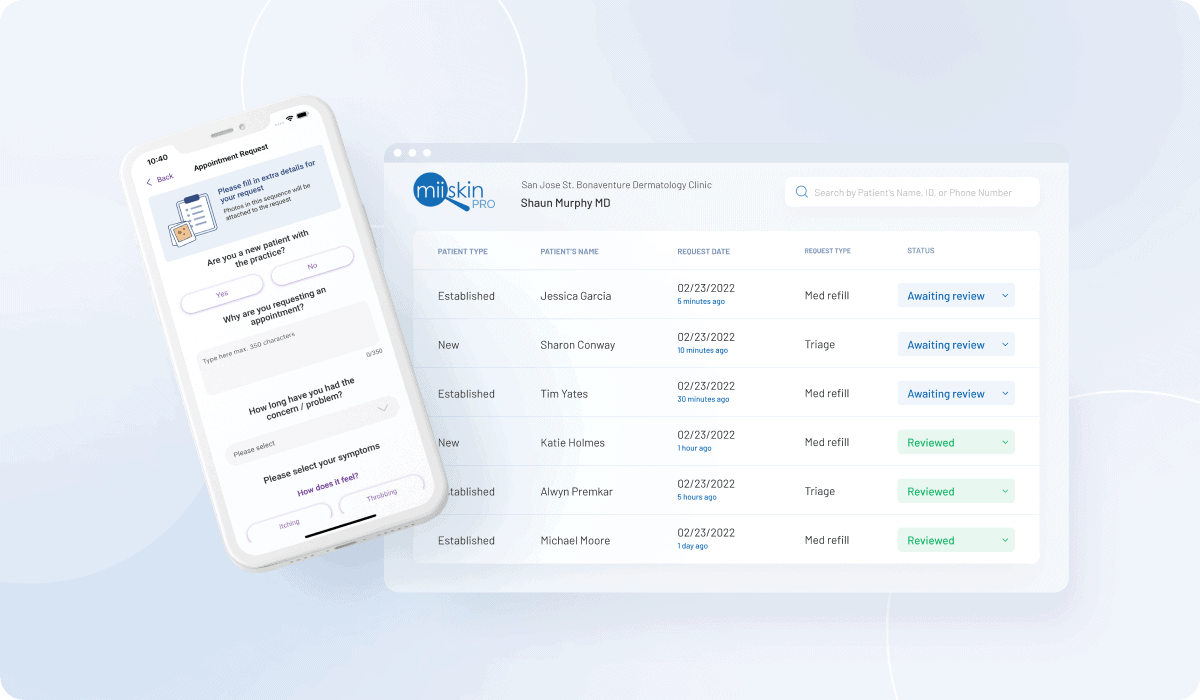 Image credit: Miiskin © 2022
Existing patients at the clinic can also request a medication refill by filling in a similar questionnaire and adding photos of their skin condition. If the treatment progresses, the dermatologist can then conduct a virtual prescription visit, which means the patient does not need to come in person. Still, the virtual visit is reimbursed at a rate comparable to physical consultations.
Miiskin PRO is affordable dermatology equipment and an intuitive solution that helps dermatology clinics improve their patient flow, save time and provide better patient satisfaction.
Alma Hybrid laser
With its pioneering technology, Alma Hybrid combines two laser wavelengths that are not available in any other laser device on the market.
This laser offers new treatment options by combining an ablative CO2 together with a non-ablative 1570 nm producing superior results unseen in the market. The high-performance delivery of CO2 combined with 1570 nm delivered in random patterns reduces treatment time and improves patient outcomes. Besides, this device does not require any consumables, which lowers maintenance costs.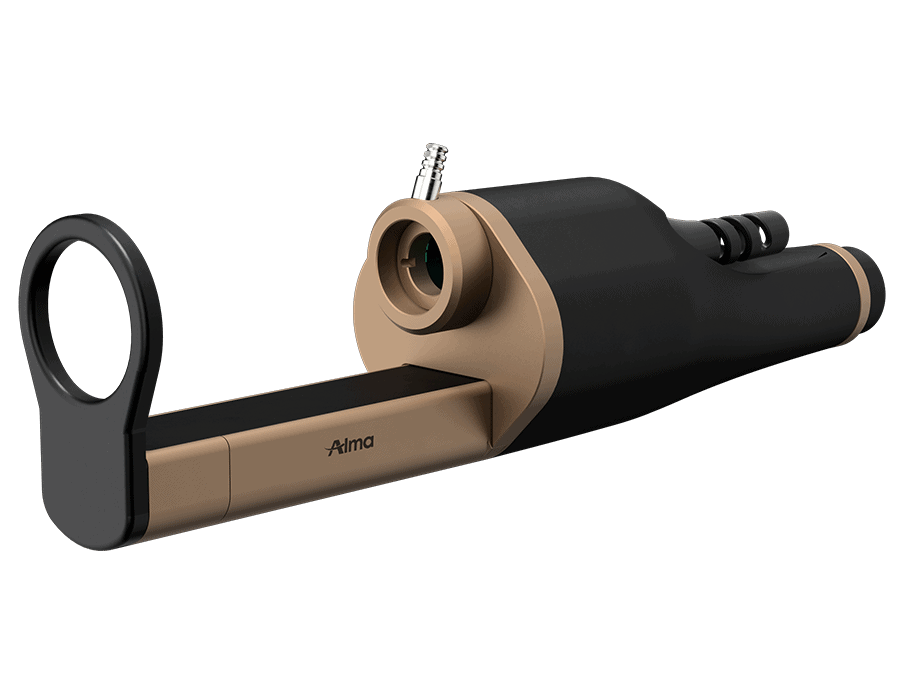 Image credit: © 2022 Alma Lasers.
Dermatools
Dermatools offers a series of clinical questionnaires designed to support clinical dermatology practice by complementing medical consultations.
Dermatools provides patients and doctors easy access to electronic outcome measures in skin diseases. The clinical questionnaires can be answered in multiple formats, including responsive web-based questionnaires, a smartphone app, and two PDF versions that can be downloaded from the website.
Patients can fill in the forms, save results, follow treatment, and monitor outcomes.
The results allow doctors to get a more precise overview of their patients' condition development.
Image credit: Miiskin © 2022
Dermlite Handyscope
The DermLite Handyscope is a smartphone dermatoscope compatible with most Apple or Android smartphones or tablets, and it is effortless to attach and use. The dermatoscope can be controlled via an app available for iOs or Android devices.
The handyscope comes with a snap-on glass faceplate that allows contact and non-contact dermoscopy. This dermatology instrument can be used with disposable covers for maximum hygiene. The DermLite handyscope dermatology equipment can be recharged by a USB port, and it lasts several days.
Image credit: © 2022 DermLite
Thor Photobiomodulation Laser
Photobiomodulation (PBM Therapy) is a laser or LED light therapy that improves tissue repair (skin wounds, muscle, tendon, bone, nerves), and reduces inflammation and pain when applied. A healthcare professional usually applies the treatment, and the length of the treatment is approximately 10 minutes, and it should be applied several times per week.
PBM works predominantly on a protein in mitochondria (cytochrome c oxidase) to increase ATP and reduce oxidative stress.
This tool for dermatologists can be used for multiple purposes; however, high power density is generally used for analgesia and deep tissue targets. Low power density promotes healing and reduces inflammation in superficial wounds, tendons, and joints.
The therapy requires a precise power density. Since if it is too low, it will have no effect; but if it is too high, there can be inhibitory effects which can slow down healing and lose the anti-inflammatory effects.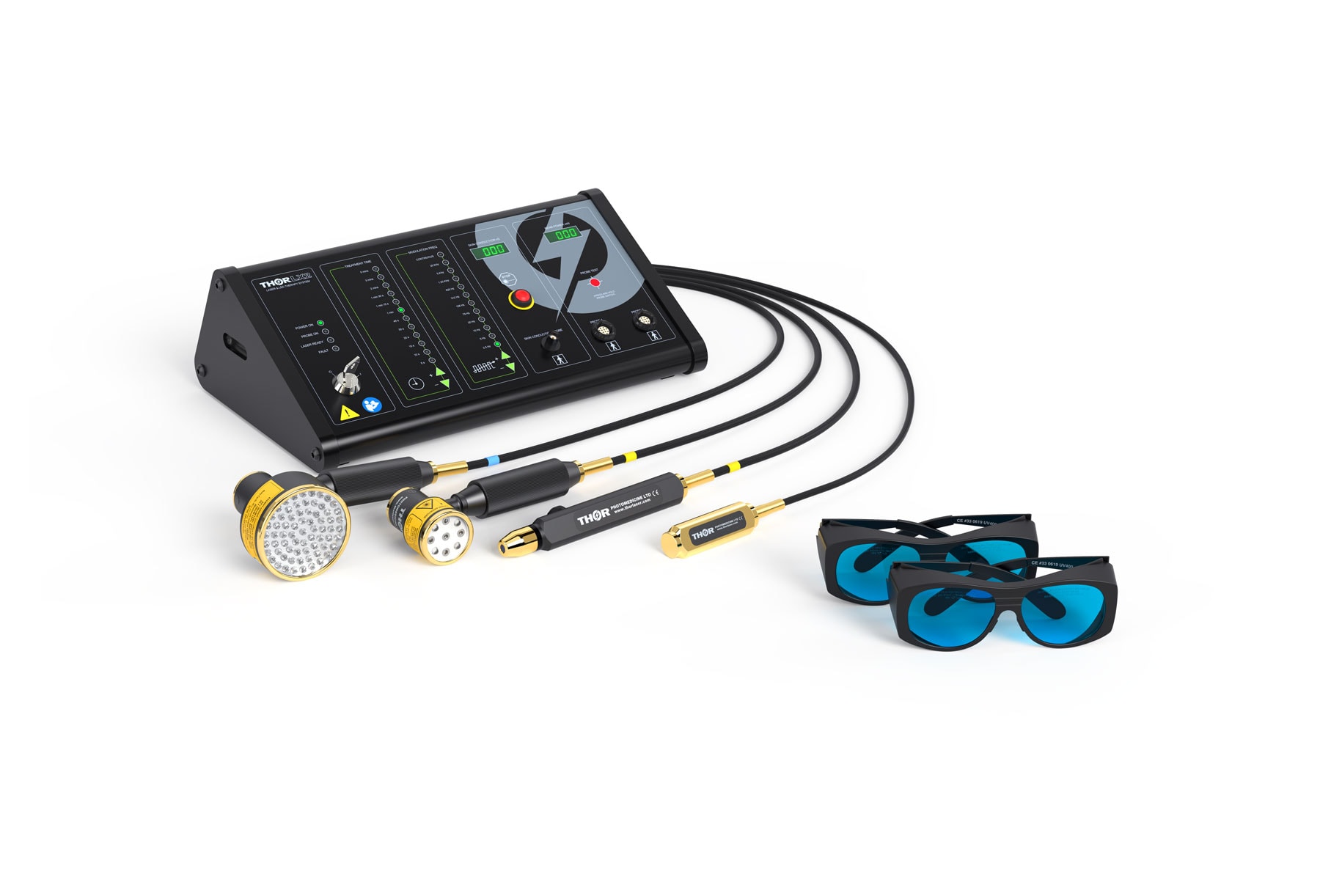 Image credit: © 2022 THOR Photomedicine Ltd
Alma TED
Alma TED is a highly-efficient ultrasound-based system that offers non-invasive, non-traumatic hair loss prevention and restoration options.
This dermatology instrument provides patients with a comfortable experience compared to other in-office treatments that include more invasive treatments to the scalp.
Patients have reported noticeable results after one treatment and experience less shedding as early as two weeks.
Image credit: © 2022 Alma Lasers.
VisualDx
VisualDx offers an extensive skin disease image library to assist providers in diagnosing dermatology illnesses. It uses an AI algorithm to search for a matching skin condition, and it also features an intelligent search for chief complaints, diagnoses, and drug reactions.
This dermatological equipment was designed for primary care physicians to help them recognize, understand, and treat skin conditions.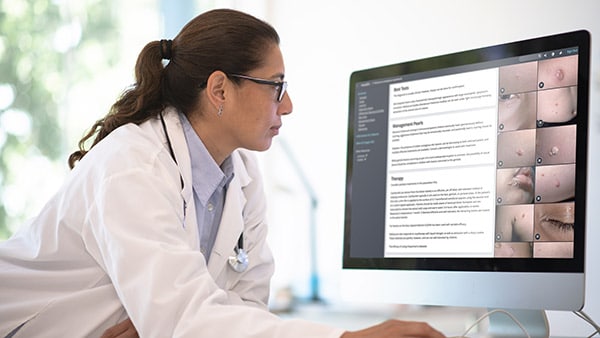 Image credit: © 2022 VisualDx®
Choosing the Right Dermatology Tools and Equipment for Your Practice
Selecting the right dermatology tools, instruments, and equipment for your practice depends on the type of clinic you have, your patients' demographics and preferences, and your budget. 
Fortunately, to offer a good patient experience, you do not need every new dermatological tool available in the market. It is also about listening to your patients and helping them solve their problems. If everyone in the clinic has a customer-centric approach, and you have some state-of-the-art equipment that allows you to offer the treatments your patients/customers are looking for, you will have loyal customers that bring new business to your clinic.
---
MIISKIN PRO PROMO
HIPAA-compliant telehealth platform for dermatologists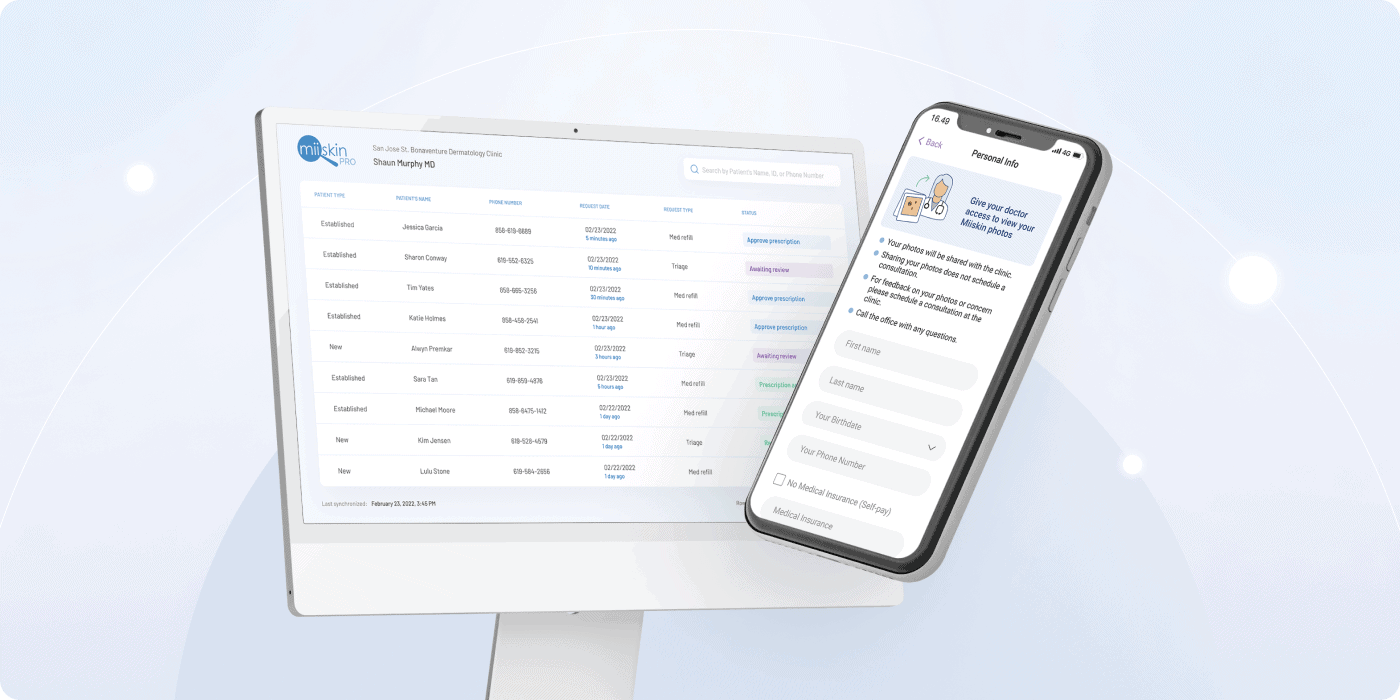 Miiskin PRO is a HIPAA-compliant telehealth platform for dermatology that allows patients to request virtual or in-person consultations with a dermatology clinic via the Miiskin app. Dermatologists can offer asynchronous virtual care, renew prescriptions online or prioritize in-person consultations for the patients who need urgent care.
Virtual visits with Miiskin PRO are reimbursable by payers at a rate comparable to physical consultations.
---
Make a difference. Share this article.
---