Skin Lesions: Types and Pictures
Overview and pictures of common skin lesions and skin conditions that may cause them.
EDUCATIONAL ARTICLE | Medically reviewed by Professor Chris Bunker *
---
A skin lesion (sometimes referred to as a cutaneous lesion) is a term used to describe sores, lumps, colour change, patches, or any other individual spot on the skin.
A skin lesion may appear anywhere on the body and can be large or small, single or multiple and restricted to one specific area, or spread across a large area of the skin.
Many skin lesions are quite harmless although they may be uncomfortable or unsightly and thereby warrant treatment. Malignant conditions, however, are very important to catch early as this allows the best treatment outcomes.
Below we'll go through common non-malignant and malignant skin lesions1, please note that some of the featured skin lesions images are graphical in appearance.
Types of Skin Lesions with Pictures
Skin lesions are medically described as primary and secondary. Primary skin lesions arise spontaneously on the skin whereas secondary skin lesions refer to any changes due to external factors such as trauma, scratching, rubbing, sting or infection.
Distinguishing a benign skin lesion such as an atypical mole from a cancerous condition can be tricky so you may be referred to a dermatologist to make the diagnosis if there is any concern.
Benign Skin Lesions, Growths and Conditions (Non-Cancerous)
A person may experience a wide range of different types of benign skin lesions during a lifetime and benign skin lesions are harmless. A few are present at birth, while others are acquired later in a person's life. Making the correct diagnosis of a skin lesion depends on the lesion's characteristics and patient history.
A benign skin lesion may require treatment for cosmetic purposes or due to irritation. Possible treatments include cryotherapy, electrosurgery or excision. When the diagnosis is ambiguous, and a malignancy cannot be excluded, the lesion may be surgically removed and examined under a microscope (histology).
Common non-cancerous skin lesions:
Further in this article you will find explanations and pictures of some of the common types of benign skin lesions.
---
Acne
Acne is a common skin disorder that develops when the pores become blocked by oil, dirt, and dead skin cells. When this happens, whiteheads, blackheads or pimples may develop and may appear anywhere on the body but most commonly on the face, neck, forehead, chest, upper back, and shoulders.
Acne is most common among adolescents and young adults. There are effective acne medications and treatments available, but acne may persist. Acne can surface on the skin both as multiple skin lesions or a rash.2
Freckles
Freckles are common benign skin lesions that usually appear on sun-exposed skin as small, flat tan or light-brown spots. Freckles usually appear on the face of red-headed and on individuals with lighter skin tones and hair colour.
There are two types of freckles: ephelides (singular: ephelis) and lentigines (singular: lentigo).3
Ephelides are very common in fair-skinned and redheaded people, and typically occur on the face, upper body and hands. Ephelides appear on the skin as flat tan and light brown spots.
Lentigines are brown flat lesions, very common in people with light skin and over the age of 40. The most common type is solar lentigines.
The difference between these 2 types of freckles is that ephelides usually appear during the summer and disappear during the winter, while a lentigo is darker and almost never fades during the winter.
Warts
Warts are small hard growths on the skin that typically appear on the fingers, hands and feet, but can appear at any site. The virus that causes warts belongs to the human papillomavirus (HPV) family which is transmitted by touch.
Warts are harmless and commonly disappear on their own over a period of 1- 5 years, but some people may choose to remove them for cosmetic reasons or if they are in a painful location. Medical treatment is recommended for warts that are large, numerous or have appeared in sensitive areas.4
Skin tags
Skin tags are small, soft, and skin coloured hanging lesions that are commonly found in areas where the skin folds and rubs against other skin, jewelry, or clothing (eyelids, neck, thighs, armpits, and groin).
Skin tags are also referred to as: acrochordon, cutaneous papilloma, fibroepithelial polyp, filiform, fibroma pendulum, and soft fibroma. Skin tags are not harmful but may sometimes be removed for aesthetic reasons.5
Moles
A mole (also called a melanocytic naevus) is a benign skin growth caused by a cluster growth of pigment cells (melanocytes). Moles usually present like small brown spots on the skin, but may also appear in different colors, shapes and sizes. Moles can appear anywhere on the body.
You can read this in-depth article and learn more about moles.
Melasma
Melasma is a common acquired skin condition that usually appears as brown or blue-gray patches on the face.6
The most common sites for melasma to occur are cheeks, nose, forehead, chin, and upper lip. Even though it usually affects the face, melasma can appear on any part of the sun-exposed skin.
These brown spots usually appear between the ages of 20 and 40 years and are more common in women. Melasma is caused by the overproduction of melanin. Melasma is often very persistent and unfortunately is not readily amenable to treatment.
Haemangioma
Haemangioma or angioma (American spelling 'hemangioma') are benign (non-cancerous) skin lesions that usually appear as abnormal growths of small blood vessels.
The most common types of angiomas are cherry angiomas and infantile proliferative haemangiomas.
A cherry angioma is a type of haemangioma that appears on the skin as a small cherry-red bump. Cherry angiomas are also known as senile angiomas because they are very common in people over the age of 40, but can occur in younger people too. Cherry angiomas typically occur on the trunk of the body, but they may develop anywhere on the body.7
Dermatofibroma
Dermatofibroma (also known as cutaneous fibrous histiocytoma) is a benign skin lesion that usually appears as a nodule on the skin of the lower legs, upper arms, and back but may also arise on any site of the body.
Dermatofibromas occur at all ages and genders, but more often in women. The colour of these raised skin lesions may vary from pink to light brown in light skin, and in darker skin dermatofibromas usually appear as dark brown and black nodules. Usually, they are not painful, but may sometimes cause pain or itching.8
Boils
A boil or a furuncle is a bacterial skin infection of a hair follicle that typically appears on the skin as a tender red spot, lump or pustule which later becomes white since the pus collects under the skin.
The most common sites for boils to occur are on the face, trunk, arms, legs, neck, groin and armpits, but may actually appear anywhere on the body. Depending on the boil's severity the doctor will determine what medical treatment is needed.9
Blisters
Blisters are bubble-like skin lesions filled with fluid between the upper layers of the skin caused by friction, infection and burns, but sometimes they can also be the indicator of a skin disease (chickenpox, herpes, eczema, dermatitis etc). A blister smaller than 5mm is known as a vesicle, while a larger blister is called a bulla. Most types of blisters will heal without any medical intervention.10
Xanthelasma
Xanthelasma palpebrarum is the most common type of skin xanthoma. These skin lesions are typically presented as soft yellow papules or plaques on the upper and lower eyelids. These yellow skin growths usually appear on middle-aged or older people, and are more common in women. They aren't harmful but may be the sign of high levels of cholesterol in the blood.11
Pyogenic granuloma
Pyogenic granulomas (sometimes referred to as lobular capillary haemangioma, granuloma pyogenicum and granuloma telangiectaticum) are common benign skin lesions that typically appear as small, round red lumps on the skin. Although pyogenic granulomas are non-cancerous, they are likely to bleed because of the many capillary blood vessels in them which can be inconvenient and uncomfortable for some people. Pyogenic granulomas can be successfully removed.12
Keloids
A keloid (also known as a keloid scar) is an abnormal growth of scar tissue that normally forms over the wound after the injury. The reasons why keloid scars form are not clear, but they usually appear in people with dark skin, mostly after minor injuries, small insect bites, or burns. Keloids may occur on any part of the body and aren't harmful, but might be removed for cosmetic reasons.13
Seborrheic keratosis
A seborrhoeic keratosis is a benign (non-cancerous) skin lesion that usually occurs in older people.
Seborrheic keratosis can occur anywhere on the body, but is most common on the face, back, shoulders or chest. It typically presents as a raised or flat papule or plaque with waxy, smooth or warty surface. The colour can vary from yellow and tan to dark brown and black.
Seborrheic keratoses are not contagious or harmful but people may decide to have them removed for cosmetic reasons.14
Neurofibromas
A neurofibroma is a type of benign nerve tumor that appears on the skin as a soft skin-colored bump. It may affect men and women equally, but it is usually detected in people aged 20 to 40 years.15
Lipoma
A lipoma is a fatty, non-cancerous lump that slowly grows under the skin over time. Lipomas are soft and easy to move under the skin when pressed down.16
These fatty skin growths usually appear in middle-aged people and some people may develop more than one. Lipomas can appear on any part of the body but are most common on the neck, shoulders, forearms, arms, and thighs.
These slow-growing lumps are harmless and usually don't require any treatment, but sometimes lipomas can become painful, and people may want to have them removed because of that or for cosmetic reasons.
Actinic Keratosis
Actinic keratosis (also referred to as solar keratosis) is an early form of squamous cell carcinoma (sometimes referred to as a precancerous skin lesion) that appears as a dry scaly patch or bump, usually on sun-damaged skin. The colour may vary from skin coloured and red to brown. Because of the risk that actinic keratosis develops into squamous cell carcinoma, it is highly recommended to remove it.
Bowen's Disease
Bowen's disease is a very early form of squamous cell carcinoma and is usually considered as squamous cell carcinoma in situ. Bowen's disease usually appears as a scaly or crusty patch that may be flat or raised, in red or pink colour. The dermatologist will determine which treatment is most suitable based on the patient's diagnosis and symptoms.
Cancerous Skin Lesions, Growths and Conditions (Malignant)
Though most skin lesions are benign, there are some that can be a sign of a serious skin disease. Cancerous skin lesions are malignant growths on the skin that can spread to nearby skin tissues and develop into dangerous skin conditions.
Below you can see an overview of the most common cancerous skin lesions with pictures.
Do not compare your condition to cancerous skin conditions found in images online to try and diagnose skin cancer yourself. Always contact your doctor immediately if you notice a change in your skin's appearance that is not normal for you.
Basal Cell Carcinoma (BCC)
Basal cell carcinoma is an invasive but non-metastasing skin cancer that usually appears as a skin-coloured, pink or pigmented bump on the skin. It is most likely to develop on the sun-exposed skin (head, neck, ears, arms and hands), though it can appear on body sites protected from the sun. Whilst basal cell carcinoma is a type of a cancerous skin lesion, it is rarely a life-threatening condition. The treatment for a basal cell carcinoma depends on different factors (type, size, location, patient's health status and history).
Squamous Cell Carcinoma (SCC)
Squamous cell carcinoma (SCC, cutaneous squamous cell carcinoma) is an invasive skin cancer that mostly occurs on sun-exposed parts of the body as a painful red scaly, crusted patch. Usually, a combination of methods is used for the SCC treatment, but if left untreated, squamous cell carcinoma can cause serious health complications by spreading to the lymph nodes or other organs.
Keratoacanthoma
Keratoacanthoma is a low-grade cancerous skin lesion that is considered to be a type of squamous cell carcinoma. Typically it arises in sun-damaged skin and looks like a little volcano. Keratoacanthomas should be treated and eventually removed for their risk to develop into a more serious condition.
See more images of cancerous skin lesions.
Melanoma
Melanoma is the most serious type of skin cancer that can start as a changing skin lesion (change in an existing mole or freckle), but it is more likely to appear as a new mark or mole on normal skin. Warning signs of melanoma can be detected simply by examining the skin, but the only way to make an accurate diagnosis is for a doctor or dermatologist to perform a biopsy.
Learn more and see more pictures of melanoma.
---
Morphology of Skin Lesions
To diagnose a skin condition, the dermatologist will interpret skin lesions based on:17
Their distribution
Location on the body
Size and number of lesions
Skin lesions may be single or multiple and appear as very small to giant skin growths.
Colour
The colour of skin lesions may vary: orange, yellow, pink, red, skin coloured, blue, brown, black and grey.
Texture
The texture of a skin lesion may be soft, firm, hard, fluctuant or sclerosed (scarred or board-like).
Shape
The shape of skin lesions can be round, linear, oval.
Borders may occur as well-defined, irregular or circumscribed.
Surface
Skin lesions may be flat, raised above the skin or developed under the skin.
Lesion type
The skin lesions can be characterized as primary and secondary skin lesions.
The most common primary skin lesions and the skin conditions they usually manifest with:
Macule (pl. macules) – a small, flat lesion, less than 10 mm (example: freckles )
Papule – a raised, solid, circumscribed, palpable skin lesion, less than 10 mm (examples: moles, warts, actinic keratoses etc)
Patch – a large smooth spot of skin, changed in colour, greater than 10 mm (examples: eczema, psoriasis etc)
Nodule – a raised, firm, palpable skin lesion, greater than 10 mm (example: dermatofibromas)
Plaque – a circumscribed, palpable lesion, flat but might be raised, more than 10 mm in diameter (example: psoriasis)
Vesicle – a circumscribed fluid-filled lesion, appears as a small blister, less than 10 mm (example: vesicular hand dermatitis)
Pustule – a raised, pus-filled blisters, less than 10 mm (example: acne)
Bulla (pl. bullae) – a circumscribed fluid-filled lesion, greater than 10 mm (example: contact dermatitis)
Weal (pl. weals) – a raised and ill-defined area of skin, firm, with a variable size (example: urticaria)
Cyst – a raised skin lesion, liquid-filled lesion (or filled with a semi-solid material)
The most common secondary skin lesions and the skin conditions they usually manifest with:
Crust (scabs) – an insignificantly raised lesion that forms over irritated existing skin lesion, consists of dried serum, blood, or pus. (example: squamous cell carcinoma)
Excoriation – a loss of part or all of the epidermis, caused by scratching, rubbing or an external injury (example: scratching)
Lichenification is thickening of skin caused by repeated rubbing (examples: chronic atopic eczema and lichen simplex)
Scale are dry, cracked, or flaky skin patches which flake off the skin (examples: psoriasis, contact dermatitis, eczema).
Scar is a tissue that forms over the wound to repair and protect it after the injury. (example: keloid scar)
Skin Lesions Causes and Prevention
The causes of skin lesions are various. Some skin lesions are inherited, some are caused by injuries, aging, bacterial and viral infections or allergies. Even though some skin lesions and conditions aren't preventable, there are some that are possible to prevent:
Skin lesions and prevention:
Keep skin clean and moisturized
Wash hands and face with soap frequently
Don't use other people's personal items (towels, baddings, blankets, hairbrushes)
Get vaccinated against infectious skin conditions
Avoid contact with chemicals, materials, fluids, and substances that can irritate the skin
Protect the skin from cold, heat, sun and wind.
Avoid too much sun-exposure – especially between 10 am and 4 pm
Use sunscreen and cover yourself with clothing, use glasses and wear a hat
Avoid tanning beds
Educate yourself about the early signs of skin cancer
Consult a doctor if you notice a change in your skin lesions, such as moles or pigmented patches of skin. Or if you notice something new and changing. Changes to look out for include an increase in size, change in color, pain, bleeding, cracking or oozing.
---
Make a difference. Share this article.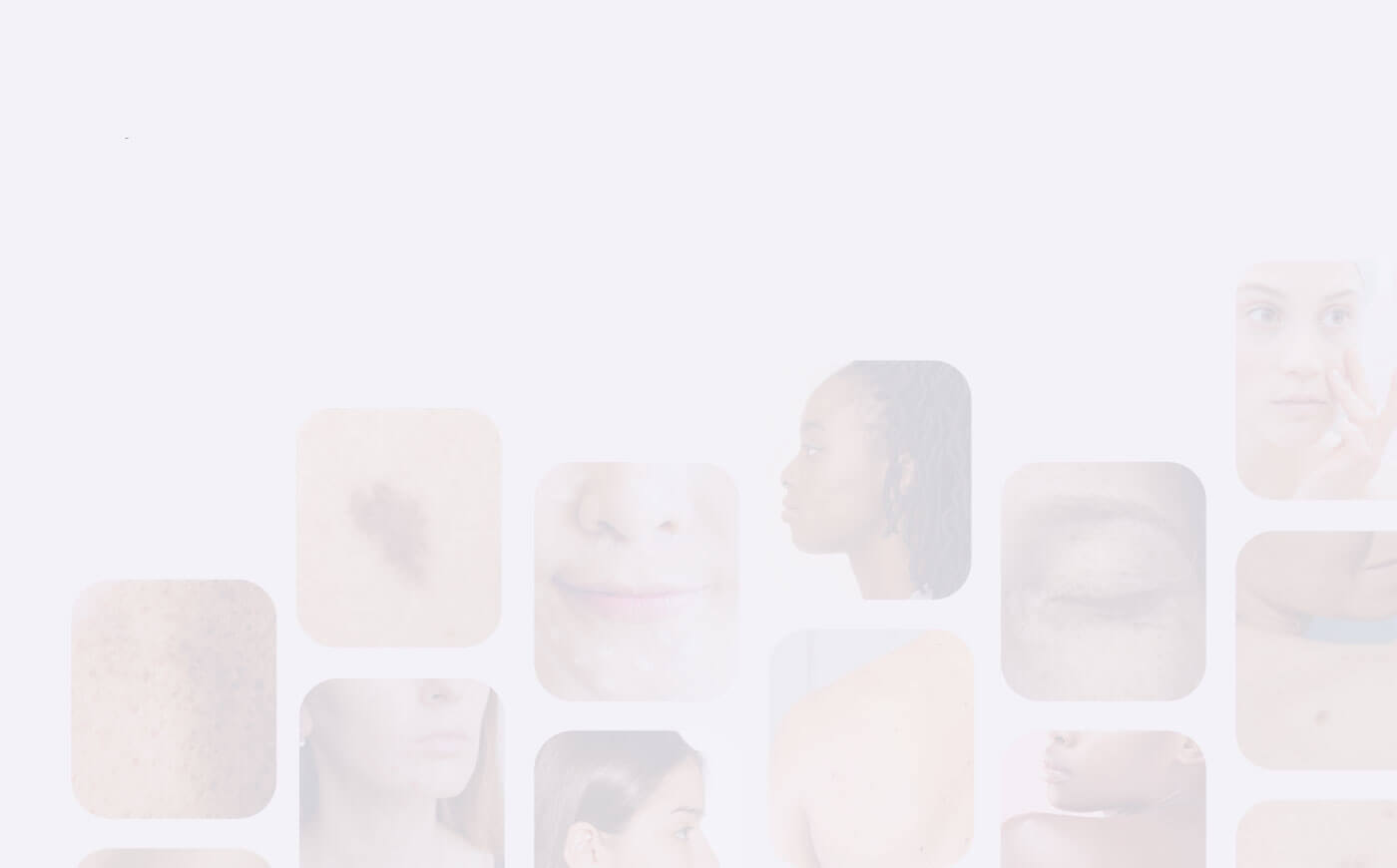 MIISKIN PROMO
Skin monitoring for any purpose
Miiskin is the most advanced app to help patients monitor moles, acne and a range of chronic skin conditions.
---
Sources:
1 https://dermnetnz.org/topics/skin-lesions-tumours-and-cancers/
2 https://www.ncbi.nlm.nih.gov/books/NBK279211/
3 https://dermnetnz.org/topics/brown-spots-and-freckles/
4 https://dermnetnz.org/cme/viral-infections/viral-warts-cme/
5 https://www.aocd.org/page/SkinTags
6 https://dermnetnz.org/topics/melasma/
7 https://dermnetnz.org/topics/cherry-angioma/
8 https://www.ncbi.nlm.nih.gov/books/NBK470538/
9 https://www.nhs.uk/conditions/boils/
10 https://dermnetnz.org/topics/blistering-skin-conditions/
11 https://www.aocd.org/page/Xanthelasma
12 https://www.ncbi.nlm.nih.gov/pmc/articles/PMC5535648/
13 https://dermnetnz.org/topics/keloids-and-hypertrophic-scar/
14 https://www.mayoclinic.org/diseases-conditions/seborrheic-keratosis/symptoms-causes/syc-20353878
15 https://www.ncbi.nlm.nih.gov/books/NBK539707/
16 https://dermnetnz.org/topics/lipoma-and-liposarcoma/
17 https://dermnetnz.org/topics/terminology/
---