What Are the Early Signs of Melanoma
There are different strategies to follow when determining whether a lesion may be a malignant melanoma.
The Ugly Duckling sign
The ABCDE signs
Less common signs of melanoma
The Most Important and First Warning Sign of Melanoma Is the Ugly Duckling Sign
The Ugly Duckling sign is one of the most important signs of melanoma. It is based on the concept that a melanoma can look different from the other moles and marks on your skin.
The ugly duckling sign of melanoma is any suspicious spot that looks different from other surrounding moles or marks on your skin (it can be larger, smaller, darker, or lighter).
Remember, critically evaluating your own skin lesions can be difficult. If you are concerned about a mole, you should see your doctor. Patient history is invaluable and can raise an early warning flag. Your doctor will help decide if further action is needed.
The Abcde Rule of Looking for Early Signs of Melanoma:
A – Asymmetry of lesions
B – Border irregularity
C – Color changes (including more than one color or changing colors)
D – Diameter greater than a pencil eraser – 6 mm
E – Evolving lesions
The ABCDE Rule is used by physicians and patients for determining whether a lesion, mole or any other mark or growth on the skin may be suspicious for melanoma or even another type of skin cancer.
When you go through your full-body skin self-exam, use The ABCDE rule and look for lesions that present with one of the following melanoma signs.
Remember, just because a lesion has one of these signs DOES NOT make it a melanoma. These rules are useful in helping you to know what to report to your doctor when concerned about skin cancer.
Images supplied by DermNet NZ.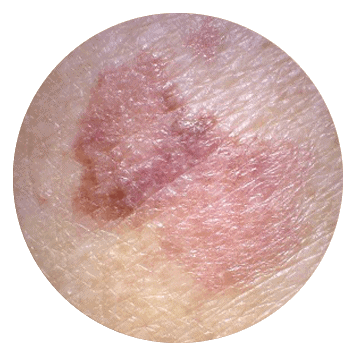 A – Asymmetry of a lesion:
If the two halves of the lesion do not match it can be said to be asymmetric. Keep in mind that most moles that have some degree of asymmetry are not cancerous.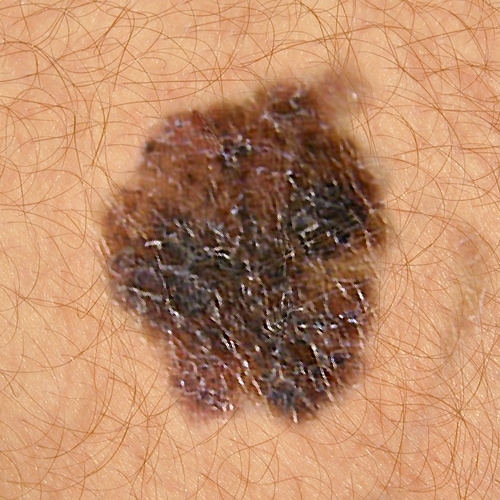 B – Border irregularity:
The border is uneven in appearance and shows some irregularity – it may seem to be more rugged or notched in the edges.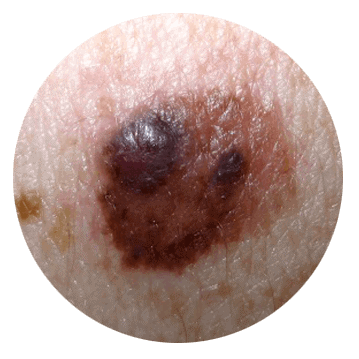 C – Color changes or more than one colour:
Does the lesion present with different colours or shades of brown / black / red? Melanomas can also have areas that are white or blue.
A change in color of a lesion noticed by the patient may also be a potential melanoma sign.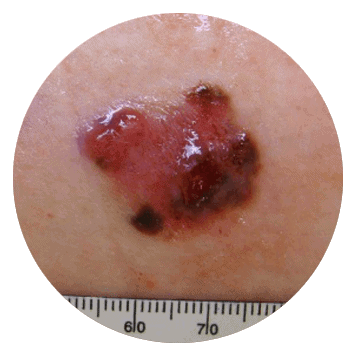 D – Diameter of the lesion:
Lesions that are bigger than the size of a pencil eraser (approximately 5mm or ¼ inch) carry a higher risk of being melanoma. Keep in mind that many larger lesions are not melanoma, but small size alone also does not guarantee the lesion is not melanoma.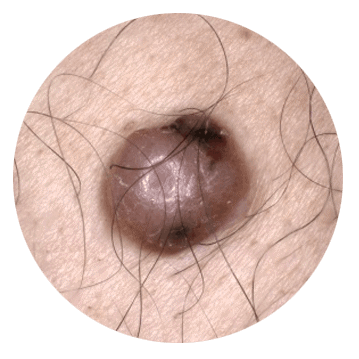 E – Evolution or Evolving:
One of the most important melanoma signs is a change or evolution of the skin. This may be in an existing mole or skin lesion or a new lesion evolving from previously normal skin. The appearance of a new lesion is particularly important in adults.
If a mole is starting to evolve or you notice some other changes, such as a lesion that increases in size or changes in colour, visit your doctor and have it evaluated.
It is important you are aware that melanoma can occur practically anywhere on the body, even on the base of the feet or soles, the nails, scalp, and in other areas not often exposed to UV light. Blonde hair, fair skin and being a man over 50 are some of the most important risk factors of melanoma. Important behavioral risk factors include regular sun exposure and the use of UV tanning beds.
Other Melanoma Signs to Look For
It is also important to be aware of less common early presentations of melanoma: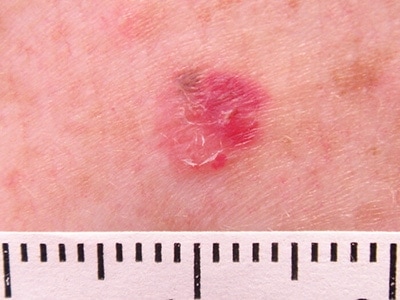 Elevation – a spot becomes elevated from the skin
Growth – in surrounding skin– skin around it starts to become red or swollen
Chronicity – a new lesion does not go away again within a few weeks
One of the less common types of melanoma is amelanotic melanoma. The most common sign that may indicate the presence of amelanotic melanoma is the sudden appearance of a red, pink, or skin-colored spot.
Because of their lack of brown color, amelanotic melanomas can be hard to detect. Relying on the ABCDE rule may not be enough so it is recommended to expand it and use the 3Rs concept as well (Red, Raised, Recent change). Other rare signs include changes under the nail.
Melanoma symptoms, such as itchy scalp lesions, are often mistaken for other things, and if you have concerns, you must visit your doctor.
You can have a look at our melanoma picture gallery for images of melanoma and non-cancerous moles, and photo galleries of healthy benign moles and unusual-looking atypical moles.