Guide: Atypical Moles (Dysplastic Nevi)
Atypical moles are harmless moles that are irregular or abnormal in appearance. Consider getting any atypical, irregular or asymmetrical moles checked by a doctor.
Medically reviewed by Dr Amanda Oakley, Founder of DermNet NZ
---
Doctors call atypical moles "atypical melanocytic naevi" but they are sometimes referred to as dysplastic nevi (singular: dysplastic nevus / naevus in British English). In fact, whether or not a mole is actually a dysplastic nevus can only be revealed when the mole has been removed and examined under a microscope and not all pathologists use this terminology 1.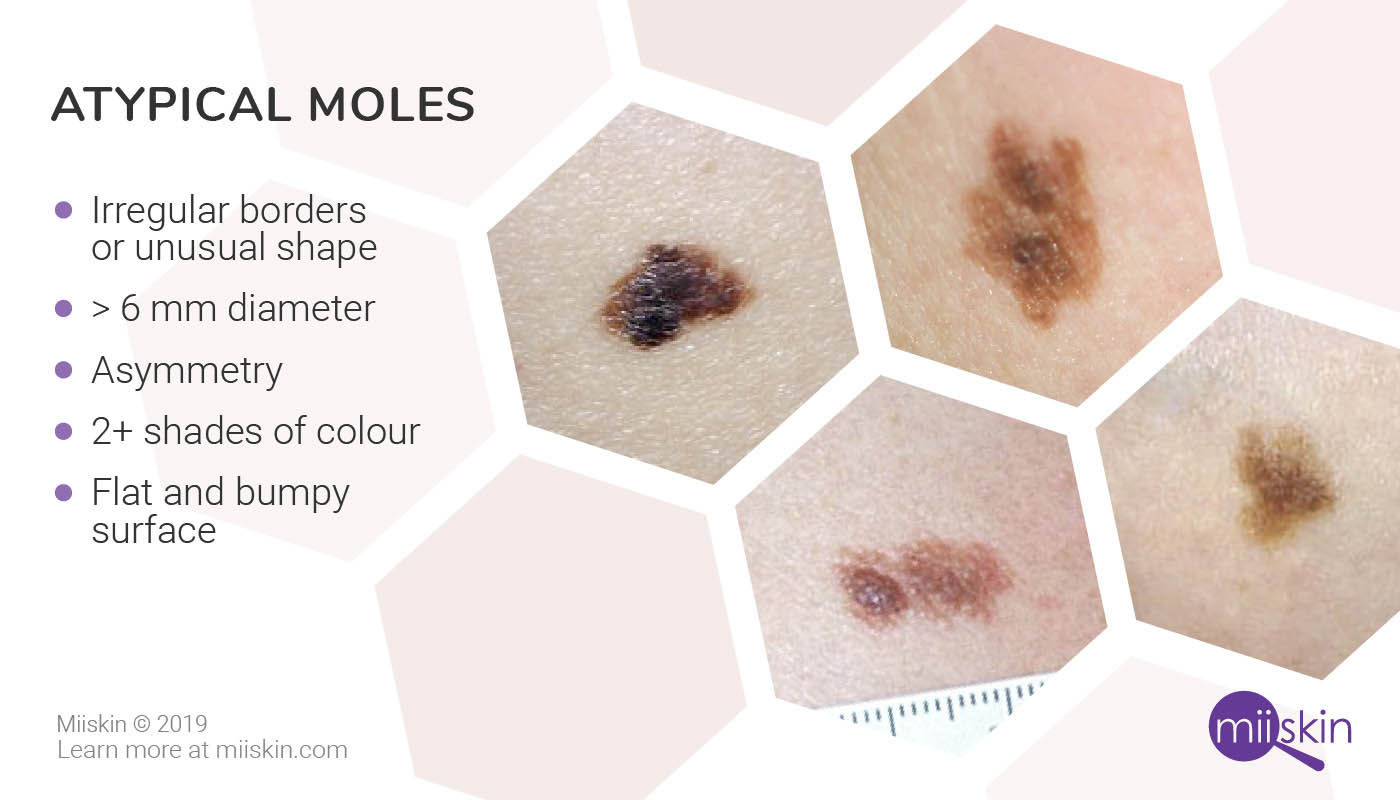 Although moles in themselves are not bad or dangerous, or a sign of disease, atypical moles can display some of the signs of melanoma and it can be difficult to know when to worry about a funny-looking mole on your skin.
Irregular, Atypical Moles and Risk of Melanoma
Normal and atypical moles very rarely turn into melanoma. In fact, seven out of ten melanomas are not associated with existing moles and appear as new marks on the skin 2. The problem with an atypical mole is that it may look just like a melanoma even though it's harmless.
People with 5 or more atypical moles are at greater risk than average at developing a melanoma in normal skin or within a normal-looking or atypical-looking mole.
If you do have any atypical moles, you might consider getting them checked out by your doctor who will help you understand if a mole is suspicious. The doctor may use a dermatoscope to get a closer look at the structure of the mole.
You should see your doctor or dermatologist, particularly if you have many irregular moles on your skin and especially if you have ever had a melanoma or a close family member has had a melanoma. If this is the case, you might have "atypical mole syndrome" ("dysplastic nevus syndrome") — this is actually quite rare — and your doctor may recommend that you have routine skin checks by a skin cancer professional.
Whether you have one or many atypical moles, or need to undergo routine skin checks or not, your doctor may recommend that you regularly take photographs of these moles or have someone else take them for you so you and your doctor can compare your photos over time to see if the moles change or not.
Any changing mole should be looked at by your doctor as this can be an early sign of melanoma (but may also be harmless).
Your doctor might also recommend you to use an app like the Miiskin mole checking app to help you photograph your skin and moles in a more structured manner.