Basal Cell Carcinoma
Typical types and symptoms of basal cell carcinoma including pictures
Written by Dr Nitin Shori | Dermatologically reviewed by Dr Amanda Oakley
---
Definition | Symptoms | Pictures | Types | Treatment | Causes | Prevention
Basal cell carcinoma is the most common type of skin cancer. Basal cell carcinomas (BCCs) are often confused with less significant skin lesions due to a lack of awareness. The general population tends to have a better awareness of melanoma which often involves dark pigmented lesions that cause concern. BCCs are often less dramatic in appearance but early detection remains important.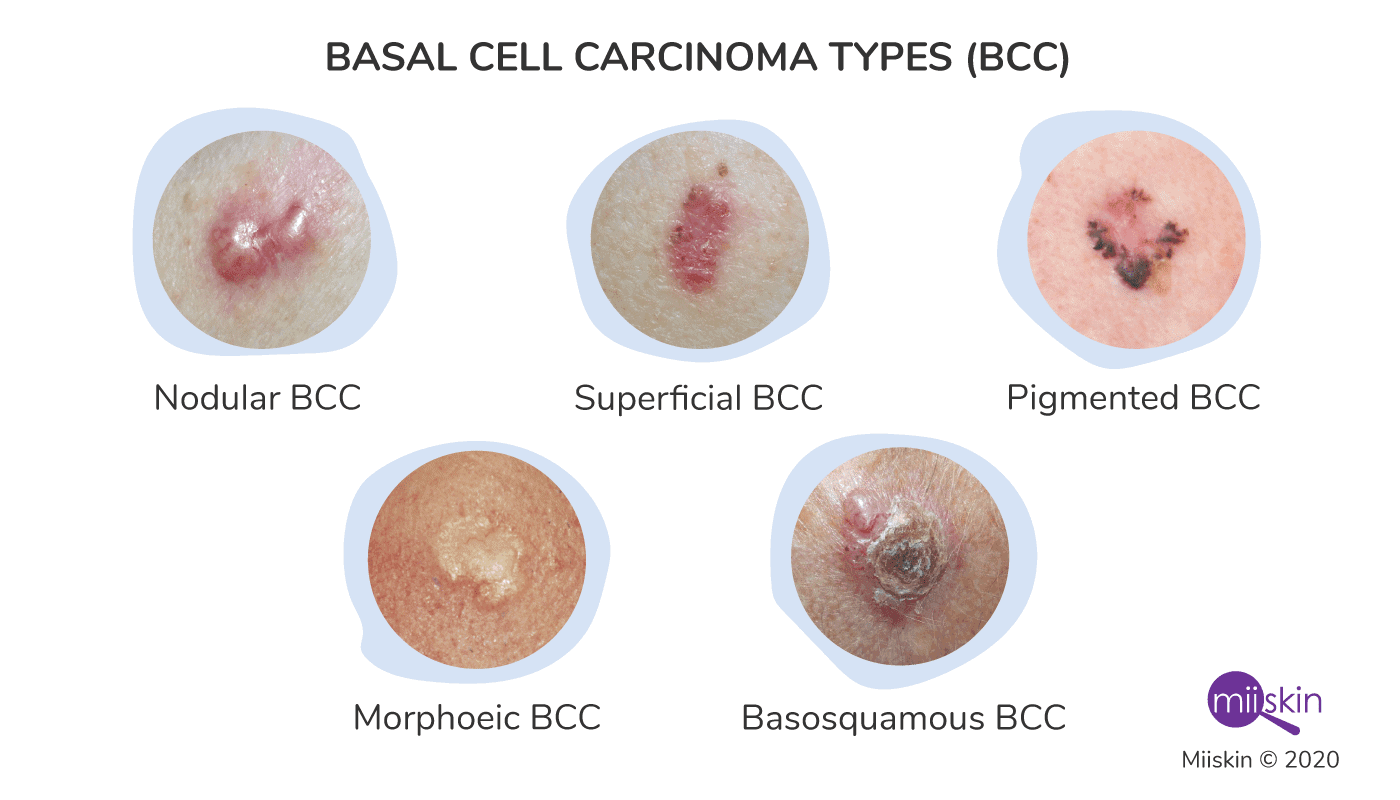 What Is Basal Cell Carcinoma?
Basal cell carcinomas are skin cancers that develop from the deepest cells of the outermost layer of skin, called the epidermis. Specifically, they arise from the basal cells which give them their name (1). Given their origin, it is natural to wonder what basal cell carcinoma looks like.
They generally look like translucent (partly clear) bumps on the skin. However, basal cell cancer can also involve a brown, blue or black lesion. Less commonly they can involve flat red patches and rarer still, appear like white, waxy lesions that look like scars.
Basal Cell Carcinoma Pictures, Types and Symptoms
Basal skin cancer accounts for eighty percent of all skin cancers. As with all types of cancer, early detection is vital. Early stage basal cell carcinoma is usually easily treatable, often with minor surgery under local anaesthetic. In this article we consider the main basal cell cancer symptoms along with pictures of basal cell carcinoma types.
What Are the Signs and Symptoms of Basal Cell Carcinoma
Basal cell carcinomas (also known as basal skin cancer) can appear anywhere on the body but the most common sites are sun exposed areas such as the face and arms. It's important to keep a close eye on your skin to try and identify early basal cell carcinoma, as it's easier to treat if identified early on.
Typical Basal cell carcinoma symptoms are: (2) (3)
New skin lesion
Itching of a lesion
Easy bleeding with shaving or abrasion
Non-healing lesion
Change in colour of a lesion
The typical lesions to watch out for are as follows:
Pink or translucent, pearly bumps, which might have blue, brown, or black areas
Pink growths with raised edges and a lower area in their center, with abnormal blood vessels spreading out like the spokes of a wheel
Pale or yellow areas, similar to a scar
Raised reddish patches
Open sores (which may have oozing or crusted areas) that don't heal
Basal Cell Carcinoma Pictures
Below are basal cell carcinoma pictures of typical lesions on various sites of the body. These photos and images of basal cell carcinomas are not exhaustive but are examples of common lesions.
Basal Cell Carcinoma on Face: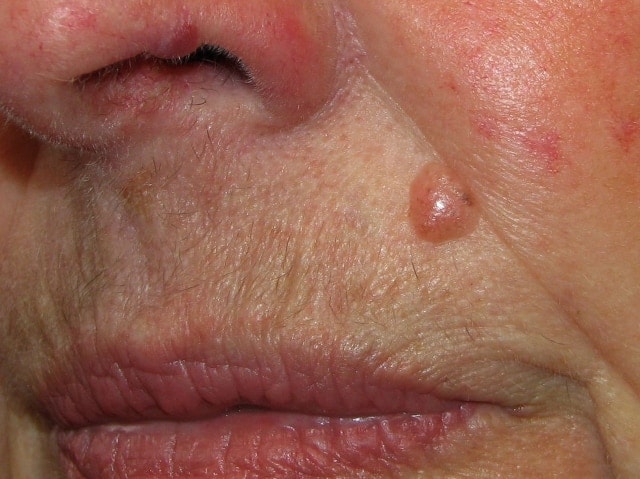 Basal Cell Carcinoma on Nose:
Images in this article were sourced from DermNet NZ, Waikato District Health Board, Raimo Suhonen and Dr Richard Ashton.