Does tretinoin (Retin-A) expire and can you still use it after its expiration date?
Does tretinoin expire and is it possible to use tretinoin that has expired? This is one of the most often asked questions related to tretinoin. Read on to find out.
Table of Content:
Does tretinoin cream expire? | What does the expiration date mean? | What is tretinoin's shelf life after opening? | How to store tretinoin properly? | Risks of using expired tretinoin | Can you use expired tretinoin? | How to refill a tretinoin prescription?
Our commitment to producing high-quality content:
The information presented in this article is based on scientific research and the professional advice of our Content Medical Reviewers, who are experts in the field of Dermatology. How we write our content →
Tretinoin, a popular topical prescription medication, is widely recognized for its effectiveness in treating various skin conditions, particularly acne and signs of aging.
As with any other medication, tretinoin comes with an expiration date stamped on its packaging. This expiration date serves as a guideline for consumers, indicating the period during which the medication is expected to retain its optimal potency and safety.
However, questions often arise regarding the viability of using tretinoin beyond its expiration date. Is it still safe and effective, or does its efficacy diminish over time?
In this article, we explore the concept of medicine expiration dates, we will mention the factors that contribute to its shelf life, potential risks of using expired tretinoin, and guidelines for safe usage.
By understanding these aspects, you can make an informed decision on whether you should throw away that expired tube of tretinoin you found lying around in your cabinet or if you should request a new tretinoin prescription online.
Does tretinoin (Retin-A) cream expire?
The short answer is yes. Tretinoin creams and gels have an expiration date. Nevertheless, it is essential to understand that the expiration date indicated on the product is not the only factor that determines if you should stop using tretinoin or not. The outcome hinges on factors like expiration date, opening date and storage conditions.
Where to see the expiration date in tretinoin?
The tretinoin expiration date can be found in two places directly on the tube and on the box.
What does the expiration date on tretinoin mean?
The expiration date represents the ultimate day on which the manufacturer ensures the complete potency and safety of a medication. These expiration dates are present on the labels of the majority of medications, encompassing prescriptions, over-the-counter (OTC) products, and dietary (herbal) supplements1.
However, a study conducted by the U.S. military found out that 90% of expired drugs were perfectly good to use even 15 years after the expiration date2.
What is a medicine's shelf life after opening?
Once a medication is opened, it is exposed to factors such as air, light, and potential contamination, which can impact its stability and effectiveness. A medicine's shelf life after opening refers to the period during which a medication is expected to retain its full potency, effectiveness, and safety.
What is tretinoin's shelf life after opening?
How long does tretinoin last after being opened? According to Dr. Alpana Mohta, dermatologist, as a general rule most tretinoin formulations will last 6 to 12 months after they have been opened. However, there are several key factors that play a crucial role in determining how long tretinoin remains effective and safe for use.
Light and humidity exposure
It is a well-known fact that tretinoin (like most retinoids) degrades when exposed to light which is why it is indicated for nightly use only.
A study focusing on light stability of tretinoin with a 0.025% concentration was subjected to fluorescent light, incandescent light, and darkness. Following 24 hours of exposure to fluorescent light, the tretinoin gel only maintained 31% of its initial tretinoin concentration3.
Another study conducted to evaluate extensive stability assessments, encompassing both prolonged and accelerated testing, unveiled the vulnerability of retinoids.
These assessments demonstrated the following:
A substantial deterioration ranging from 0% to 80% following a 6-month period at 25°C
An even more significant decline of 40% to 100% when exposed to 40°C after the same period
The degradation was meticulously analyzed and it revealed that degradation due to light exposure surpassed that resulting from temperature-induced conditions4.
Tretinoin formulations
Tretinoin in micronized formulations designed to release the medication gradually over time might have a slightly longer shelf life after opening due to their inherent stability5. Besides, micronized tretinoin degrades significantly slower in the presence of light, unlike conventional formulations6.
These formulations can often be used for up to a year after opening, again depending on proper storage and manufacturer guidance.
On the other hand, classic tretinoin creams and gels can usually retain their effectiveness for about six months, provided they are stored properly and the container is tightly closed after each use.
How to store tretinoin properly?
According to Dr Alpana Mohta, dermatologist, storing tretinoin properly is crucial to maintain its effectiveness and stability. Here are some guidelines on how to store tretinoin: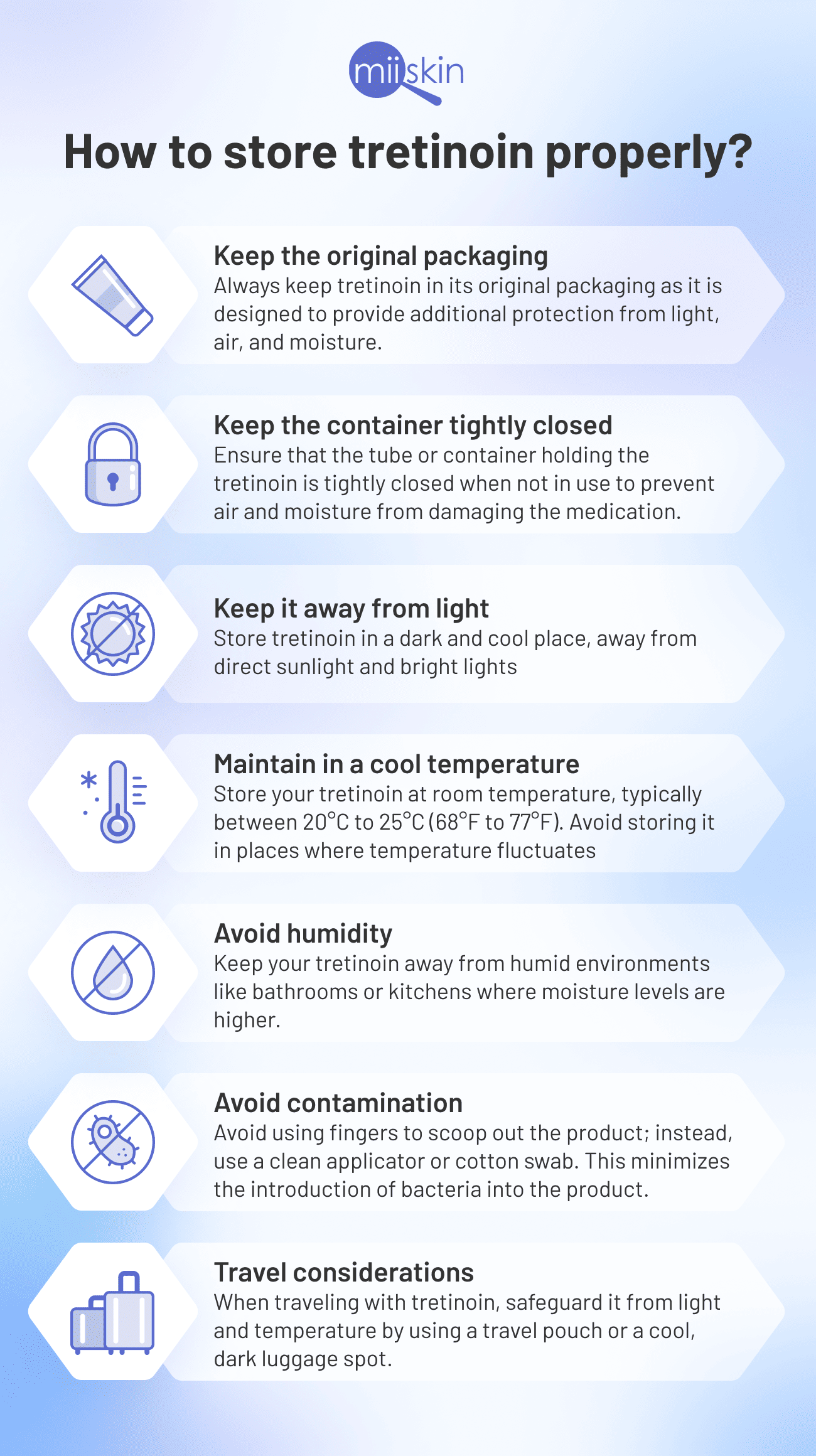 As with any medication, you should observe the product for any changes in color, odor, or texture. If you notice any unusual changes, it's best to discontinue use and consult a healthcare professional.
Request a tretinoin prescription
Potential risks of using an expired tretinoin
So, what happens if you use expired tretinoin? According to official FDA guidelines, medicines that have passed their expiration dates might exhibit reduced effectiveness or increased risks due to alterations in their chemical composition or decreased potency. Specific medications that have expired could also be susceptible to bacterial contamination. Once the expiration date has been surpassed, there is no assurance of the medicine's safety or effectiveness. Therefore, if your medication has expired, they advise you not to use it7.
Can you use expired tretinoin?
Does expired tretinoin work and can it still deliver its intended results, or does its effectiveness diminish significantly? An unopened, mildly expired tretinoin tube may still deliver its intended results with the same efficacy. On the other hand, an opened tretinoin tube that has not expired may be less effective than an unopened but expired tube of tretinoin. This can happen due to the chemical composition of tretinoin degrading, which can lead to a reduction in its potency and effectiveness over time.
How to refill a tretinoin prescription online?
If you need to refill your tretinoin prescription, you can request an online dermatology consultation from the comfort of your own home. The price of the consultation is $59 and you will get an answer in 1-2 business days.
The takeaway
While using expired tretinoin might not necessarily be harmful, it's generally recommended to avoid it. Opting for unexpired tretinoin that has not been opened for more than 6 months ensures that you are receiving the full benefits of the medication and minimizing the potential risks associated with using degraded products.
If you are concerned about the effectiveness of your tretinoin or have questions about its use, it is always a good idea to consult a dermatologist or healthcare professional for guidance.
Request a tretinoin prescription
Article References:
https://www.ncbi.nlm.nih.gov/pmc/articles/PMC7040264/
https://www.health.harvard.edu/staying-healthy/drug-expiration-dates-do-they-mean-anything
https://www.ncbi.nlm.nih.gov/pmc/articles/PMC3579485
https://pubmed.ncbi.nlm.nih.gov/33206444/
https://www.ncbi.nlm.nih.gov/pmc/articles/PMC3579485/
https://www.uptodate.com/contents/acne-vulgaris-overview-of-management/abstract/41
https://www.fda.gov/drugs/special-features/dont-be-tempted-use-expired-medicines