Isotretinoin (Accutane) vs tretinoin (Retin-A): What is the difference?
Get an overview of the differences and similarities between isotretinoin and tretinoin, how these medications are used to treat different kinds of acne and why your healthcare provider may prescribe them.
Table of Content:
Similarities | Differences | Tretinoin benefits & side effects | Isotretinoin benefits & side effects | FAQ
Our commitment to producing high-quality content:
The information presented in this article is based on scientific research and the professional advice of our Content Medical Reviewers, who are experts in the field of Dermatology. How we write our content →
Is tretinoin the same as isotretinoin?
Tretinoin and isotretinoin are two extremely efficient prescription-grade medications used to treat acne. But which one is better?
The answer is not that simple. In spite of their similar names, isotretinoin and tretinoin are very different medications used to treat different severities and types of acne1.
Tretinoin is a topical solution that comes as a cream or gel used to combat mild-to-moderate acne in the face as well as anti-aging2 3.
Isotretinoin is an oral medication used to treat severe acne in wide areas of the body that has not responded to other treatments4. However, it is important to note that this medication is highly controlled because of its teratogenic at all therapeutic doses5 and because the serious side effects it may cause6.
In this article, we will cover the differences and similarities between these two acne medications.
Acne is a very common skin condition which affects more than 50 million Americans every year7. It occurs when sebum and dead skin cells clog the pores, leading to outbreaks called "pimples or zits8"
Acne outbreaks typically occur on the face but they can also appear on wide body areas such as the back, chest, and shoulders, hence the need for an oral medication such as isotretinoin.
Similarities between tretinoin and isotretinoin
Tretinoin and isotretinoin are vitamin A derivatives and first-generation retinoids9
Both products can be used to treat several skin conditions such as acne and other skin conditions
These two medications should not be used by women who wish to become pregnant, are pregnant or breastfeeding10 11
Both medications are only available with a prescription from a healthcare provider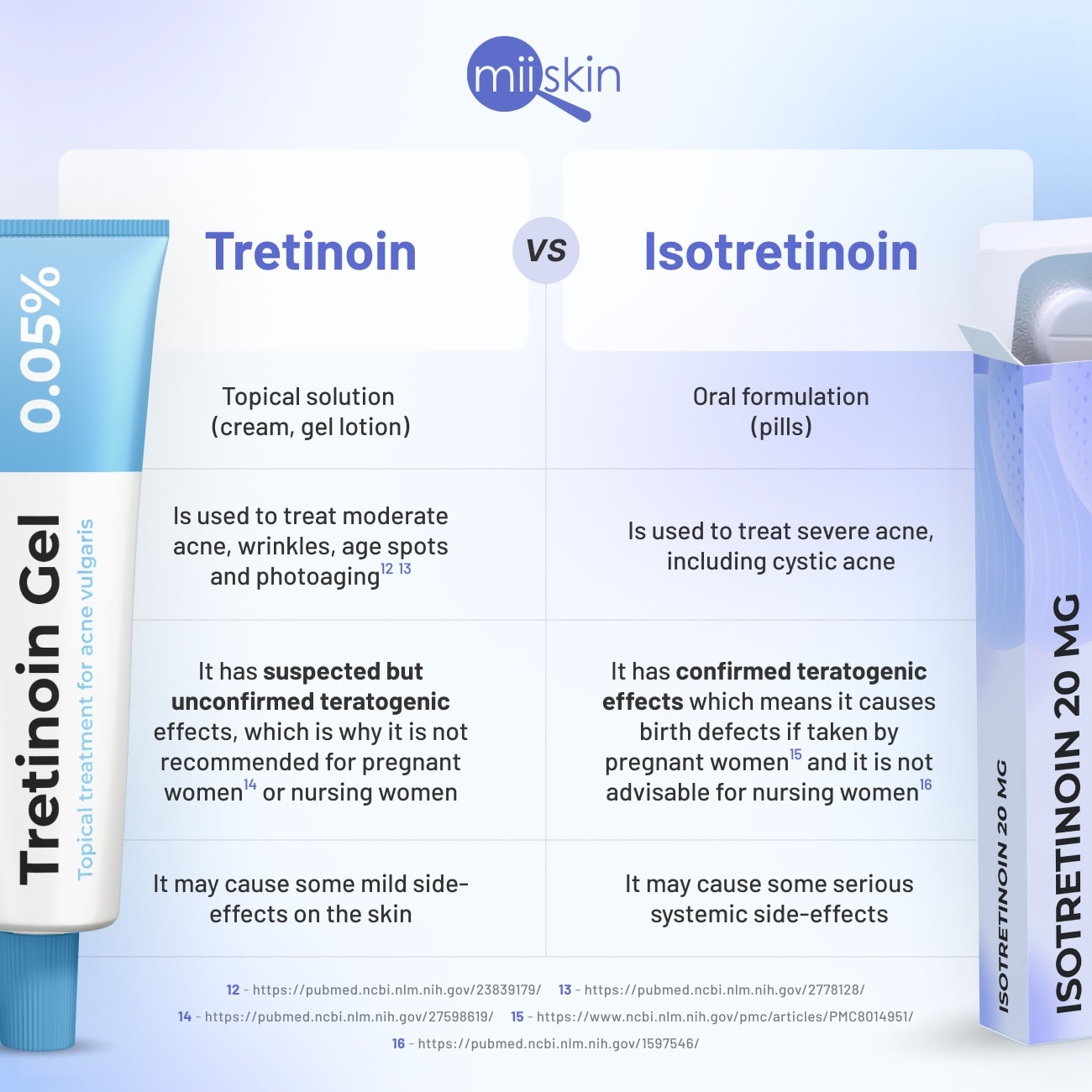 Discuss potential acne treatment with a healthcare professional. A qualified dermatology practitioner will be able to advise you on the medication that will work best for your acne.
Request a tretinoin cream prescription
Start your journey to better skin. Get a personal treatment plan from one of our affiliated dermatology providers. Let them know if you have a specific medicine in mind.

*Isotretinoin not available.