Isotretinoin (Accutane) vs tretinoin (Retin-A): What is the difference?
Get an overview of the differences and similarities between isotretinoin and tretinoin, how these medications are used to treat different kinds of acne and why your healthcare provider may prescribe them.
Table of Content:
Similarities | Differences | Tretinoin benefits & side effects | Isotretinoin benefits & side effects | FAQ
Our commitment to producing high-quality content:
The information presented in this article is based on scientific research and the professional advice of our Content Medical Reviewers, who are experts in the field of Dermatology. How we write our content →
Is tretinoin the same as isotretinoin?
Tretinoin and isotretinoin are two extremely efficient prescription-grade medications used to treat acne. But which one is better?
The answer is not that simple. In spite of their similar names, isotretinoin and tretinoin are very different medications used to treat different severities and types of acne1.
Tretinoin is a topical acne medications that comes as a cream or gel used to combat mild-to-moderate acne in the face as well as anti-aging2 3.
Isotretinoin is an oral medication used to treat severe acne in wide areas of the body that has not responded to other treatments4. However, it is important to note that this medication is highly controlled because of its teratogenic at all therapeutic doses5 and because the serious side effects it may cause6.
In this article, we will cover the differences and similarities between these two acne medications so you and your online dermatologist can choose what acne treatment is best for you. In addition tretinoin and isotretinoin, there are other retinoids used in the treatment of acne such as adapalene, trifarotene (Aklief), and tazarotene. These topical medications tend to be accompanied by oral antibiotics such Seysara and doxycycline for faster results.
Acne is a very common skin condition which affects more than 50 million Americans every year7. It occurs when sebum and dead skin cells clog the pores, leading to outbreaks called "pimples or zits8"
Acne outbreaks typically occur on the face but they can also appear on wide body areas such as the back, chest, and shoulders, hence the need for an oral medication such as isotretinoin.
Similarities between tretinoin and isotretinoin
Tretinoin and isotretinoin are vitamin A derivatives and first-generation retinoids9
Both products can be used to treat several skin conditions such as acne and other skin conditions
These two medications should not be used by women who wish to become pregnant, are pregnant or breastfeeding10 11
Both medications are only available with a prescription from a healthcare provider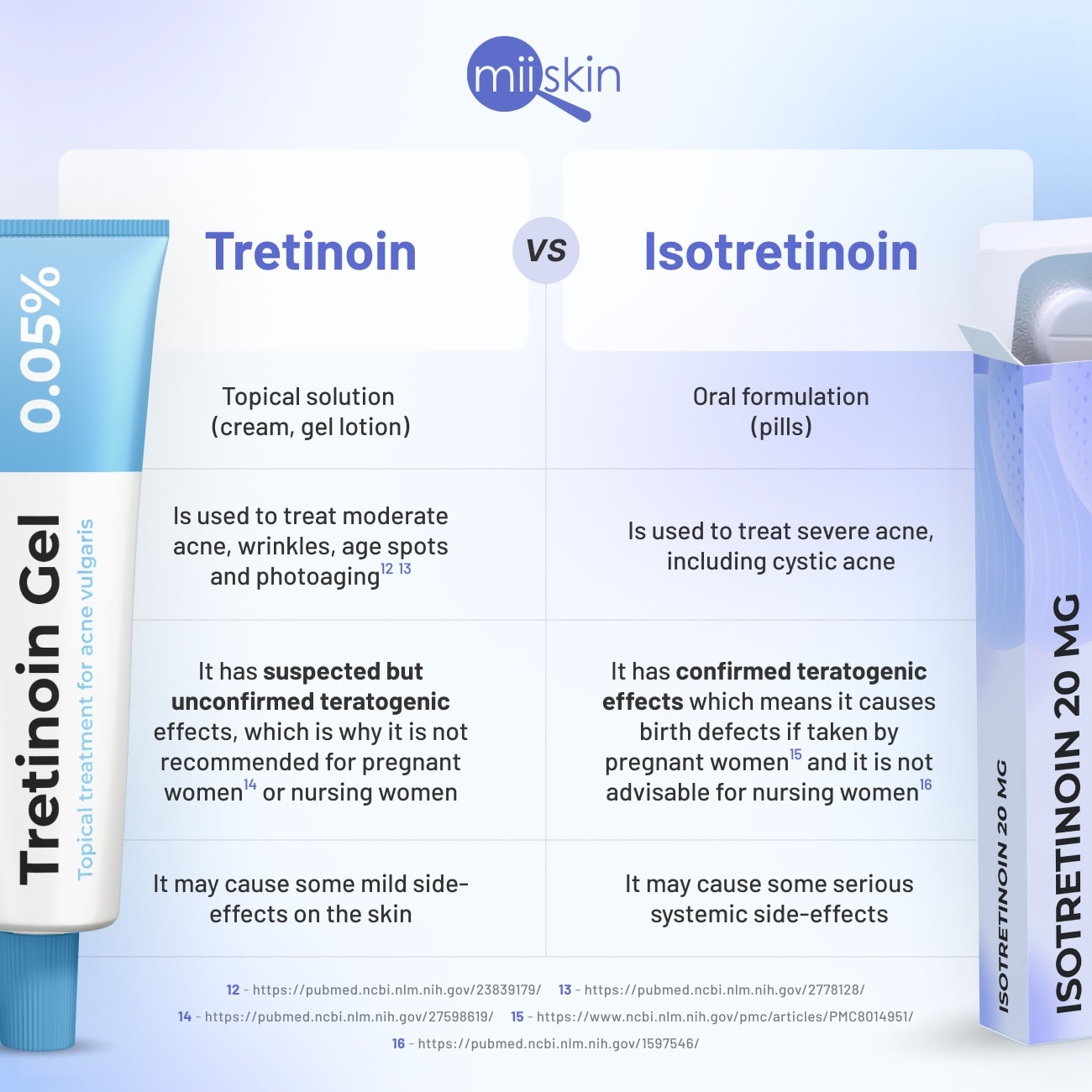 Discuss potential acne treatment with a healthcare professional. A qualified dermatology practitioner will be able to advise you on the medication that will work best for your acne.
Request a tretinoin cream prescription

*Isotretinoin not available.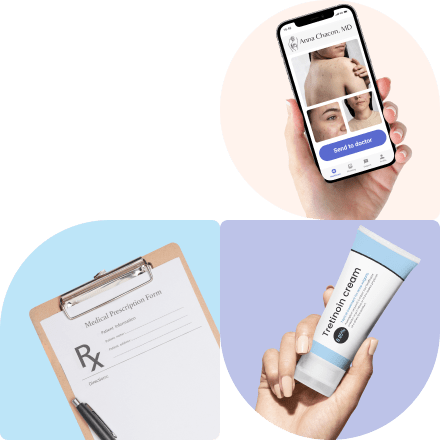 Benefits of tretinoin
Stimulates the growth of new cells
Exfoliates the skin
Unclogs pores
Promotes the normal flow of sebum
Helps create a better skin condition to prevent bacteria from developing
It has multiple anti-inflammatory properties22
Increases collagen production23
Side-effects of tretinoin
Burning, itching, stinging, scaling, or redness of the skin
Slight peeling of the skin
Lightening of the skin
Redness
Skin dryness of skin
Warmth sensation in the skin24
Photosensibility25
Tretinoin Brands
Retin-A
Retin-A Micro
Tretin-X
Avita
Refissa
Atralin
Renova
What is isotretinoin and what is the main benefit?
Isotretinoin is the most efficient drug to treat severe acne that has not responded to other treatments due to its strong sebum-suppressive effects26.
Side-effects of isotretinoin
Isotretinoin has many side-effects, including common side-effects, uncommon side-effects and unconfirmed side-effects. The side-effects of this medication are so serious that the FDA developed the iPLEDGE®program to help patients consider the seriousness involved in taking this medication27.
Pregnancy risks: Taking isotretinoin while pregnant, causes severe birth defects, miscarriage or stillbirth
Overall dryness in skin, eyes, nose, mouth and lips leading to severely chapped lips, nosebleeds
Extreme sun-sensitivity
Acne may worsen in the beginning of the treatment
Temporary night blindness
Thinning hair
Muscle or joint pain
Rashes
Stomach problems
Unhealthy cholesterol levels
Pressure on the brain, which can lead to eyesight problems, permanent loss of eyesight, and, in a few rare cases, death
Liver damage
Depression
Suicidal thoughts
Inflammatory bowel disease (IBD)28
Isotretinoin brands
Absorica
Absorica LD
Claravis
Amnesteem
Myorisan
Zenatane
Former brand name Accutane
FAQ about tretinoin and isotretinoin
How to get tretinoin and isotretinoin?
Isotretinoin and tretinoin are only sold with a prescription from a healthcare provider. You can have a virtual consultation for $59 and request a tretinoin prescription. Your provider will get back to you within 1-2 work days. Talk to your online dermatologist about the best acne treatment for you.
Disclaimer: Isotretinoin can only be prescribed with an in-person visit due to the severity of its side-effects and the high-risk teratogenic effects if one may become pregnant while taking it.
What is the price of tretinoin?
The price of a generic 20g tube of tretinoin may vary between $20 to $40*.
*The price range listed here is just an estimation. Medication prices may vary depending on the state and the pharmacy selected. Miiskin is not responsible and cannot influence the price of the medication as it is independent from these entities.
Is it possible to buy isotretinoin as a gel or cream for acne?
Isotretinoin Gel/Cream has been discontinued by the manufacturer which means it is no longer available in the market.
Are there tretinoin pills?
No. There are only two oral retinoids: isotretinoin which is used to combat severe acne and Acitretin which is used to combat severe plaque-type and pustular psoriasis29
Can I use isotretinoin and tretinoin together?
Although not a standard treatment, in some rare cases it is possible and effective to combine a low dose of isotretinoin with topical tretinoin30.
What is Accutane?
Accutane is the old brand name of isotretinoin, a prescription drug used to treat severe papulopustular, cystic or nodular acne. Although, Accutane is no longer available on the market, the word "Accutane" is still frequently used to refer to the drug isotretinoin.
What is the difference between Accutane and isotretinoin?
There is no difference, isotretinoin is a medical drug for treating acne that was formerly sold under the brand name Accutane, which is no longer available on the market.
Subscribe to newsletter!
Unlock the secrets to a flawless complexion with our exclusive newsletter. Discover effective acne treatments, expert advice, and skincare tips. Subscribe now for a radiant future!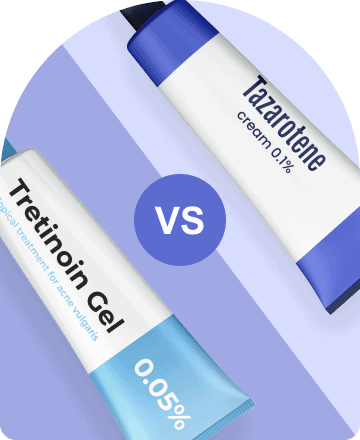 Conclusion
When deciding which acne medication is right for you, there are several factors to consider: tretinoin has fewer side effects, but isotretinoin is more effective at clearing stubborn acne.
Before deciding on isotretinoin over tretinoin, or vice versa, it is important to do your research as there are many other medications that combat acne and have milder side-effects, such as adapalene, benzoyl peroxide, doxycycline or spironolactone. Speak to a medical professional if you have any questions and discover if one is right for your needs. Do not go on a prescription until knowing all the details as there are many negative side effects that can occur if used improperly.
PATIENT EDUCATION
Acne medicines: What is the difference?
Reviewed by dermatologists
---
Article References:
1 https://pubmed.ncbi.nlm.nih.gov/26897386
2 https://www.ncbi.nlm.nih.gov/pmc/articles/PMC3225141/
3 https://pubmed.ncbi.nlm.nih.gov/2778128/
4 https://www.drugs.com/mtm/isotretinoin.html
5 https://medsafe.govt.nz/profs/PUArticles/March2020/isotretinoin-important-prevent-pregnancy.html
6 https://www.ncbi.nlm.nih.gov/pmc/articles/PMC3970835/#B1
7 https://www.aad.org/media/stats-numbers
8 https://www.nims.nih.gov/health-topics/acne
9 https://www.researchgate.net/figure/Molecular-structure-of-retinoids-divided-per-generation-The-first-generation-is-composed_fig1_349650960
10 https://www.ncbi.nlm.nih.gov/pmc/articles/PMC8014951/
11 https://pubmed.ncbi.nlm.nih.gov/27598619/
12 https://pubmed.ncbi.nlm.nih.gov/23839179/
13 https://pubmed.ncbi.nlm.nih.gov/2778128/
14 https://pubmed.ncbi.nlm.nih.gov/27598619/
15 https://www.ncbi.nlm.nih.gov/pmc/articles/PMC8014951/
16 https://pubmed.ncbi.nlm.nih.gov/1597546/
17 https://www.ncbi.nlm.nih.gov/pmc/articles/PMC2699641/
18 https://pubmed.ncbi.nlm.nih.gov/18046911/
19 https://www.ncbi.nlm.nih.gov/books/NBK557478/
20 https://pubmed.ncbi.nlm.nih.gov/23839179/
21 https://www.ncbi.nlm.nih.gov/pmc/articles/PMC2699641/
22 https://www.ncbi.nlm.nih.gov/pmc/articles/PMC3225141/
23 https://pubmed.ncbi.nlm.nih.gov/8336752/
24 https://www.accessdata.fda.gov/drugsatfda_docs/label/2014/021108s015lbl.pdf
25 https://pubmed.ncbi.nlm.nih.gov/3530309/
26 https://www.ncbi.nlm.nih.gov/pmc/articles/PMC8014951/
27 https://pubmed.ncbi.nlm.nih.gov/26897386/
28 https://www.aad.org/public/diseases/acne/derm-treat/isotretinoin/side-effects
29 https://www.ncbi.nlm.nih.gov/books/NBK519571/
30 https://pubmed.ncbi.nlm.nih.gov/16281880/