Azelaic acid (Finacea) and tretinoin: Differences, similarities, benefits and combined use
Azelaic acid (Finacea) and tretinoin complement each other's benefits, targeting acne, hyperpigmentation, and signs of aging for enhanced skin improvement. Read on to learn how to get the best out of this combination.
Table of Content:
Differences | Azelaic acid benefits | Side-effects | Precautions | Tretinoin benefits | Side-effects | Precautions | How to use them together? | How to get a prescription?
Our commitment to producing high-quality content:
The information presented in this article is based on scientific research and the professional advice of our Content Medical Reviewers, who are experts in the field of Dermatology. How we write our content →
Azelaic acid (also known as Finacea) and tretinoin are both key players in the battle against acne. Individually, they are both effective in reducing acne breakouts and improving overall skin health. However, when combined, their synergistic effects amplify their individual benefits, leading to a more comprehensive approach to treat acne.
The formation of acne breakouts is linked to four main factors: sebum production, how the follicles' skin cells behave, the presence of bacteria in the hair follicles, and the surrounding inflammation. Azelaic acid is effective for treating acne because it targets all these factors involved in acne development1.
Tretinoin, also known as all-trans retinoic acid, is a proven treatment for mild-to-moderate acne as a comedolytic agent. It can be used alone or in combination with antibacterials such as azelaic acid. Tretinoin effectively stimulates the growth of new cells, helps unclog pores, and promotes the proper flow of sebum. Tretinoin also possesses anti-inflammatory properties, making it effective in addressing both non-inflammatory and inflammatory acne lesions2.
According to Dr. Alpana Mohta, dermatologist, Tretinoin together with adapalene, tazarotene and trifarotene are topical prescription retinoids used in the treatment of acne. Retinoids are usually combined with androgen blockers such as spironolactone or Winlevi or antibacterial agents such as azelaic acid, benzoyl peroxide or clindamycin for a more comprehensive acne treatment.
In this article, we dive into the specific properties of azelaic acid and tretinoin and the synergy that arises when they are used together. By understanding the science behind this powerful duo, you and your online dermatologist can help you decide if tretinoin and azelaic acid are right for your skin.
Differences between azelaic acid (Finacea) and tretinoin

Request a prescription for tretinoin and/or azelaic acid
Start your journey to better skin. Get a personal treatment plan from one of our affiliated dermatology providers. Let them know if you have a specific medicine in mind.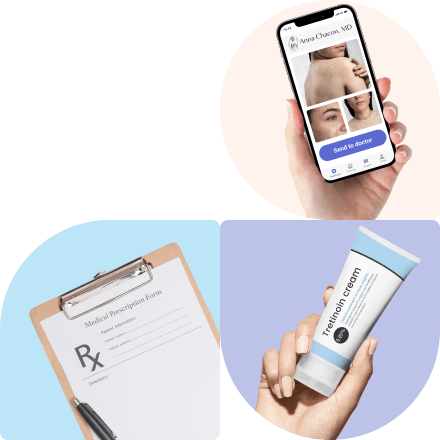 Azelaic acid (Finacea)
Azelaic acid is a topical medication in the form of creams, gels, or foams that is primarily used for the treatment of acne, rosacea and hyperpigmentation3.
Azelaic acid needs a prescription for higher concentrations and can be bought over the counter for lower concentrations.
Benefits of azelaic acid (Finacea)
Azelaic acid, a naturally occurring dicarboxylic acid, is a potent antimicrobial against acne-causing bacteria, it is comedolytic, and it has anti-inflammatory properties that help reduce redness and swelling associated with acne4. It also aids in the normalization of keratinization, preventing the blockage of pores that often contributes to acne development.
Common side-effects of azelaic acid (Finacea)
Skin irritation/rash
Burning
Dryness
Redness
Peeling
Stinging
Swelling12
Precautions and warning when using azelaic acid (Finacea)
Be aware that hypopigmentation (a lightening of the skin) may occur while using this medicine. If you have dark skin, use caution.
This medicine is considered safe to use during pregnancy and lactation, however it has the potential to cause allergic reactions. If you experience itching skin, trouble breathing, or large, hive-like swelling on any parts of your body, seek immediate medical attention.
It is important that you have regular visits with your doctor to monitor any potential side effects of this medicine. If your acne does not improve within four weeks, or if it worsens, make sure to check with your doctor.
If you do not see your rosacea improvement within 12 weeks, or if it gets worse, consult your doctor13.
Can azelaic acid (Finacea) be purchased over the counter?
Yes, the lower concentrations of azelaic acid can be purchased over the counter. However if you want faster and more effective results, you need to get a prescription-strength product such as Finacea.
Tretinoin
Tretinoin, also known as all-trans retinoic acid, is a topical medication that belongs to the class of retinoids. It is derived from vitamin A and is commonly used in dermatology for the treatment of acne, photoaging, fine lines, wrinkles and face roughness14.
Tretinoin is available in different formulations such as creams, gels, and lotions. To help you and your dermatologist in determining which formulation may be more suitable to address your particular skin condition, understand the differences between tretinoin cream and gel, their special qualities, and the various brands available.
Benefits of tretinoin
Tretinoin is widely used in dermatology due to its well-established efficacy and versatility in treating various skin conditions. However, tretinoin is a prescription medication and should only be used under the guidance of a healthcare professional.
Promotes skin rejuvenation: Tretinoin promotes the turnover of skin cells and stimulates collagen production. This can lead to smoother skin texture, improved fine lines and wrinkles, and a more youthful appearance15.
Reduces hyperpigmentation: Tretinoin can help fade dark spots and hyperpigmentation caused by sun damage, acne scars, or other skin conditions. It promotes the shedding of pigmented cells and encourages the growth of new, evenly pigmented cells16.
Repairs sun damage: Tretinoin can help repair some of the damage caused by long-term sun exposure. It encourages the shedding of damaged skin cells and stimulates the production of new, healthier cells17.
Regulates sebum production: Tretinoin helps to normalize sebum production by influencing the activity of sebaceous glands and reducing the production of excess sebum. Excessive sebum is linked to the development of acne, by regulating this, tretinoin can help manage acne and promote clearer skin18.
Reduces acne scarring and improves overall skin appearance: Clinical assessment showed that regular use of tretinoin shows improvements in acne scars, pore size, skin moisture, vascularization, and skin firmness and elasticity19.
Common side-effects of tretinoin
Burning/stinging
Itching
Skin peeling of the skin
Lightening or darkening of the skin
Redness
Unusual dryness
Warm sensation20
If you have sensitive skin, you can consider using Altreno, a new tretinoin formulation that is more gentle on the skin causing side effects in only 1% of patients.
Precautions and warning when using tretinoin
Always follow the instructions given by your doctor. According to Dr. Mohta, during the first few weeks, you may experience skin irritation and temporary worsening of acne, known as the tretinoin purge. It may take up to 12 weeks to see significant improvement. If your skin becomes very irritated, consider switching to Altreno and if you don't notice any improvement within 8 to 12 weeks, consult your doctor.
Tretinoin cannot be used by children under 12 years of age, pregnant or nursing women. Women should use contraception when using tretinoin as it is considered teratogenic.
Do not use any other topical products in the same area as tretinoin one hour before or after application, unless specifically instructed by your doctor. Using incompatible products may reduce the effectiveness of tretinoin or cause skin irritation.
Protect the treated areas from excessive sun exposure, wind, and cold weather. Your skin may become more sensitive and prone to sunburn, dryness, or irritation, especially during the first few weeks. Remember to apply sunscreen with SPF 50 every morning and reply when outdoors. Wear protective clothing and hats, and apply moisturizers or creams frequently.
Can you buy tretinoin over the counter?
Tretinoin cannot be purchased over the counter, you need a prescription.
How to use tretinoin and azelaic acid (Finacea) together?
According to Dr. Mohta, you should always follow the instructions given by your healthcare provider, however, as a general rule, when using both tretinoin and azelaic acid, it is important to use them correctly to maximize their benefits and minimize the potential for skin irritation.
You should remember to always apply tretinoin during the night as it is photosensitive
Cleanse your skin with a gentle cleanser to remove any dirt, oil, or impurities.
Apply a moisturizer to prevent irritation
Apply in a thin layer to the entire face or affected areas. Use clean fingertips to spread it evenly and avoid applying it too close to the eyes, nostrils, or mouth.
Allow the tretinoin to fully absorb into your skin (usually takes about 20-30 minutes). This waiting period helps to minimize the potential for interactions or decreased effectiveness when layering with other products
Apply a thin layer of azelaic acid to the entire face or affected areas, gently massaging it into the skin until fully absorbed
If desired, you can apply a second layer of moisturizer after the azelaic acid has absorbed. Choose a non-comedogenic, fragrance-free moisturizer that is suitable for your skin type
Alternatively you can apply tretinoin and azelaic acid on different nights to minimize irritation
According to Dr Mohta, the order of application of the two active ingredients does not affect their efficacy. You can use either one first, followed by the other. As a general guideline, Dr. Mohta recommends layering these products from thinnest to thickest. For instance, if you are using an azelaic serum and a tretinoin cream, apply the azelaic serum first, followed by the tretinoin cream. Always remember to apply moisturizer first regardless of the order of the products.
What is the price of tretinoin and Finacea (prescription-strength azelaic acid)?
A 20 gr tube of generic tretinoin is between $20 to $40*.
According to the Finacea official website, with their patient savings program patients may pay as little as $30 for the medication. A generic version of azleaic acid 15% may cost between $40 to $100*.
*The price range listed here is just an estimation. Medication prices may vary depending on the state and the pharmacy selected. Miiskin is not responsible and cannot influence the price of the medication as it is independent from these entities.
How to get a prescription for Finacea (azelaic acid) and/or tretinoin?
You can request a photo consultation with an online dermatologist. This process takes less than five minutes and you need to answer a few questions of your condition, upload photos of your skin and mention the medications you wish to obtain.
Your assigned dermatologist will review your case and in less than three days you will get your prescription for acne and you can collect your medication at the pharmacy you have selected.
Request a prescription for Finacea and/or tretinoin
Start your journey to better skin. Get a personal treatment plan from one of our affiliated dermatology providers. Let them know if you have a specific medicine in mind.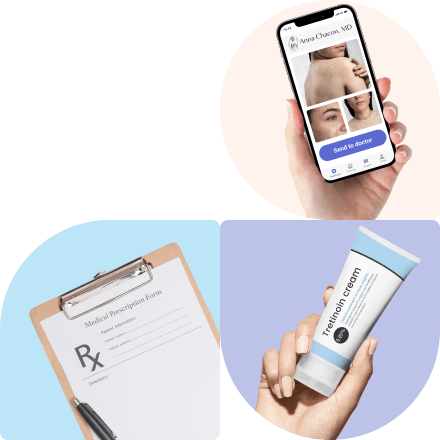 References:
https://pubmed.ncbi.nlm.nih.gov/2534550/
https://www.ncbi.nlm.nih.gov/pmc/articles/PMC3225141/
https://pubmed.ncbi.nlm.nih.gov/1712709/
https://www.sciencedirect.com/topics/neuroscience/azelaic-acid
https://pubmed.ncbi.nlm.nih.gov/2534550/
https://jddonline.com/articles/azelaic-acid-evidence-based-update-on-mechanism-of-action-and-clinical-application-S1545961615P0964X
https://www.ncbi.nlm.nih.gov/pmc/articles/PMC3969667/
https://jddonline.com/articles/azelaic-acid-evidence-based-update-on-mechanism-of-action-and-clinical-application-S1545961615P0964X
https://www.mayoclinic.org/drugs-supplements/azelaic-acid-topical-route/side-effects/drg-20062084
https://www.ncbi.nlm.nih.gov/books/NBK557478/
https://www.ncbi.nlm.nih.gov/pmc/articles/PMC6791161/
https://pubmed.ncbi.nlm.nih.gov/9774029/
https://www.ncbi.nlm.nih.gov/pmc/articles/PMC3225141/
https://pubmed.ncbi.nlm.nih.gov/15075042/
https://www.mayoclinic.org/drugs-supplements/tretinoin-topical-route/side-effects/drg-20066521