Explore the Miiskin App
Take photos of your skin and moles over time and compare them to spot any changes.
The app you can trust
Miiskin is dermatologically endorsed by the Skin Health Alliance.
Importantly, the Miiskin app does not try to diagnose you based on your photos. It's simply your own tool to document changes to your skin when performing your regular skin check.
Check out our skin cancer knowledge base to learn more about skin cancer. You can also read through these articles with melanoma pictures and skin cancer pictures, normal moles images and photos of atypical moles.
Easy comparison over time
Compare your close-up photos taken at different times to see if anything has changed.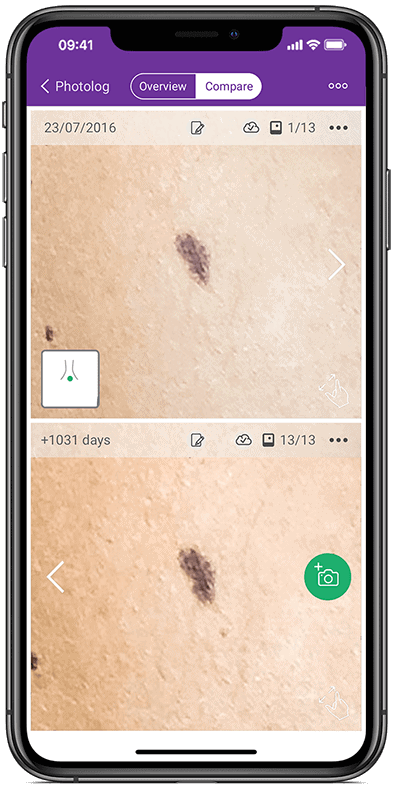 The tools you need
BASIC
Keep track of 3 existing moles and marks
Side-by-side comparison in the app
Set reminders so you don't forget to follow up
PREMIUM (Free Trial)
Keep track of unlimited number of existing moles and marks
Photos are securely back up and separated from your phone's gallery.
Keep an eye out for new moles with wide area photos
Side-by-side comparison computers/tablets with Web Compare and Skin Mapping
Automatic Skin Imaging to highlight moles and marks
Transfer photos when you get a new phone
Protect your photos with a 4-digit PIN
Skin Mapping: Watch out for new moles and marks
Miiskin Premium also lets you keep track of wide areas of your skin. Access your photos on any large screen anywhere with Web Compare.
Miiskin's Skin Mapping (beta), accessed in Web Compare, automatically identifies the moles and marks on your skin that it can find.
Keep an eye out for any new moles or spots – not least on the hard-to-see back.
---

Got a question?
Miiskin's User Stories
Read about how these users, previously affected by skin cancer, are now using Miiskin during their skin self-examinations.