Tretinoin and spironolactone for hormonal acne treatment
In this article, we examine the different mechanisms of action of spironolactone and tretinoin as well as the scientific basis and supporting research for their combined use.
Table of Content:
Hormonal acne | How does spironolactone fight acne? | How does tretinoin fight acne? | How to use spironolactone and tretinoin together? | How to get a prescription for spironolactone and tretinoin?
Our commitment to producing high-quality content:
The information presented in this article is based on scientific research and the professional advice of our Content Medical Reviewers, who are experts in the field of Dermatology. How we write our content →
The combined usage of tretinoin and spironolactone for the treatment of hormonal acne has come under the spotlight in recent years.
On the one hand, we have tretinoin, a topical retinoid derived from Vitamin A, is known for accelerating cell turnover and unclogging pores, thus reducing the chances of acne formation1.
On the other hand, spironolactone, a drug originally utilized for treating hypertension, is now being widely used in dermatology due to its anti-androgenic properties which make it a potent weapon against acne, especially for women suffering from hormonal fluctuations2.
However, their combined usage is yet fully unexplored. These two powerful ingredients combat acne from two different angles, offering a heightened level of efficacy for women with hormonal acne.
In this article, we explore the individual mechanisms of action of spironolactone and tretinoin together with the science and the evidence behind their combined usage. Drawing from some clinical studies available we seek to present a comprehensive view of this powerful acne-fighting duo.
What is hormonal acne?
Hormonal acne, also known as (adult female acne) affects women over 25 and often requires long-term maintenance treatment due to its chronic nature, which is believed to be influenced by genetic and hormonal factors. Women are more prone to experiencing acne compared to men in all age groups, and it can continue to affect individuals even past the age of 503.
Hormonal acne is characterized by lesions located on the lower part of the face. This includes the jaw area, around the mouth, and the chin, forming a U-shaped pattern. This type of acne is characterized by inflammatory lesions (papules and pustules) and can be from mild to moderate intensity4.
Request a prescription for spironolactone and tretinoin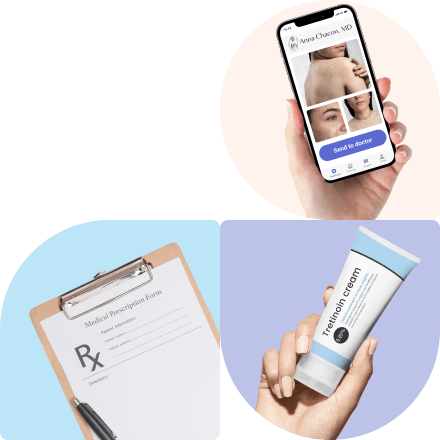 What is spironolactone?
Spironolactone is a potassium-sparing diuretic originally used in the treatment of heart failure and high blood pressure5 but it is nowadays used off-label for the treatment of several hormonal conditions in women such as acne6 and hair loss7.
How does spironolactone fight acne?
Oral and topical spironolactone target the hormonal aspect of acne by slowing down the body's production of skin oil (sebum). This is done by preventing a hormone called dihydrotestosterone (DHT) from attaching to specific receptors8 9 .
Can spironolactone be used long-term for the treatment of hormonal acne in women?
Many acne treatments such as oral isotretinoin or oral antibiotics (doxycycline, minocycline, Seysara) can only be used for a period of 6 months. Oral spironolactone has the advantage that it can be used long term, which is necessary for adult female acne as it tends to be a chronic condition. However, your dermatologist might need to get your serum potassium level, kidney function tests and blood pressure monitored regularly.
Studies show that spironolactone is effective at treating acne with improvement ranging from a 50% to 100% reduction of acne breakouts10.
The typical dose of spironolactone for acne patients varies from 50 to 200 mg per day11.
Although this medication can be taken long-term, it is important to know that spironolactone cannot be taken by pregnant women or women who are nursing as it can affect the baby.
What is tretinoin?
Tretinoin, (also known commercially as Retin-A or Altreno), is a topical retinoid and a prescription medication. Tretinoin is used to treat acne because it accelerates the turnover of aging skin cells while stimulating the generation of fresh ones12. Tretinoin can also improve skin texture by assisting the shedding of dead skin cells and promoting the growth of new smoother skin cells13.
How does tretinoin fight acne?
Tretinoin fights acne by helping unclog pores, reduce inflammation, and improve the overall skin texture appearance14. It can also help improve post-inflammatory hyperpigmentation which sometimes occurs after acne15.
Can tretinoin be used long-term for hormonal acne treatment?
The long-term use of tretinoin in the treatment of acne and dark spots is not only safe but encouraged as tretinoin brings many benefits to the skin such as:
Anti-aging properties by stimulation of collagen production
Anti-inflammatory effects
Promotes cell renewal
Reduces pigmentation
Reduces the appearance of large pores16
Although tretinoin is indicated for long-term use, it is teratogenic, which means it cannot be used by women who are pregnant or nursing as it can harm the baby.
How to get a prescription for spironolactone and tretinoin?
To get a prescription for tretinoin and spironolactone, you can have a photo consultation with an online dermatologist affiliated with Miiskin. This only costs $59 and it takes 1-2 business days to get an answer.
Request a prescription for spironolactone and tretinoin
Start your journey to better skin. Get a personal treatment plan from one of our affiliated dermatology providers. Let them know if you have a specific medicine in mind.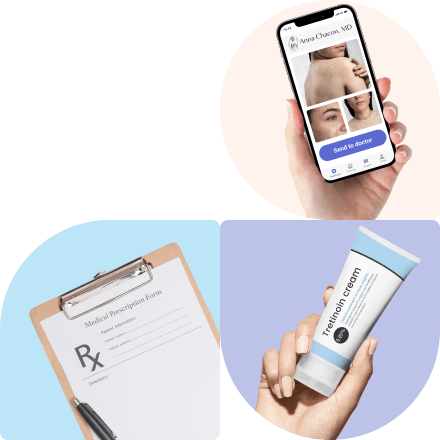 How to use spironolactone and tretinoin together?
Oral spironolactone is usually taken during the morning (since it is a diuretic), while tretinoin is applied to the affected areas of the skin at night time since it is photosensitive and it degrades in daylight17.
Since tretinoin can cause sun sensitivity it is important to use sunscreen with SPF 50 during the duration of the treatment.
Besides since both medications cannot be used by pregnant women it is advisable to use an effective contraceptive method while using these medications.
Can men use spironolactone and tretinoin?
Men can use tretinoin, but not spironolactone due to its anti-androgenic effects which may cause gynecomastia (breast enlargement), decreased libido, testicular atrophy, reduced fertility and erectile dysfunction.
How to use tretinoin?
We have compiled a step by step guide on how to use tretinoin by expert dermatologist Dr. Alpana Mohta.
What tretinoin strength is best for acne?
The starting dose of tretinoin for acne is usually 0.01% and it can be increased if necessary.
References:
https://www.ncbi.nlm.nih.gov/books/NBK557478
https://www.mayoclinic.org/drugs-supplements/spironolactone-oral-route/side-effects/drg-20071534?p=1
https://www.ncbi.nlm.nih.gov/pmc/articles/PMC6360964/
https://reference.medscape.com/drug/carospir-aldactone-spironolactone-342407
https://www.ncbi.nlm.nih.gov/pmc/articles/PMC10010138/
https://www.ncbi.nlm.nih.gov/books/NBK554421/
https://www.ncbi.nlm.nih.gov/pmc/articles/PMC5440451/
https://www.dermatologytimes.com/view/spironolactone-safe-and-effective-adult-female-acne
https://www.ncbi.nlm.nih.gov/books/NBK557478