Achieving a Good Dermatologist Work-Life Balance
Learn the basics on how to successfully achieve a good work-life balance as a dermatologist, spend more time with friends and family, and pursue interests outside work.
Author: Jennifer Highland, Content Manager of Miiskin | Reviewed by: Jon Friis, Founder, and CEO of Miiskin
Covered in this article:
What is work-life balance? | Do dermatologists have a good work-life balance? | Work-life balance of a female dermatologist | Creating your own work-life balance | How to achieve flexible working conditions? | Strategies to Achieve work-life balance
---
Work-life balance as a dermatologist is defined as a state of equilibrium where individuals can effectively balance their medical careers and personal life1; failing to do so, can result in physician burnout.
A survey conducted by CHG Healthcare to physicians who had been out of residency for two to three years revealed that work-life balance was the most important factor in choosing their first job2.
Dermatology is considered one of the happiest medical specialties3 since it allows individuals to achieve a reasonable work-life balance as physicians due to fewer emergencies and better working hours. That being said, since there is a shortage of dermatologists, the few available physicians tend to have too many patients, which may lead to burnout if appropriate actions are not taken.
Besides, dermatologists face multifaceted demands in the workplace, such as a high patient-to-provider ratio and dealing with bureaucratic tasks. They also need to take care of family responsibilities and personal obligations.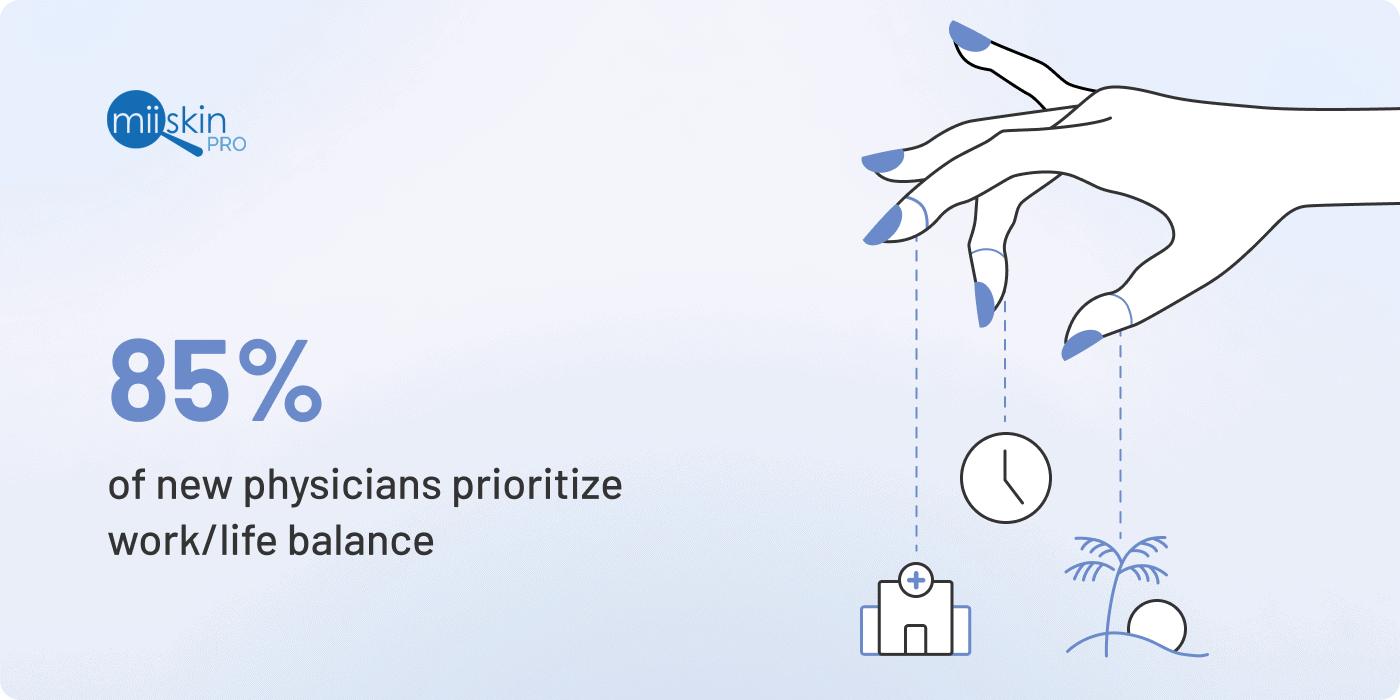 What is Work-life Balance for a Dermatologist?
The concept of work-life balance has gained attention over the last few decades due to shifts in gender roles and a considerable increase in the number of women who have entered the workforce4.
With a good work-life balance, individuals can effectively balance their medical careers and personal life. A dermatologist who lacks a work-life balance works longer hours and lacks personal time.
Do Dermatologists Have a Good Work-life Balance?
A dermatologist's best work-life balance will vary over time, depending on whether they are partaking in their residency, have an established practice, or are nearing retirement. It will also influence whether they are male or female and if they are single, married, or have children.
There is no perfect, one-size fits all work-life balance since dermatologists have different priorities and are at different stages of their lives.
The Work-life Balance of Female Dermatologist
Women comprise approximately 46% of medical students and nearly half of all residents in the United States5, while the percentage of female dermatologists has reached 50%6.
The work-life balance of female dermatologists is particularly important because physicians experience higher burnout rates than other professions in society, independently of gender7.
Female dermatologists often face the challenges of balancing a rewarding career with childrearing and household duties. Unfortunately, in spite of the cultural shift in household chores between spouses, on average, married female physicians spend more time parenting children and attending to household duties than male physicians on a weekly basis8.
Achieving a positive work-life balance as a female dermatologist with family obligations can be extremely challenging, which is why many choose to work part-time and they choose to open their own private dermatology practice.
MIISKIN PROMO
Attract New Patients to your Medical Practice with the Miiskin platform
Skin Health Solution for Providers
Boost patient acquisition: The Miiskin website and app are visited by thousands of patients in the U.S. every day; offer these patients care delivered by your practice.
Automate patient intake: Patients can fill out any intake forms, make payments and give consent via the Miiskin app.
Offer efficient care delivery: Make routine visits more efficient with an asynchronous telehealth solution, reimbursable at a similar rate to in-person visits.
Creating your Own Work-life Balance as a Dermatologist
The most fulfilled dermatologists are the ones who put their well-being first, which is why it's important to have an adequate working environment that facilitates and enables flexible working conditions. 
Flexible working conditions allow dermatologists to prioritize spending time with family and friends, having a happy marriage/relationship, pursuing interests outside work, and taking time off for vacation.
According to Dr. Sara Dill, Dermatologist and Certified Life Coach, work-life balance is not something that just happens. A person needs to create their own work-life balance by building a healthy equilibrium between your work and their personal life9.
How to Achieve Flexible Working Conditions as a Dermatologist?
Offering virtual visits to your patients
Starting your own dermatology private practice
Offering Virtual Dermatology Visits to Patients
To achieve a successful work-life balance as a dermatologist, it is important to get flexibility in your schedule and increase your productivity.
Teledermatology has many benefits, it allows you to have shorter days, more flexibility, and see more patients, which ensures your income remains the same or it may even increase.
Besides, this technology also enables you to provide care to patients faster and to keep up with the demands of today's digital patients who want convenient virtual healthcare.
On average the You see many patients every day. However, there always seems to be a long time for patients to get an appointment which varies from a couple of weeks to a couple of months in the worst-case scenarios; this is inconvenient for patients and stressful for you.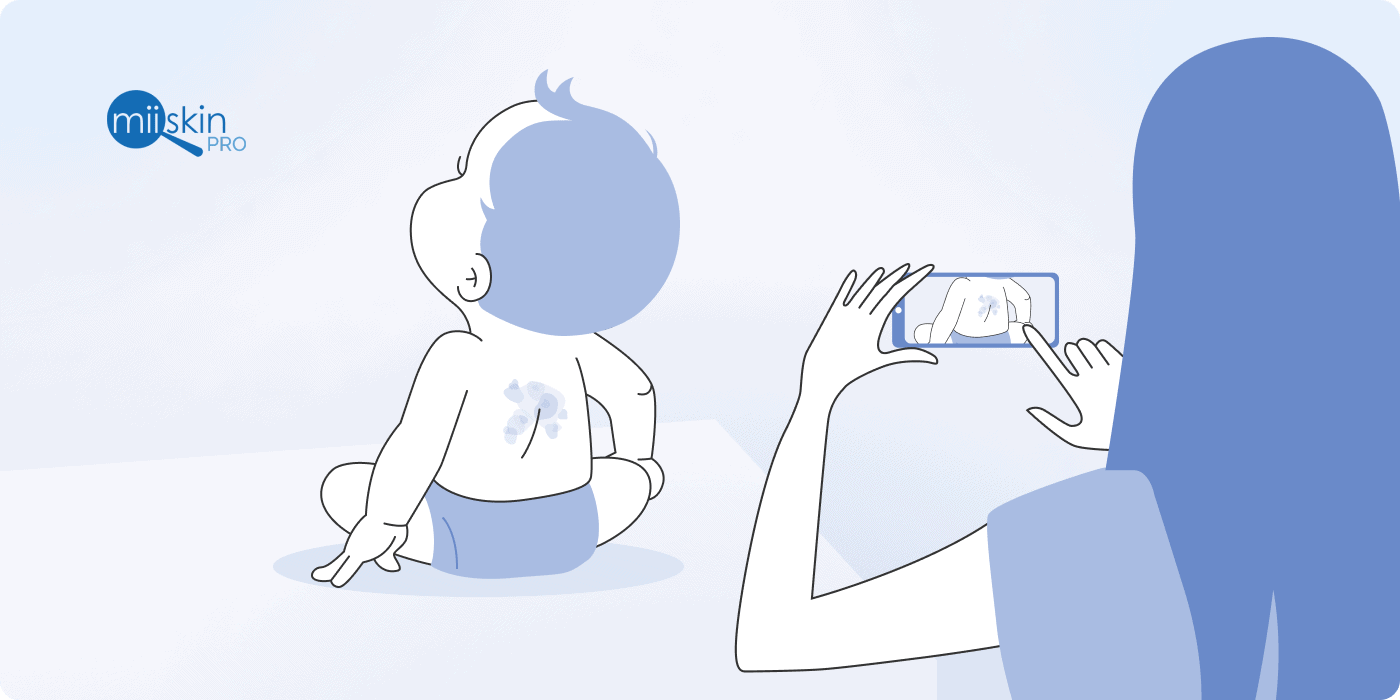 Patients would typically use a teledermatology app to take photos of their skin condition, fill in a questionnaire, and enter their symptoms.
You can view all your patients' requests from home whenever you have time. You can take two courses of action, make a diagnosis and offer treatment virtually or use the request to virtually triage the patient and schedule an in-person consultation on a date that depends on the level of urgency.
They can also use the teledermatology platform to conduct virtual prescription renewal visits without the patient setting foot in the clinic.
By offering a combination of virtual and in-person visits to your patients, you can better manage your workload by increasing efficiency by up to 20% on a daily basis.
Not only are those patient waiting times reduced, but you also add a new revenue stream to the clinic with this additional service.
Asynchronous teledermatology can help you increase your productivity up to 20% on a daily basis, and it allows you to work anywhere, which gives you flexibility.
Starting Your Own Practice
Many female dermatologists choose to open their own private practices because they need flexible schedules. While having your own clinic allows you to work the days and hours you want, it doesn't necessarily mean you will work less.
You may need to do other tasks that you normally wouldn't do as an employee, but at least you can choose when and where to do them, whether you are home with a sick child or while your kids are doing their homework.
If you are considering opening your own practice, we have written a series of articles to help you through this process. Please take a look at the Dermatology Clinic Setup page to find useful tips and resources to help you set up your solo practice.
5 Strategies for Doctors to Achieve a Better Work-life balance
Prioritize Friends and Family
Life is too short; spend your time with people you love and enjoy their company. Spend quality time with people who make you feel good. Friends, children, spouses, and so on. Avoid social commitments you don't want to attend.
Write Down the Day's Achievements
Write down what you achieved during your day. It may be useful to write your to-do list for the day and what you achieved at the end of the day. This can help you identify where you need to spend more or less time.
Delegate or Outsource Tasks
Find strategies to lessen your daily work and home responsibilities, especially if you are suffering from burnout. 
Determine which tasks at work are not essential or are of low importance. Where can you add the greatest value and what's the smartest use of your time, is something that you need to ask yourself. Then, if possible, delegate your other tasks to staff employees.
At home, hire a cook or housekeeper for a few days per week, or hire a landscaping company. Keep the work you enjoy doing and hire someone to handle the rest.
Unplug from Electronic Devices
Try to unplug from technology for an hour each day. Hide your phone and do not turn on the television. You will be amazed at how much more time you can get for yourself when you do this. Enjoy a bath, read a book, bake something, or do some yoga.
Spend Time Outdoors Every Day
Go outside; try walking, cycling, or running. The benefits of being outdoors are endless. Being outside also forces you to slow down a bit. If you can, go without your phone. Make this your time to reconnect with nature, the world, yourself, or your loved ones.
Conclusion
A work/life balance is not something that is just going to happen. You need to work hard to make it happen. However, we hope you can achieve it with the help of the guidelines listed above.
Good luck building a more balanced life for yourself!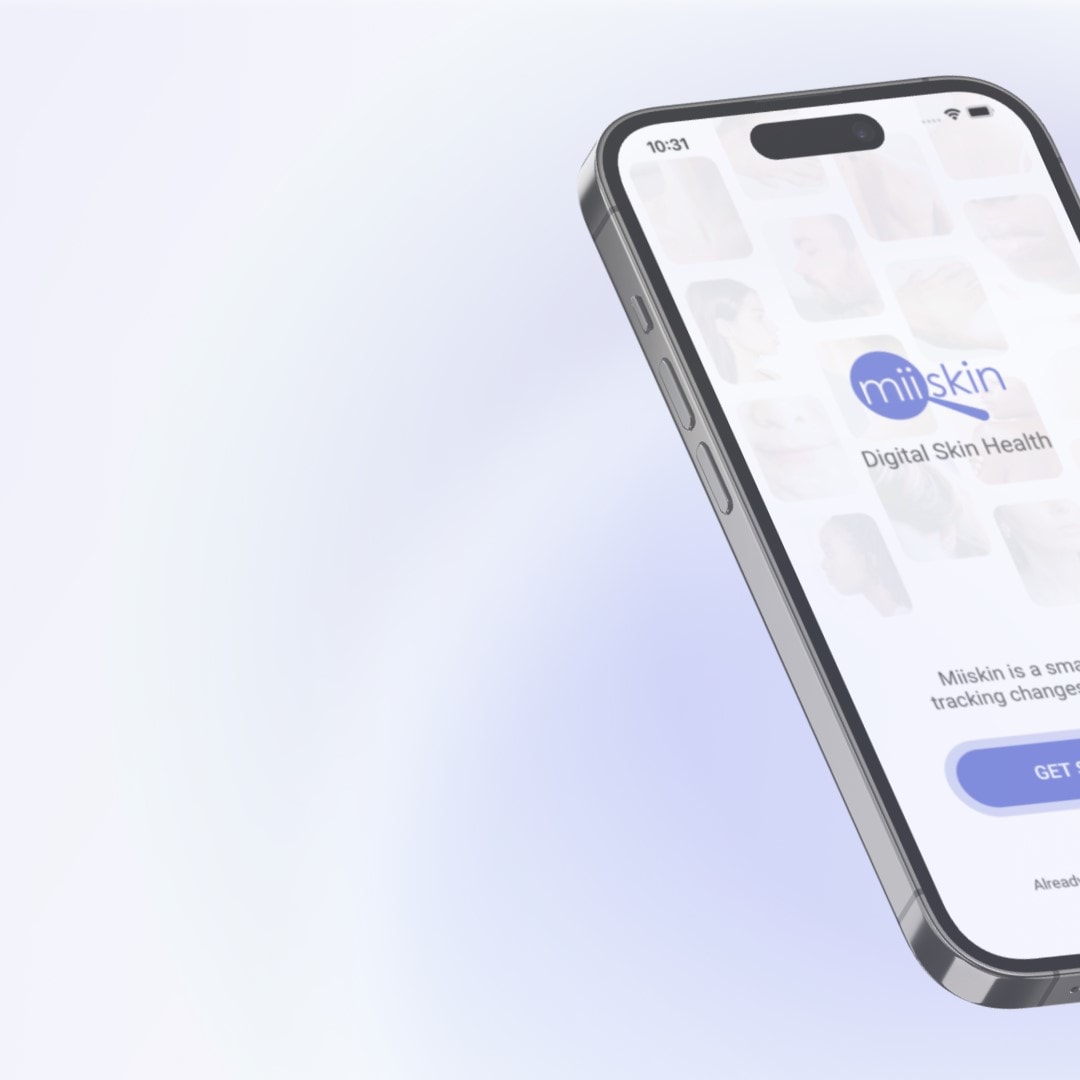 ---
References:
1 https://www.researchgate.net/publication/327270091_THE_NOTION_OF_WORK_LIFE_BALANCE_DETERMINING_FACTORS_ANTECEDENTS_AND_CONSEQUENCES_A_COMPREHENSIVE_LITERATURE_SURVEY
2 https://chghealthcare.com/blog/top-priority-physicians-job-search/
3 https://medicalaid.org/top-5-happiest-medical-specialties/
2 https://www.investopedia.com/financial-edge/1010/top-6-reasons-new-businesses-fail.aspx/
4 https://link.springer.com/article/10.1007/s11205-008-9297-5
5 https://www.acpjournals.org/doi/10.7326/m17-3438
6 https://www.sciencedirect.com/science/article/pii/S2352647521000563#
7 https://pubmed.ncbi.nlm.nih.gov/22911330/
8 https://www.ncbi.nlm.nih.gov/pmc/articles/PMC4120052/#
9 https://www.womensderm.org/UserFiles/file/Publications/Editorials/13_WorkLifeBalance_Dill.pdf

---