Whitepaper: The Future of Skin Monitoring
The ability to monitor the skin is the basis for a broad spectrum of dermatologic condition management.
Whitepaper created by Miiskin
---
According to the Journal of the American Academy of Dermatology's most recent findings, nearly 85 million Americans were seen by a physician for at least one skin disease in 2013, leading to an estimated direct health care cost of $75 billion and an indirect lost opportunity cost of $11 billion1. Access to an accurate, reliable, private means to monitor skin can play a significant role in the future of disease management for both patients and providers.
Across dermatology, three key factors play a role in creating more positive outcomes, and all revolve around patient education and engagement in decision making, and physician access to relevant information.
First is a patient's ability to monitor and document a current state;
Second is documenting treatment and condition development;
Third is open communication and information exchange with a healthcare provider.
The key component in addressing all three factors is the ability for patients to monitor their skin and share the information with their healthcare provider.
Self-monitoring of skin between appointments, either in person or by virtual consultation, allows patients to identify concerns which need discussion with their dermatologist, simultaneously improving care and creating additional revenue opportunities for the clinic.
Miiskin is the most popular consumer skin tracking platform in the world (600,000 users), widely recommended by the dermatology community (160 clinical partners) and a partner of The Skin Cancer Foundation.
Professional solutions
The Miiskin PRO solution uniquely combines Miiskin's advanced patient-centric features that make taking high-quality skin photos easy to do on your own with the store-and-forward technology healthcare providers are seeking.
The exchange of high-quality informational images, commonly known as store-and-forward, is more important than ever in dermatology. As patients are empowered to proactively manage their health, remote patient monitoring is increasingly viable and virtual, and video consultations are in higher demand as a result of the coronavirus pandemic.
Research shows that store-and-forward solutions come with a number of advantages to live video conferencing, including more privacy and increased flexibility to both patients and clinicians. Research also concludes the use of high-quality images in virtual consultations provides high patient satisfaction.
With Miiskin PRO, providers can offer free use of Miiskin to their patients and then access the high-quality photo diaries of patients' moles and wider skin areas.
High-quality photos taken over time can improve medical decision-making during most types of consultations. A photo diary of skin health fills in the gaps to supplement what the clinician sees and is told in the physical or virtual appointment. Thanks to dermatology telehealth and virtual consults, these photos also can alleviate issues with video quality that make observing conditions more challenging.
"With thousands of users taking photos of their skin every month or so, the impact of this app is clear: offering patients useful digital tools at no cost to them can help dermatologists improve the quality of in-office care. Providing better care to patients is advantageous to any practice,"

– says Dr. Andrew Weinstein, MD, of Boynton Beach SKIN, the first practice in the U.S. to implement the new Miiskin PRO telehealth solution.
Current components in skin cancer prevention
While it's not a diagnostic program, the Miiskin app is recommended by dermatologists and healthcare providers to help simplify skin self-examination and visual documentation through taking high-quality photos to monitor changes over time.
Compliant with health data requirements (HIPAA in the U.S.)
As a platform compliant with health data requirements (HIPAA in the U.S.), Miiskin offers a direct way to provide photographic information to medical professionals when at an in-person or online consultation or between consultations.
The first AI-powered app for skin tracking
The first AI-powered app to offer skin tracking using images of both individual lesions and rashes and wider-body skin areas, it offers side-by-side photo comparisons, reminders for routine checks, and a wealth of information to empower users to identify concerns to discuss with their doctors.
Miiskin is not a diagnostic tool
With a foundation in helping track skin and moles as a means to monitor for signs of skin cancer, Miiskin is not a diagnostic tool but can help patients be proactive in conjunction with their doctors to identify changes that may be of concern, especially when it comes to melanoma.
The Miiskin app helps users structure a process around skin self-examinations and allows users to take and keep photos of skin and lesions for monitoring over time. In addition to simply photographing and tracking individual moles, Miiskin uniquely provides ways to help users take higher quality photos and identify lesions they might have missed.
Full-body photos: Manual full-body photography and Automatic skin imaging
Full-body photos can be acquired by the patient in two different ways. Manual full-body photography allows the user to record the four largest areas of their skin — front torso, back torso, front legs, and back legs and requires a helper to take the photos. The aim of such wide-area photography is to allow the skin to be monitored for the appearance of new marks or moles. Roughly 80 percent of melanomas appear as new marks or moles and 20 percent come from existing moles, according to The Skin Cancer Foundation. The full-body photos can now also be taken with the groundbreaking Automatic Skin Imaging feature.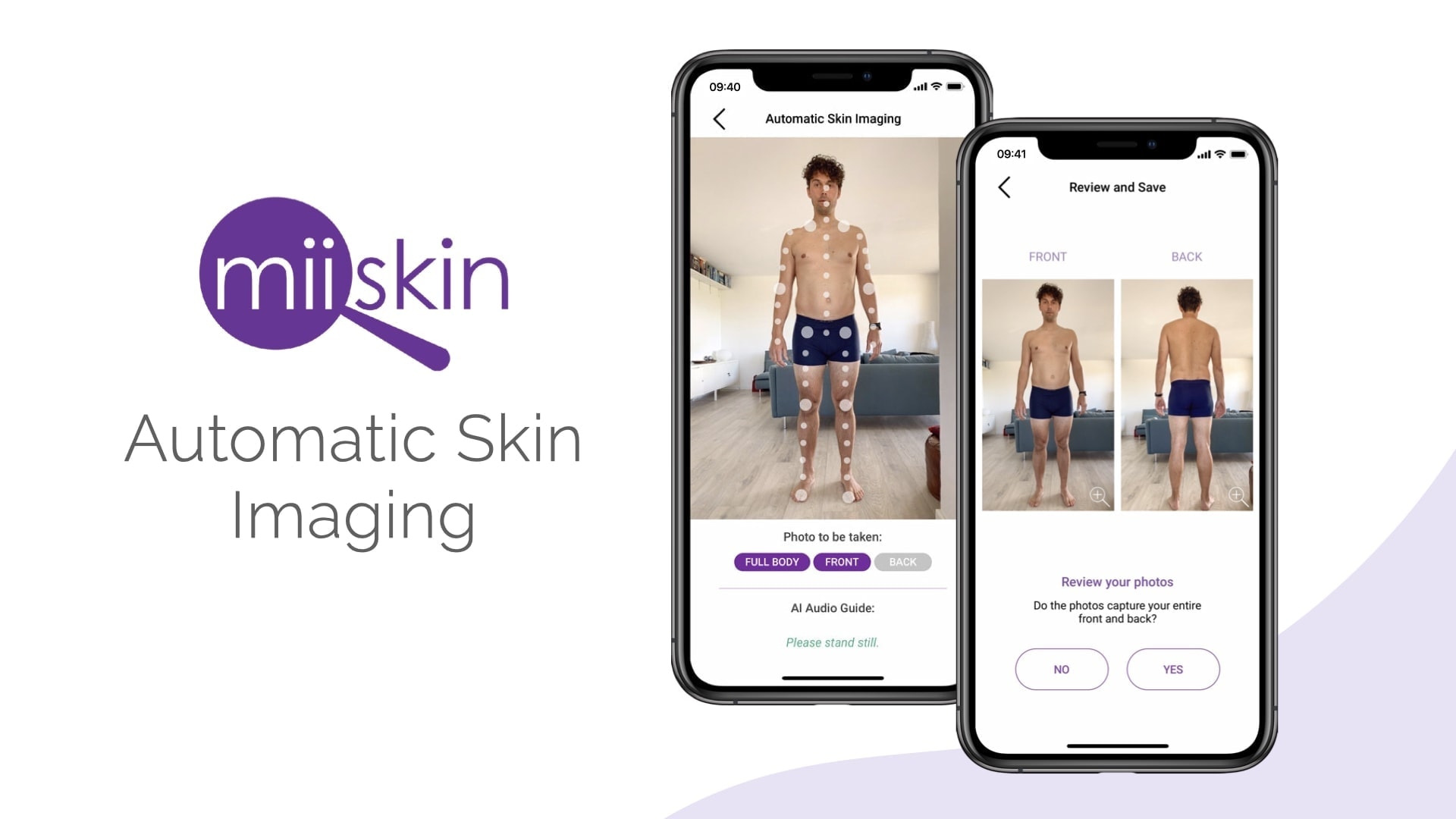 The Automatic Skin Imaging feature leverages a unique combination of Apple's computer vision (CV) and augmented reality (AR) frameworks to enable patients to take full-body images (front and back) independently with assistance and guidance from the app without having to actually touch the camera button. The platform allows the patient to lock a central point on two photos, align them and zoom into both concurrently for magnified comparison. The photos are securely backed up and separated from the phone's photo gallery. It easily and conveniently allows patients to collect information that can be shared with a provider.
Skin mapping and Mole mapping features
Skin Mapping is based on the mole mapping methods used by dermatologists. It primarily helps users identify new marks or moles on the skin. The app identifies and highlights moles and marks that it can find on the skin. The patient can edit the marks highlighted by the app, make manual additions, then save them for future comparisons. Subsequent photos can then be compared side by side to the "map" in the app's Web Compare portal online, with the highlighted and edited "map" as a clear reference point. It's a practical technology that helps a patient do something close to what a dermatologist would do in-clinic.
Mole sizer feature
A new Mole Sizing feature allows users to measure moles or lesions by using the app and a reference object such as a coin. During skin self-examinations, size and changes are essential elements to evaluate when monitoring moles for potential signs of melanoma. The Mole Sizing feature deploys the latest machine learning and augmented reality technology to help users measure mole sizes and compare changes.
With a smartphone camera, users photograph their mole next to a reference object such as a coin. The user then specifies which reference coin they are using and the mole's longest dimension, allowing the app to deploy machine learning and augmented reality technology to measure and record the lesion's size. Reference coin options include U.S., U.K and EU currency.
Changes in a mole including size or a mole that's greater than 6mm are signs of possible skin cancer, especially melanoma. Monitoring and tracking changes to diameter, shape and color over time can help the user see if the mole evolves, which is a warning sign of melanoma. The development of the "Sizing" technology will permit other marks on the skin, and on specific areas of the skin, to be measured. The goal is to expand the capabilities to measure the surface area of other marks which would multiply the use cases to other skin conditions.
Conditional applications
The ability for the Miiskin app to simply and conveniently take wide-area images and photograph specific areas of the skin, with imminent functionality to enable longitudinal face monitoring, opens the door to a wide realm of other therapeutic possibilities for monitoring other skin conditions beyond melanoma.
Miiskin platform technology can assist with detection and management of a variety of conditions related to dermatology as well as a range of wound care scenarios.
Acne
According to the American Academy of Dermatology Association (AADA), acne is the most common skin condition in the United States, affecting up to 50 million people annually. More than 5.1 million people sought medical treatment for acne in 2013.
A skin monitoring app that includes a photo diary to track the objective assessment of disease progression over time and to provide information to assess treatment effectiveness would aid providers by helping ensure quality accurate data on which to base medical decisions.
The Dermatology Online Journal from the University of California – Davis2, cites a critical analysis of mobile apps related to clinical management of acne. The study established 10 pertinent features for an app – six essential and four desirable. Of the 25 Apple and Google apps classified as interactive, informational, or teledermatological, none of those evaluated contained all 10 features, but it was suggested that future development should include the ability to take and store longitudinal images, event tracking, and a treatment journal. Miiskin addresses those critical components with upcoming improvements to enable the patient to easily log events and changes in their treatment.
Most apps currently available only offer the ability to take pictures of the front of a face. Miiskin's multi-angle face tracker with left side, front on and right side images will provide a full spectrum of consistent images that can safely be shared with a provider for ongoing case management. This is a vastly different capability to both take images from multiple angles, store them and track changes.
This can help patients track breakouts and help providers better gauge treatment effectiveness. The ability to use Automatic Skin Imaging to take photos of the chest and/or shoulders for people who suffer more extensive disease enables patients to share a visual record with their providers of the status and extent of the condition.
Eczema
Eczema, also known as atopic dermatitis, affects up to 25 percent of children and 2-3 percent of adults. In 2013, the costs associated with the treatment and lost productivity among those who sought medical care for atopic dermatitis was $442 million, according to the AADA.
In a systematic assessment3 of eczema apps from July to November 2018, the majority of available eczema-specific apps have a tracking function but there's still a need for quality education information and a means to log environmental or dietary factors which can be vital to helping healthcare providers understand a patient's triggers. It also can be important to check psychological status including sleep, stress, and mood, as well as disease management.
Miiskin fills the void by providing the capability for wide area photography to monitor the condition and any flare ups. The user can define the area to be monitored which makes it easier to track conditions that present in multiple places. Users with conditions such as eczema that flare up under specific conditions can benefit from being able to track possible triggers such as diet, weather or other stressors. They can then work with their healthcare providers to monitor disease progression and treatment using tangible information along with the images.
Psoriasis
The AADA reports that the most common form of psoriasis – plaque psoriasis – affects about 80 to 90 percent of patients. Approximately 7.5 million people in the United States have psoriasis with about 80 percent presenting with mild to moderate disease, while 20 percent have moderate to severe psoriasis which affects more than 5 percent of their body. Monitoring the condition and progress – for better or worse – can be difficult when the snapshots are limited.
For a skin monitoring app to be effective, it must be capable of monitoring the area of skin covered by the condition to assess disease progression and treatment effectiveness as well as help understand potential triggers. User defined Skin Imaging of specific areas of the skin enables patients to capture photos of larger, defined areas of the body to monitor and to track their condition through treatment and record when there are flare-ups. Monitoring changes in the condition can be helpful in tracking triggers to then better control the condition. This full-circle documentation provides a stronger basis for both diagnosis and case management by the provider.
Rosacea
Rosacea affects 16 million Americans, and according to AADA, in 2013, more than 1.6 million people sought treatment for the disease. Documenting and tracking the condition and possible triggers can help healthcare providers work with patients on better condition management. Miiskin features for multi-dimensional face tracking can provide a more complete picture of a patient's condition before, during, and after treatment. Being able to see the left, right, and front of the face in stored images provides the full perspective of how rosacea is affecting each area.
Wound management
Wide area skin photography in an app that's simple and convenient can be a tremendous asset to wound care. The ability to monitor changes in the size of post-trauma or surgical wounds could be invaluable to ensuring patient recovery. Keeping a photo diary of the specific skin area of a wound, ulcer, or scar to monitor progress enables a provider to assess whether there's appropriate healing. This provides a more comprehensive medical history for better case management. Doctors can use the information to intervene before serious problems occur.
Aesthetic purposes
Dermatology is linked to appearance on many levels, but the issues are more than skin deep. According to data from the American Society for Aesthetic Plastic Surgery4, there were more than 2.6 million injectable procedures in the U.S. in 2018. As cosmetic procedures such as collagen and botulinum toxin injections become even more mainstream, the need to monitor and assess the effectiveness and potential after-effects continues to increase.
The Miiskin app offers tools that are viable for observing a broad range of situations and conditions, including cosmetic procedures and general personal appearance. The multi-angle face tracker can help monitor the effectiveness of skin care regimes on the appearance of wrinkles, dry patches, red patches, or blemishes over time. Users and their providers can track images to see how injectables hold up and whether there are any negative side effects that require attention.
Alopecia affects 147 million people worldwide5. Tracking patterns of hair loss and regrowth in alopecia patients can help patients feel more in control of their condition and assist providers with monitoring symptoms as well as the effectiveness of treatment. With symptoms affecting the scalp, face and other areas of the body, an app with the ability to take quality images of different areas without needing assistance from another person is invaluable. Miiskin enables patients to securely store those images and share them with healthcare providers. The app also can help with studies regarding disease triggers by providing quality, consistent data.
Future implications
There's a common thread among multiple dermatologic conditions – the need for patient education and engagement through a means to effectively monitor and track their skin. And, the ability to securely, conveniently share that data and imagery with their doctor. Efficiently documenting their situation and providing quality information to a clinician provides an effective condition management pathway, which in turn offers peace of mind for a patient and real-world solutions for providers.
There are myriad apps on the market, but they are often segmented. Miiskin offers features capable of addressing the needs of multiple conditions through existing features and others available shortly. The app's capability to be a multi-functional tool for both patients and providers offers broad opportunities to assist with more than one condition.
As examples, Skin Mapping can help with acne as well as melanoma, and multi-dimensional face tracking can assist with tracking acne or rosacea as well as monitoring moles. Multi-functionality will continue to evolve with platform extensions and improvements.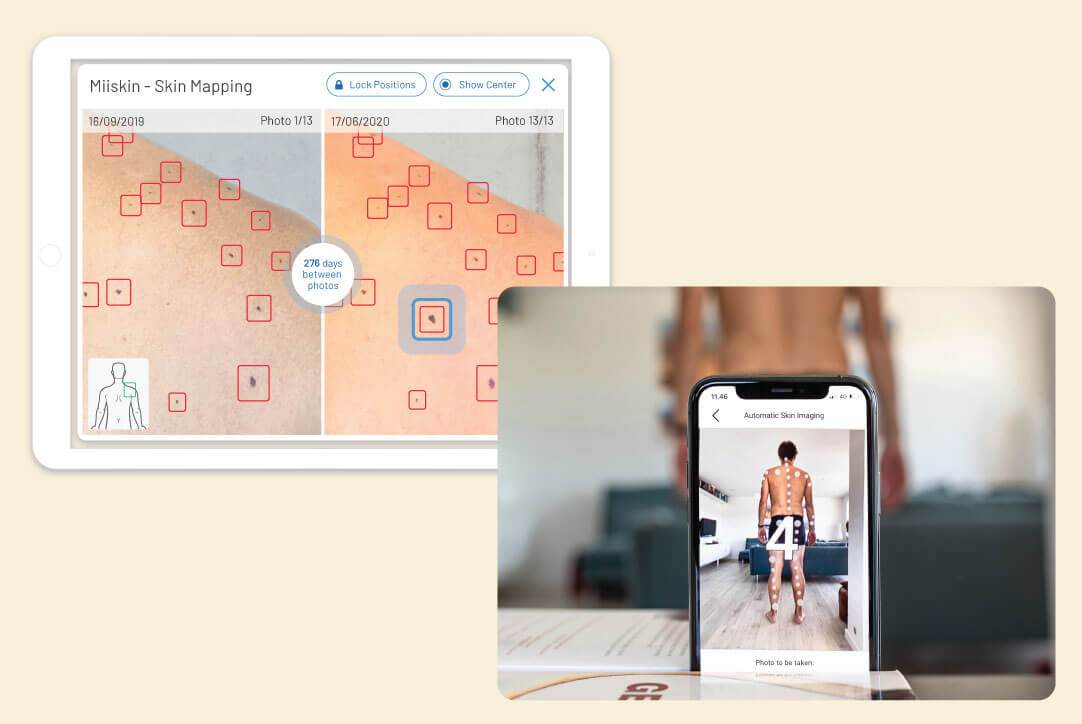 With Miiskin PRO, providers can offer free use of Miiskin to their patients and then access the high-quality photo diaries of patients' moles, wider skin areas, and the face to assist with monitoring a broad variety of skin conditions.
High-quality photos taken over time can improve medical decision making during all types of consultations. A photo diary of skin health fills in the gaps to supplement what the clinician sees and is told in the physical or virtual appointment. In virtual consults, these photos also can alleviate issues with video quality that make observing conditions more challenging.
When patients monitor their skin between either in-person or virtual appointments they can better identify concerns to discuss with their dermatologist, simultaneously improving care and creating additional revenue opportunities for the clinic. In addition, Miiskin can assist dermatology providers to identify and engage with new patients in their area who are already using the Miiskin app.
Miiskin's viability for monitoring moles is well documented. As additional features such as multi-angle face tracking, event and treatment logging as well as customized patient education are continuously added, the applications for expanded therapeutic areas will continue to expand. Working with dermatology professionals helps evolve the possible implementations of the technology to help more patients address their specific conditions and more providers offer quality case management.
---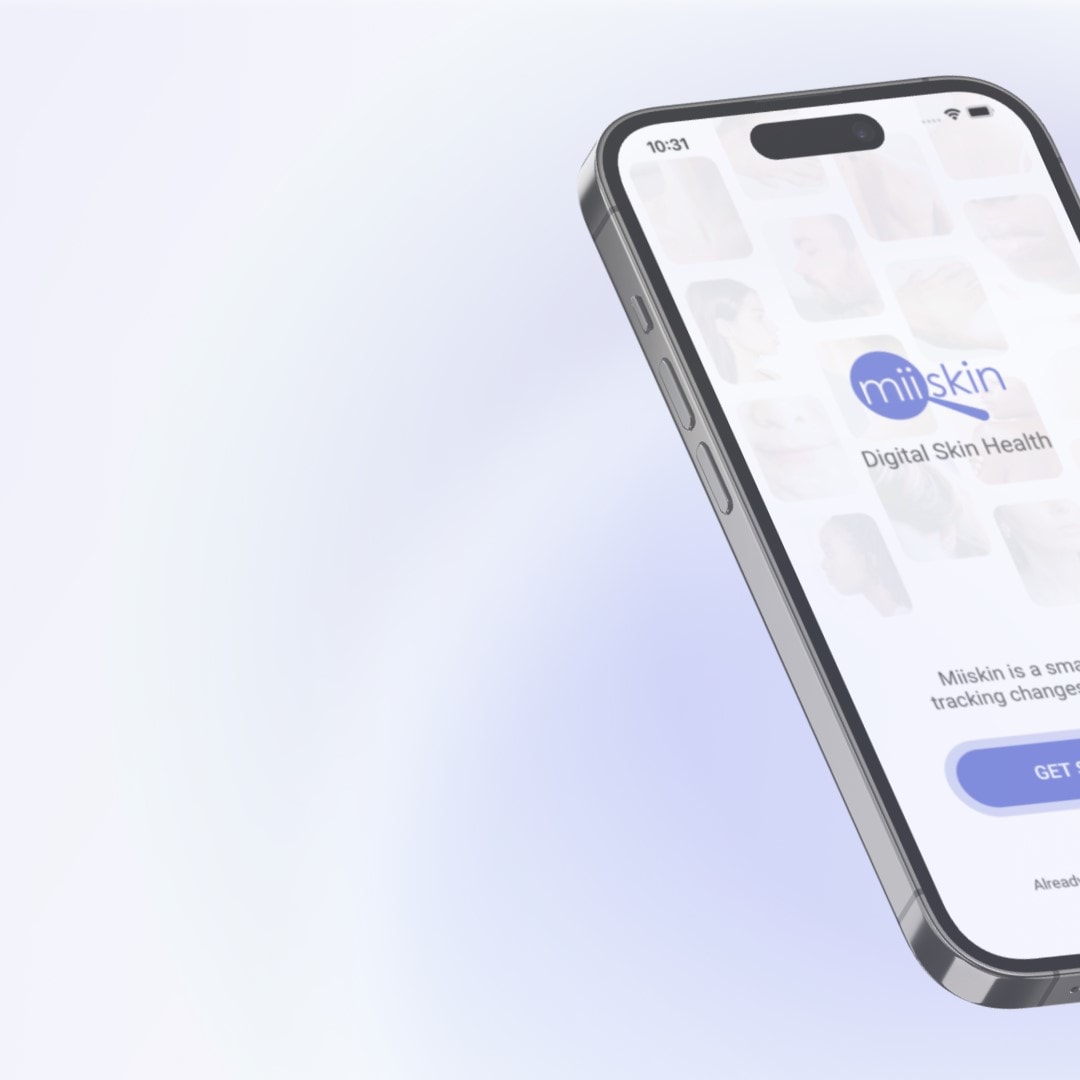 References:
1 https://www.jaad.org/article/S0190-9622(17)30016-6/fulltext
2 https://escholarship.org/uc/item/1668h2kt
3 https://spiral.imperial.ac.uk/bitstream/10044/1/72279/2/Galen_et_al-2019-British_Journal_of_Dermatology.pdf
4 https://www.surgery.org/sites/default/files/ASAPS-Stats2018_0.pdf
5 https://www.naaf.org/

---