Ian Warrener
The Miiskin app helps Ian track changes to his skin between check-ups, while living thousands of kilometres away from the nearest skin clinic.
---
Two years ago, Ian Warrener was diagnosed with malignant melanoma after going for a health check when he turned 50.
When reaching his milestone birthday, Ian decided to have a general medical check-up and the doctor flagged three moles – one on his chest and one on each leg that they wanted to test. He then went on a 3,000km journey to his nearest skin clinic.
Living in Kununurra, Western Australia, bookkeeper Ian enjoys an outdoors lifestyle and regularly spends time outdoors, doing his garden or being on his motorbike.
Ian, now 52, said:
"I've always spent a lot of my time in the evenings or at the weekend outdoors. I do burn quite easily and burnt a lot when I was younger. I'm covered in so many freckles that I didn't notice my moles getting bigger – it's something you see every day so you don't notice any changes."
Ian said: "My moles were tested and the two on my legs came back as melanoma. I was really shocked with the diagnosis as I hadn't noticed the moles changing in shape and they didn't cause me any pain or irritation.
"I had two operations to remove the moles from both of my legs. I thankfully now have the all clear, but still need to regularly check for changes to my skin."

Ian was looking for an app to help him track changes to his skin while living far away from the nearest skin clinic.
Ian is now high-risk for getting melanoma again, so he has to pay close attention to his skin. However, living in a remote area thousands of kilometres away from a skin clinic for routine check-ups made this challenging. It was then that his doctor recommended finding an app to help him regularly check for changes to his skin, so he could quickly seek medical advice if he noticed any changes to existing moles or the appearance of new marks on the skin.
Ian added:
"I did some online research and found that Miiskin does everything I wanted it to do. It helps me track any changes to my skin and also gives me notifications when it's time for my next check so there's no risk of me forgetting it."
"Going to skin clinics regularly for a check-up is unrealistic for me as it would take so much time and money for me to travel there. The app isn't a substitute for visiting a doctor, it just means that I can keep my own records of any new changes to my skin and seek medical advice if I spot anything worrying.
"Before I was diagnosed I wasn't really aware of the signs of skin cancer. We had the 'Slip-Slop-Slap' message about preventing cancer, but not what to look out for to spot it. Now with the Miiskin app I can keep one step ahead of the cancer."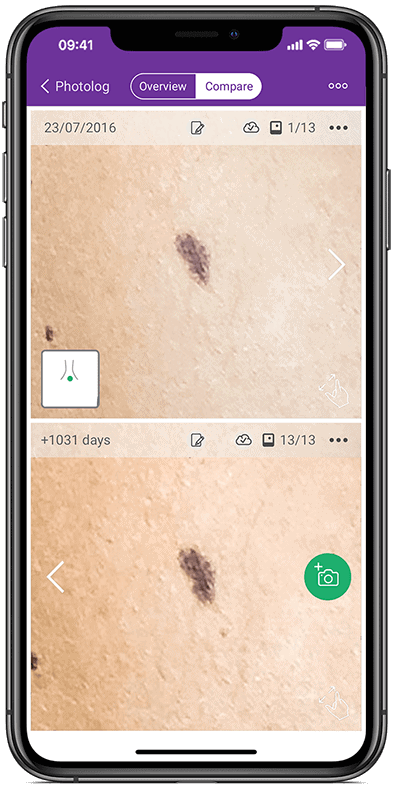 Monitor your moles for changes with Miiskin Premium
Monitor your moles for changes using close-up photos.
Monitor for any new spots on your skin as whole.
Photos are securely backed up aside from phone's gallery.
Examine your photo series side by side on a big screen.
Automatic Skin Mapping to highlight moles and marks.
You can try Miiskin Premium 30 days for free. Don't worry, if you cancel within the trial period you won't be charged.