Exploring the advantages of using dermatology telehealth services
Get an overview of the advantages of using dermatology telemedicine services and the most frequently asked questions patients have about this type of service including the waiting time and the price range.
Author Jennifer Highland, Content Manager of Miiskin | Reviewed by Jon Friis, founder, and CEO of Miiskin
---
In today's fast-paced world, innovations in healthcare are reshaping the patient experience. Among these transformative changes, telehealth has emerged as a game-changer, and dermatology is no exception. With dermatology telehealth, patients can now access skin care expertise from the convenience of their homes.
In this article, we dive into the world of virtual dermatology, explaining the remarkable benefits it offers, the skin conditions that can be treated via telemedicine in dermatology, the price range, how to start a virtual consultation and if this type of visits are covered by your insurance health plan.
What is telehealth/telemedicine in dermatology?
Dermatology telemedicine allows healthcare professionals to evaluate, diagnose, and treat various skin conditions without the need for an in-person visit.
The most common type of technology used In dermatology is store and forward telehealth due to its convenience for patients and providers.
This technology lets you send medical information (your symptoms and photos of your skin problem) to a healthcare provider for evaluation at a later time. It is convenient since it can be done from wherever you are, it gives you access to a specialist when you need it, you can skip the waiting times associated with seeing a specialist.
What skin conditions can be treated with dermatology telemedicine?
Acne
Wrinkles
Melasma (hyperpigmentation)
Hair loss
Rosacea
Eczema
Common skin rashes
What medications can be prescribed with a dermatology telehealth visit?
There are many medications that can be prescribed for skin problems over virtual consultations. However, some of the most popular and widely prescribed medications include:
Request a dermatology prescription now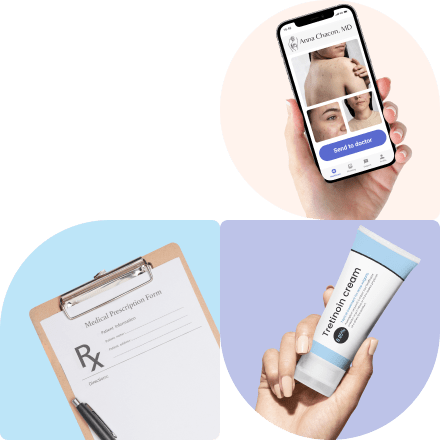 How does a dermatology telemedicine consultation work?
Patients can request a new telehealth consultation with an online dermatologist, take photos of their skin problem and answer a short questionnaire in which they describe their symptoms and other information required by providers.
In most cases, patients also need to enter their credit card details, however the amount is "only charged" after the provider reviews the request and completes the consultation.
When the provider reviews the patient's request, they come up with a treatment plan and prescribe a medication (or medications). This interaction happens without both parties being available at the same time.
Patients can also renew their existing prescriptions virtually following a similar, but simpler procedure.
Benefits of dermatology telemedicine visits
Increase access: Dermatology telemedicine visits allow patients to access healthcare services from anywhere, breaking down geographical barriers and providing access to specialists without the need to travel.
Convenience and flexibility: Through store and forward telehealth, patients can engage with healthcare professionals at their own convenience, eliminating the need for simultaneous appointments and accommodating busy schedules.
Shorter wait times: E-consults enable patients to receive faster access to care, as they can submit information and receive responses within one to two days.
Cost savings: Patients can save time and money by avoiding the commute to healthcare facilities and potentially taking time off from work for in-person appointments.
Continuity of care: Telemedicine ensures consistent follow-up care, enabling ongoing monitoring and management of chronic conditions.
Access to educational resources: Patients can easily access educational materials, videos, and resources to better understand their conditions and treatment plans.
Increased patient engagement: Telemedicine platforms encourage patients to take a more active role in their healthcare, leading to increased engagement and empowerment.
Ease of specialist consultations: Patients can seek second opinions or consultations with specialists seamlessly through telemedicine, without the need for in-person visits.
Efficient prescription refills: Patients can conveniently renew prescriptions online, eliminating the need to visit the healthcare provider's office solely for refills.
How to get a dermatology telemedicine consultation?
You just need to click here to start a consultation with a licensed dermatology provider in your state.
How long does it take to get an answer with dermatology telemedicine?
A telehealth consultation via Miiskin typically takes 1-2 days to get an answer.
Can patients get medication with dermatology telemedicine?
Yes, in many cases you will get a prescription after an online consultation. If you would like to request a specific medication, you can mention this to your healthcare provider and if it is medically adequate and safe for you, you may get it.
How much does a telemedicine visit for dermatology costs?
A dermatology telemedicine consultation via Miiskin costs $59, which is less than the copay most private health insurances charge for an in-person visit to the local dermatology clinic.
But in general, the price of online dermatology consultation ranges from $50 to $200 depending on the type of technology used (live video conferencing tends to be more expensive) and the provider you chose.
Are dermatology telemedicine visits covered by private insurance companies?
A dermatology telemedicine visit via Miiskin cannot be paid using private health insurance, but that is not a problem as the copay for most insurance companies is typically higher than what you would pay for a consultation.
However, your medication may be covered by your health insurance plan.
Do Medicare and Medicaid cover telehealth dermatology visits?
Medicare and Medicaid cover virtual dermatology in some states: Alaska, Washington, Minnesota, Michigan, New York, Vermont, Maine, Iowa, Oregon, Nevada, Missouri, Kentucky, West Virginia, Maryland, California, Arizona, Tennessee, Virginia, New Mexico, Texas, Georgia, Hawaii, Ohio, and North Carolina. It is, however, our experience that there is better coverage for Telehealth consultations from private payers.
Can patients have a telehealth consultation with a dermatologist for an emergency?
No, in case of emergencies, call 911 in U.S and 112 in Europe.
Request a dermatology prescription now!