Joy Proctor
A 29 year old pharmacy technician experienced an itchy mole on her back which turned out to be cancerous.
---
Stock photo by Romina Farías
Joy Proctor is a 29 year old pharmacy technician from Kenilworth near Coventry who works for the NHS.

"I have quite a few moles and I remember being quite young when my Dad had a mole removed from his shoulder. As a result I have always been careful to check my skin and moles."
In 2016, Joy became acutely aware of an intensely itchy mole on her lower back.

She comments "The itching was awful. Even having a hot shower was almost unbearable, so I went to my doctors as soon as possible. The mole looked normal but I was quite insistent that something was not right and I pushed for the mole to be removed."

The mole was removed. When she received the results 2 weeks later, despite her young age, she was advised that the results showed precancerous changes to the mole which would probably have become cancerous over time if left alone.

"It's very important to trust your own instincts. You know your own body better than anyone and I was very relieved that future problems were avoided. "
Miiskin helps Joy to now be more proactive about her skin health
Following this frightening experience, Joy wanted to be more proactive about keeping an eye on her skin, and so after searching the internet and App store she found Miiskin. With the help of her partner she now takes regular photos of her back using the App.

"Miiskin is very helpful to keep photos organised, and it gives you useful prompts when it's time to take another photo. This helps me remember to take photos, even with my busy life. My experience shows that you can't be too young to be at risk from skin cancer, and so it pays to be careful."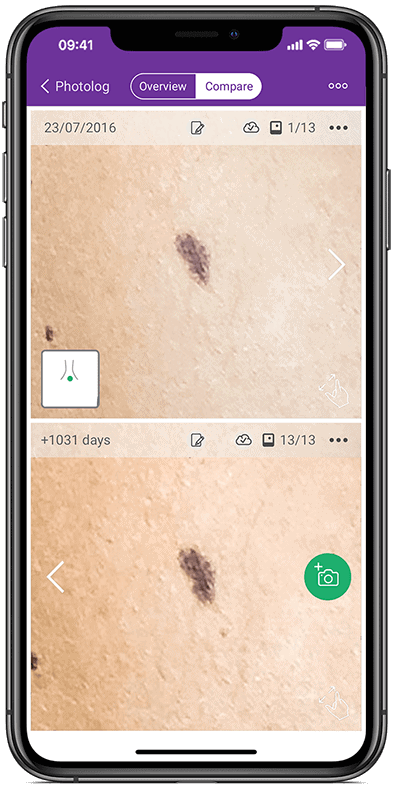 Monitor your moles for changes with Miiskin Premium
Monitor your moles for changes using close-up photos.
Monitor for any new spots on your skin as whole.
Photos are securely backed up aside from phone's gallery.
Examine your photo series side by side on a big screen.
You can try Miiskin Premium 30 days for free. Don't worry, if you cancel within the trial period you won't be charged.