Emma Hawke
Sunbathing in oil as a teenager led to skin cancer for 36-year old Emma
---
During the 1990s, Emma Hawke used tanning oil with a very low sun protection factor in a bid to get the perfect tan – and went on to develop skin cancer in her 30s.
Emma, now 36, applied oil to her skin whist she was on holiday with her friends as a teenager, as well as using it to sunbathe in her garden to try and get her fair skin more golden in the British sunshine.
Emma, from Eastleigh, near Southampton, said:
"It was the thing to do back then in the 90s – use oil to help you get a tan and lemon juice to lighten your hair. I never thought that it would have any long-lasting damage to my skin."
In 2017, mum of two Emma, who works in clinical research, developed a mole on her arm which had an irregular border.
She said: "I have a lot of moles so didn't really think anything about the one on my arm. I was at a meeting for work and there was a dermatologist there who asked me if I'd had the mole checked out. It played on my mind so I went to the doctors.
"I was shocked to be diagnosed with grade 1b melanoma. I had the mole removed and a biopsy of my lymph nodes, which thankfully came back all clear."
Miiskin helps Emma to track her moles regularly
Since her diagnosis two years ago, Emma has a check-up every six months with her dermatologist who looks at every mole.
Emma added: "Between check-ups they leave it up to you to monitor your moles and recommended taking photos of your skin to see if there has been any changes. I have so many photos in my camera roll that they just got lost in there."
It was then that Emma discovered the Miiskin – the app that supports the work of the British Skin Foundation – which she downloaded to help her keep track of any changes to her skin. Emma said: "Using the app is so much easier as the photos are kept together so you can easily compare your moles. The comparison photographs can be taken with you to the dermatologist so they can easily see any changes.
"I have a busy lifestyle and would definitely forget to check my skin, so I opted for the push notifications and the app reminds me every 28 days that I need to take photos of my moles."
Since her diagnosis, Emma has also recommended the Miiskin app to lots of people including her mum and dad who also have fair skin. She now avoids going outside when it is very hot and is strict when it comes to applying sun cream.
Emma concluded: "I'm very cautious now when it comes to being in the sun, particularly with my two boys Sam, 9, and Toby, 6. I always make sure they have sun cream on before going to school and even avoid things like sun exposure through glass. I don't want them to make the same mistake as I did when I was younger."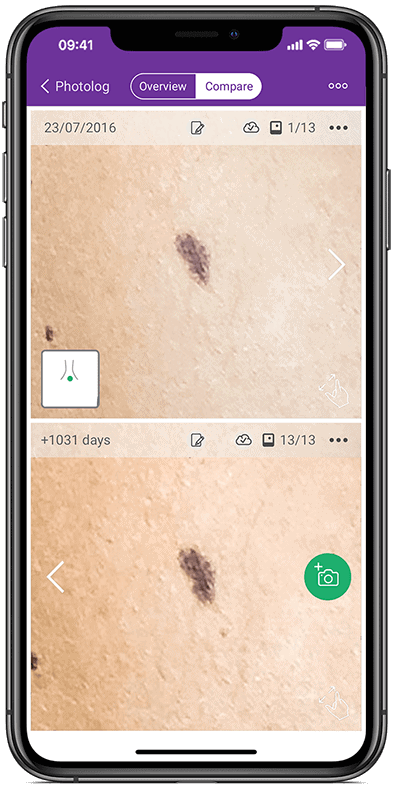 Monitor your moles for changes with Miiskin Premium
Monitor your moles for changes using close-up photos.
Monitor for any new spots on your skin as whole.
Photos are securely backed up aside from phone's gallery.
Examine your photo series side by side on a big screen.
You can try Miiskin Premium 30 days for free. Don't worry, if you cancel within the trial period you won't be charged.