Digital Patient Engagement Platform: Benefits and Applications
Get an overview of what digital patient engagement is, how digital platforms support it, and what are the benefits and applications of using this type of tools.
Author: Jennifer Highland, Content Manager of Miiskin | Reviewed by: Jon Friis, Founder, and CEO of Miiskin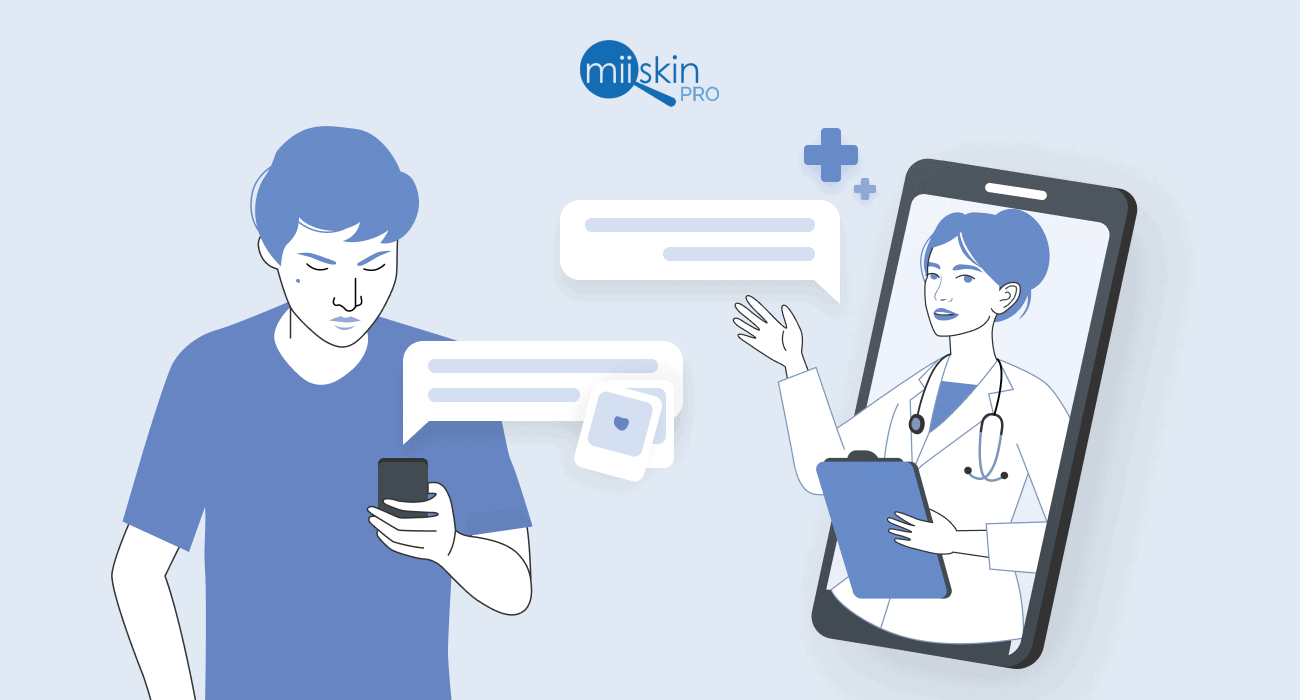 ---
Patient engagement has become a critical strategy for successful healthcare organizations, as patients are now seen as co-owners of their care plans.
Patient engagement can be defined as a collaborative relationship between patients and physicians facilitating a patient's ability to participate in their own health care1. This relationship results in a better quality of care, improved clinical outcomes, reduced costs, amplified satisfaction, and improved patient-provider relationships2.
However, patient engagement does not come easily, and in order to successfully engage patients in their own care, physicians need to rely on digital tools that empower patients to actively engage with their healthcare team.
How can you identify the best digital patient engagement software for your practice? As a starting point, it's important to know what a patient engagement platform is and what features it needs to have to be able to offer your care team and each patient.
It is essential that patients are able to understand their own health data, work with their providers to establish goals and develop interventions, track progress toward achieving goals, and evaluate the effectiveness of interventions over time.
What is Digital Patient Engagement?
Digital patient engagement is defined as a patient's ability to be involved in their own health care with the use of digital health tools such as wearable technology and mobile health apps3.
Patients gain access to digital engagement tools via their smartphones; this way, healthcare becomes more convenient. Digital patient engagement can take place in many ways, from automated patient engagement solutions like SMS reminders for upcoming appointments to the electronic collection of patient information.
What is a Digital Patient Engagement Platform?
A digital patient engagement platform also referred to as e-health or mobile health, is a digital interface with useful functionalities to keep patients engaged in their own care.
Digital patient engagement tools may include features such as appointment scheduling and check-in, general communication with the staff, patient education, and the collection of patient information such as health records, insurance and payment information, and more.
Mobile Health (mHealth) tools are useful for patients and providers because they provide a seamless experience and empower patients to have a more active role in their treatment.
When patients have the necessary tools to become actively involved in their own healthcare journey, this not only keeps them happier, but it can also improve the overall quality of care and patient satisfaction.
Applications of Digital Patient Engagement Platform
What Can a Digital Patient Engagement Platform be Used for?
Automate patient intake processes: Digitally collect patient information such as medical history, insurance, and payment information.

Virtual Scheduling: Allow patients to schedule, reschedule and cancel appointments online or to request asynchronous care on your website.

Virtual Appointments (Telemedicine): Synchronous and Asynchronous Telemedicine have increased considerably during the last couple of years, with patients reporting a 95% higher satisfaction rate with telemedicine visits4.

Patient Notifications: Patients receive instant notifications if their asynchronous care request was reviewed, their physical appointment was canceled or rescheduled, or if their prescription is ready for pick up.

Appointment Reminders: Send patients reminders of their scheduled appointments, and remind them to schedule follow-up appointments.

Two-way Communication: Allow patients to communicate with your clinic and if they have any questions or concerns.

Collect Patient Feedback: Send automatic patient feedback surveys after they visited your clinic or had a virtual appointment. Show patients that you care about their experience and promptly respond to negative feedback solving any issues that may have occurred.
Benefits of a Digital Engagement Platform
Automate Manual Tasks: Allow patients to enter all their information directly into the digital engagement patient app without staff's involvement.

Boost Patient Acquisition: digital health tools and telemedicine visits are in high demand by patients. Attract these patients to your organization by delivering efficient virtual care.

Increase Patient Retention and Satisfaction: Patients report a 95% higher satisfaction rate with telemedicine visits5, due to the convenience they bring. By offering a mobile health tool and virtual visits to your patients, you will increase the overall patient experience in your clinic.

Optimize Provider's Efficiency: A mobile health app will help providers be better prepared for consultations and patients have already entered all their information in the platform.

Improve your Institution's Online Reputation: According to research 70% of patients say online reviews are very important when selecting a new doctor6. Managing your online reputation with the help of a digital engagement patient app is essential to your clinic's growth.

Deliver integrated care to the community: e-health apps can easily facilitate the collaboration between primary care providers and dermatologists, which results in offering the best possible treatment to patients.
A Digital Engagement Platform for Dermatology
Miiskin PRO is an app and web-based dermatology platform for efficient care delivery, workflow management, and meaningful revenue growth.
Deliver a better patient experience: Store-and-forward telemedicine helps providers to deliver virtual care in less than 48 hours, prioritize urgent in-person visits, and renew prescriptions in just a few minutes.
Reduce Manual Tasks for Staff: Automate patient intake processes by digitally collecting patient data such as medical history, insurance information, payment, consent, skin images and more.
Enable Provider Collaboration: Asynchronous telemedicine facilitates consultations between primary care physicians and dermatologists about a patient's case.
Conclusion
One of the main goals of digital patient engagement is to encourage patients to take an active stance in their own health and treatment. Studies show that patients who are digitally engaged are more likely to follow their prescribed treatment and be in touch with their physician regarding any medical issues7.
Digital health tools and applications open the door for providers to communicate better with their patients, boost education, and improve treatment outcomes. It may also help patients lead healthier life and make doctors' jobs easier.
Digital patient engagement is changing the future of medicine and revolutionizing the way that we approach health care. As more providers begin to invest in digital patient engagement, the benefits will grow, including an increase in patients' quality of life, and a rise in provider revenue.
---
Make a difference. Share this article.
References:
1https://www.ncbi.nlm.nih.gov/pmc/articles/PMC4674428/
2https://pubmed.ncbi.nlm.nih.gov/15574526/
3https://pubmed.ncbi.nlm.nih.gov/24493759/
4https://www.ncbi.nlm.nih.gov/pmc/articles/PMC7505720/
5https://www.ncbi.nlm.nih.gov/pmc/articles/PMC7505720/
6https://www.globenewswire.com/en/news-release/2022/02/08/2380830/0/en/New-Research-Finds-That-Over-70-of-Consumers-Read-Online-Reviews-When-Considering-a-New-Doctor.html
7https://www.ncbi.nlm.nih.gov/pmc/articles/PMC4674428/

---