Finasteride vs Minoxidil: Battle of the hair loss titans
Both finasteride and minoxidil are effective in decreasing hair loss and stimulating hair growth although they work in very different ways. Keep reading to find out more about these two hair loss treatments.
Table of Content:
Similarities: finasteride & minoxidil | Differences: finasteride & minoxidil | Finasteride | Benefits | Side effects | Oral minoxidil | Benefits | Side effects | Topical minoxidil | Benefits | Side effects | FAQ
Our commitment to producing high-quality content:
The information presented in this article is based on scientific research and the professional advice of our Content Medical Reviewers, who are experts in the field of Dermatology. How we write our content →
Finasteride and minoxidil
Hair loss is a common condition that affects millions of people worldwide. It affects both men and women, and it can be a source of emotional distress for those experiencing it.
Fortunately, there are different procedures and treatments that can help slow down or even reverse hair loss, including prescription medications like finasteride and minoxidil.
Today, topical minoxidil and finasteride are the only two FDA-approved and first line treatments for androgenetic alopecia (pattern baldness)1, but they work in very different ways and have their own unique benefits and drawbacks.
In this article, we will compare and contrast finasteride and minoxidil, highlighting their differences in mechanism of action, treatment duration, and potential side effects to help you and your online dermatologist make an informed decision about which treatment may be best for you, and if you should use both medications together.
Since there is an oral version and a topical version of minoxidil we will compare finasteride against both versions of minoxidil.
Similarities between finasteride and minoxidil (oral and topical)
Effectiveness: finasteride, oral minoxidil, and topical minoxidil have all been shown to be effective in treating hair loss in both men and women .However, their effectiveness varies depending on the individual's condition and the extent of hair loss2 3 4.
Prescription Medications: finasteride, higher concentrations of topical minoxidil and oral minoxidil require a medical prescription*
Request a prescription for finasteride or minoxidil for hair loss!
What's the difference between minoxidil and finasteride?
When it comes to treating hair loss, minoxidil and finasteride have two very different mechanisms of action:
Finasteride reduces dihydrotestosterone (DHT) in order to stop hair loss. By preventing the body from turning testosterone into DHT, it stops the hair follicles from miniaturizing so the existing hair does not get thinner and new hair may continue to develop5.
Minoxidil dilates small blood vessels, leading to increased blood flow to the area; which is how it stimulates hair growth6.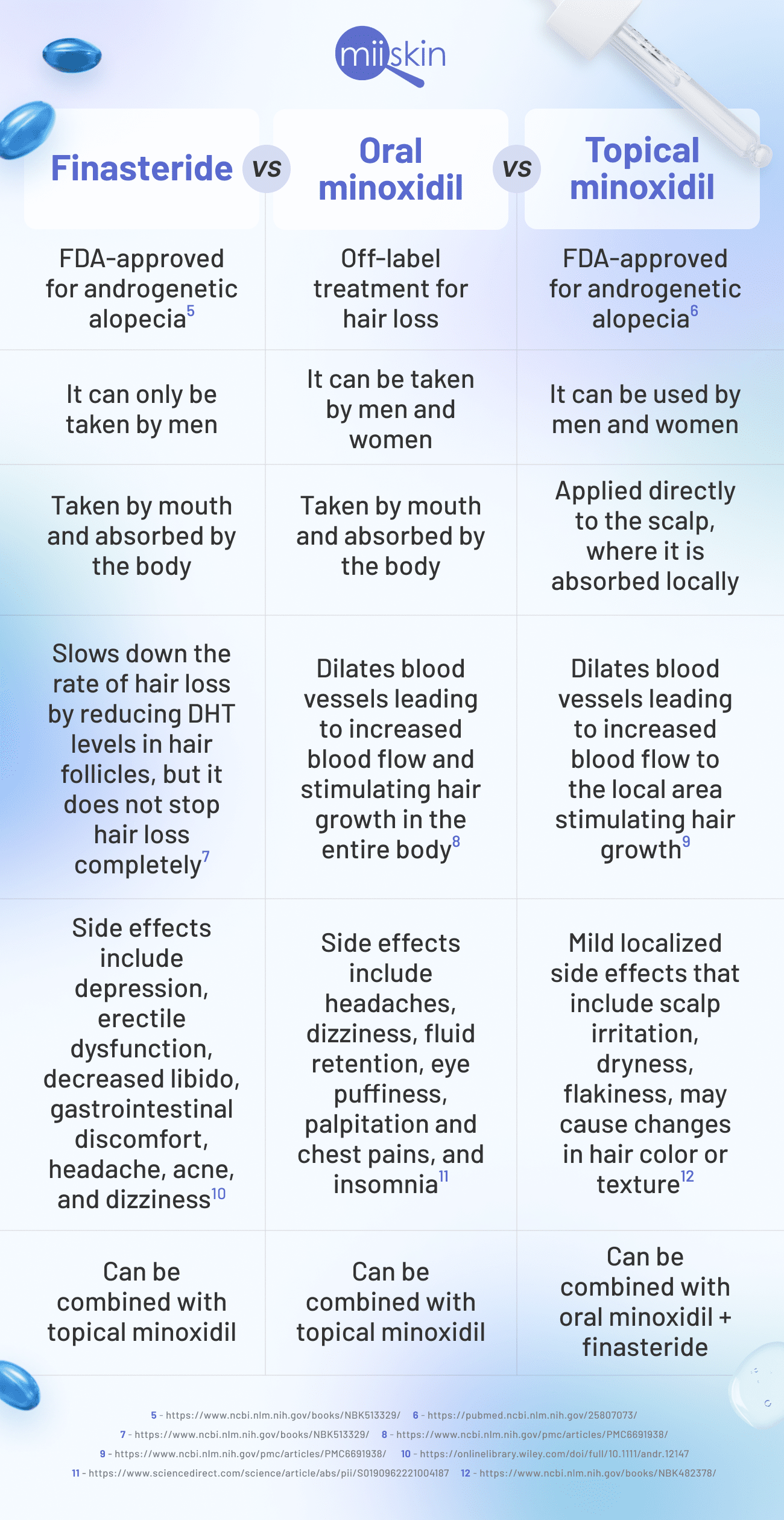 Finasteride: what is it and how does it work?
Finasteride is a prescription medication used to treat benign prostate hyperplasia (enlarged prostate) in men. It works by blocking the conversion of testosterone to dihydrotestosterone (DHT). High levels of DHT cause hair follicles to shrink and eventually stop producing hair, this treatment does not completely stop hair loss15.
Research shows that finasteride reduces serum DHT levels by 70%; but it is important to know that it does not completely stop hair loss, it only slows the process downand it may take at least 3 months to see an effect. After stopping treatment with finasteride, DHT levels normalize within two weeks, and experience a hair count reversal within a year16.
What is the recommended dose of finasteride for hair loss?
For hair loss healthcare professionals may prescribe a dose of less than 1 mg per day17.
Advantages of finasteride
While finasteride, like most medications, can cause unpleasant side effects, these are uncommon and usually resolve after stopping the medication.
Studies have shown that finasteride can be effective in maintaining hair growth for several years with continued use.
Slows down hair loss
Promotes hair regrowth
Convenient low dose
Long-term effectiveness
Low risk of getting side effects18
Side effects of finasteride
Reduced libido
Erectile dysfunction (occurring in 2% to 4% of individuals)
Diminished ejaculatory volume
Reduced blood pressure when sitting or lying down
Enlarged breasts (in men)19
Warning and precaution
You should swallow the tablet whole and not break or chew it. Take this medicine at the same time each day.
It is very important that your online dermatologist checks your progress to ensure the medicine is working if you should continue to take it. They may recommend you have some blood and urine tests to check for unwanted effects.
Women and children should not use this medicine. Women who are pregnant or may become pregnant should not handle tablets and it may be absorbed through the skin and cause birth defects in babies. If a woman comes in contact with this medicine, wash the affected area right away with soap and water20.
Oral minoxidil: what is it and how does it work?
Minoxidil is a prescription medication used off-label for the treatment of hair loss. Minoxidil dilates blood vessels leading to increased blood flow to the area; which is how it stimulates hair growth21.
Research studies have shown promising results exploring the use of low-dose (0.25-5 mg per day) oral minoxidil for the treatment of different types of alopecia, while keeping adverse reactions at bay22 23 24 .
What is the recommended dose of oral minoxidil for hair loss?
Studies have shown results with a low-dose of oral minoxidil for the treatment of alopecia (0.25-5 mg/day), while keeping side effects at bay25 26 27 .
Benefits of oral minoxidil
Suitable for both men and women
Alternative for people who have not responded to other hair loss treatments
Stimulates hair growth
Slows down hair loss28
Side effects of oral minoxidil
Fluid retention
Palpitations and chest pains
Headaches
Dizziness
Eye puffiness or swelling
Generalized excessive hair growth
Insomnia29
Warning and precaution when using oral minoxidil
This medication should always be used under medical supervision.
While being on this medication, you should monitor your pulse rate and consult with your online dermatologist if your pulse rate increases. It is also recommended that you weigh yourself regularly while taking this medication and let your provider know if you gain 5 pounds (2 kg) or more or if you develop swelling on your feet or legs30.
Topical minoxidil: what is it and how does it work?
Topical minoxidil, which is also marketed under the brand names Rogaine and Regaine, is FDA-approved for the treatment of male and female pattern hair loss31.
In addition to its approved uses, it is also utilized off-label to address different forms of hair loss, such as alopecia areata, chemotherapy-induced alopecia, eyebrow enhancement,beard enhancement, and others.
Minoxidil is available as a liquid, cream, mousse or foam, which is applied directly to the scalp as a topical treatment. It is absorbed locally, meaning that only a small portion of the medication enters the body when applied to the skin. The majority of the medication remains on the scalp, where it works to stimulate hair growth32.
Since it does not have any systemic effects it is considered a rather safe hair loss treatment33.
What is the recommended concentration of topical minoxidil for hair loss?
Topical over-the-counter minoxidil (Rogaine or Regaine) is available as a 2% (which is usually prescribed for women) to 5% concentration (usually prescribed to men).
Prescription products can have a concentration of up to 15%.
Benefits of topical minoxidil
Suitable for men and women
Applied topically
Well tolerated by most people
Promotes hair growth
Slows down hair loss
Available as an over the counter and prescription grade product
Side effects of topical minoxidil
Scalp irritation and itching
Dryness or flaking of the scalp
Changes in hair color or texture
It can cause hair growth in unwanted areas of the face and body if it's applied by accident, so wash thoroughly if it drips34.
Warning and precaution when using topical minoxidil
Your online dermatologist should monitor your progress to ensure that the medication is functioning effectively and you don't have any adverse effects.
If you experience persistent itching, redness, or burning of your scalp, reduce the frequency of application and inform your doctor promptly. If the symptoms are severe, rinse off the medication and consult your doctor.
Notify your online dermatologist if you do not observe any improvement in hair growth after 3 months of use.
FAQ about minoxidil and finasteride
Where to buy minoxidil and finasteride?
Oral minoxidil and finasteride are prescription medications and they cannot be bought over the counter (OTC).
Topical minoxidil has both, over the counter (OTC) and prescription versions depending on the product's strength.
How to get a prescription for minoxidil and finasteride?
You can schedule a photo-based consultation to request a prescription for minoxidil or finasteride. If your dermatologist decides that minoxidil or finasteride is the right treatment for you, they will provide you with a prescription. The online dermatology consultation is priced at $59 and you will get an answer in less than 2 days.
What is the price of finasteride and minoxidil?
The price for generic oral minoxidil 2.5 mg (which is the typical dose use for hair loss varies from $30 to $40*.
The price for topical minoxidil varies between $20 to $70*.
The price for oral finasteride is between $15 to $35*.
*The price range listed here is just an estimation. Medication prices may vary depending on the state and the pharmacy selected. Miiskin is not responsible and cannot influence the price of the medication as it is independent from these entities.
Is minoxidil better than finasteride?
Minoxidil and finasteride are both clinically proven and FDA-approved treatments for hair loss. Treatment results will vary from person to person.
Is minoxidil safer than finasteride?
Topical minoxidil is considered the safest treatment of the ones mentioned in this article because it does not have any systemic effects.
Oral minoxidil and finasteride have different mechanisms of action and different side effects, you and your online dermatologist can determine together what is the right medication for you.
Can minoxidil and finasteride be used together for hair loss treatment?
Yes, you can definitely combine finasteride with oral or topical minoxidil.
Which is more effective for treating hair loss – minoxidil or finasteride?
According to one research, about one-third of patients saw quicker improvements after using minoxidil at first. However, this same study found that prolonged treatment times with finasteride led to slightly better outcomes. These variations, nevertheless, were slight. Overall, both are efficient, and each has benefits and side effects35.
Request a minoxidil or finasteride prescription for hair loss!
Article References:
https://www.sciencedirect.com/science/article/abs/pii/S0190962217303067
https://pubmed.ncbi.nlm.nih.gov/9951956/
https://www.ncbi.nlm.nih.gov/pmc/articles/PMC7649170/
https://pubmed.ncbi.nlm.nih.gov/12196747/
https://www.ncbi.nlm.nih.gov/books/NBK513329/
https://www.ncbi.nlm.nih.gov/pmc/articles/PMC6691938/
https://pubmed.ncbi.nlm.nih.gov/25807073/
https://onlinelibrary.wiley.com/doi/full/10.1111/andr.12147
https://www.sciencedirect.com/science/article/abs/pii/S0190962221004187
https://www.ncbi.nlm.nih.gov/books/NBK482378/
https://www.ncbi.nlm.nih.gov/books/NBK513329/
https://www.sciencedirect.com/science/article/pii/S0022202X15529357
https://www.mayoclinic.org/drugs./finasteride./drg-20063819?p=1
https://www.aad.org/dw/dw-insights-and-inquiries/archive/2022/low-dose-oral-minoxidil-alopecia
https://www.mayoclinic.org/drugs-supplements/minoxidil-oral-route/precautions/drg-20068757
https://www.sciencedirect.com/science/article/abs/pii/S0190962217303067
https://jamanetwork.com/journals/jamadermatology/article-abstract/2607195