Beverley Dodds
Self confessed addiction to tanning beds in Beverley's earlier life has led to serious problems in her later life.
---
55 year old ex-Miss Merseyside Beverley Dodds now lives in Hemel Hempstead with her Cairn terrier Frankie. Her life as a beauty queen and as a part time actress in TV shows such as Coronation Street led her to frequent use of tanning beds in the 1980s and 90s – she was even given tanning bed sessions as a prize in a beauty pageant. However, this self confessed addiction to tanning beds in her earlier life has led her to serious problems in her later life.
In the mid 1990's she started to notice terrible itching on the shins of both legs from many small blisters that looked like prickly heat. Following a biopsy she was diagnosed with squamous cell carcinoma – the second most common type of skin cancer in the UK. The most common cause of squamous cell carcinoma is too much exposure to ultra-violet light from the sun or from sun beds. This causes certain cells (keratinocytes) in one of the layers of the skin (the epidermis) to grow out of control into a tumour.
The cancer has spread to many parts of Beverley's legs and foot and has resulted in multiple surgeries and skin grafts and the ongoing use of medication.
"On Merseyside in the 80s and 90s, and to a certain extent even today, there's a belief that having tan is beautiful even though many of us from that part of the world are fair skinned. There were no controls on how often we could use sun beds."
Beverley found a way of keeping an eye on her skin between doctor appointments
Beverley has regular appointments with her dermatologist now, but wanted a way of keeping an eye on her skin between appointments. She found the Miiskin App and uses it to take photos over time of the affected areas and the rest of her skin. Miiskin is currently rolling out a new feature in the App to make it easier to be on the lookout for new spots as this is as important as keeping an eye on existing moles.

She comments:

"I like technology and using the Miiskin App helps me to worry less about the rest of my skin and how the cancer might be spreading. My advice to anyone would be to just cover up in the sun and don't worry about having a tan. Tanned skin is damaged skin. In addition, keep an eye on your skin and if anything changes or is painful, go to your doctor without delay."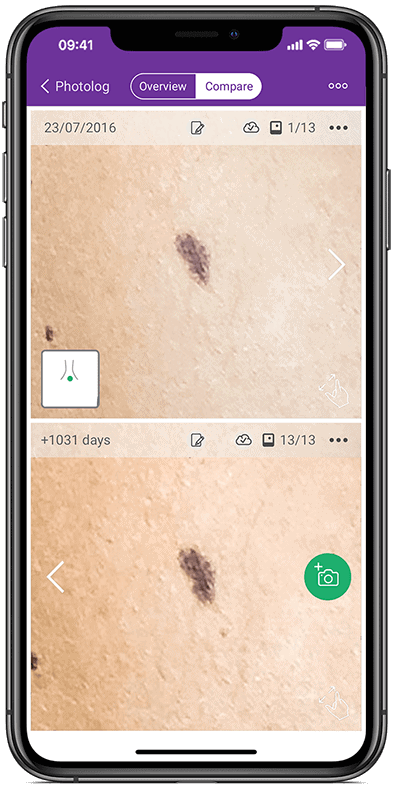 Monitor your moles for changes with Miiskin Premium
Monitor your moles for changes using close-up photos.
Monitor for any new spots on your skin as whole.
Photos are securely backed up aside from phone's gallery.
Examine your photo series side by side on a big screen.
Automatic Skin Mapping to highlight moles and marks.
You can try Miiskin Premium 30 days for free. Don't worry, if you cancel within the trial period you won't be charged.