Miiskin Makes Skin Tracking Platform Available for Academic Research, Facilitating New Breakthroughs in Skin Cancer and Dermatology
Miiskin's teledermatology platform with store and forward image capabilities now freely available for academic dermatological research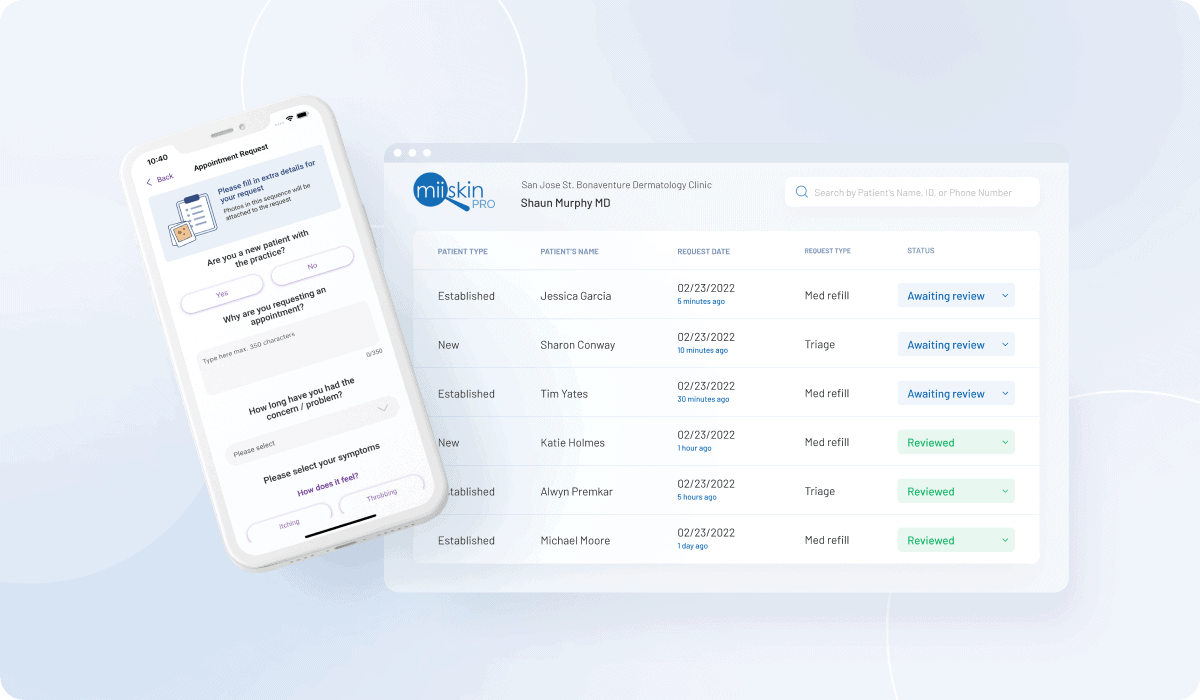 DENMARK, May 16, 2022 — Miiskin, a digital health platform helping more than 700,000 people worldwide to routinely monitor their skin and request digital skin evaluations with a provider, has opened its platform to give academic researchers free access, supporting digital collaboration within new dermatology research. This research capability is aiding to advance developments in skin cancer and other dermatological conditions, such as wound care, rosacea, acne, psoriasis, and eczema, along with clinical questionnaires for research subjects.
Miiskin's platform gives study participants the ability to take high-resolution photos on a smartphone that are then securely stored on the HIPAA-compliant platform and easily shared with researchers. The app utilizes the latest in AI and machine learning to streamline the process and catch abnormalities that the naked eye might miss. Initially launched for the fight against skin cancer, Miiskin is widely accepted by the dermatology community and recently launched a teledermatology platform, Miiskin PRO.
The ability for academic researchers to connect digitally with participants in the study will increase collaboration while harnessing more accurate results, as images can be captured and compared anytime, anywhere – as opposed to having to schedule in-person evaluations to see what results and side effects might result.
"It is clear that Miiskin has unique capabilities in patient engagement within digital dermatology. Its engaging functionality and utilization of AI and machine learning make it a cutting-edge platform available to all. This clinical trial examining the health disparities associated with melanoma care presents the potential for increased effectiveness with the use of Miiskin, resulting in improved quality of data and behaviors critical to the study."

– Azizi Seixas, Ph.D.,
Associate Professor and Director of the Media and Innovation Lab at the University of Miami Department of Psychiatry and Behavioral Sciences.
"Our teledermatology platform launched last year for dermatologists, and has proven to be a valuable tool in the treatment of various skin conditions, due to the quality of images and ability to share them securely with a clinic. This new interest to use the platform for academic researchers to digitally connect with research subjects is exciting and allows us the opportunity to put this technology for the greater good in dermatology advancements." 

– Jon Friis, founder of Miiskin
Free access to the Miiskin platform for academic dermatology research.
About Miiskin
Founded in Denmark, Miiskin is the first AI-powered smartphone app that helps users track moles and chronic skin conditions over time. It is the most popular consumer skin tracking platform in the world, with 700,000 users, and is widely recommended by the dermatology community (170 clinical partners). The app can be used as a personal tool or in combination with Miiskin PRO, a teledermatology platform that helps deliver prioritized skin healthcare. 
Miiskin is a member of The Skin Cancer Foundation's Corporate Council and is proud to support the organization's efforts to educate people about the importance of skin cancer early detection.
Deploying the latest in machine learning, computer vision, and augmented reality, Miiskin reminds and empowers users to take individual and full-body photographs of the skin. Miiskin is the first skin tracking app in The Skin Cancer Foundation's Corporate Council. Miiskin can be downloaded from the App Store and Google Play, with advanced features available for a 30-day trial. For more information, visit https://miiskin.com.
Media Contacts
AM Public Relations for Miiskin
Erika Beerbower
ebeerbower@ampublicrelations.com