Karlene's story: skin cancer birthday shock
"I never thought it would happen to me – especially when I was 30."
Busy mom of two Karlene Snyder from Colorado received shocking news on the eve of her 31st birthday when she found out that a strange mark on her arm was actually malignant melanoma – the deadliest form of skin cancer.
Cases of melanoma in the USA are rising with 91,270 new cases expected during 2018 according to the American Cancer Society. Despite this, many people are unaware they should check for changes to their skin and smartphone technology has been developed to help.
The
Miiskin app
has already received 250,000 downloads and is used by people around the world including Karlene.
Growing up in Loveland, Karlene rarely wore sunscreen and frequently burnt her skin as a child. She said: "I have a lot of moles on my skin and my doctor regularly encouraged me to see a dermatologist, but I put it off for years. It wasn't until I noticed a small one on my arm that had several different colours that I got checked out."
This chance early detection may have saved her life. The dermatologist biopsied a number of moles and one was confirmed as Stage 0 melanoma. It was removed to prevent it from spreading, which is highly likely in later stage melanomas. If left to grow, melanomas are frequently fatal.
Karlene, whose great grandfather had skin cancer, added: "I never thought it would happen to me – especially when I was 30.
"The Miiskin app has given me peace of mind that I will be able to see any small changes I may have missed otherwise. There is no way I would be able to keep track of so many moles without the technology to help."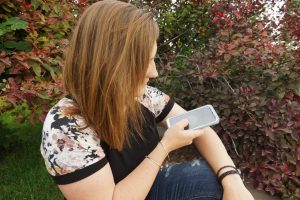 Miiskin was created to help people digitally track how skin and moles look, with reminders to routinely check for changes. It does not try to diagnose skin cancer and those who spot worrying changes are encouraged to seek advice from a medical professional.
Download the Miiskin app here