The ABCDE's for your own skin check
THAT MELANOMA IS THE SKIN CANCER YOU NEED TO WATCH OUT FOR ?
If you can say yes to one of the statements below you might have a higher risk of melanoma: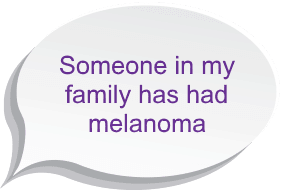 Melanoma is treatable if caught early
The 5 signs on your moles you need to pay attention to:
Assymmetry
The mole is asymmetrical. It's two sides do not match.
Border
The border of melanomas can (but don't have to be) be uneven.
Color
A mole that has a variety of colors or that changes color should be checked by a doctor.
Diameter
Melanomas usually grow larger than 1/4 inch or 6mm, but they may be smaller when first detected.
Evolving
A mole that starts to evolve or change (or a new mole) may be a warning sign of potential melanoma
Photos help you keep track
of any changes
EDUCATIONAL ARTICLES
Melanoma and Skin Cancer Symptoms – Comprehensive Guides
Take a look at our educational guides and find out more about the signs of skin cancer and melanoma symptoms.
EDUCATIONAL ARTICLES
Common Moles, Birthmarks & Atypical Moles: Types, Risks & Pictures
It is important to keep track of moles and birthmarks on your skin. Learn how to spot the difference between normal benign moles and abnormal atypical moles.
Miiskin enables people to take care of their skin concerns.
We have developed a picture diary app you can use to monitor your skin and moles and be reminded to follow up. It is available both for Android and iPhone.
This page is for informational purposes only and does not substitute a visit to the doctor.